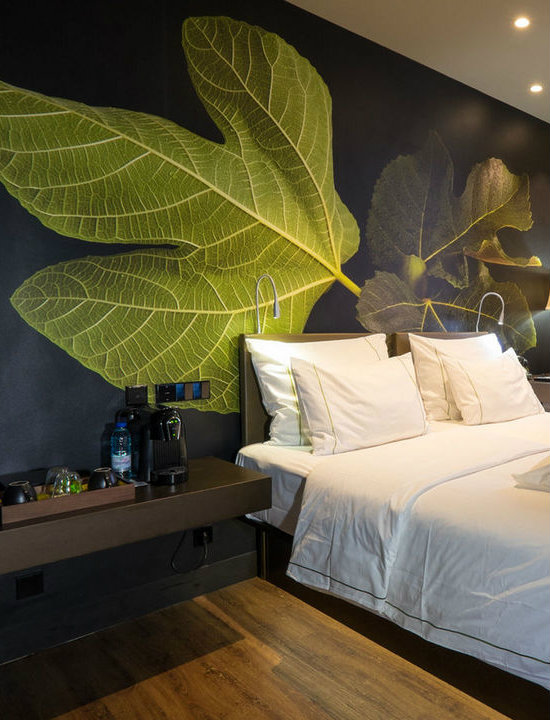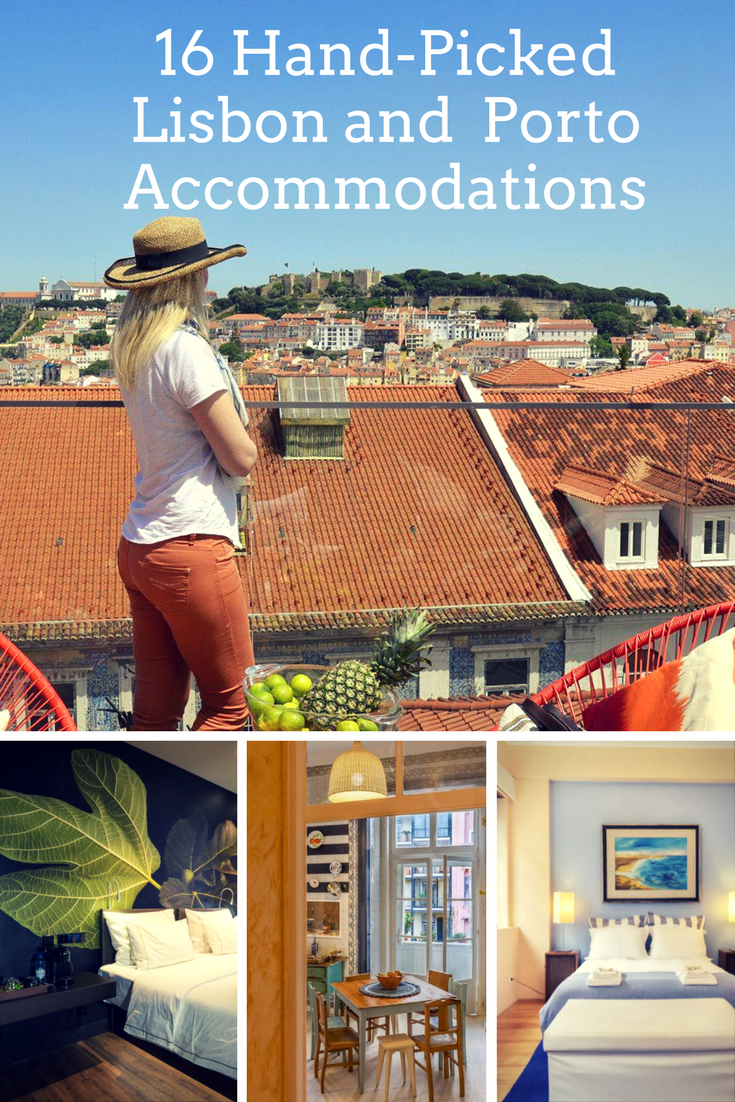 I'm happy to share with you my list of 16 hand-picked Lisbon and Porto accommodations. The criteria was location, decoration, views, facilities and of course price.
How does it work?
I've divided the accommodations in 4 categories, according to their price
Luxury Hotels – from 250€/ night

Superior Hotels- from 150€/ night

Charming Guesthouses – from 80€/ night

Airbnbs – from 50€/ night
(Please note that prices vary according to the season, day of booking, and other factors.)
I've selected 2 of the best in each category to choose from.
Lisbon
Luxury
Bairro Alto Hotel 5* – Probably has one of the most premium locations in Lisbon. 1 Minute on foot from Baixa/ Chiado, Tram 28, and of course Bairro Alto entertainment neighbourhood. For the fans of neoclassical decor. The hotel has won several awards since its opening in 2006, including Readers' Choice Awards – Condé Nast Traveler. Its terrace has a stunning view of Tejo River and the 25th of April Bridge.
Memmo Príncipe Real 5* – A modern hotel in the heart of the city, with spacious rooms, some of them featuring amazing views of Lisbon's old town. It's located in the chic neighborhood of Principe Real, where you will find a lot of independent designer shops, restaurants and cafes.
Superior
Hotel Figueira Lisboa 4* – Located in one of the most emblematic squares of Lisbon – Praça da Figueira (The Fig Tree Square), it's just minutes away on foot from downtown; Martim Moniz, that has the 1st stop of tram 28, the iconic Rossio train station. Some of the highlights of the hotel include an exclusive décor with earthy tones and fig tree details, and a rooftop Spa, overlooking the São Jorge Castle.
9Hotel Mercy 4* – Just like Bairro Alto hotel above, it shares an exclusive location and an amazing secret rooftop bar. This is where I go for an an afternoon cocktail and escape from the noise and crowds of the city. The rooms are spacious with modern design. Staff is very polite.
Charming Guesthouses
Casa do Bairro by Shiadu – This charming guest house is located in a hidden street away from city noise, but is still very central. Its neighbourhood – Santa Catarina has a lot to offer – authentic restaurants, views, shops. It's also 10 min. On foot from Bairro Alto and Santos entertainment districts, 2 min on foot from tram 28. The decor is in shabby-chic style. Staff is very polite and helpful.
Casinha das Flores – This cute Guesthouse shares the premium location of Bairro Alto Hotel for the fraction of the cost. Some parts of the building have preserved the original ceilings and walls. It's a very colourful and cheerful place, just like Lisbon is.
The Airbnbs
Sunny Lisbon Home + Pocket WiFi – OK, I'm biased here, this is my house after all. But wouldn't recommend it, if I didn't believe that's is one of the best choices in Lisbon. It's located in one of the oldest neighborhoods of Lisbon – Madragoa. The attic room features views of the city. Plus you get a free portable WiFi for your stay.
A terrace in the hippest Lisbon! – I couldn't help myself, but fall in love with this beautiful terrace! Located in the same neighborhood as above. There are a lot of typical and less touristy restaurants around.
Porto
Luxury
The Yeatman Luxury Wine and Spa 5* – This hotel is said to be the best in Porto, well actually it's located in Gaia, which offers you amazing views of the city of Porto. Access to Porto is easy, so no problem there. The luxury will compensate the distance – each of the rooms have private terraces, the romantic suite includes a private jacuzzi with exclusive views of the city. The hotel itself features a rooftop pool, a two-star Michelin restaurant and wine cellars. Everything you need for the perfect vacation.
Intercontinental Palácio das Cardosas 5* – This hotel has a premium location, overlooking the Liberdade Square, some minutes away on foot from São Bento train station and the famous Lello bookshop.
Superior
Vitória Village 4* – You wouldn't believe that this hotel is actually located in the heart of Porto. It has an inner yard that reminds, well, of a village. It is housed at Casa dos Constantinos, a historic building from the eighteenth century. Amenities include SPA, gym and an indoor pool.
Hotel Teatro 4*  – is a design hotel in the heart of Porto. Its rooms will be a pleasure to the eyes of the fans of modern architecture and design. Just 3 minutes on foot from Majestic Café, the café that J.K.Rowling used to frequent.
Charming Guesthouses
My Stay Porto Bolhão – The first time I visited Porto, this was my accommodation of choice. And it didn't disappoint. The rooms have a very beautiful and simple design. Some of them feature terraces, overlooking the city. It shares the premium location of the above hotels for a fraction of the price.
BelmonteGH Guest house – Premium location near restaurants, bars, in the heart of the old city. Beautifully designed guest house with exceptional breakfast and service.
The Airbnbs
Heart of the City – Spacious Flat – Premium location, beautifully designed, lovely colours and great reviews, what more could you want from an Airbnb.
Terrace Apart.Deluxe for 2/4 Guests –  You'd say I'm in love with terraces and patios, well that's correct. Whenever possible, I prefer and recommend accommodations with private outside space. This apartment features a simple and modern design, and a great location, too.
I hope that you enjoyed my list of 16 hand-picked Lisbon and Porto accommodations in the two most visited cities in Portugal. Have you stayed at any of them? What's your opinion?
Note on photos: These are all official photos of the hotels, either taken from their website, booking,com or airnb.com.