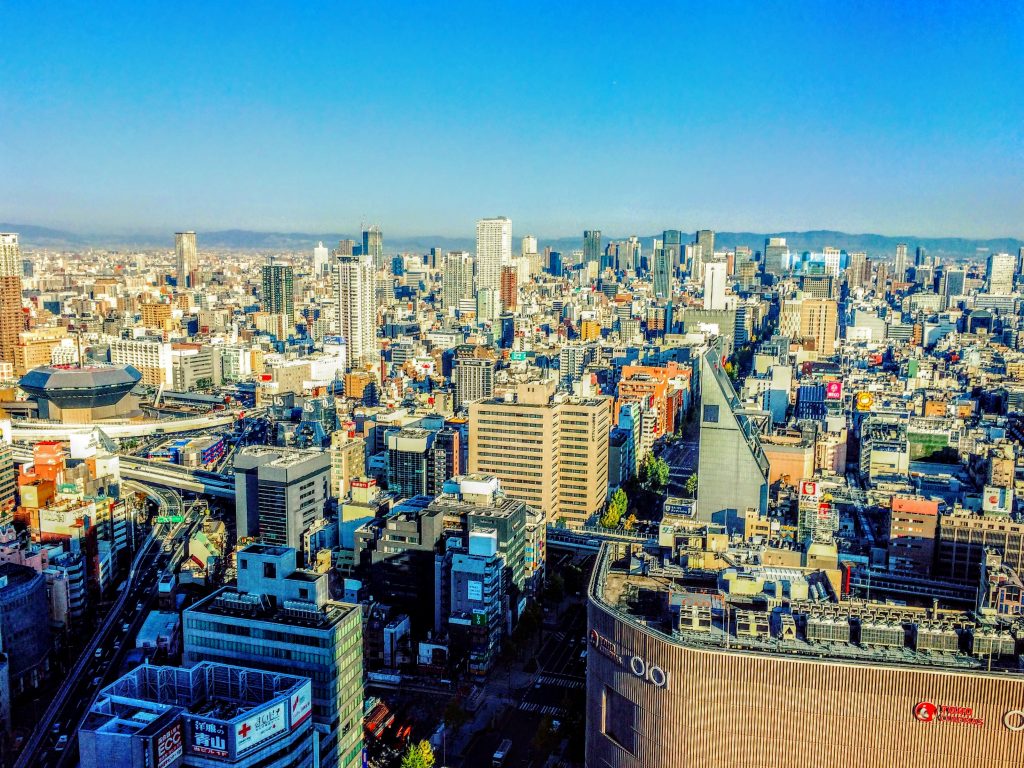 Osaka was on my must-visit list after I read it was a foodie's paradise. Although it doesn't have a ton of amazing temples and shrines like Kyoto or the bursting crazy atmosphere of Tokyo, there's something about Osaka and its people.
It's much calmer than both, there's more space to walk and breathe. I wouldn't say quiet, because it's still a big city. The people are somehow warmer and smile more often, maybe because they're less busy. Or because they use their bikes everywhere. Yes, Osaka is such a bike-friendly city.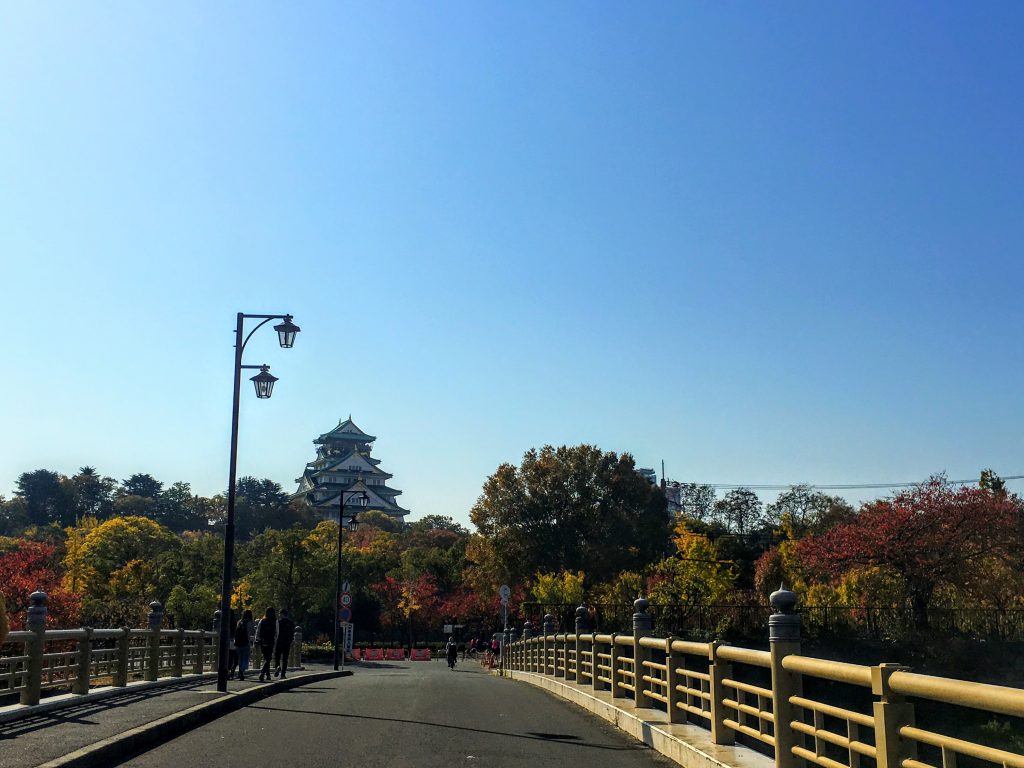 My Recommendations of 17 Amazing Things To Do in Osaka in 2 days
For the Foodie in You
Have brunch at the Swissotel Nankai Osaka
On our first day in Osaka, we decided to go for a splurge, as it was our honeymoon after all. The Swissotel Nanakai Osaka 5* was located very near our accommodation and just above the Nankai station which was the connection to our next stop – the Osaka castle.
What we loved the most about the breakfast/ brunch there were the amazing views of the Osakan skyline. We were given a table at the window. It was a beautiful sunny day. We could gaze at the buildings and city life from above to far away. Definitely, an amazing way to begin an epic trip.
For about 30$ you'll get these stunning views and great quality and quantity of food and drinks.
There were all types of freshly made juices and smoothies. You could find Western and Asian cuisine. Everything tasted really good and naturally, we repeated several times. But so much walking was ahead of us that we spent all the energy we gained.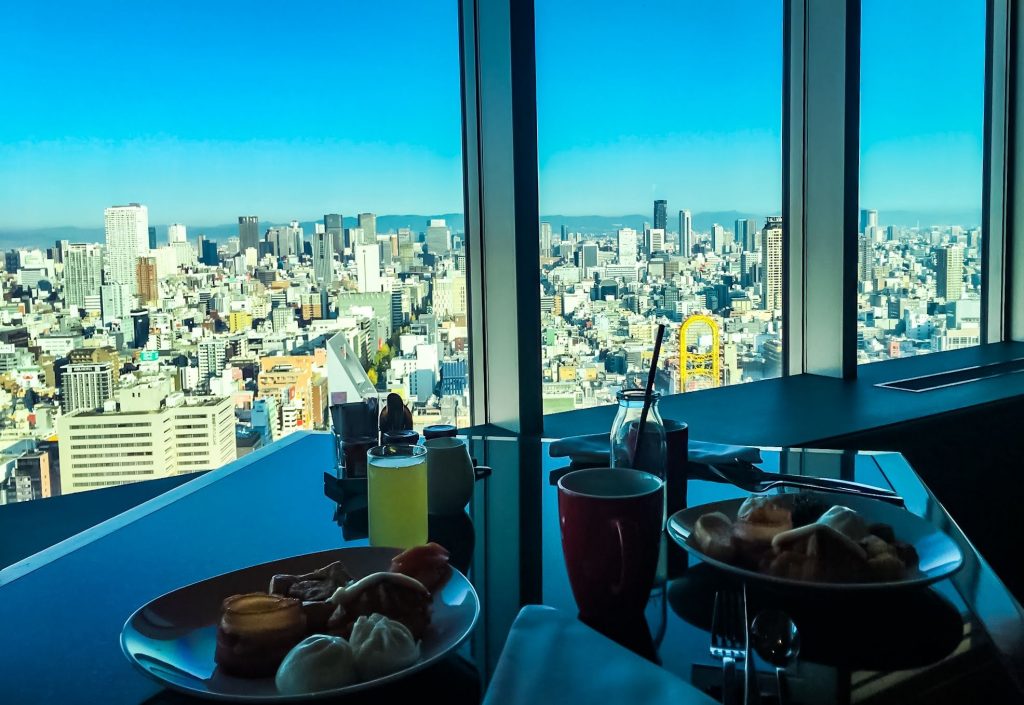 Have Breakfast at Eggs 'n Things
Eggs 'n Things is a Hawaiian franchise which locals and tourists love alike. The classics I recommend ordering are their Eggs Benedict and Pancakes with maple syrup and a ginormous whipped cream mountain on top. We divided those two dishes, and they were very delicious. For drinks – I ordered black tea which they serve with a little bit of milk, my husband ordered a cold mocha and since then it was the only drink he ever ordered for breakfast.
He created a habit in one day, possible in Japan only, I guess. The ambiance of Eggs and Things was very relaxed and cool, too. A great way to begin your day. Price is about 30$ for two. They have outlets throughout Japan so you can enjoy them almost everywhere in the most visited areas.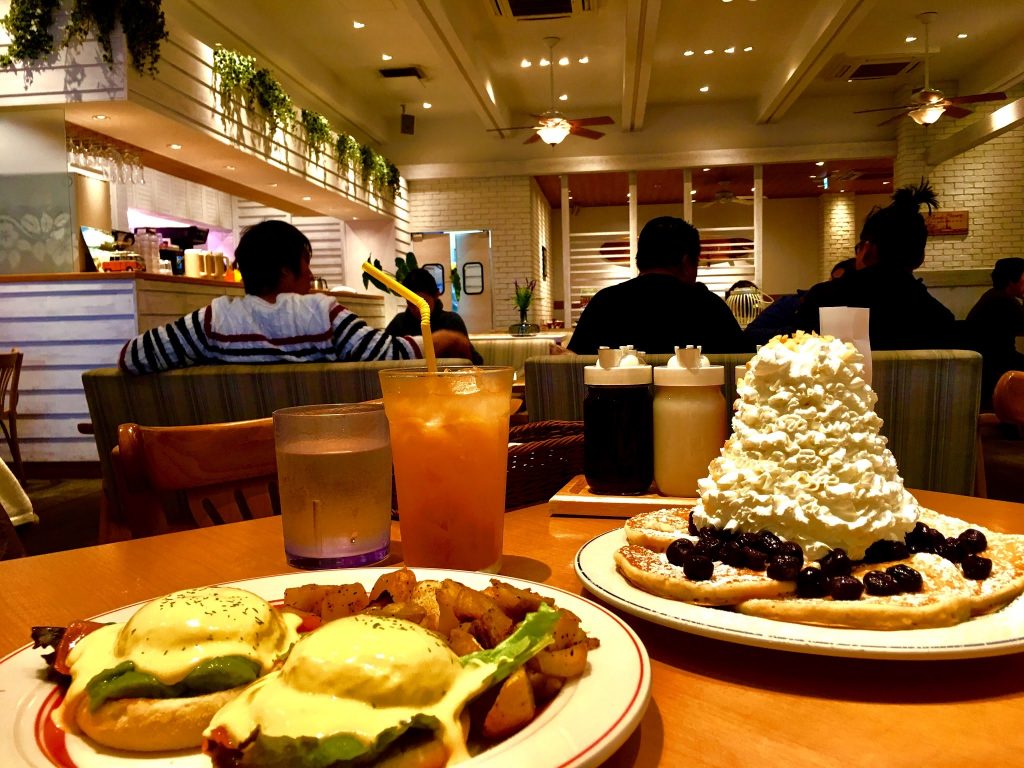 Eat the "dirt-cheap" sushi with the best soya in the world
The sushi in Osaka is just so cheap and the freshness of the fish is like nothing I've eaten before. And I've tried some of the best Sushi restaurants back home in Lisbon. The rice is very tasty, too. Done to the point, not over-cooked and not undercooked. This really makes the difference and enhances the taste of the fish.
Another thing I instantly noted was the soya – it has a very unique taste in Osaka which I enjoyed so much. It was not the same in Kyoto or Tokyo. I tried to find out the reason behind this, and this is my hypothesis:
The second most popular type of soy sauce in Japan is usukuch. This is a lighter colored, used primarily in western Japan, namely the Kansai region (where Osaka is),In traditional Kyo-ryori (Kyoto cuisine), which has its origins in refined imperial court cooking, dark-colored koikuchi soy sauce is considered declassé and ruins the flavor and appearance of food. However, don't think that because it's lighter in color that it's less salty.
On the contrary, usukuchi soy sauce is saltier than koikuchi soy sauce – 18-19% of its volume is salt, compared to around 16% for koikuchi. In recipes that call for usukuchi soy sauce, this is taken into account. Usukuchi soy sauce is also made with soy and wheat, and is often rounded out with the addition of fermented rice (kome koji), wheat gluten or amazake. (source)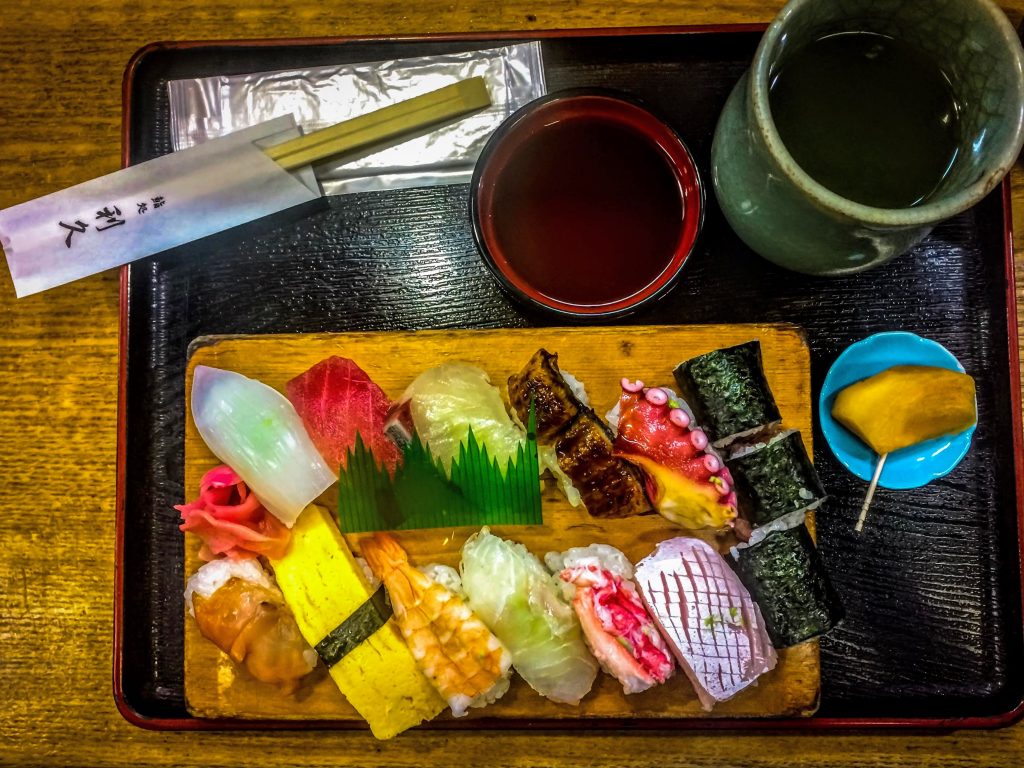 Try Takoyaki
Takoyaki is one of the most famous snacks that originated in Osaka. These fried balls taste so exotic! The batter is made of wheat and water. Then poured in half-ball forms that are very hot – 200C, this is where they'll be cooked. Then you add the octopus, tenkasu, red ginger, and green onions.
The cooks preparing them are very fast and look so energetic and it seems that they never get tired of doing just this one thing. Which actually is very common in the Japanese culture. This video shows you exactly how it's done. Although, in Dotonbori where we ate the Takoyaki, the cooks looked even faster.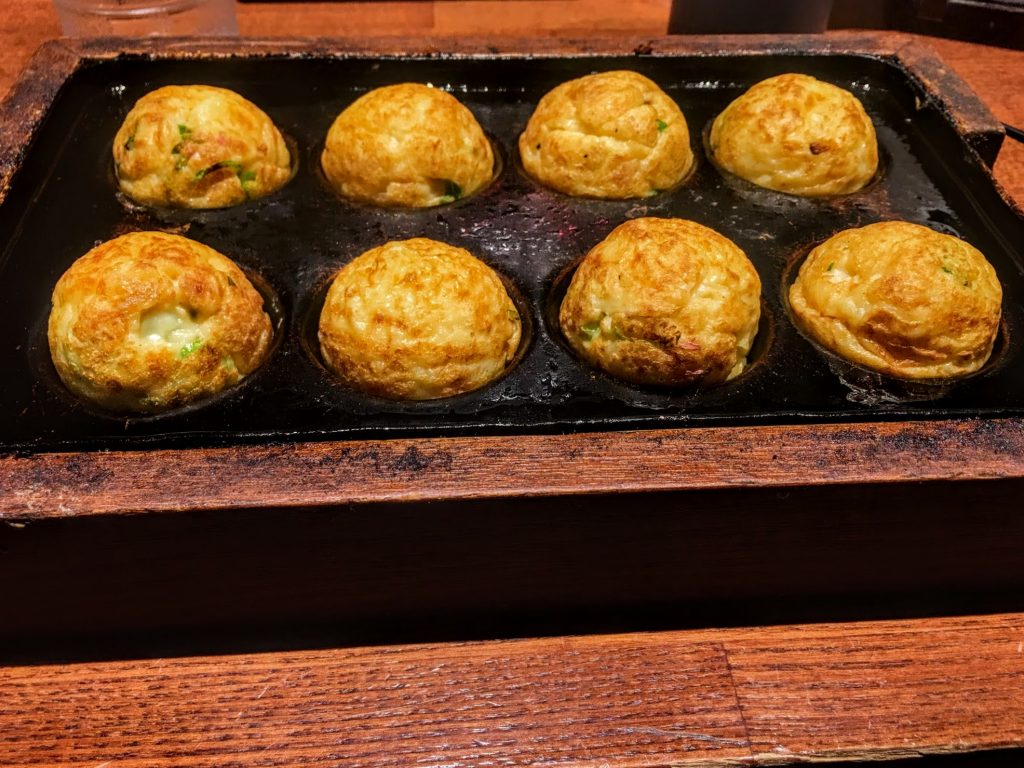 Try Okonomiyaki
This is a very tasty Japanese dish that's just so easy to like. When I went with friends to a Japanese restaurant here in Lisbon, and although it didn't taste that good as the original, they loved it and ate my part, too.
Okonomi means literally "the things you like" and yaki "grilled or fried". Although you may find it translated as a Japanese pancake, if you're familiar with the Swiss Rosti, it's more like this.
The Okonomiyaki batter consists of dashi stock, wheat and corn flour batter, egg, cabbage, red ginger and tenkasu. You can mix any type of toppings you like. Then come the special okonomiyaki sauce, mayonnaise and bonito flakes (dried, fermented, and smoked skipjack tuna) on top of everything. Simple, yet a bit complicated, but very yummy.
You can eat those from street stalls where they cost around 1.40$. Or in the most famous Okonomiyaki restaurant in Dotonbori – Chibo Elegance for about 12$. But here they're much bigger and we shared one.
Try Taiyaki Cake
Taiyaki cake is a fish-shaped pancake that comes traditionally with a sweet red bean paste. I recommend this combination. But you can choose from chocolate (depending on the vendor it can taste like pudding), matcha cream, peanut butter, caramel, vanilla and so on.
A great way to tame afternoon hunger. Note that it's not well accepted culturally to eat dessert in Japan, this means the meal wasn't filling or good enough. That's why you almost never see a dessert menu in traditional Japanese restaurants. +1 for the diet. And -1 in the afternoon with a Taiyaki.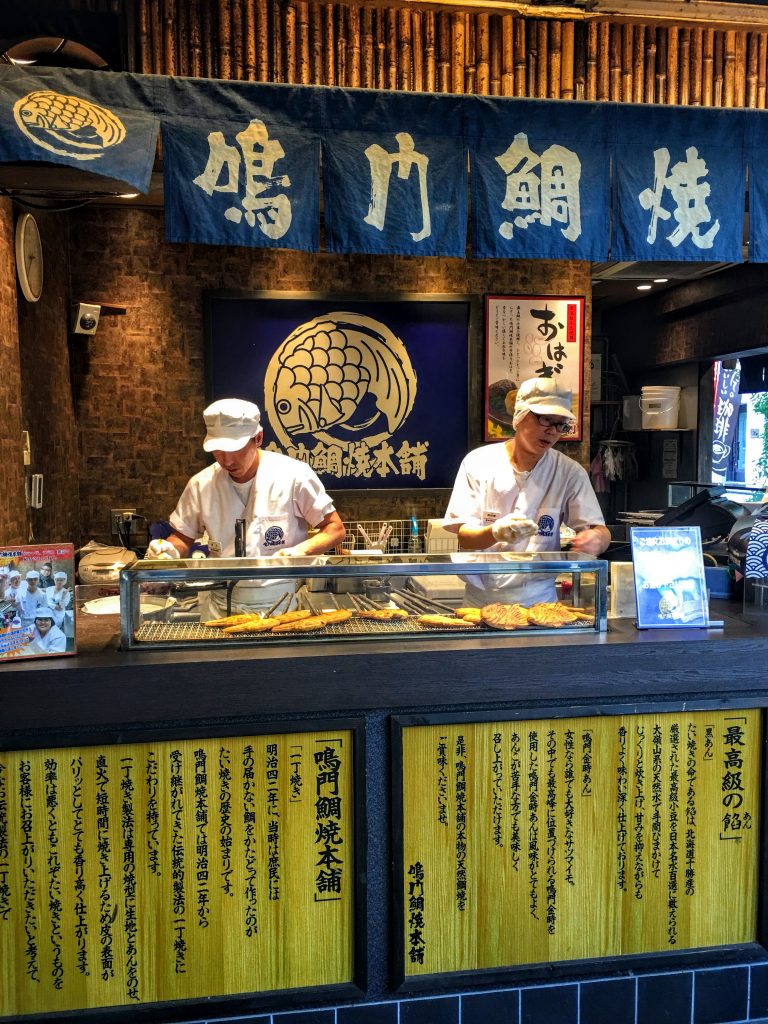 Try an animal bread if you can
We just enjoyed "window-eating" these cute bread. The animal faces looked just so adorable that I couldn't imagine eating them.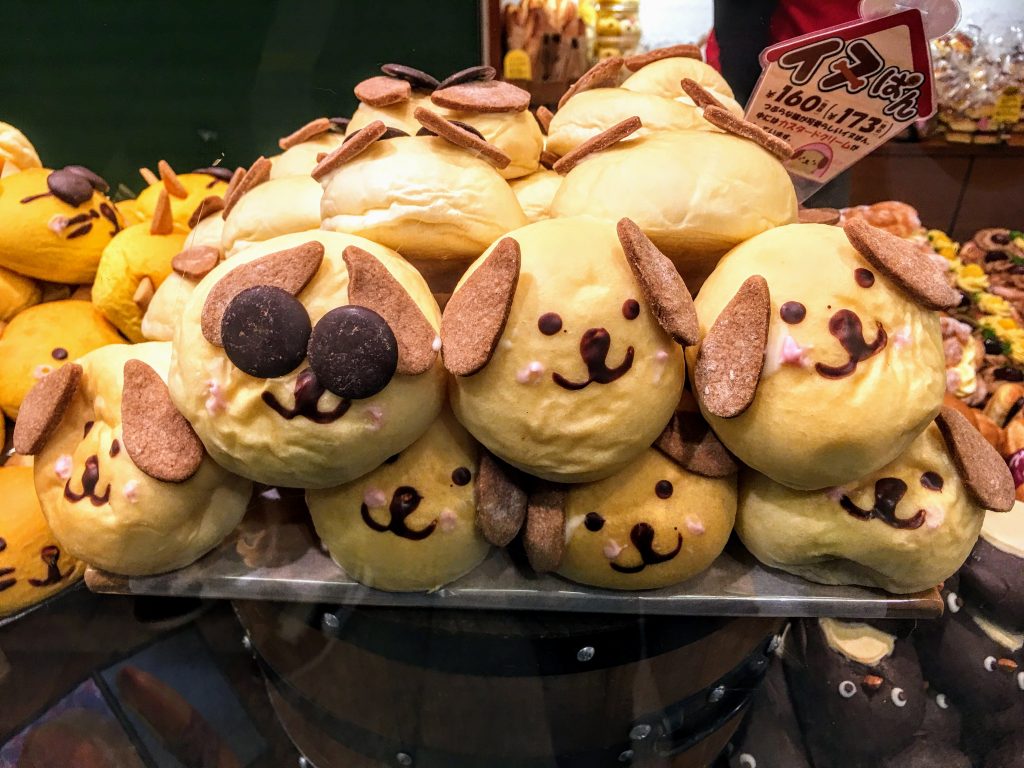 For the shopper in you
Shop at Shinsaibashi shopping arcade
Now we're talking shopping. Shinsaibashi is the best-known shopping area in Osaka and an enduring symbol of the city. With a history of 380 years, it was already an established shopping area in the Edo Period. (1) You will find pure Japanese fashion here mixed up with some high-end brands like Gucci and Prada.
There's no lack of kawaii clothes and things. There are traditional kimono tailors, boutiques, jewelry and accessories, restaurants and fast food outlets. We ate there at a sushi belt restaurant, and the sushi was totally delicious.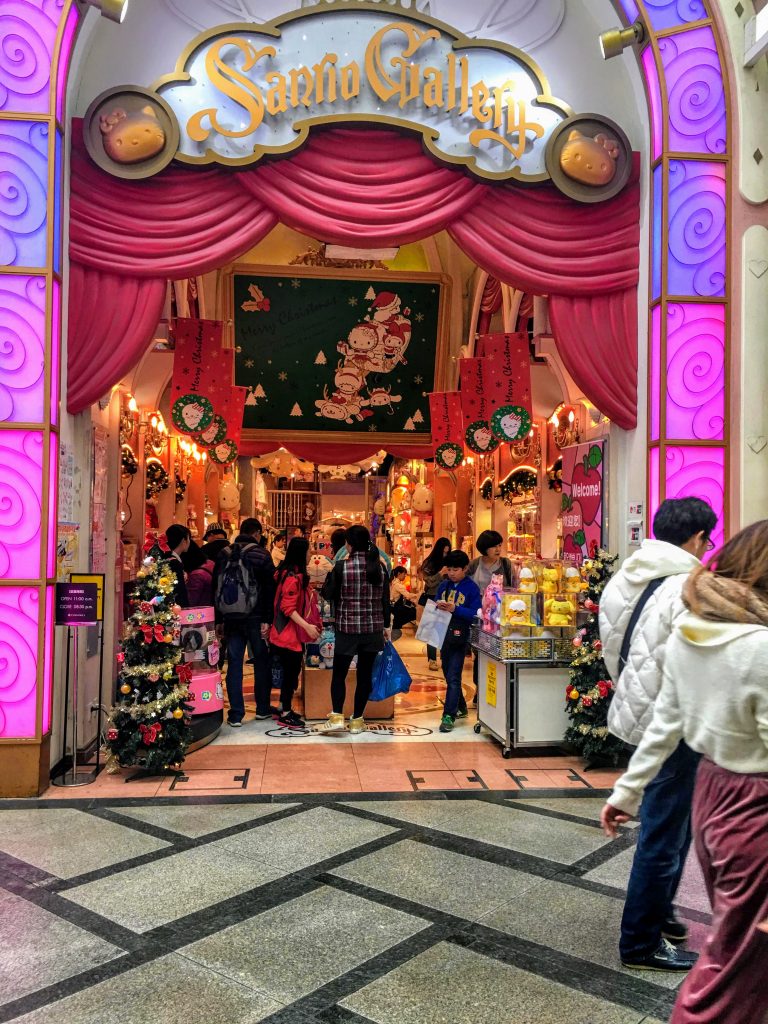 Shop at Umeda station shopping malls
Imagine that – it's pouring rain outside and you need some cozy and dry place to shop the latest Japanese fashion. It's an easy quest – the Umeda station offers thousands of shops, you just need to be willing to walk a lot and try stuff on. An important note on shopping in Japanese brand stores: the clothes have only one size M.
The Japanese love relatively relaxed fitting clothing. If you're a woman, about 160cm high and have normal weight, the clothes will fit perfectly. You might have found paradise. Though the tight-fitting trousers might not serve you if you're curvy like me. For men, I think your maximum height shouldn't be more than 180 cm and you need to have a normal weight.
Out of these standards, you'll have to look for special clothing shops. Sneakers for men and women are available in various sizes. While shoes from traditional shops for women are available in 1 size only. That seems to be my size. I'm not sure how it's possible, I try so many sizes on back home and usually buy the wrong one.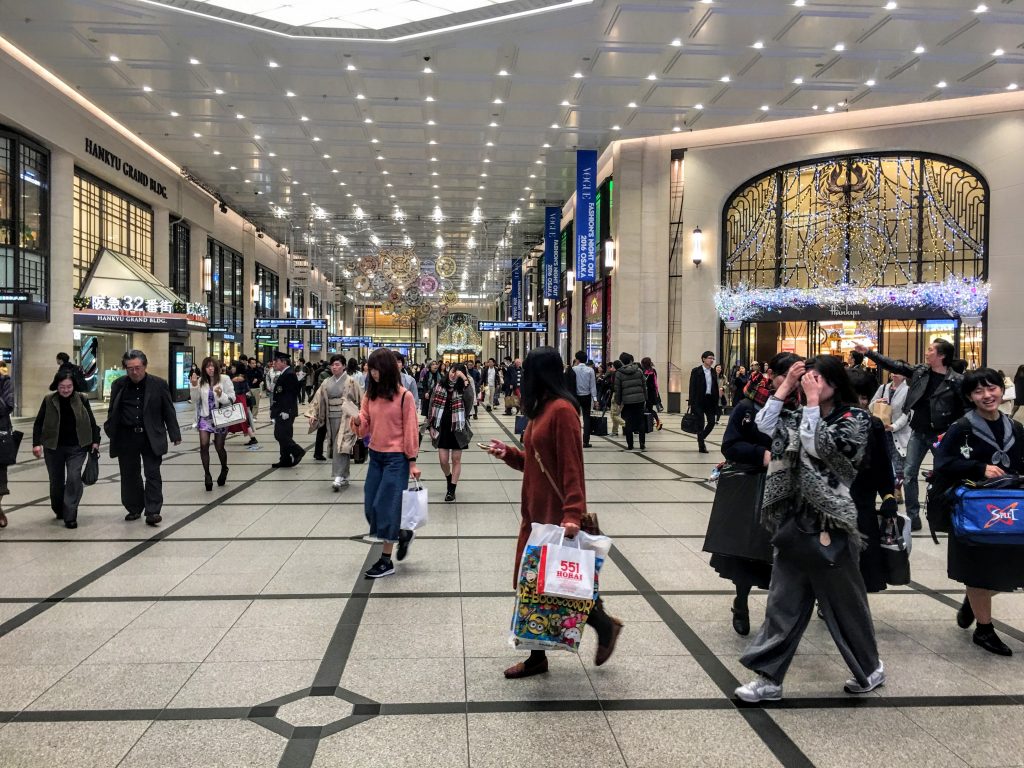 For the quirky tourist in you
Visit the Osaka Castle
The Osaka Castle is not only the most famous landmark of Osaka but also one of the postcards of Japan. The construction of the castle started in 1583, it passed through destruction and fire and was renovated and modernized for the last time in 1997.
If you're curious to visit – the main tower is ultra modern with an elevator inside and houses a museum of the history of the castle and the Toyotomi Hideyoshi who's regarded as Japan's second "great unifier".
The Osaka castle was also the first place we visited in Osaka and we really enjoyed the stroll through the beautifully landscaped gardens and the castle grounds.
The main entrance is full of tourists and groups taking pictures, but you can easily find a secluded spot to take a picture if are willing to walk as the castle is surrounded by temples, secondary citadels, gates, turrets, impressive stone walls, and moats. It's a very enjoyable and refreshing walk. And if you feel hungry or tired you can easily recharge the batteries with a matcha ice cream that's sold in front of the castle main entrance.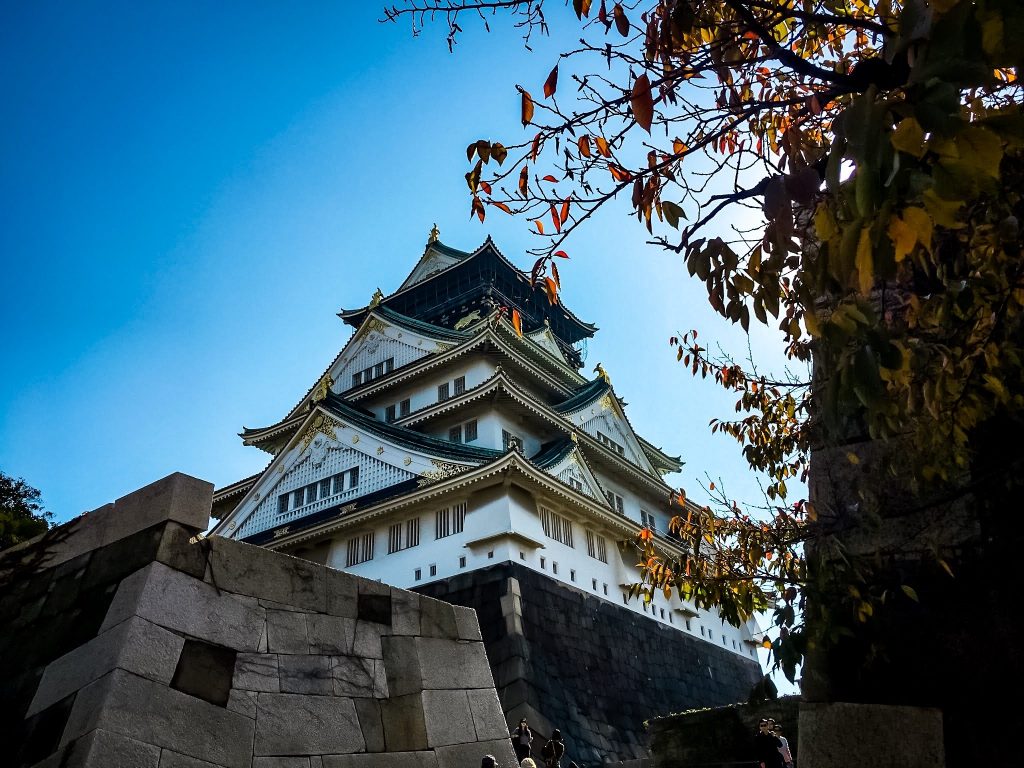 Do a Boat Ride
You have various options. If you want to admire the stunning Osaka castle from the water, hop on a traditional Japanese Golden Boat. If you prefer something smaller and more secluded try the Ofune-Camome boat. It's just that cute. It offers other routes, too including Dotonbori at night. Whatever cruise you choose for Dotonbori, let it be at sunset or better at night so you can enjoy the neon light from a unique perspective.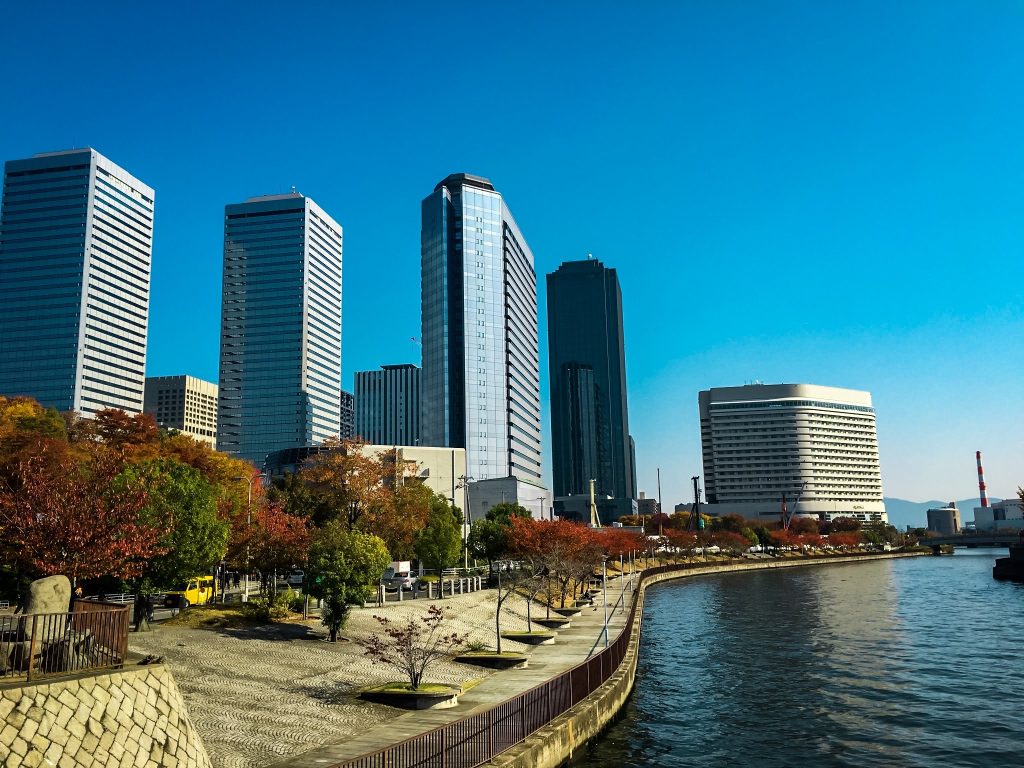 Stroll through the longest Shopping street in Japan
Tenjinbashi shopping arcade is 2.6km long, you might need about 2 hours to go and come back. You'll find a lot of venues on the way. When we reached Tenjinbashi we were already hungry and wanted to try our first sushi in Japan. We saw one small traditional restaurant and peeked in, the owner invited us by a hand gesture. We thought, well, it's the first restaurant, let's just have a look at other places.
We did walk a bit but we couldn't find anything better or cozier looking. We went back and everything on the menu was in Japanese! But they have prepared photos on a tablet with their set menus. The cook asked "wasabi" which we all understand and we both said yes.
I didn't know they were going to put the wasabi between the fish and the rice. I had to remove it as I was starting to cry, it's much spicier than back home. Nevertheless, it was the best sushi we have ever tired (until that moment). And it was just so cheap – around 12$ the set. Value for $$ for sure.
On the rest of the street, you'll find shops for clothes (not very fashionable ones), accessories, even fake brands. This part reminded me a bit of Thailand. You'll also find different kinds of restaurants, pastry shops, taiyaki stalls, pachinko slots, and shiatsu massage rooms. If you ask me, Tenjinbashi street is more about culture and food and less about shopping.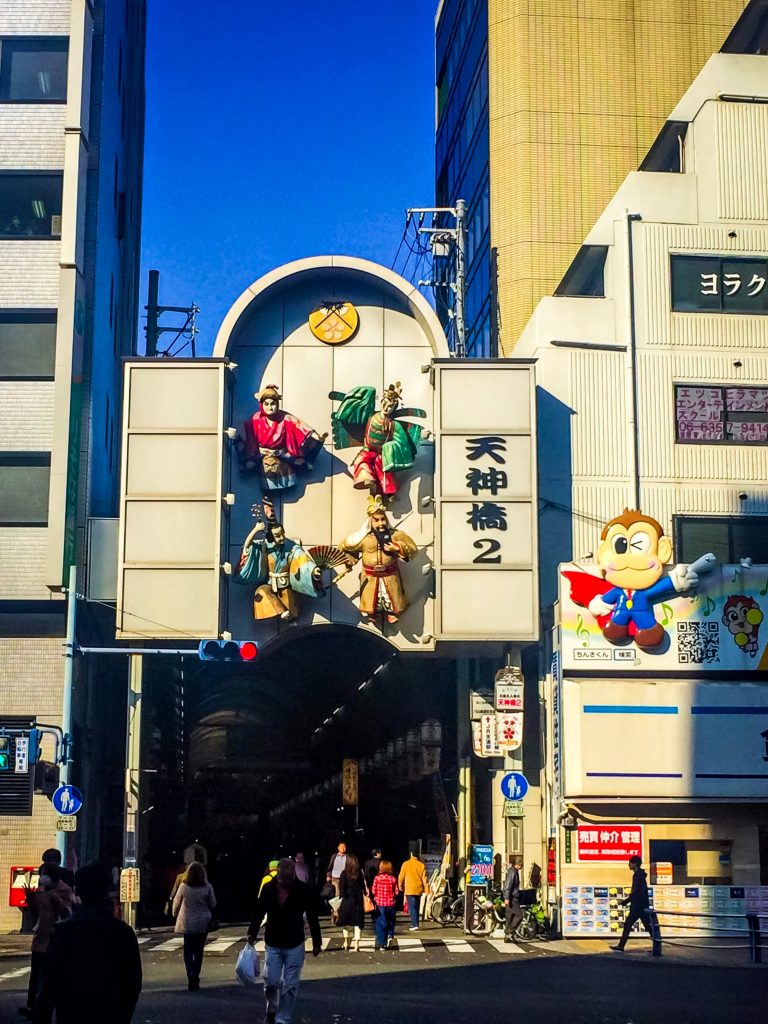 Enter a Pachinko Slot Parlor if you dare
We were walking through Tenjinbashi after lunch, feeling a bit sleepy. We saw these crazy lights outside and thought why not go in and check. We woke up immediately. The noise was so high and so annoying you couldn't talk or think. It was a crazy fun experience just walking around. I don't think we could have handled playing though.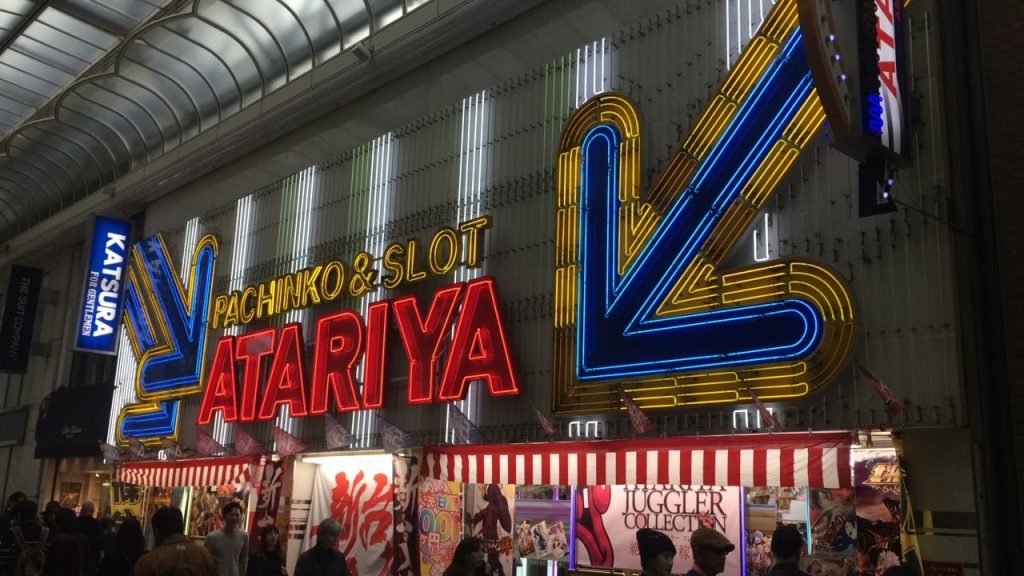 Ride on the Red Hep Five Ferris Wheel
The Red Hep Five wheel is particularly beautiful at night when it's illuminated. This Kita landmark is 106m high and offers cool views to the Osaka skyline and harbor. It's located on the roof of the Hep Five Shopping mall. Here you'll find amazing Japanese fashion mainly for young at heart people.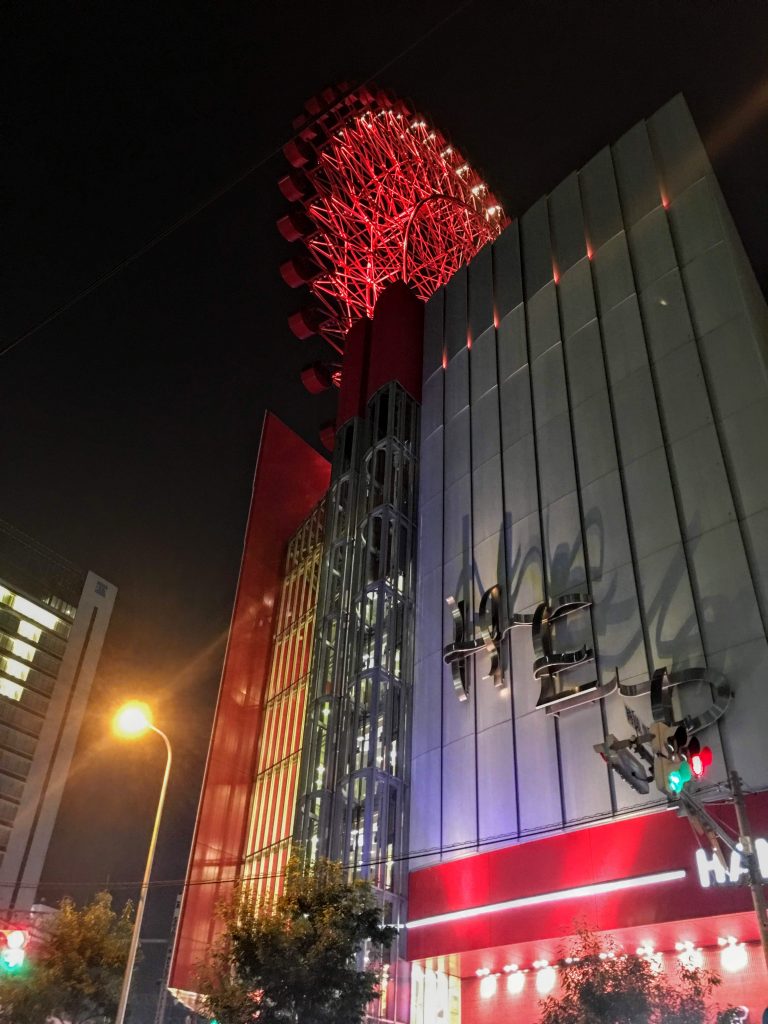 Admire the Umeda Sky Building architecture
After the shopping spree, why not visit Umeda Sky building?
This skyscraper is a symbol of Osaka for its sophisticated architecture – it's 173m high. It's located north-west of Osaka and Umeda stations and it takes around 10 minutes on foot to reach it.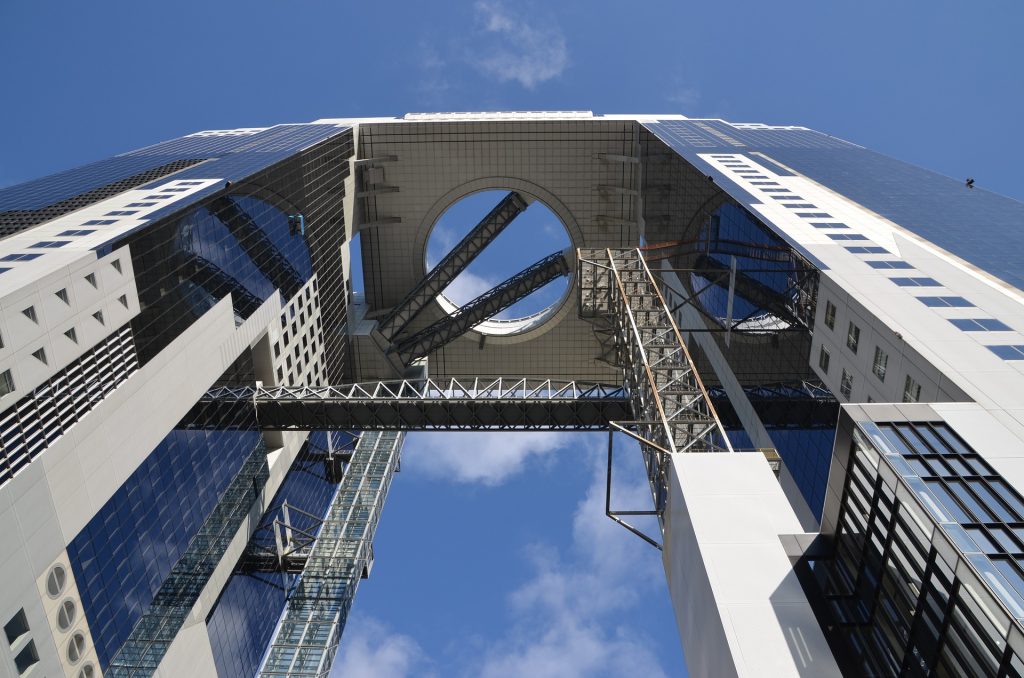 Visit Dotonbori at night
There's no better time to visit this lively neighborhood. All the restaurants and food stalls are open. Go there hungry so you can try as many varieties as possible. The streets are bursting with locals and tourists having fun. Neon lights just add to the fun. And if you're looking for bizarre things to buy, so many shops are open late into the night.
… and take a picture with the Glico man at night
Just don't leave Osaka without taking a selfie with the famous Glico man. It's actually a famous Japanese food company's advertisement board. But it has become Osaka's symbol.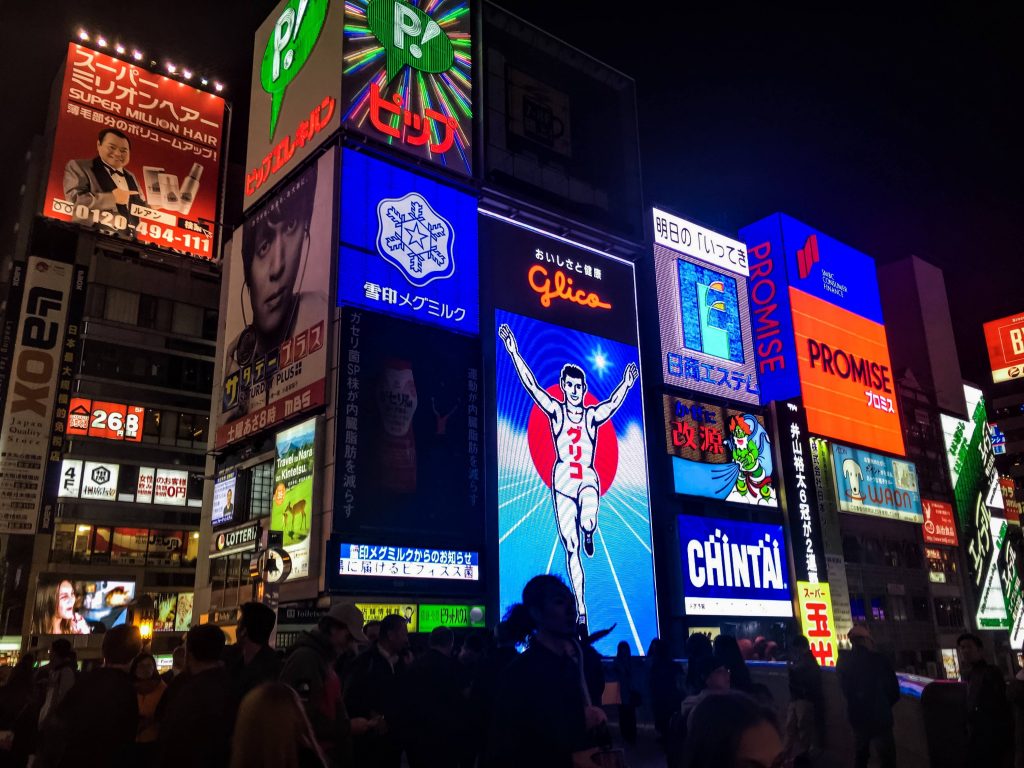 If you're planning a trip to Japan or thinking of visiting, don't hesitate to contact me. I plan highly personalized experiences for the discerning traveler.