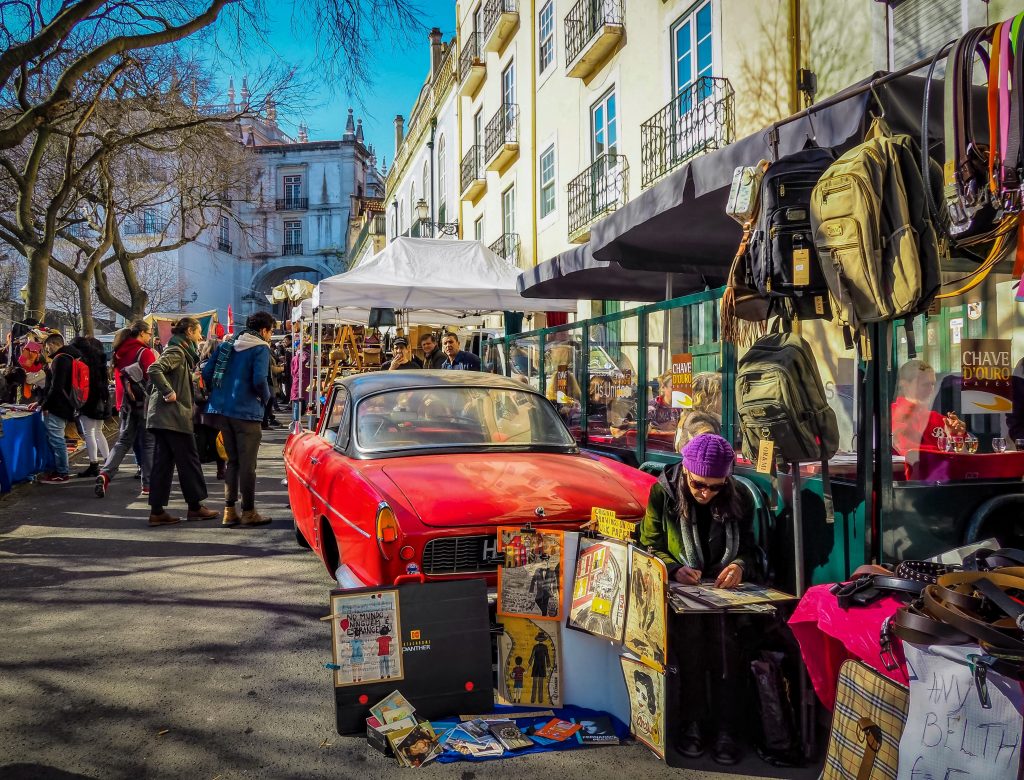 Lisbon's beauty is known all around the world. And with reason. Like many other cities in Europe, Lisbon (in Portuguese, Lisboa) has a dense history filled with glory and tragedy. As you explore its streets and points of interest, you'll uncover the Portuguese past.
It may get a bit overwhelming to try and find recommendations for things to do in Lisbon. My best tip would be to discover the places locals (like me) enjoy and avoid overcrowded touristic areas (especially restaurants).
Best Things to Do in Lisbon
As you read through the best things to do in Lisbon, you'll discover not only interesting and fun places to visit but also the role each of these played in the city's history.
1. Flea Market Shopping at Feira da Ladra
Feira da Ladra (literally Thief's Fair) is the place where the local people go when they're in search of a bargain! It takes place on Tuesdays and Saturdays and vendors mostly sell second-hand items. You'll find antiques, books, azulejos (Portuguese tiles), handkerchiefs, art, and more.
The existence of Feira da Ladra dates all the way back to the 13th century and its name originates from the legend of thieves selling their stolen goods there. It has been at its current location – Campo de Santa Clara – since 1882. It's a traditional event where you'll have a sneak peek into the Portuguese culture. Get there early! Check out my video about Feira da Ladra here and have a virtual tour with me.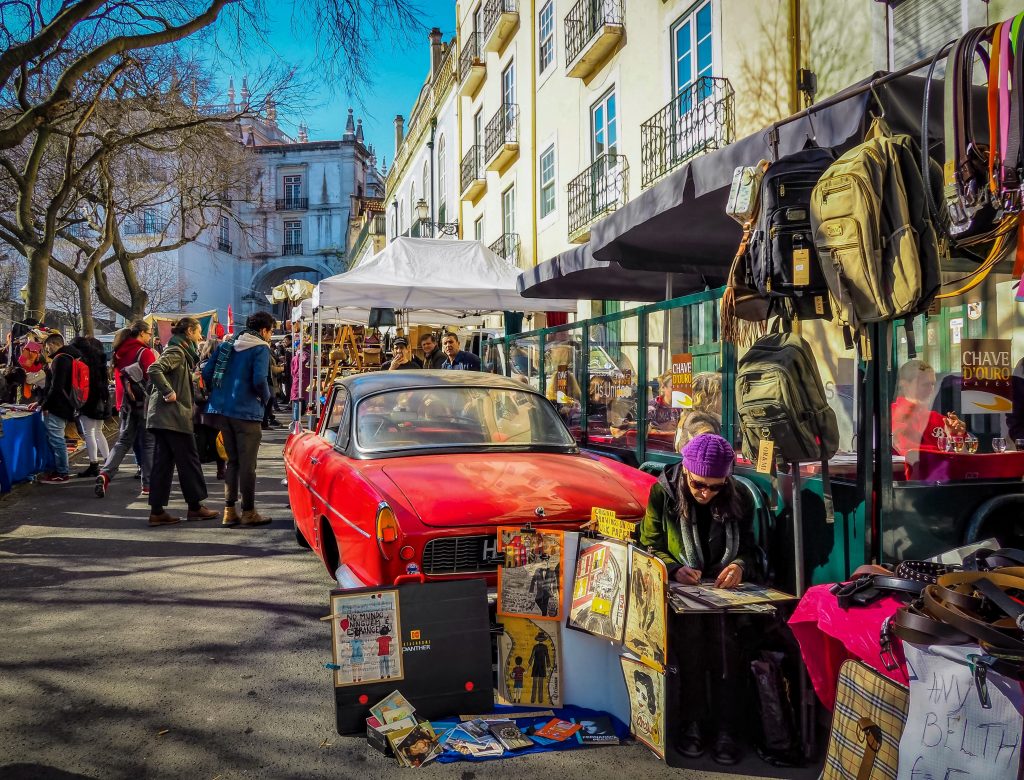 2. Visit Panteão Nacional
The Panteão Nacional (translation: National Pantheon) is a mausoleum at Campo de Santa Clara where some of the most notorious Portuguese people are buried. Its construction was initiated in the 17th century and its baroque architecture is enough to be worth a visit.
The interior of the building is paved with colored marble and its giant dome is beautifully seen both from the inside and the outside. A few of the talents buried there are the explorer Vasco da Gama, the Fado singer Amália Rodrigues, and the writer Almeida Garrett. Climb the stairs to catch a beautiful view over Lisbon and the Tejo River!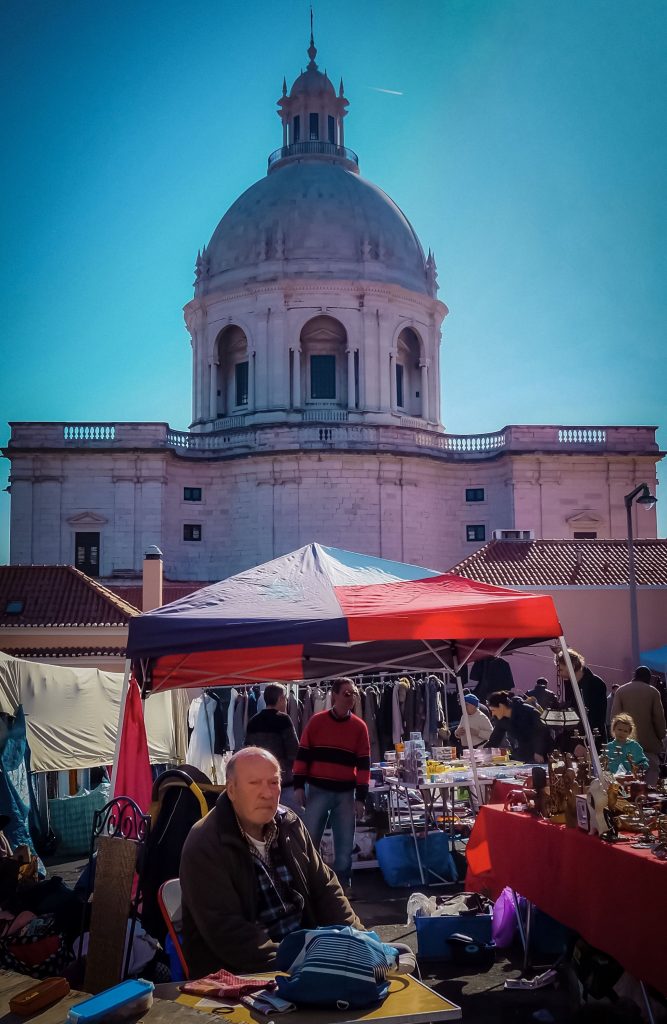 3. Stroll through the oldest streets of Lisbon in Alfama
As the oldest area of Lisbon, Alfama certainly deserves the fame it has among tourists. It's mostly inhabited by locals and it's a great destination for those who want to know how locals live. Its streets are narrow and steep for the most part – make sure you go downhill through Alfama if you aren't comfortable having quite a workout!
Those visiting Portugal may also enjoy a Fado night in one of the several typical restaurants which offer these. Fado (meaning Fate) is a mournful music genre originated in Portugal that brings out feelings in everyone, regardless of the audience's language. Alfama has good options but you may also find good restaurants offering traditional Fado nights in other neighborhoods.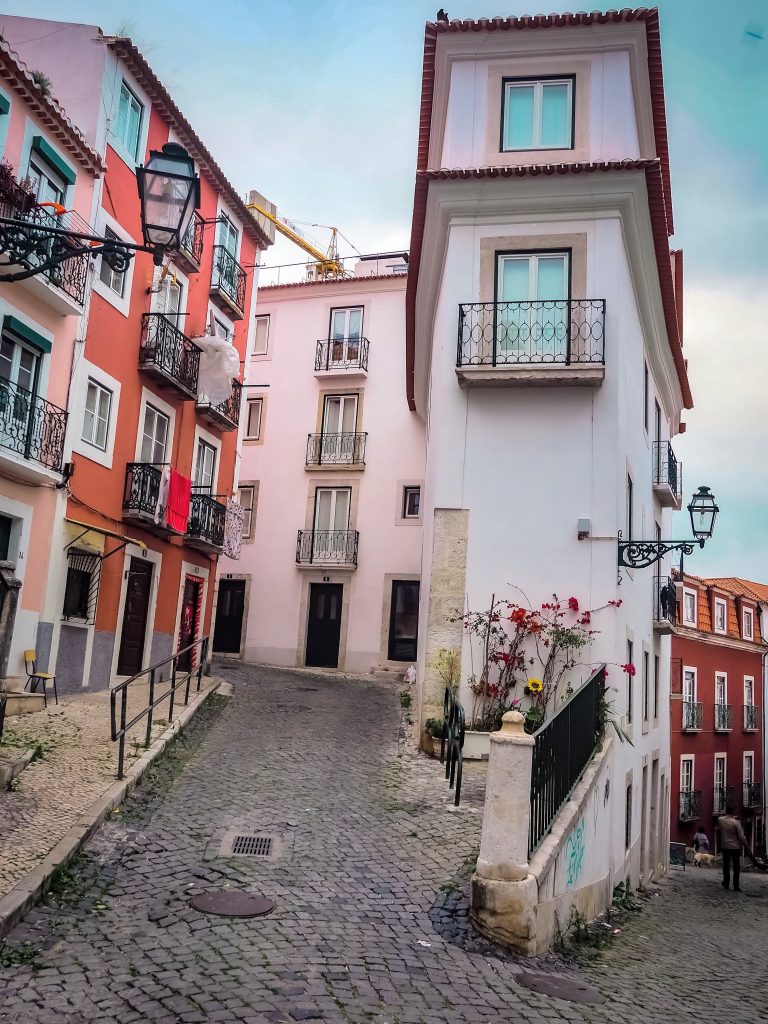 4. Enjoy views and peacocks at the St. Jorge's Castle
The Castelo de São Jorge (translation: São Jorge's Castle) is an imposing castle that looks over Lisbon from one of its seven hills. It was first built over 2000 years ago, has been further developed several times since then. Visitors are often impressed by the main gate added in the 19th century, which includes the Portuguese coat-of-arms. Take part in one of the guided tours available, take a stroll through its gardens, and enjoy the beautiful view over the city's historic center.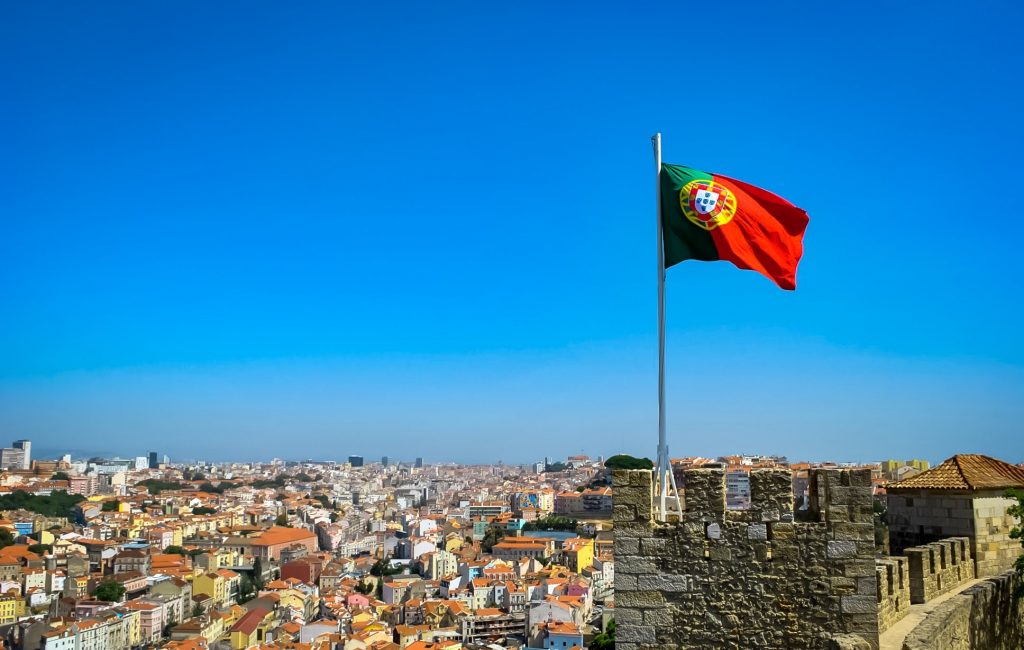 5. Get to know the history of Portuguese tiles at the Museu Nacional do Azulejo
It's impossible to remain indifferent to Portuguese azulejos, those colourful tiles found throughout the country. The Museu Nacional do Azulejo (translation: National Tile Museum) is the place for those who want to know more about the history of these in Portugal. The blue and white azulejos are certainly going to be the highlight of your visit to this museum. See huge panels portraying different moments of the history of Portugal.
6. Linger with the locals at Miradouro da Graça
The Miradouro da Graça (translation: Graça's Viewpoint) is one of several places where locals and tourists come together to appreciate the beauty of Lisbon. From there you can see the Castelo de São Jorge, the historic center, the Tejo River (also known as Tagus River), and the Ponte 25 de Abril (translation: April 25th Bridge). It's during sunset that the view is most astonishing but it's also during that time that the place is most crowded. Locals love spending time there with a few beers, simply chatting. If you're an early bird, get there in the morning to avoid crowds and enjoy the sunrise instead!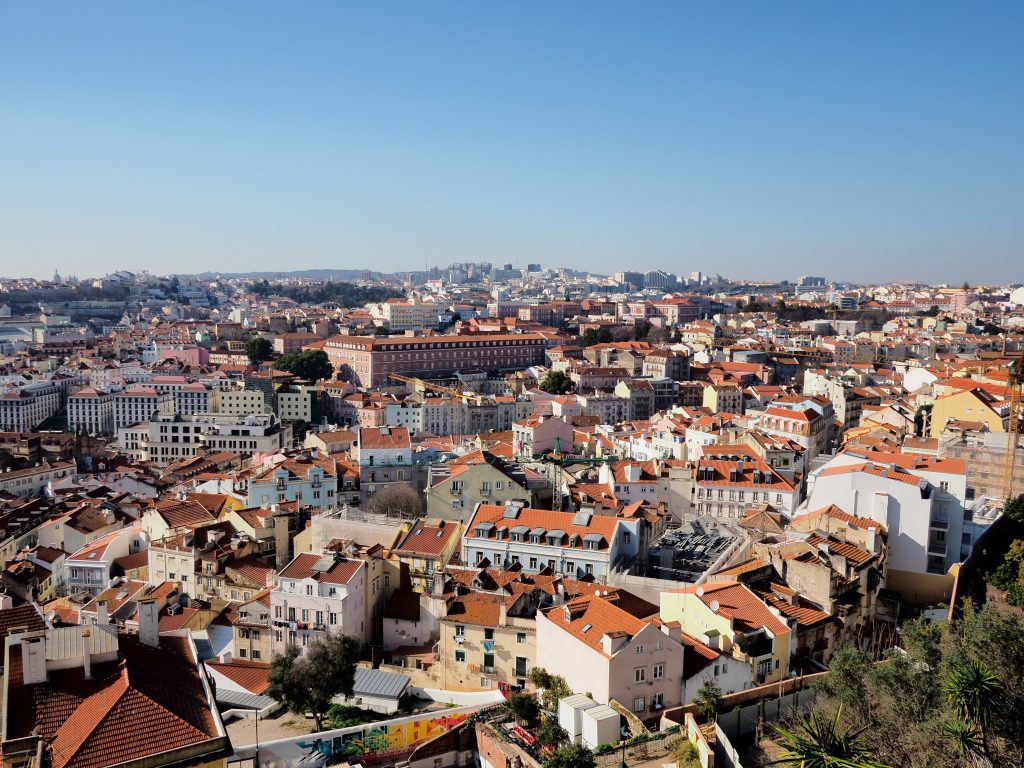 7. Take a breath from the hustle and bustle of the city at Parque Eduardo VII
One of the most beautiful views over the city and the river can be caught at Parque Eduardo VII (translation: Eduardo VII Park). The park itself runs down a hill and includes a huge greensward, great for sunbathing. Explore the area and you'll also find statues, monuments, ponds, and a big area under the shadow of trees.
If you like walking, this may be a great start to a day-long walking trip down to the river banks. To reach Parque Eduardo VII, take the metro and get out at São Sebastião (red line). Walking down through it will lead you to the statue of Marquês de Pombal and Avenida da Liberdade, one of the most iconic avenues in Lisbon, filled with high-end shops. Keep walking down through the avenue and you'll reach Rossio.
8. Admire the gorgeous facade of Rossio Train Station
Rossio is one of the prime destinations for tourists. If you aren't into crowds, this isn't the place for you! However, it's a beautiful square surrounded by buildings that'll amaze you. Enjoy the architecture of the Estação do Rossio (translation: Rossio Train Station) and of the Teatro Nacional D. Maria II (translation: D. Maria II National Theatre).
Near Rossio, you have Mercado da Baixa (translation: Baixa's Market). The wonderful smell will guide you there! It's a tented food court where you'll find the most Portuguese goods: cheese, enchidos (various meat-based smoked sausages) and wine. You may also purchase different gourmet goods.
Walking through Rossio, you'll get into Baixa. This area is known for its architectural style, shops, and live street performances!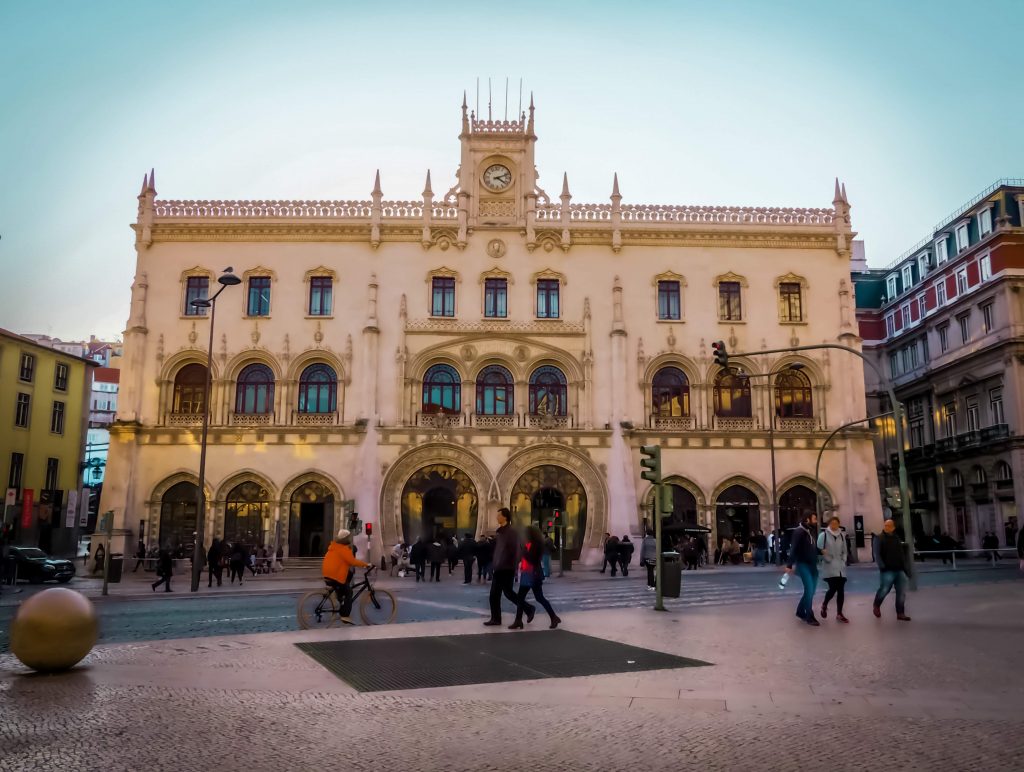 9. Visit the iconic Praça do Comércio
The history of Lisbon is intrinsically connected with Praça do Comércio (literally Square of Commerce). It served as a port until 1775, the year when Lisbon suffered a fatal earthquake. Intending to run from the fire that followed the devastating disaster, people sought refuge in Praça do Comércio, an open space that apparently didn't a present danger. Little did they know that a tsunami was to follow.
The square was rebuilt in the following years and was the stage for other important historical events throughout time. It's now a beautiful area of the capital of Portugal loved by both Portuguese people and tourists.
The area is the delight of architects. Appreciate the beautiful arcades, the yellow facades, the mosaic cobbles and the imposing statue of Dom José I, the king who ruled when the fateful disaster took place.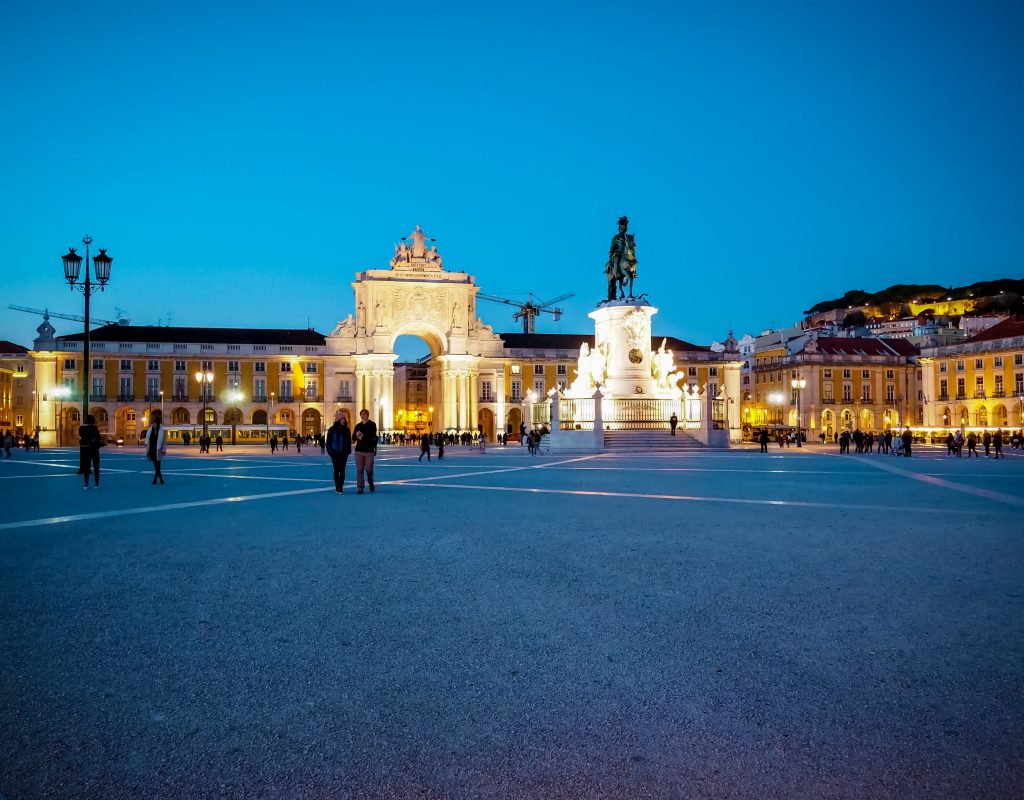 10. Take the Elevator of Santa Justa 
The Elevador de Santa Justa (translation: Santa Justa Elevator) offers astonishing views of the city (including of Baixa, Rossio and the Castelo de São Jorge). Since it connects the two areas, you may enter this elevator either from Baixa and from Bairro Alto. It'll be cheaper and you'll have to wait less time in line if you opt for Bairro Alto.
Note that you'll have to pay to have this view while there are several free viewpoints throughout the city. However, it's a convenient solution for those on a tight schedule to have a sweeping view over Lisbon!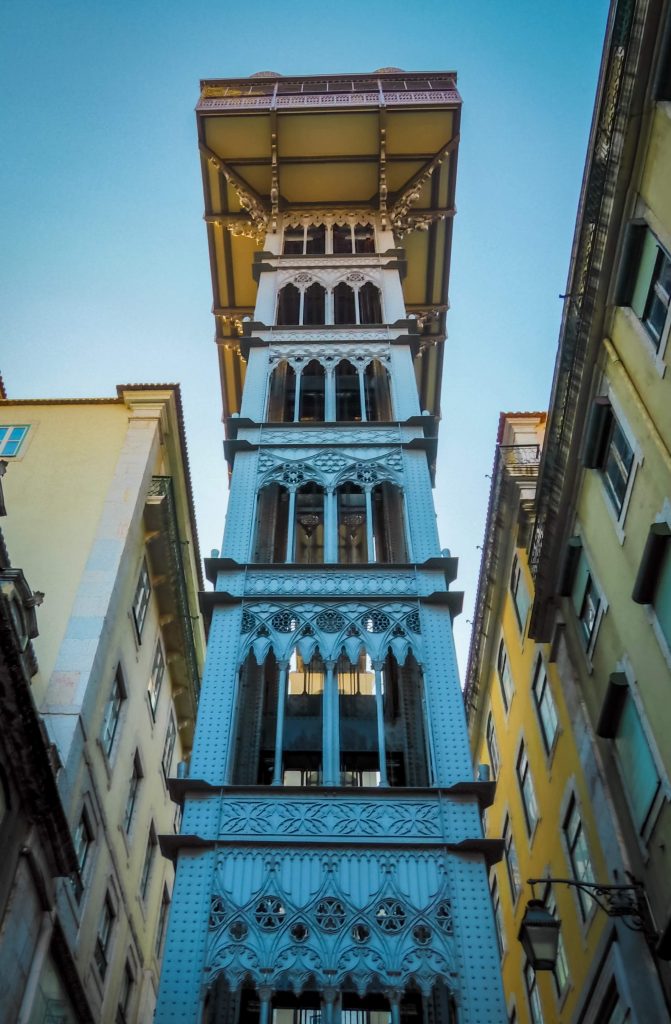 11. Have dinner and a drink at Bairro Alto
If you like going out at night, you can't leave Lisbon without heading to Bairro Alto (literally High Neighbourhood). It's a nightlife spot for people of all backgrounds! You'll find locals, college and exchanging students and, of course, tourists. You'll find people on the streets having fun, bars with live music, restaurants with Fado nights, and astonishing views over the city.
Don't get us wrong, Bairro Alto is fun at night but it's also a great spot to visit during the day. The views you'll get from there only get better at sunset and there are lots of small businesses and restaurants for you to visit.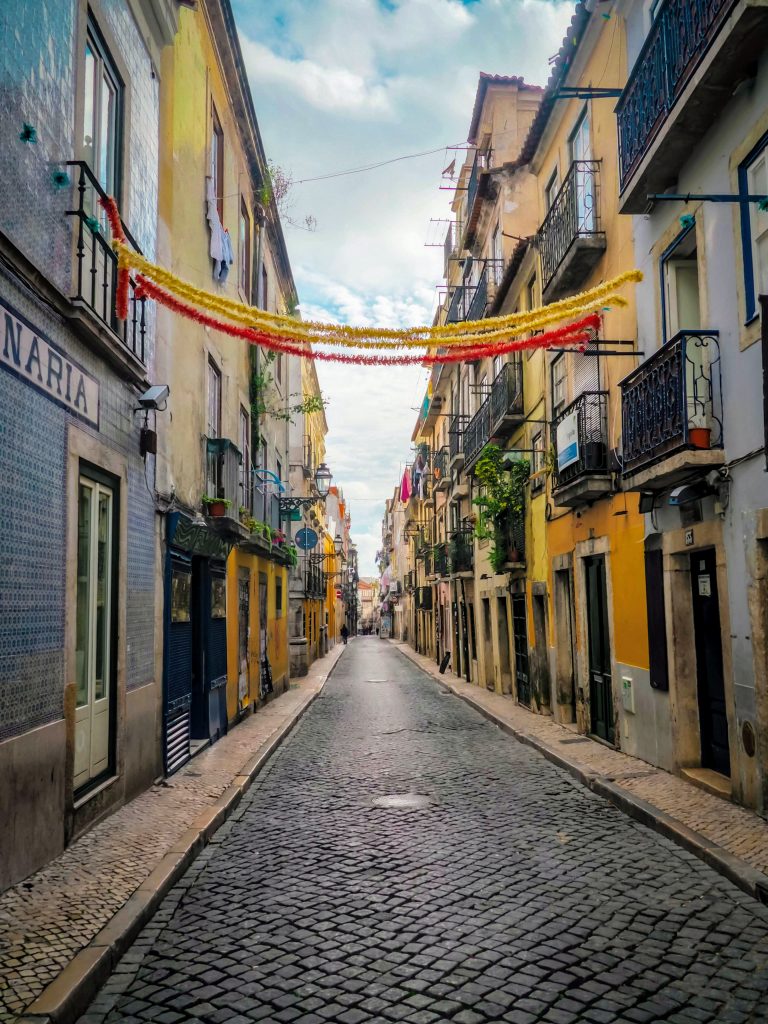 12. Sip coffee and enjoy local performance arts at A Brasileira
A Brasileira (literally The Brazilian) is a well-known café located in Chiado with over 100 years of history. One of its most famous characteristics is the statue of Fernando Pessoa on its terrace. Portugal has a rich literary history and Fernando Pessoa was one of the most notorious Portuguese writers of all time, influencing many others with his works.
This is the perfect location for you to grab a cup of coffee before or after a meal out. There are usually street performers singing close by and you'll have the chance to hear them if you choose to enjoy your beverage on their terrace.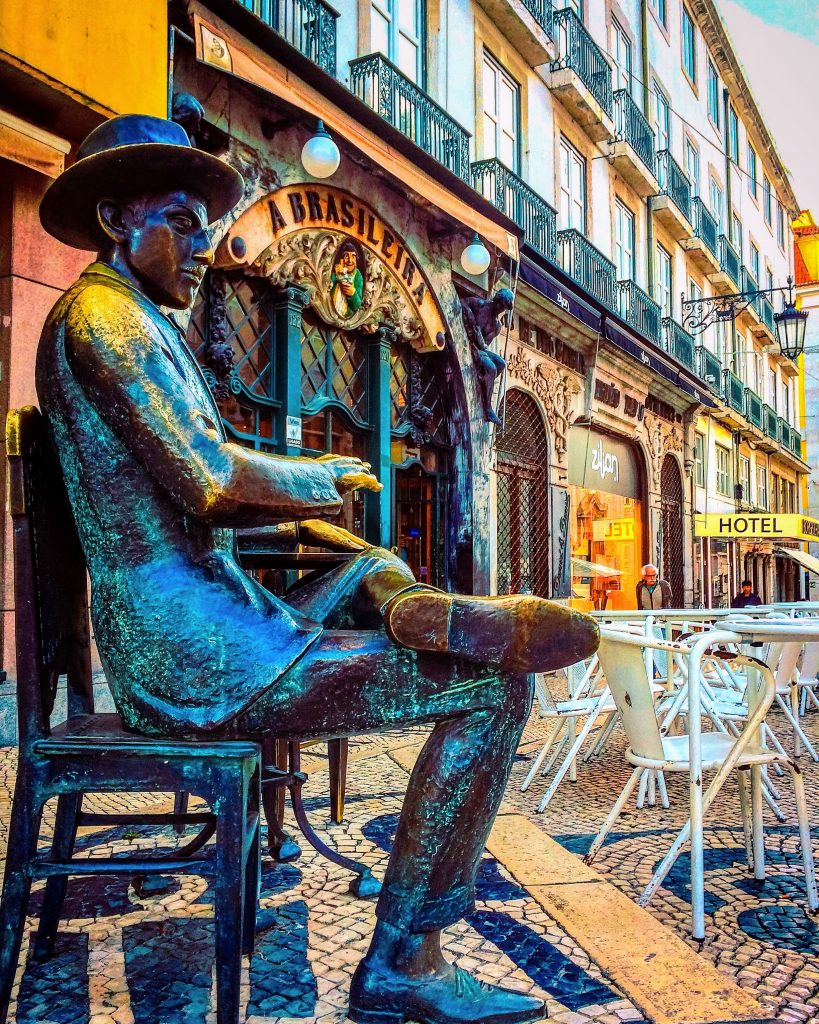 13. Ride on Tram 28E
The Tram 28E (in Portuguese, Elétrico 28E) is a unique and inexpensive way for you to get to know the city. It's a beautiful old-fashioned tram with wood paneling and yellow and white exterior. Its route connects Martim Moniz and Campo de Ourique and lasts for 45 minutes. You may board the Tram 28E at one of those two stops or at one of those in between, including Estrela, Chiado, and Graça. No matter which path you choose, you are off to an interesting ride that'll give you a glimpse of some of the most iconic areas of Lisbon.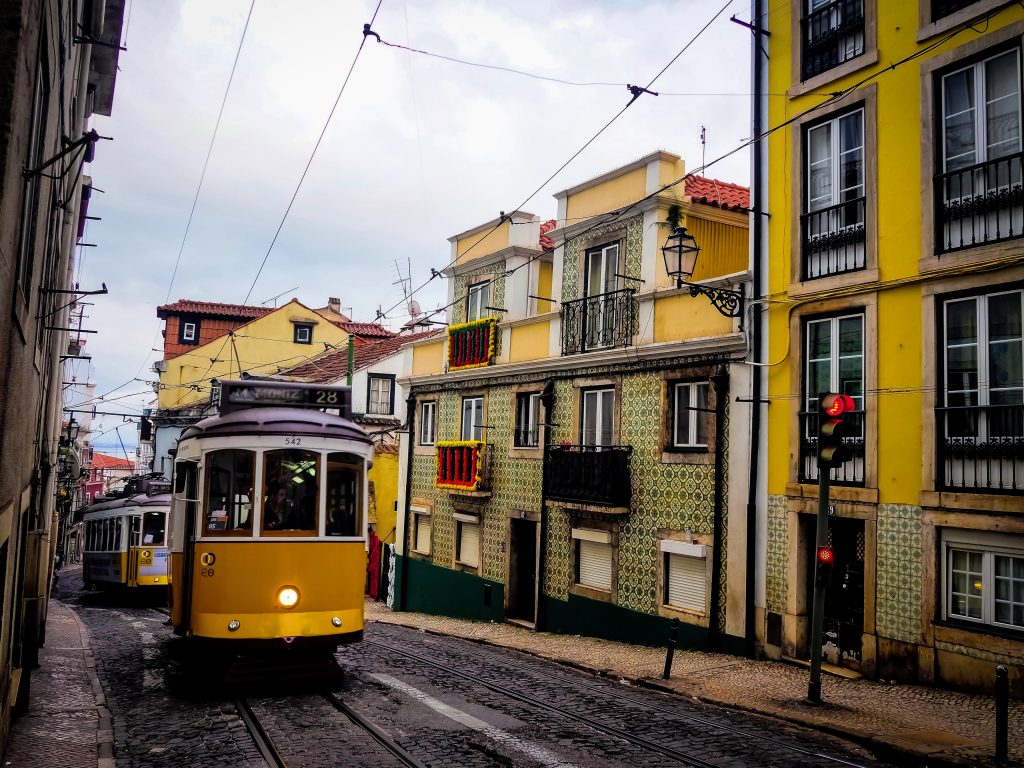 14. Visit the under-the-radar neighborhood of Estrela
There are a couple of sites worth visiting in Estrela (literally Star). The first one is the Jardim da Estrela (translation: Estrela Garden). This is one of the most beautiful gardens in the city (even though it has strong competition). It dates back to the 19th century and, being on the route of the Tram 28E, it's quite easy to get there.
Explore its vegetation, ponds, gazebo, sculptures, playgrounds, and kiosks (one for books and one for food). If you're lucky (and plan ahead), you may even get to listen to live music or browse the urban craft fair which takes place on weekends.
Just by the Jardim da Estrela, you'll find the Basílica da Estrela (translation: Estrela Basilica). The dominant church was built in the late 18th century and its architectural style is a result of a mix of the baroque and the neoclassical. It has one big dome on the back and twin bell towers on the front. Inside you'll find intrinsically designed marble walls and floors, paintings, the tomb of the Queen Maria I of Portugal (who ordered the construction of this building), and a unique nativity scene made from cork and terracotta.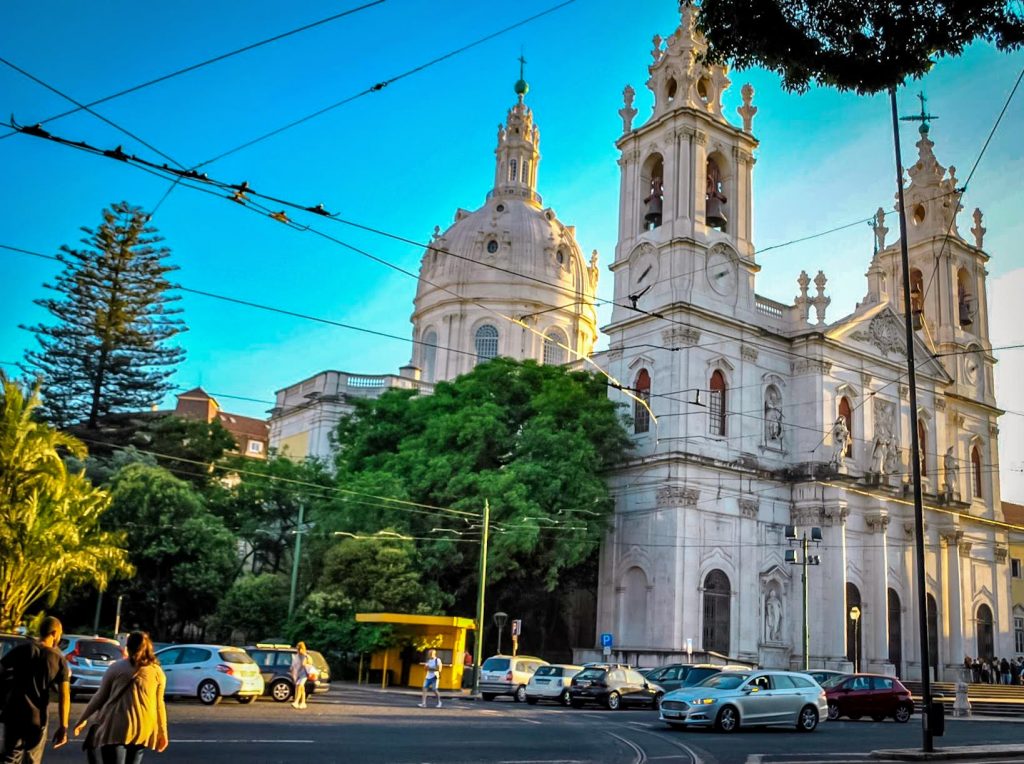 15. Enjoy a day in historical Belém
Make sure you make time during your stay in Lisbon to visit Belém. This area is located west of the city center and it's the perfect place for you to learn more about Portugal's Age of Discoveries. There's a lot to see: monuments, museums, gardens, and the ample view over Tejo River and its southern bank.
Make sure you visit the Torre de Belém (translation: Belém Tower), the Padrão dos Descobrimentos (translation: Monument of the Discoveries), and the Mosteiro dos Jerónimos (translation: Jerónimos Monastery).
There are countless museums in the area and you could spend all day browsing them! The Centro Cultural de Belém (translation: Cultural Centre of Belém) and Museu das Coches (Coaches Museum) is definitely one of the best places to visit in Belém. In addition to the exhibits of the museums contained in it, there are always interesting events taking place. Make sure to check their schedule beforehand and you may find yourself watching opera or ballet!
Visiting Lisbon soon? Why not Check out
16. Visit Torre de Belém and Padrão dos Descobrimentos 
The Torre de Belém (translation: Belém Tower) is one of those distinct monuments you'll always recognize in pictures. It was built in the 16th century and it played an important rule as part of the defense system of the Tejo River and as a ceremonial gateway to Lisbon. You may appreciate it solely from the outside or climb it to enjoy the view over Belém and the river. It gets crowded and the spiral staircase may be challenging to climb!
Walking 10 minutes upriver, you will find the Padrão dos Descobrimentos (translation: Monument of the Discoveries). It was built in the 20th century to honor the anniversary of one of Portugal's most notorious sailors during the Age of Discoveries – Infante D. Henrique (known as Prince Henry the Navigator).
The monument is shaped in the form of the prow of a caravel with 33 statues of important people from the history of the Discoveries, including D. Henrique's on its edge. There's always access to exhibitions on the interior and a viewpoint on top of the structure.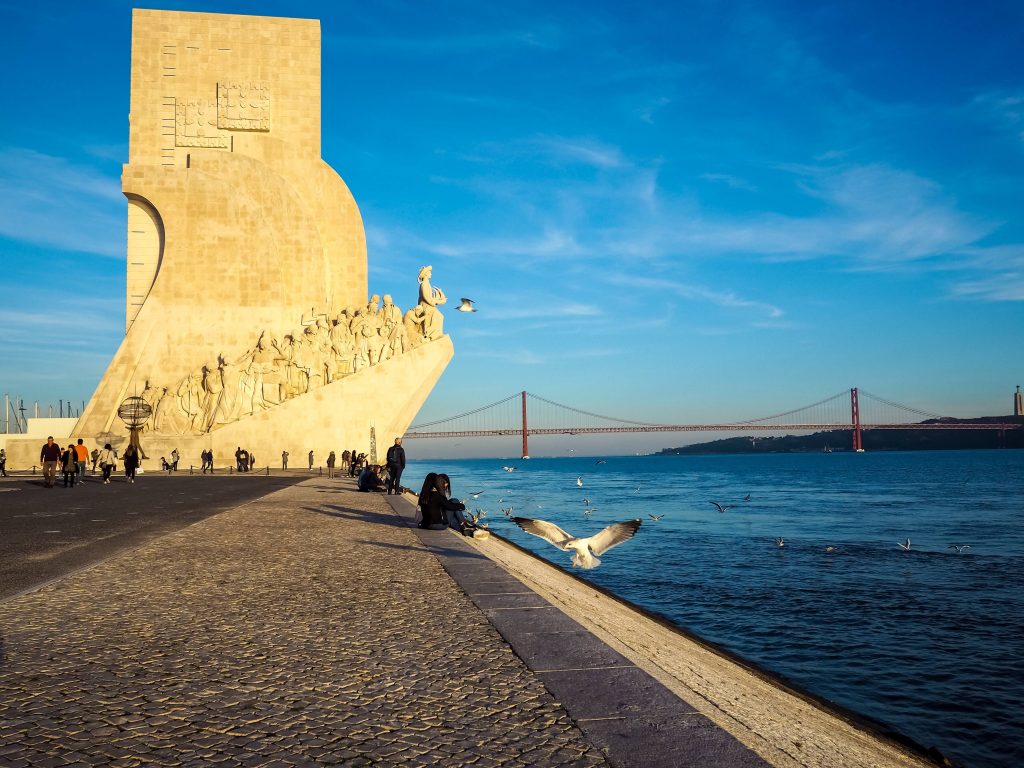 17. Enjoy the gardens of Mosteiro dos Jerónimos
The Mosteiro dos Jerónimos (translation: Jerónimos Monastery) is considered a UNESCO World Heritage Site (and so is the nearby Torre de Belém mentioned above). It was built in the 15th century and was of huge importance during the Age of Discoveries. The monks who lived there used to help the pilgrims and the mariners who sought refuge.
This monastery was designed in a Manueline style and it's one of the most beautiful and imposing monuments in Portugal. Explore all the sculptures and intrinsic designs placed throughout its exterior walls, arches, and towers. These reminisce the naval expeditions carried out by Portuguese people and the role this venue played during those times.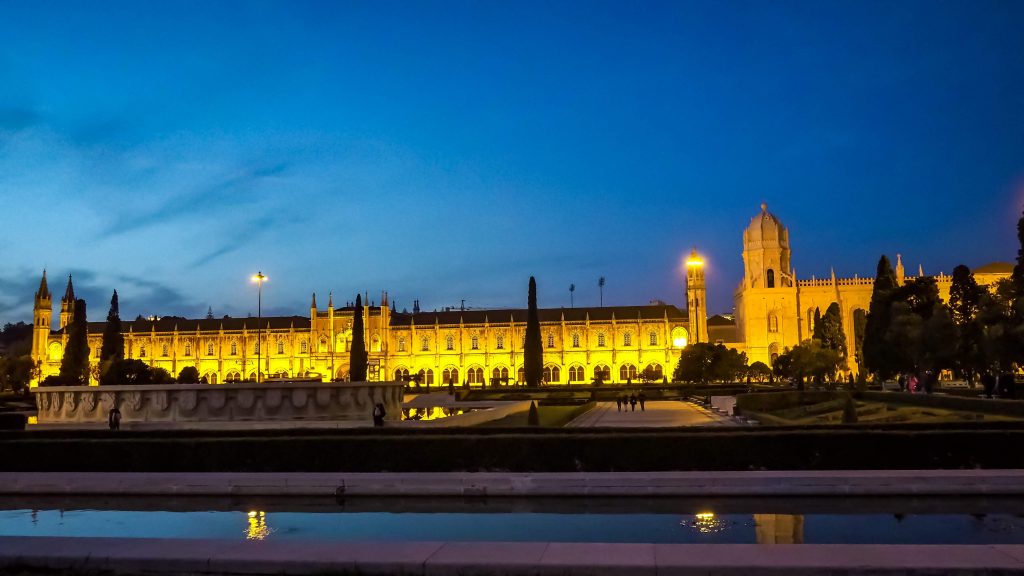 18. Eat a very special custard tart at Antiga Confeitaria de Belém
You can't leave Portugal without tasting the famous Pastéis de Nata (translation: Portuguese Custard Tarts) or Pastéis de Belém (translation: Belém Custard Tarts). The first are widely available throughout the country and can be tasted wherever you go. However, if you want Pastéis de Belém, there's only one place for you to buy them: in the Antiga Confeitaria de Belém (literally Belém Old Confectionery). You'll probably have to wait in line but it is one of the best things to do in Lisbon. The shop itself will be worth the trip due to its beautiful interior design, with the typical Portuguese azulejos. Try the Pastéis de Belém with cinnamon and powdered sugar! If you buy them to go, you may eat them sitting at one of the several gardens in Belém.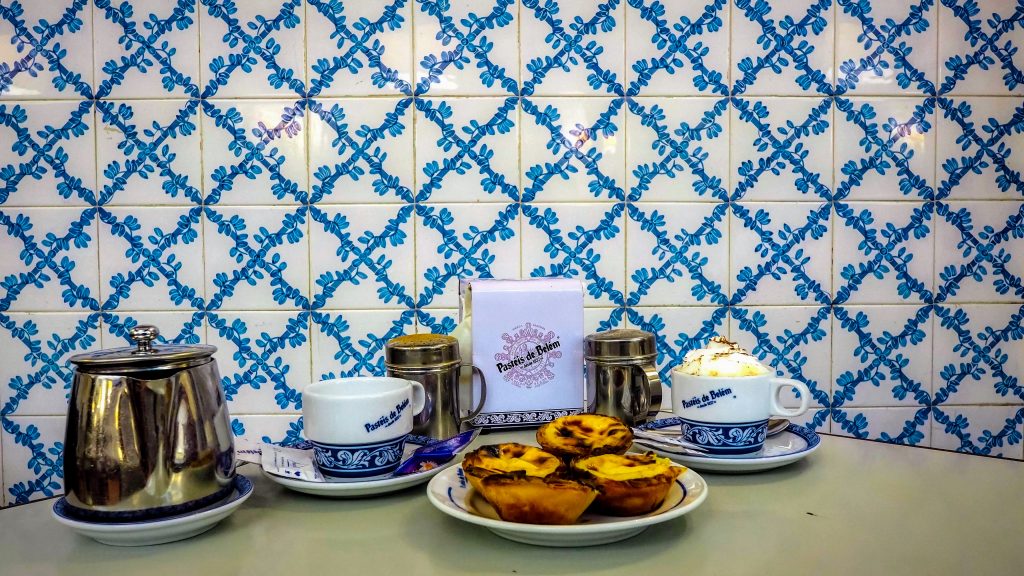 19. Enjoy art at Museu Calouste Gulbenkian
Unlike most of the other attractions listed in this article, the Museu Calouste Gulbenkian (translation: Calouste Gulbenkian Museum) is fairly recent. It dates back to 1957 and is the result of a heavy donation of works of art from Calouste Gulbenkian upon his death. It has ever since delighted visitors with its permanent exhibition and galleries, as well as temporary exhibits.
Even though it's quite far from the city center, this museum is worth a visit if you'd like to spend your day browsing statues, paintings, porcelains and more artifacts from all over the world.
The gardens surrounding it are some of the most astonishing you'll find in Lisbon. Enjoy the mix of green, wood, water and stone.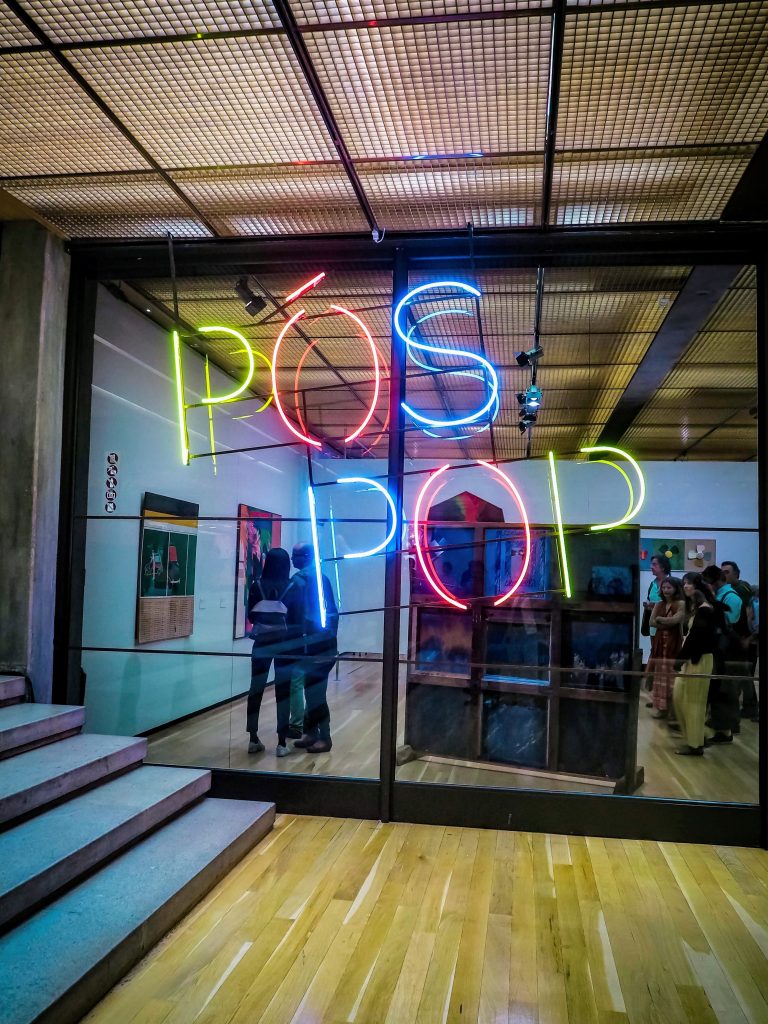 20. Unleash your inner foodie at the Time Out Market
The Time Out Market or Mercado da Ribeira (translation: Ribeira Market) is definitely an essential destination in Lisbon for foodies! It used to be only about fresh fruit, veg, fish, and other ingredients sourced locally, but that changed once Time Out Market Lisboa opened. Even though it still has the appeal of a traditional Portuguese market, visitors can now choose from a variety of gourmet delicacies and even enjoy main meals at the food court!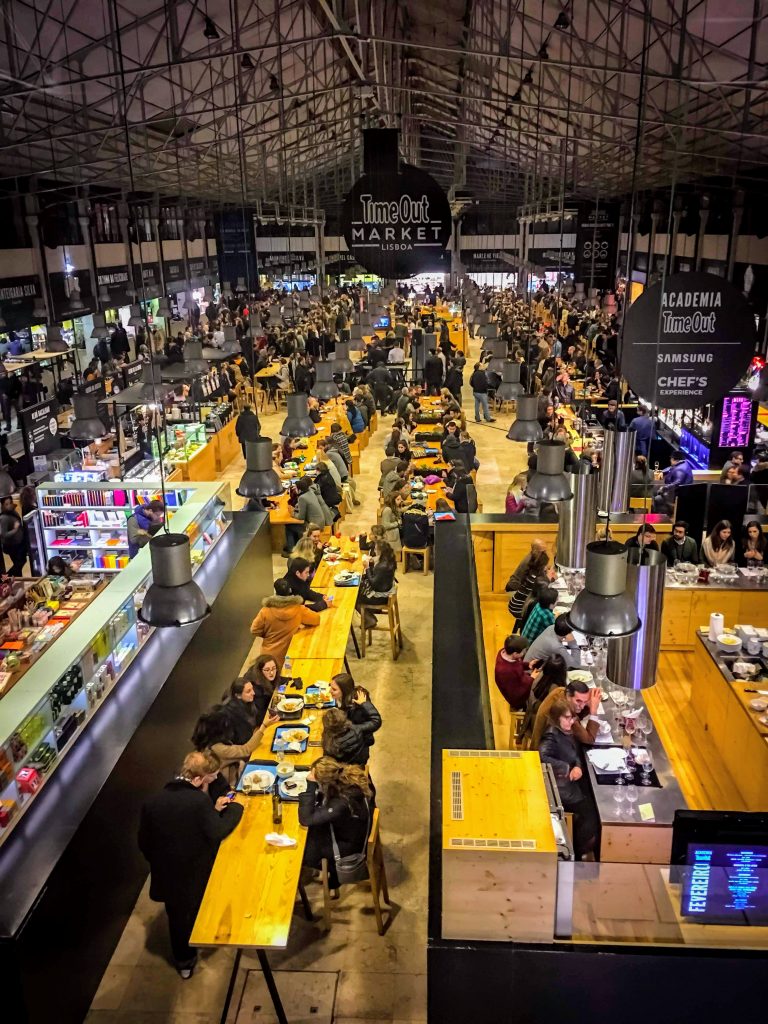 21. Buy unusual souvenirs at Loja das Conservas
Fish plays a big role in Portuguese cuisine. It comes as no surprise that we like canned fish. At the Loja das Conservas, you'll find over 300 varieties of canned fish and paté. Choose between the traditional sardine and the other species in offer – tuna, eel, mackerel. Take some for yourself and some for your family and friends back home. You'll also be able to taste samples in-store, go on a private tasting, or even eat a meal at their restaurant!
22. A Day trip to Sintra
If you're spending more than a couple of days in Lisbon, there's no excuse not to visit Sintra! It's located quite far from Lisbon itself but you can get there quite easily by train or on a tour. This is a well-loved destination among both Portuguese people and tourists. Many artists have found inspiration in its beauty and so will you.
Make sure you have enough time to visit the village and the monuments found in its vicinity. Don't leave without exploring the colorful Palácio Nacional da Pena (translation: National Palace of Pena) and the mythical Quinta da Regaleira! For off-the-beaten-path place try The National Palace of Sintra and Chalet da Condessa d'Elda.
I recommend taking a tour to Sintra but if you prefer driving there, check out my Driving safely in Portugal guide.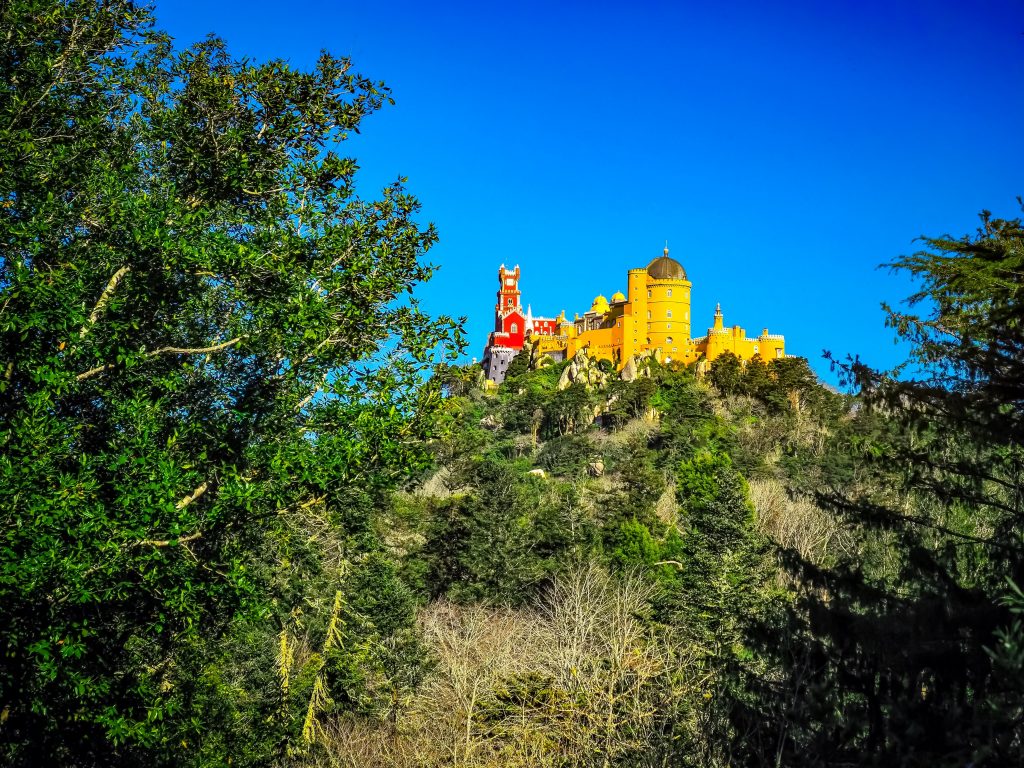 23. Get lost in the Parque Florestal de Monsanto
If you want a glimpse of what it's like to be in nature in Portugal but you can't leave the city, the Parque Florestal de Monsanto (translation: Monsanto Forest Park) is the place for you. Its 900 hectares of land are well cared for and are suitable for all kinds of activities. Take your time there to hike, cycle, play on one of the sports fields available, or simply relax and have a picnic.
The Corredor Verde de Monsanto (translation: Monsanto Green Corridor) is a recent addition to the city which allows people to walk or cycle between the Parque Eduardo VII (translation: Eduardo VII Park) and the Parque Florestal de Monsanto without ever losing sight of green wonder.
While you're at Monsanto, make sure to visit the Miradouro Panorâmico de Monsanto (translation: Monsanto Panoramic Viewpoint). It's an abandoned building covered with graffiti which you may explore. Enjoy the view!
Note: While Lisbon is very safe for tourists, avoid going alone at night in the park. Here're some more tips on safety in Portugal.
24. Dich Lisbon and explore the Beaches around it
If you head to Lisbon during the hot months of the year, you may have a pleasant beach day. Several beaches can be easily reached by public transportation or you may simply rent a car or a scooter to get there. Some of the most famous beaches near Lisbon are the ones near Cascais and Costa da Caparica. There are also several beautiful and less known options near Sintra! Check our article on the best beaches near Lisbon and choose your favorite.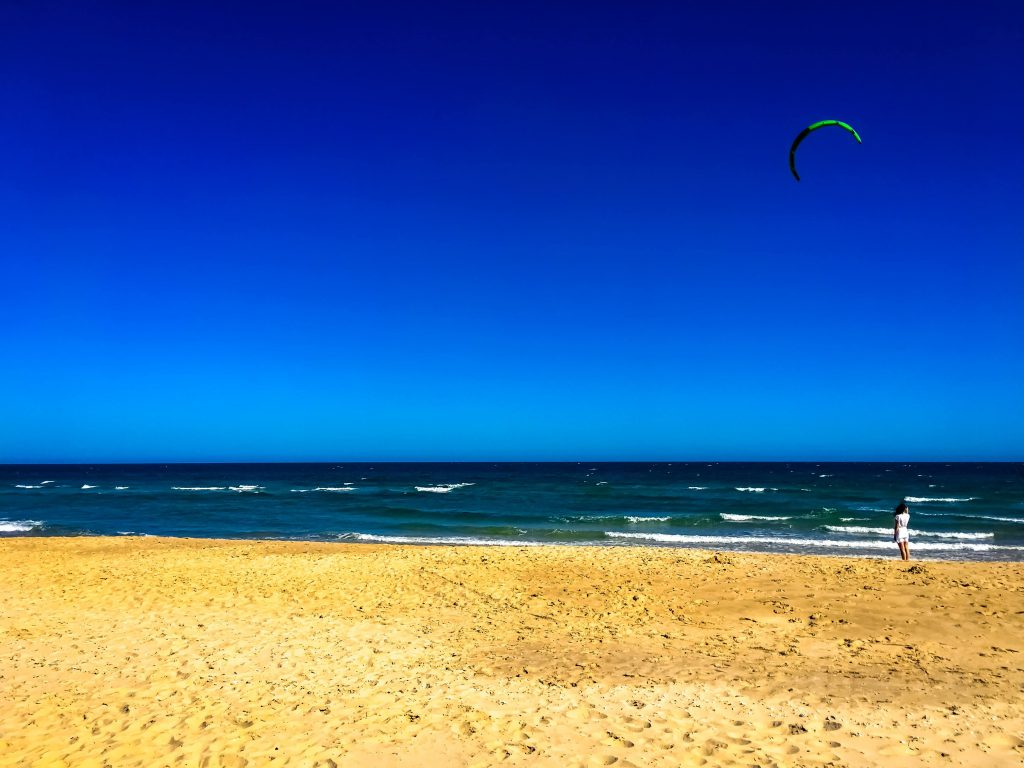 25. Don't leave Street Art out
As you explore Lisbon, you'll surely see street art spread throughout its walls, especially those of abandoned buildings. You'll get to appreciate them simply walking around the city but, if you're into street art, you may want to consider going on a Lisbon Street Art Tour! There are both small group and private tours available, offered in several different languages.
There's a lot to choose from when visiting Lisbon. Make sure you prioritize and choose what best suits your schedule and your interests. You wouldn't want to have a packed schedule since having time to appreciate each one of these is key! You may always come back again in the future…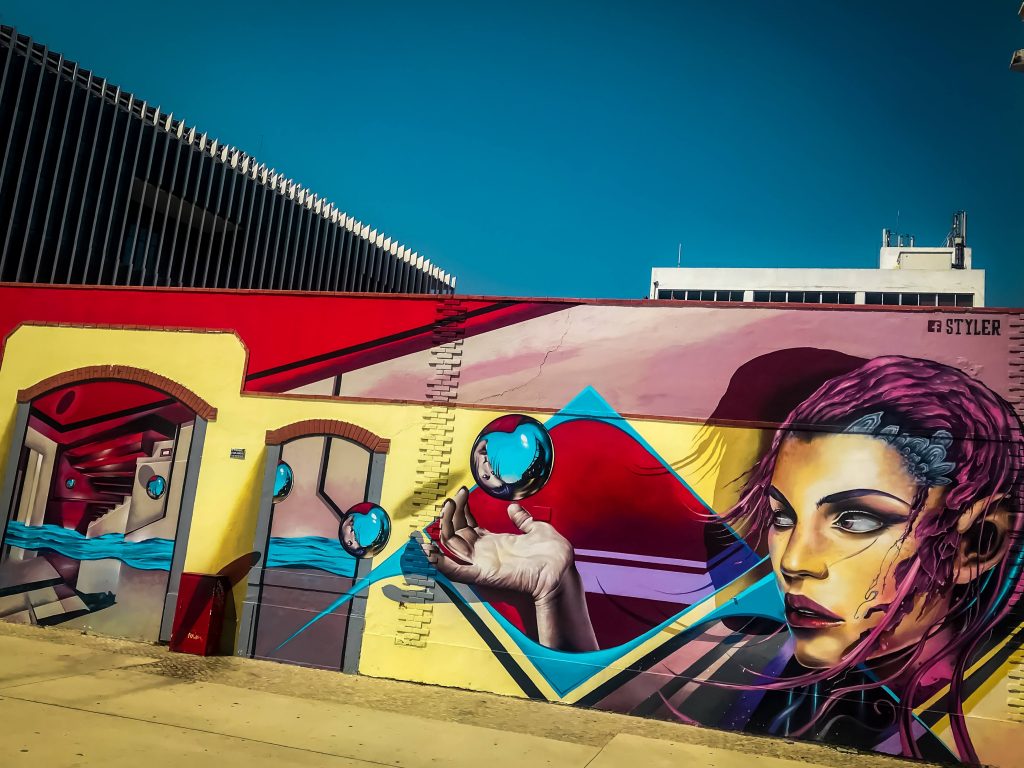 Visiting Lisbon or Portugal soon? Check these out: