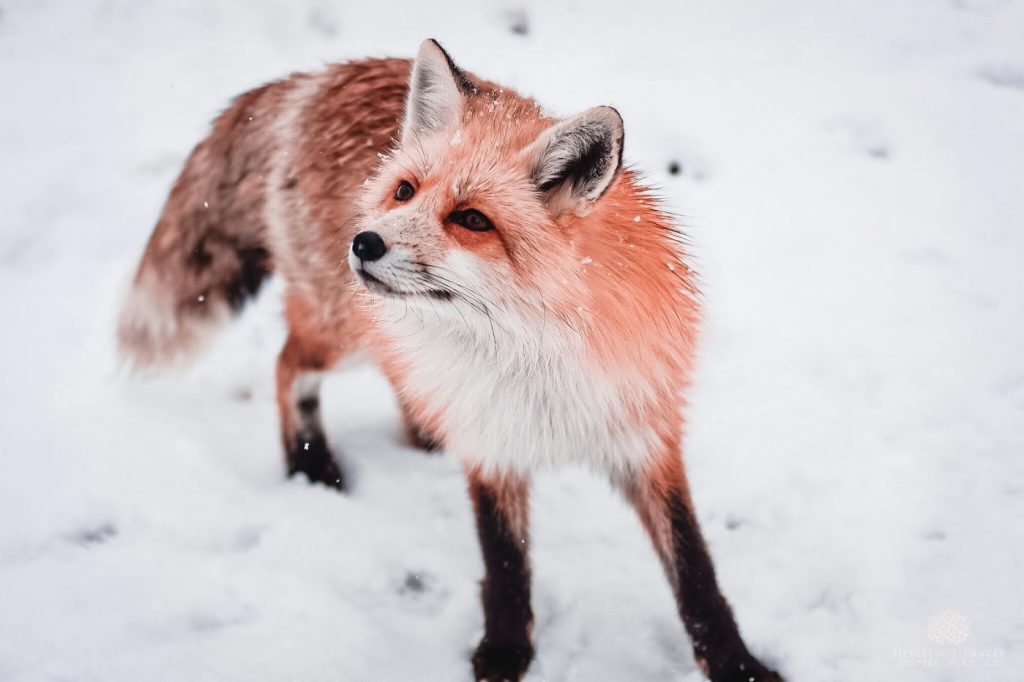 Foxes – cheeky, smiling tricksters that nonetheless charm the pants off us, one would think that a village full of them just spells trouble. Step foot into Japan's Zao Fox Village however and you'll find a very different reality; one that speaks of cuteness and awe. Let's take a look at what foxes mean in Japanese culture and what light-hearted charm they've worked on us in just an hour or two.
Foxes in Japanese mythology
Kitsune is a translation for the usual fox as well as the common subject in Japanese folklore. Depicted as intelligent beings with special abilities gained over time and wisdom, foxes in Japanese culture have gained their place as a cultural entity. While some folklore speaks of kitsune who use their ability to shapeshift into human form to trick humans, others write them as friends, guardians, and lovers. In the lore, a kitsune's power can be gauged by how many tails it has with nine being the highest number; more tails symbolize greater power and wisdom.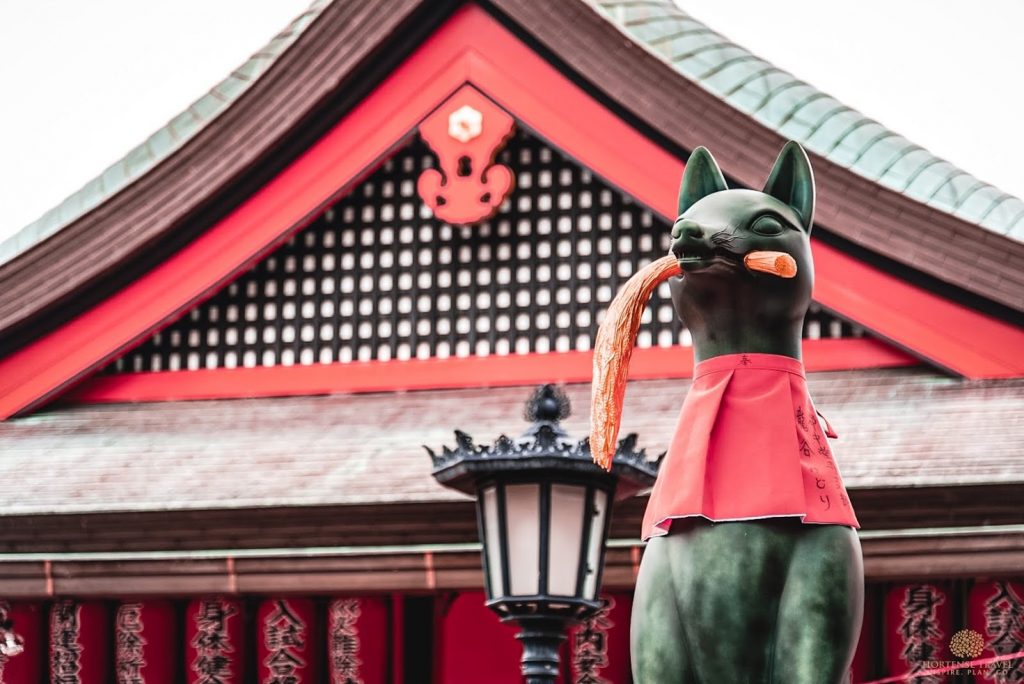 In fact, humans often lived in the close company of foxes in ancient Japan; this is what gave rise to the legends in the first place. Foxes are also believed to be close companions of Inari, a Shinto spirit, serving as its messengers and faithful servants. It's not unusual to see fox statues around Shinto shrines for this reason. Kyoto's Fushimi Inari-taisha is an example of this, hosting numerous fox statues with red scarves around their necks.  While the Inari deity is worshipped as a spirit of fertility, prosperity, and most importantly rice, some also pay respects to the kitsune for their potential power, worshipping them as potential guardians over lovers and the young.
Introducing the Fox Village
Nestled in the mountains of rural Miyaji is the picturesque, fantasy-like Zao Fox Village. More of a mini forest than zoo, this village is home to approximately a hundred foxes. It features six different breeds: the Ezo red fox, cross fox, silver fox, platinum fox, gold platinum fox and Japanese red fox with a rare arctic fox sighting. The main grounds of the village operate as an open-air preserve where the foxes roam freely. They can frolic around the grassy patches in the enclosure or navigate the rocky edges; some opt to hide in the cluster of small wooden huts and platforms and sleep the day away.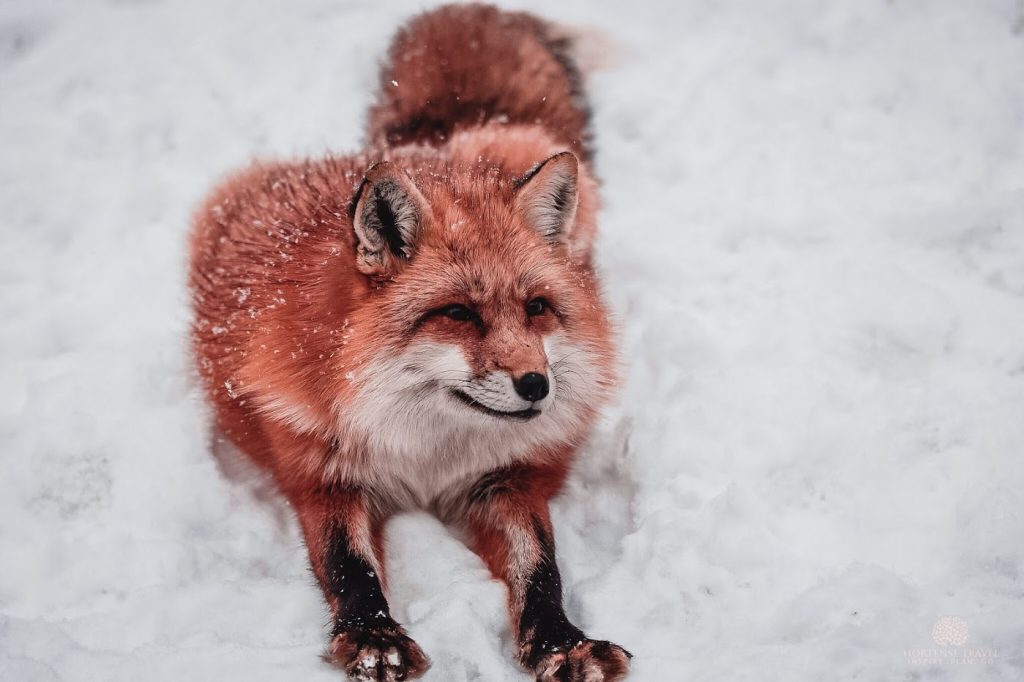 The Fox Village is a veritable menagerie! You can also see goats, miniature ponies and other free-moving animals. There's even a petting zoo of bunnies if you want to get up close and personal with an animal with less bite. Feel free to amble around and take in the adorable sights – there are also staff mingling about in case you have any questions or concerns.
If you love animals then you need to see the Snow Monkeys of Japan as well.
Spending a day at the Fox Village
It wasn't exactly easy getting to the Fox Village but arranging to join the shuttle bus beforehand made the process relatively smooth. Upon arrival at the village, we were brought to the entry hall and made to store away any loose or small items in our bags. The staff then recited some rules for us to follow, and tips on how to handle any curious foxes that might come nipping by our ankles.
My hint to you is to make sure you keep moving when inside the main enclosure! The foxes will curiously bite at your shoes or pants if you stand still like a tree; their teeth are sharp and nippy. We're not allowed to touch the foxes inside the main enclosure either. If we want to cuddle, ask staff if that's possible and they may lead you to the more docile ones. If you're visiting during spring, newborn cubs mean more cuddling opportunities as they're not as aggressive. Any feeding of the foxes has to take place within the feeding area as well.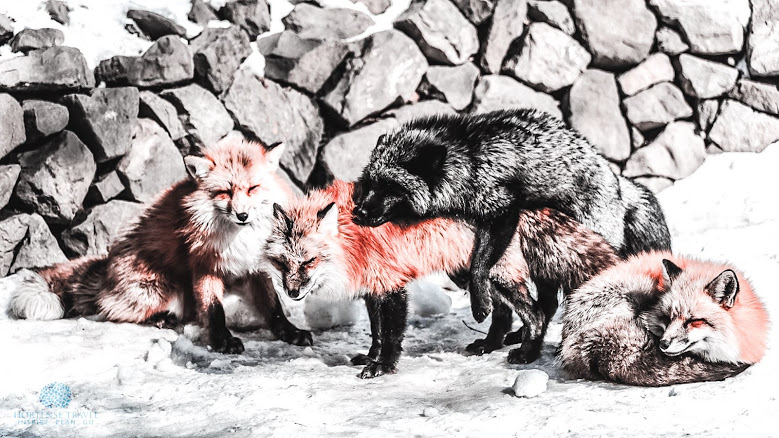 I paid ¥1000 for entry but kids below 12 can enter for free. You can also buy bags of fox food for ¥100 but keep the chunks out of sight until the staff says it is safe to do so! The foxes are good at sniffing it out, let me tell you that. If you're fortunate enough to be able to cuddle the foxes, they charge you an additional ¥400.
After paying the fee and having gone through the translated booklet of information and rules, a staff member will lead you to the main enclosure. Even before I entered the green cross-wired space of 18,000 square-feet, I could see the bulky tails and black-clad feet of the foxes.
The main enclosure slopes gently upwards, towering trees set generously apart so that the foxes of plenty of space to dart around. Wooden hutches, big metal tubes and wooden planks make up most of their playground. It becomes clear after a while that any seating structures weren't made for human guests but are simply extensions of the foxes playground, letting them jump around and strut along these balancing beams whenever they want.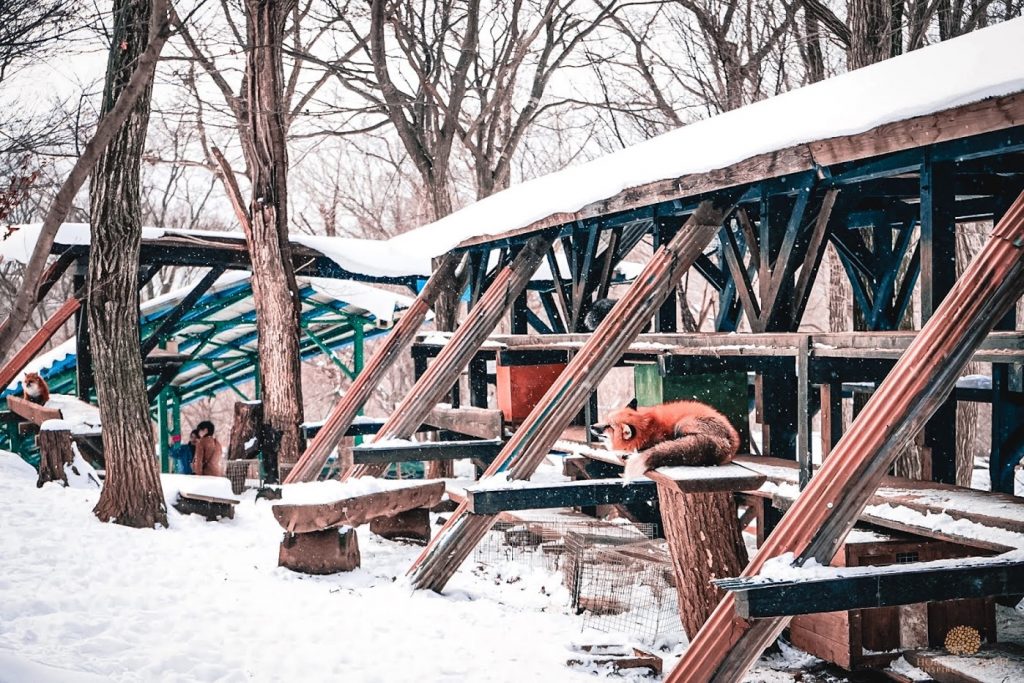 I learned that the initial foxes were saved from the fur trade – their beautiful thick coats are almost irresistible to touch. But while they would curiously sniff at me if I stood still, they backed off the moment I made even the smallest movement.
Seeing as they're mostly nocturnal creatures, many of these fluffy creatures were either sleeping or curled up in rest. Keeping as quiet and still as I could, I watched as an amber-coated fox napped at the edge of a long bench, head placed firmly on its paws and tail wrapped tightly around its body. Another fox came up and nudged it with its head, but it slept on obliviously. Silver foxes made frequent appearances too, although I had a harder time spotting the gold platinum fox. They all loped around each other like a tight-knit community.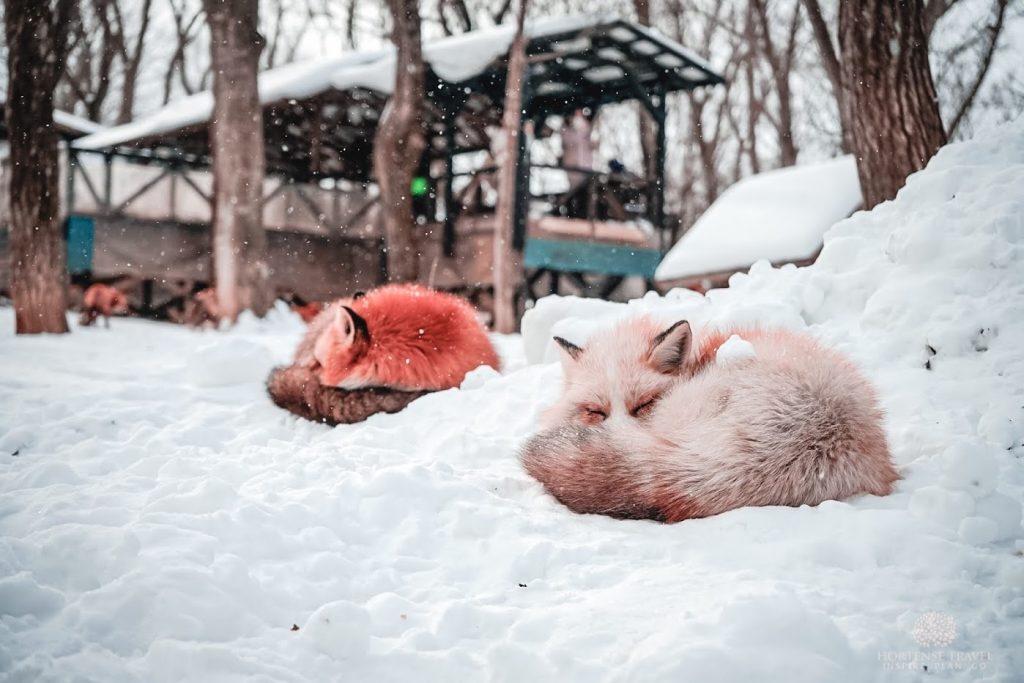 I made it a point to visit the village's Inari Shrine too, a weather-worn red structure flanked by two fox statues. It stood out against the stark white snow; it's not difficult to find at all. Do the customary prayer and thank the deity for the delicious rice you've had in Japan!
Eventually, I made my way up to the designated feeding area at the top of the enclosure. If the number of eager foxes around it doesn't clue you in, simply look for the elevated structure. It has a fenced door to prevent the foxes from slipping in; you can toss the food pellets down from the open frames. Be careful not to drop the entire bag! I fed the foxes a pellet at a time so I could linger as long as I could. Seeing their expectant faces made me wish I bought two bags instead of one.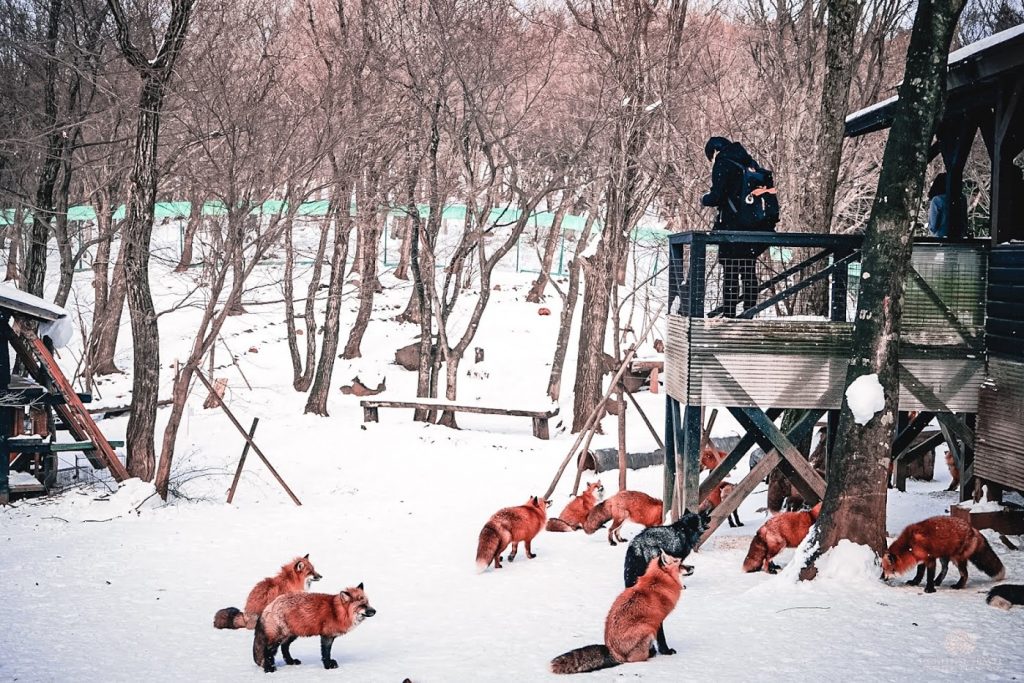 The feeding area is a great place for photos as the foxes gather right below where you're standing. The shelter will protect you from any harsh elements too! Try to spot all six breeds of foxes if you can. While all the foxes are stunning, the black muzzle against the ginger coat of the most common Japanese fox is too cute for words.
On this note, fall and winter will gift you with the best pictures as their coats stand out from the white background. It is also when the foxes are at their fluffiest. Foxes shed their coats in the summer and have yet to regrow them in spring so aim for the colder months if you want them in full volume.
Spare some time and listen to them chitter as well. Foxes make a distinct high-pitched call that sounds somewhere between a bark and continuous laughter, which probably feeds into the trickster image. If you listen long enough, it almost sounds like they're trying to converse with you. You should definitely try and mimic their calls to see if they respond – I said a lot of gibberish that day.
Before I left, I made a brief detour to the bunny petting zoo as well. After that, I made my rounds in the gift shop as it was chock-full of fox motif souvenirs, exactly what I needed in remembrance of these adorable critters. The gift shop is located right behind the entrance counter.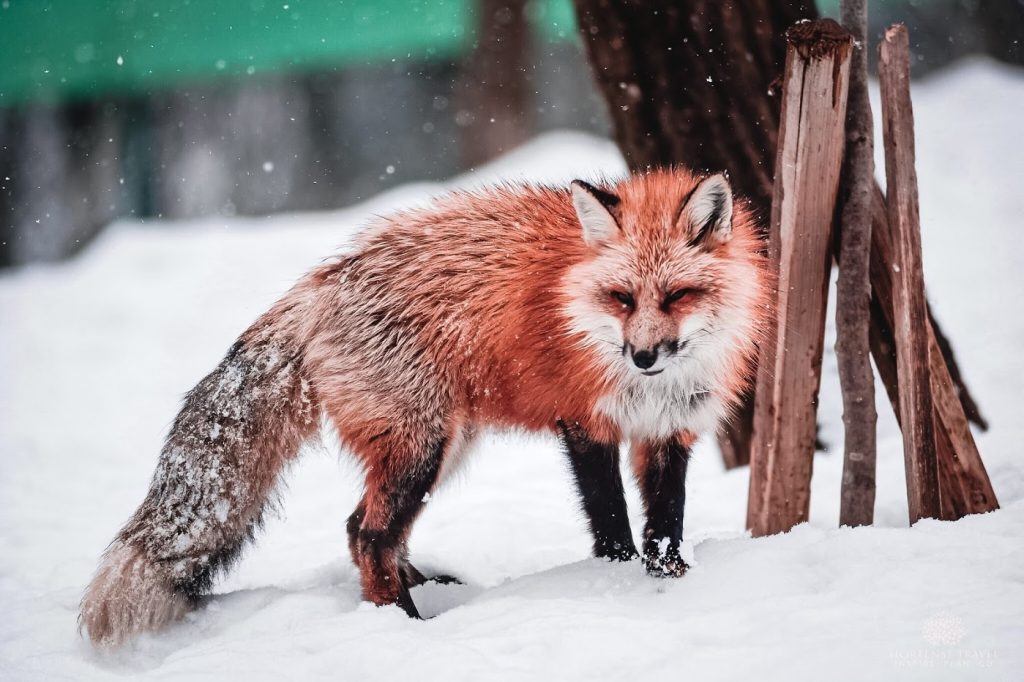 I also recommend stopping by the venue's small restaurant to try their kitsune soba. This buckwheat noodles with a thin but sweet layer of fried tofu is an everyday classic, made more significant for sharing the same name as the animals of the village. It is believed to be a favorite of the foxes.
It doesn't take long to walk the entire enclosure but most visitors stay for an hour or two on average. This gives you enough time to wander the grounds and take a variety of shots, as well as experience feeding them. Photographers and vloggers will have a field day with these gorgeous subjects. You do have to time your visit well though if you're planning on taking the shuttle back to the station. Taxi goers can arrive and leave in their own time.
Accessing the place
If you're traveling in from Tokyo, it takes almost two hours to reach Shiroishi-Zao Station via the JR Tohoku Shinkansen. Sendai vacationers can opt for either the bullet train or local JR train (the latter will be cheaper) to Shiroishi Station.
There is a direct shuttle bus from the stations organized by the Fox Village; it leaves Shiroishi-Zao Station at 10AM and Shiroishi at 10:10AM. A return shuttle is available at 12:30PM, giving you plenty of time to explore. Make sure to sign up for the shuttle beforehand through their website! They take a minimum of five people and maximum of eight. Alternatively, you can take the local Castle Kun Bus which connects Shiroishi Station and Kawarago Dam every Tuesday and Friday, leaving the station at 7:58AM and 1:35PM with approximately an hour of travel time. Let the driver know you'd like to get off at Zao Kitsune Mura. The return bus arrives at Kawarago Dam at 2:32PM.
The most convenient method of commute is by taxi. It costs ¥4200 each way – not cheap at all! – but takes only 30 minutes to get there. If you don't mind the cost, taxi is by far the most efficient.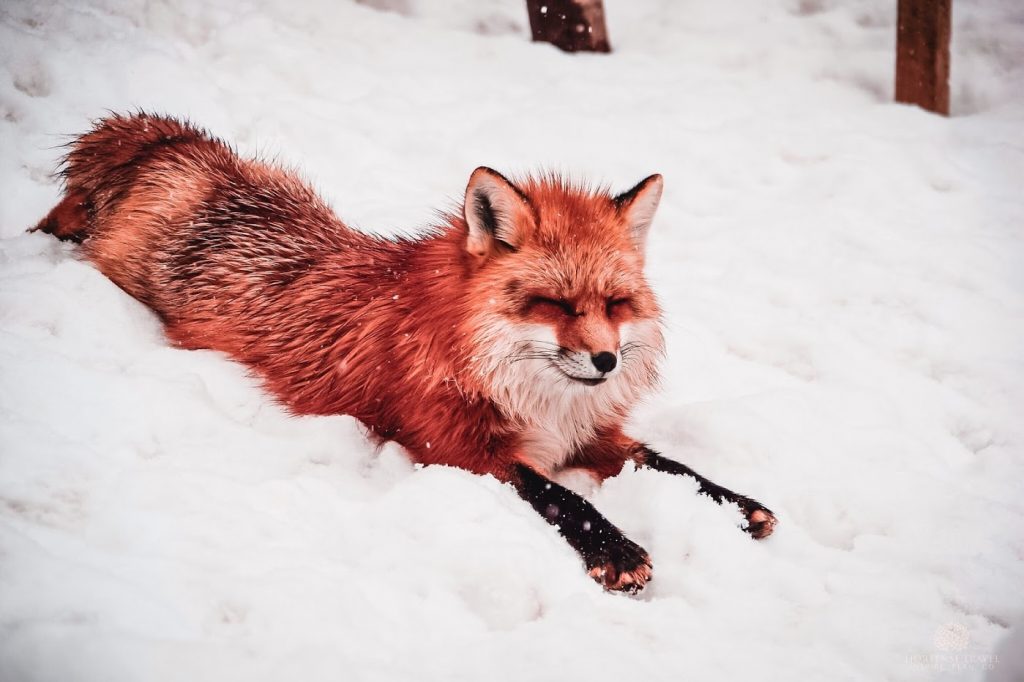 WHERE TO STAY TO VISIT THE ZAO FOX VILLAGE: Takamiya Ryokan Sou for the perfect onsen experince.
Things to keep in mind
Wear comfortable shoes or boots. The Fox Village is open all year round (bar Wednesdays and certain holidays) so winter boots aren't a must, but I recommend wearing closed-toe shoes anyway. Hiking boots help you navigate the snowy terrain in winter and earthy ground in the summer, and best of all, they protect you from the unwanted piles of fox poop.
No hand warmers are allowed. It's tempting to tote around a hand warmer as you coax the foxes into accepting your affections, but the village bans bringing them inside the compound. This is because the foxes could accidentally swallow them, leading to fatality. You are required to store any hand warmers and heat packs in your bags upon entering the main hall.
These foxes are wild animals. At the end of the day, these foxes are wild animals so do prioritize your safety. Avoid getting too close to them without permission. If you want to play or cuddle the foxes, talk to one of the staff members and have them lead you to the more docile ones in the pack. Listen carefully to the rules as you enter and only feed them in the feeding area.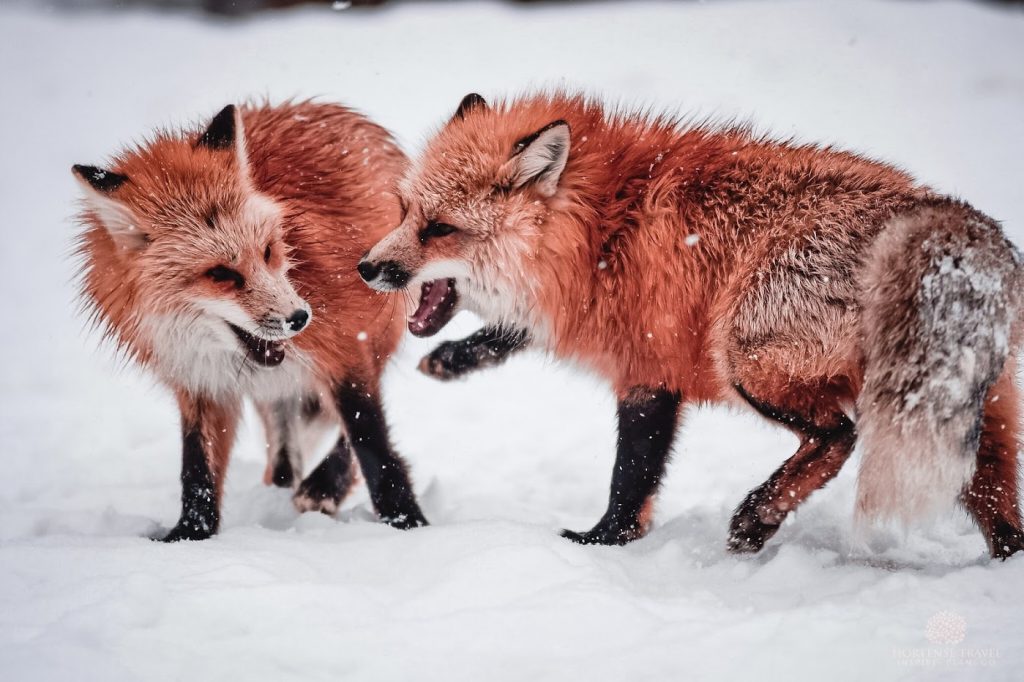 Note that groups of ten visitors or more have to make reservations ahead of time, at least 7 days in advance.
Some people have expressed concerns that the foxes are kept in small cages and are worried about animal welfare; if you're one of them, it might not be for you. Personally, I highly recommend visiting the Fox Village if you're around Sendai as it is a unique experience and not something you see anywhere. The foxes are incredibly adorable and watching them curl on the snow made my heart melt. The staff are friendly and open to questions too!
Visiting Japan soon? Check this out: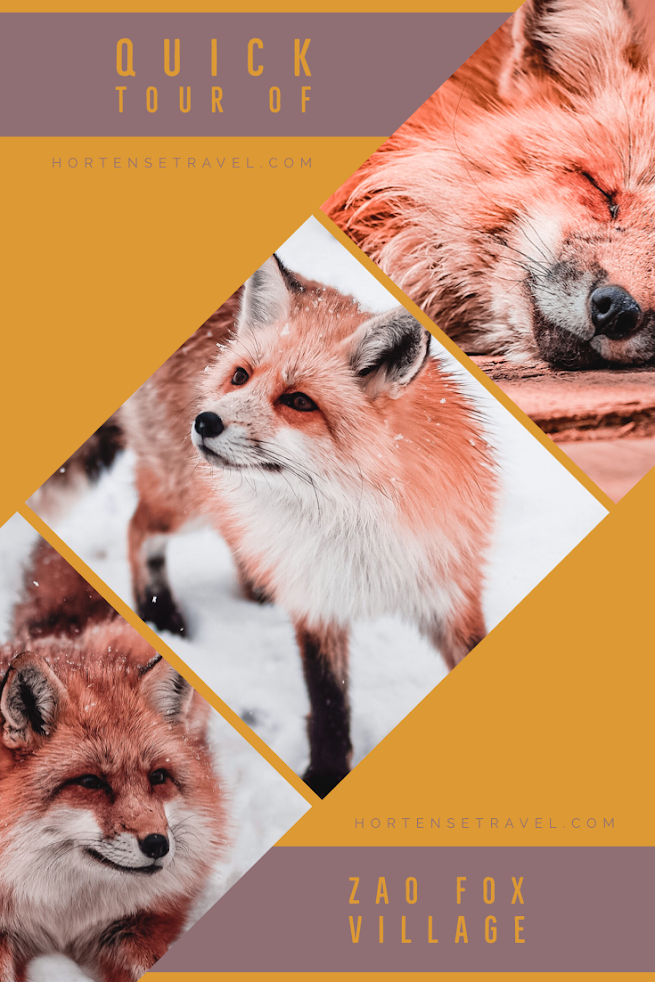 Image Gallery Credits
https://www.flickr.com/photos/tattsu104s/13081952153/
https://www.flickr.com/photos/tattsu104s/13082130074/
https://www.flickr.com/photos/tattsu104s/13081938093/
https://www.flickr.com/photos/tattsu104s/13081789205/
https://www.flickr.com/photos/tattsu104s/13082130074/
https://www.flickr.com/photos/tattsu104s/13082119274/