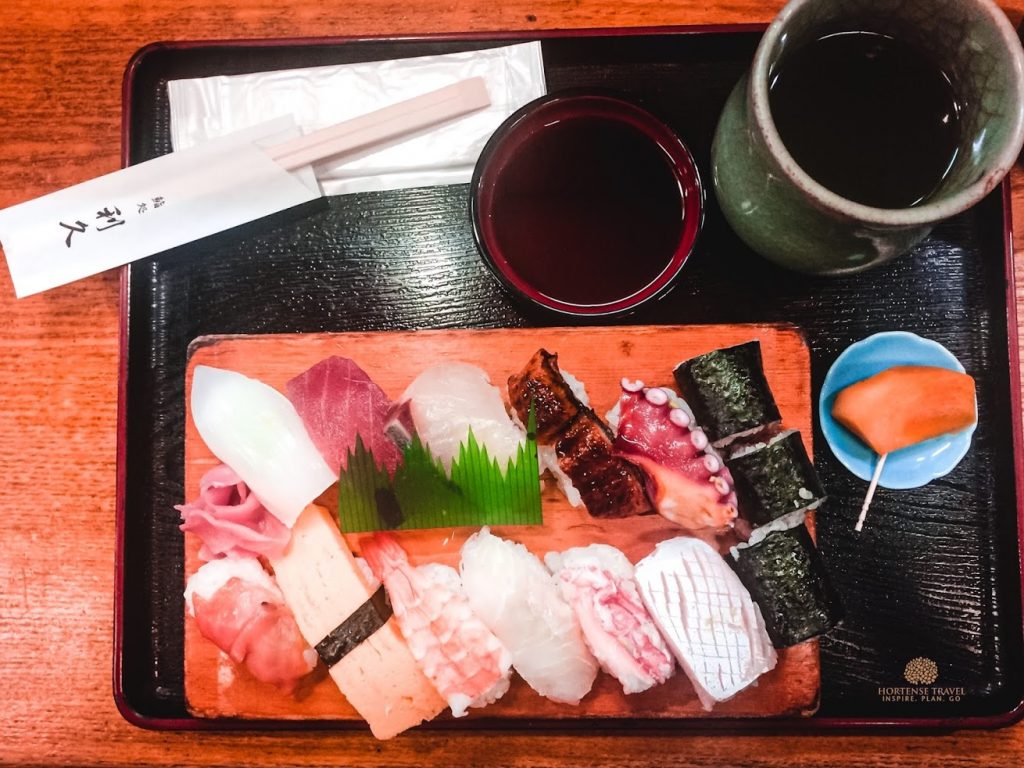 If you are a sushi beginner, you are probably filled with a lot of anxiety and excitement about what to expect on your first date with Japan's world-famous cuisine. Let me guess a few things that are probably on your mind right now –
Will I have to use the chopsticks?
Is it okay to eat with my hands?
How to place my order?
What if I don't like the taste of raw fish?
If that sounds very much like you then let me assure you that you are not alone. We have all been in such situations sometime in our lives and it's perfectly okay to feel that way. Luckily for you, I have put together a simple guide for sushi beginners to ensure that your first trip to the sushi restaurant leads to a second and many more.
First things first.
If you are planning to visit a sushi restaurant for the first time and have no idea which are the best places in the city, then spend some time researching. Lookup the Internet to find customer reviews and ratings about restaurants in your city.
If you have a friend who is a sushi lover, ask for recommendations or better invite him over to guide you with ordering and other things. Please don't choose a sushi restaurant as your date venue if this is your first experience at eating sushi.


Taking a seat at the sushi restaurant
In a sushi restaurant, there are mainly two types of seating – at the bar and table seating. The bar presents a more interactive session with the chef but as a beginner, it might be slightly overwhelming for you and uncomfortable for fellow guests. So, choose a table and take a look at the menu offered to you.
Please bear in mind that popular places will be crowded and the waiting time can be really long. In some places, you may have to book in advance. Look into these details while searching for a sushi restaurant in your city.
One of the best places to eat sushi is at the restaurants of Tsukiji Outer Market.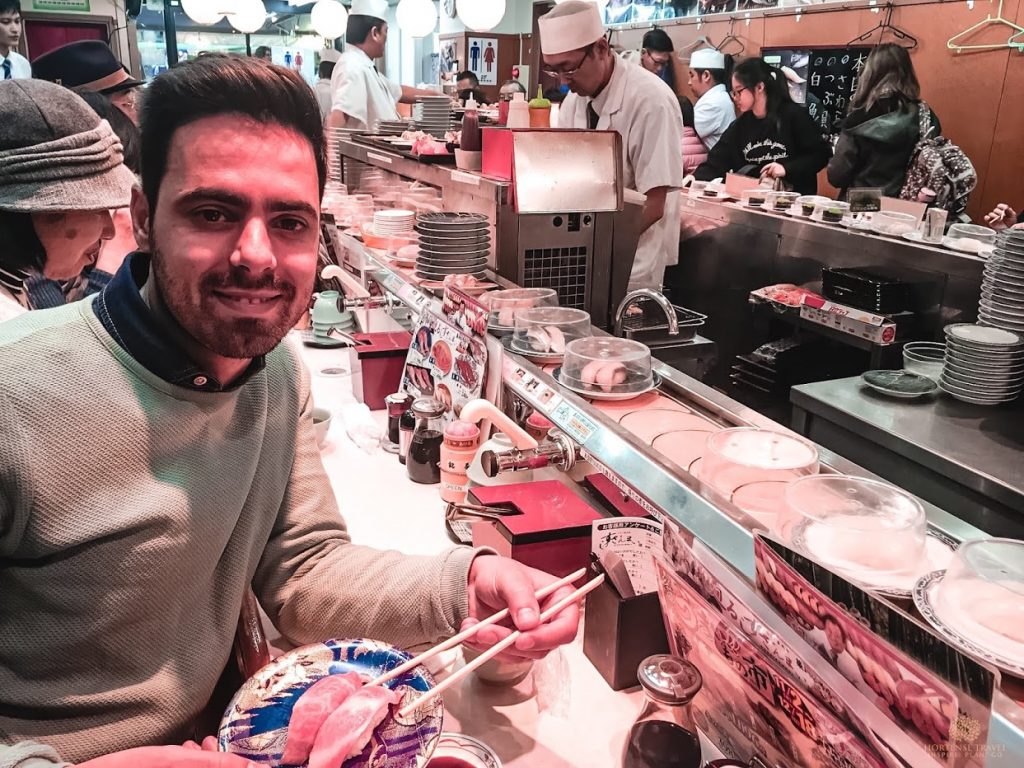 Placing an order for your first sushi
Even if you are a sushi beginner, chances are you have heard about the different types of sushi from your friends who inspired you to try this cuisine. Go through the menu list to see if you can find something that is familiar. Most of the dishes will have information on ingredients so read them carefully.
If there's something written in Japanese or you simply find hard to understand then don't feel shy to ask the server or staff. They are there to help you and there's nothing wrong in asking. Also, please don't feel small because you don't know anything about sushi or you haven't eaten it before.
There's always a first time for everyone and it's perfectly alright. So, be confident about asking questions whenever you have a doubt. It's always better to ask and order right than make assumptions and end up with the wrong order.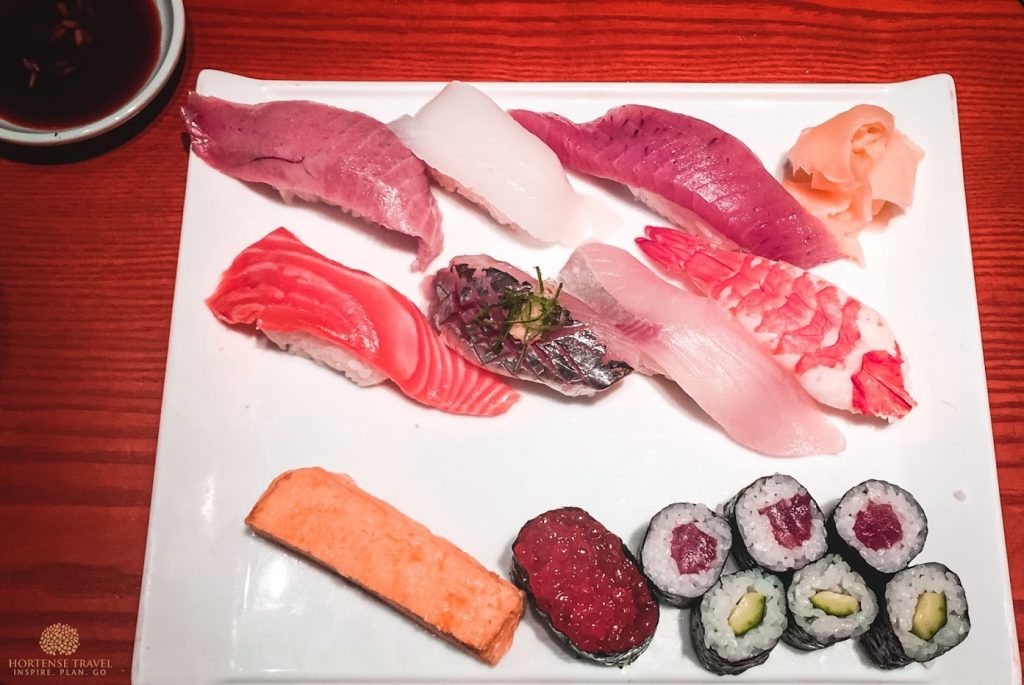 If you have any dietary restrictions such as you are a vegan or on a gluten-free diet, make sure you let the server know in advance. Some places can accommodate the changes needed to suit your dietary restrictions while others cannot, so make sure you consider this while searching for a sushi restaurant.
If you are watching weight and wish to eliminate rice from the dish then please do your research properly. Rice is an essential ingredient in this Japanese cuisine and not every restaurant makes rice-less sushi. There might be a few places where you may find different substitutes for sushi rice, but frankly speaking, sushi without rice will not be the same.
Next, coming to the order. If you haven't eaten raw fish before and are not comfortable with it then try out the various cooked sushi options. We would recommend that you start with California sushi or tempura sushi and move on to smoked salmon sushi, and so on.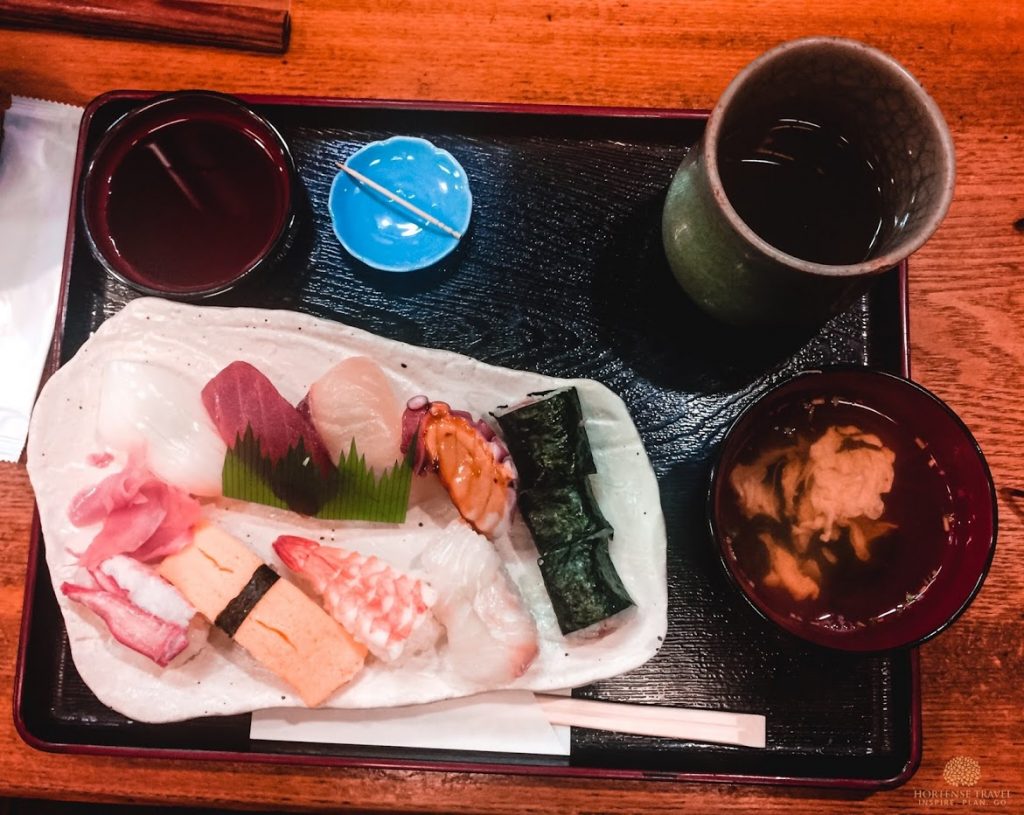 If your mind is set on attempting to eat raw fish, let the server/ chef know that it's your first experience. They will help you start with less fatty fish so that you can appreciate the subtle flavors before moving on to the fatty tuna and other strong textured/ flavored seafood.
For vegans and vegetarians, there are numerous options that a variety of fresh, boiled, stir-fried, or cooked vegetables and fruits. Some of the common choices are cucumber, sweet potato, spinach, bell peppers, avocado, mango, strawberry, pickled radish and so on.
Eating sushi with confidence
When you are eating sushi for the first time, it's natural to feel confused about the right way to eat it. However, let me assure you that there's no hard and fast rule about eating sushi. Of course, there are a few etiquettes that you are required to follow to respect the chef and fellow eaters, but if you miss a few things, no one's going to throw you out of the restaurant.
So if you don't know how to use chopsticks, don't try it. Let it be and use your hands to comfortably eat nigiri or sushi roll pieces. Just make sure, you don't play around with the chopsticks by sticking them to the food or rubbing them together as these are considered bad manners.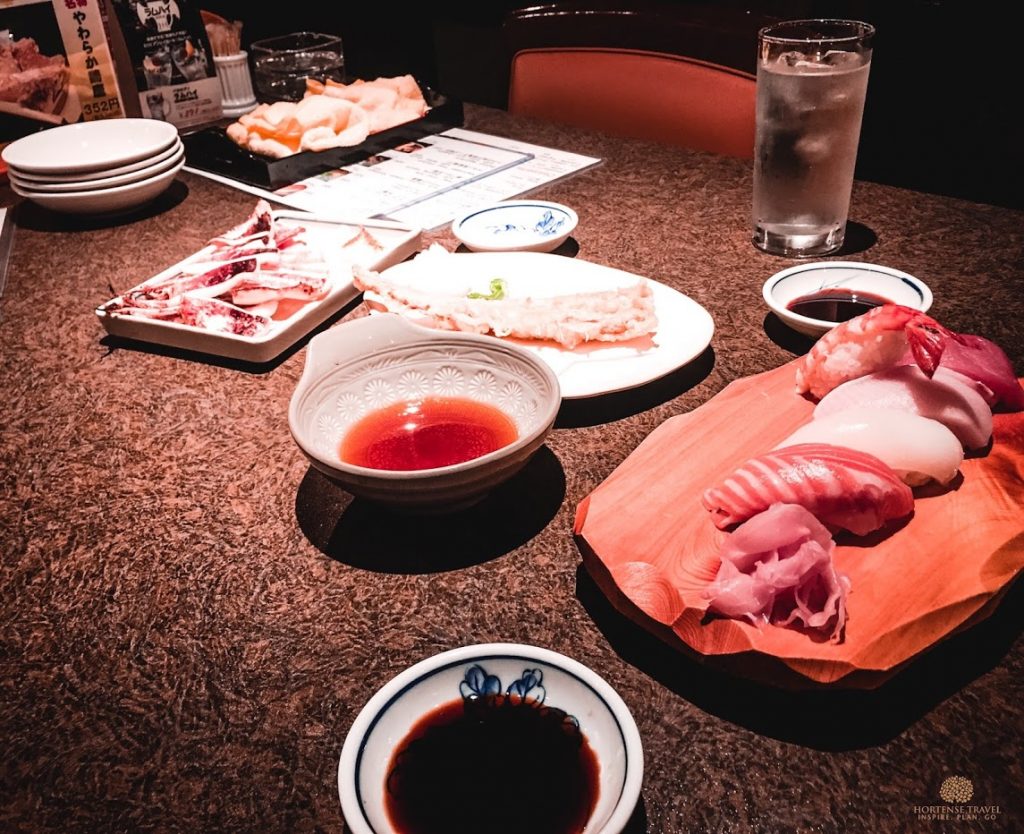 Nigiri Sushi
A typical place of sushi will include either nigiri sushi or sushi roll cut into 6-8 bite-size pieces. Sushi experts recommend diners to eat a whole piece in one go to better enjoy the taste and texture. However, if the piece is too big then you may take 2 bites, not more or else it will fall apart.
On the plate, you will find a small bowl of soy sauce, pickled ginger, and a green condiment called wasabi on the side. To enjoy your food, pick a piece, dip it in the soy sauce (fish part down) and pop into your mouth. You may put a little wasabi over the sushi but be careful because it's high on heat quotient.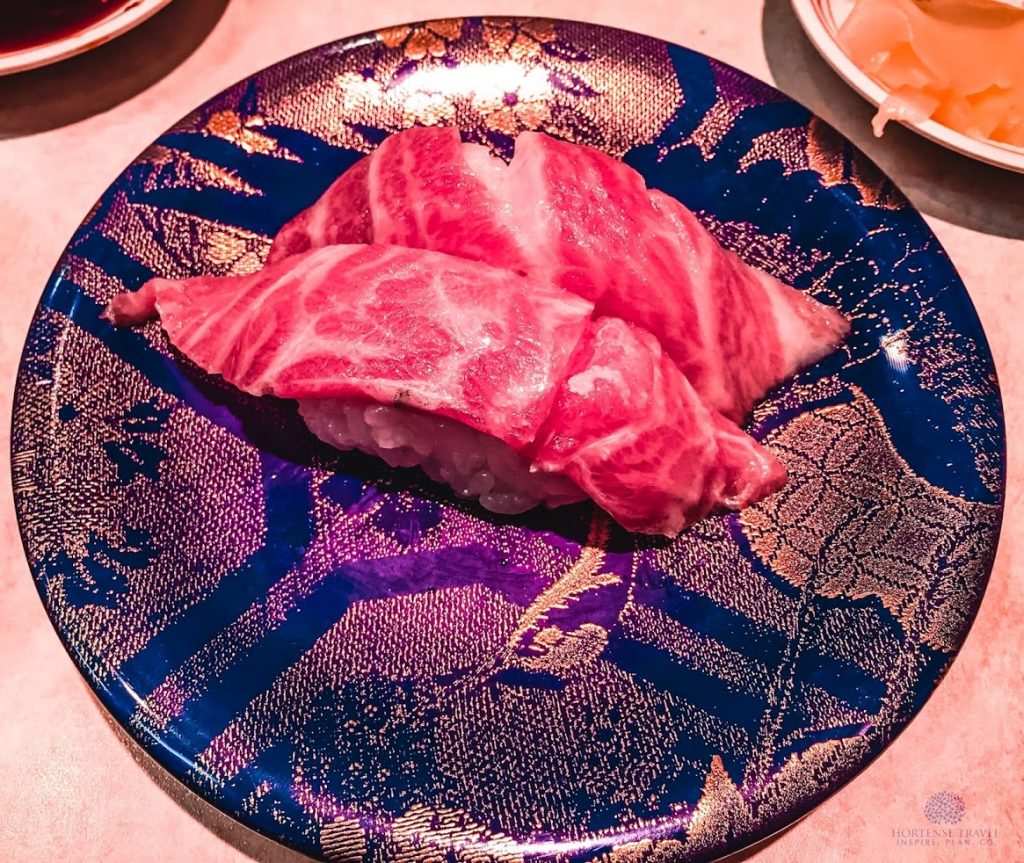 Sushi Ginger
After you are done, take a small piece of pickled ginger and chew it to cleanse the palate. This helps in removing the flavor of previous fish so that you can enjoy the delicate flavors of the next fish. Always order one item at a time even if that means waiting for your food because too much sushi coming at once can make it difficult to eat.
When you are done eating, thank the server and the chef with a warm smile. Tipping is not allowed at all places so don't if you are not sure. On your next visit, you may choose to take a seat on the bar and watch the chef prepare your order right in front of your eyes. You may also buy him a beer as a token of your appreciation. 
Bon appétit, or should I say Itadakimasu!
Visiting Japan soon? Check this out:
Author: James
Site: https://www.easyhomemadesushi.com/about-me/
Bio: James is a sushi enthusiast and owner of sushi blog names easyhomemadesushi.com. He has been to Japan several times and loves Japanese food and culture. He is also a passionate writer and likes to share his experiences and knowledge through his blog. 
https://www.ncbi.nlm.nih.gov/pmc/articles/PMC3128617/