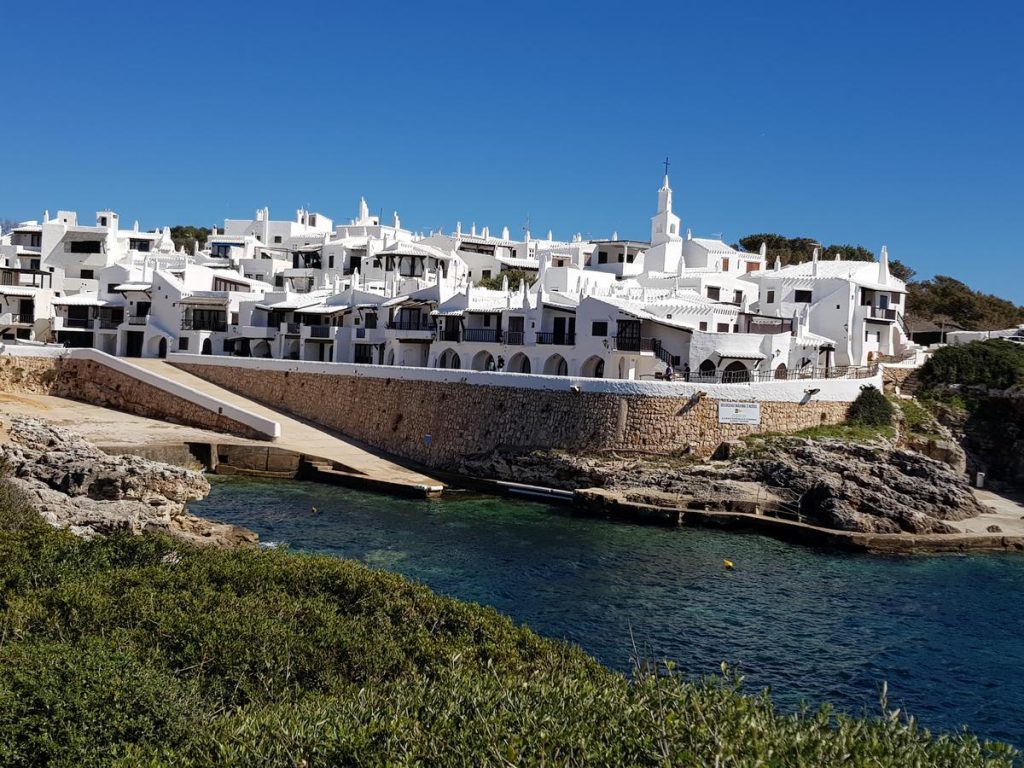 You don't have to travel to the end of the world to get to paradise-like destinations. Menorca, also known as Minorca is one of the Balearic islands, an easy flight from Spain and some international airports. In addition to Menorca and other small islands, this archipelago includes Majorca and Ibiza. Unlike those two, Menorca is not known for its party atmosphere and is mostly chosen by tourists who want a relaxing vacation on the Mediterranean. The three can also be combined for a more complete experience. 
Even though its name literally means 'smaller island', there are many things to do in Menorca. Its Mediterranean climate allows making the most of some of its hundreds of beaches during their stay. However, there's more to it than beaches. Its two major cities are Mahón and Ciutadella but there are many other places worth visiting. 
Without further ado, let's get into the best things to do in Menorca which aren't beaches!
Best Things to Do in Menorca
Party during the Fiestas de Menorca
Even though Menorca is not known for parties that last all night, those who visit this beautiful island between June and September can still have a taste of the Spanish festive spirit. This is the period during which the several Fiestas de Menorca take place. The Menorquin horse is the highlight of these fiestas.
The two major cities of the island have their fiestas in June (Ciutadella – Fiestas de Sant Joan) and in September (Mahón – Fiestas de la Mare de Déu de Gràcia). Other locations which hold fiestas between these months are Es Mercadal, Es Castell, Fornells, Es Migjorn Gran, Llucmaçanes, Alaior, Sant Climent, Ferreries, and Sant Lluís.
If you aren't into crowds, do avoid these dates. These fiestas are very popular among both locals and tourists. However, if you want to party, there aren't better times to visit Menorca than during its fiestas!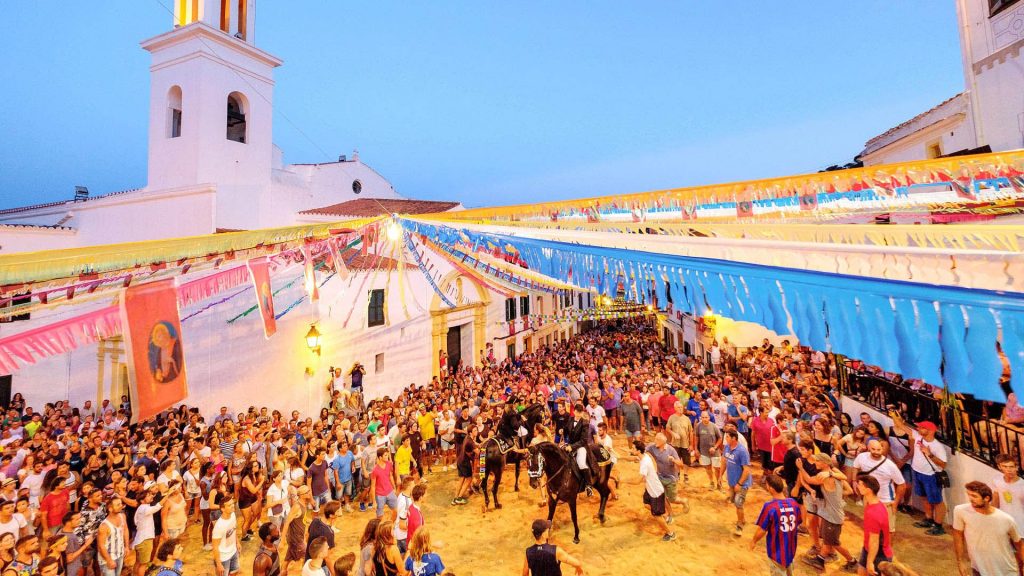 Meet the Menorquin Horse
Since the fiestas de Menorca are dedicated to this indigenous species, we might as well jump right into it! The Cavall Menorquí (in English, Menorquin horse) is black, elegant, strong and mainly used during the fiestas. On those days, you'll get to see riders perform the traditional doma menorquina.
However, even if you can't make to any of those festivities, there's no reason for you not to see these beautiful but endangered animals. It isn't unusual for tourists to find them when traveling around the island. You may also take a riding lesson.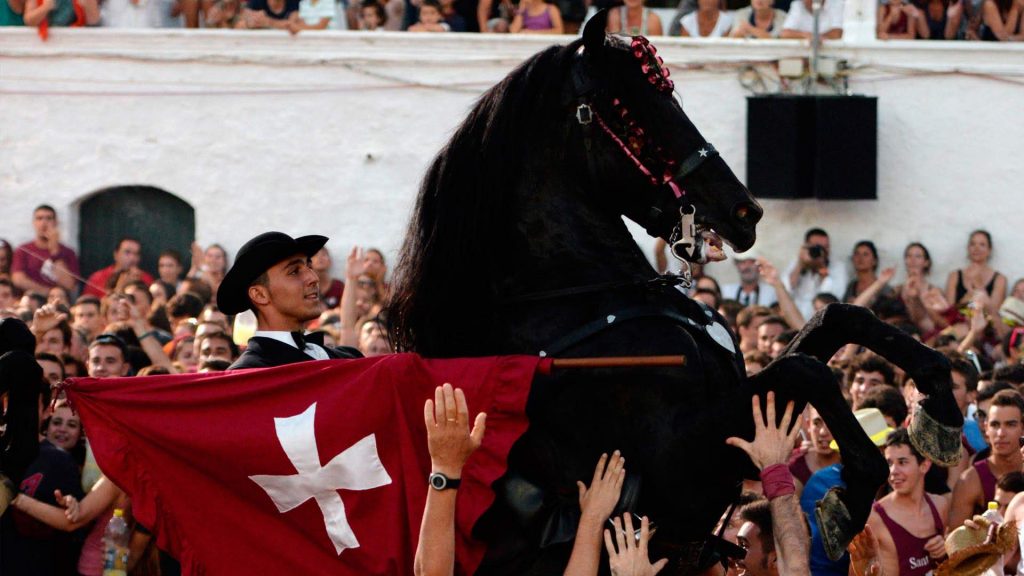 Paraglide from the El Toro
Menorca's highest point is El Toro (also known as Monte Toro) with only 342 meters of altitude. Choose a clear day for your trip there. Since the rest of the island is quite plain, the view from this hill's prominence is one of the best you'll get. One of the travelers' favorite things to do in Menorca is to paraglide from the top of El Toro!
Visit the Santuario de la Virgen del Toro (in English, Sanctuary of the Virgin of El Toro) that dates back to 1670. The Virgin of El Toro is Menorca's patroness saint. There is a mass taking place every Sunday at 11 o'clock in the morning and dedicated festivities on the 8th of May every year. 
On top of the hill, you'll also find a statue of Jesus with his arms wide open. It is one of many similar statues, such as the Cristo Redentor in Brazil and the Cristo Rei in Portugal.
You may easily reach the top of El Toro by walking from the nearby Es Mercadal (even though driving is probably a more convenient option). The path from Es Mercadal to El Toro is just over 3 km long and it'll take you less than 2 hours to travel it. Have in mind that it gets really hot during the Summer months and be sure to take all the necessary precautions!
Visit the Capital Mahón
Chances are your flight will land near Mahón (also known as Maó). Even if you'd rather stay in other areas of the island, we urge you to spend a day in this city. It's the capital of the Menorca and is filled with points of interest you won't want to miss! We're going to break some of the best things to do in Mahón down for you.
Menorca is not famous for its museums but you may head to Museu de Menorca in Mahón to know more about its past. Admission is even free in the afternoon of Tuesdays and Thursdays and all day on Sundays.
You can't leave Mahón without visiting its natural harbor. It's one of the largest worldwide – 5 kilometers long! It has played crucial roles over the centuries, especially when navigation was mainly done by sailing.
When it comes to food, we'll give you three suggestions that may be found in Mahón but also throughout the rest of the island. The caldereta de langosta is a typical lobster stew that tourists who visit Menorca fall in love with. Those into cheese need to try the local variety known as Queso Mahón and made from cow's milk. Vegans are not left out either since there's a specialty with no animal products – aubergine topped with breadcrumbs.
Food lovers often choose Mercat de Pescados  (or Mercado de Pescados) as one of their stops in Mahón. The market sells not only delicious tapas and alcoholic beverages but also freshly caught fish for you to take home and cook with! You'll also get an outstanding view over the harbor.
You'll hear about gin in Menorca. If you're into this alcoholic beverage, make sure to drop a visit to the authentic Xoriguer Gin Distillery. This is where they make the traditional Xoriguer Gin (or Menorca Gin). Even though the distillery tour may be a disappointment, you may taste a range of unexpected tweaks on this traditional beverage which will make your trip worthwhile.
Quite near Mahón, there's Es Castell which holds a fiesta in July, has a fortification that's definitely worth visiting, a bar that's regarded as one of the best on the island, and from where you may easily reach the Isla del Lazareto.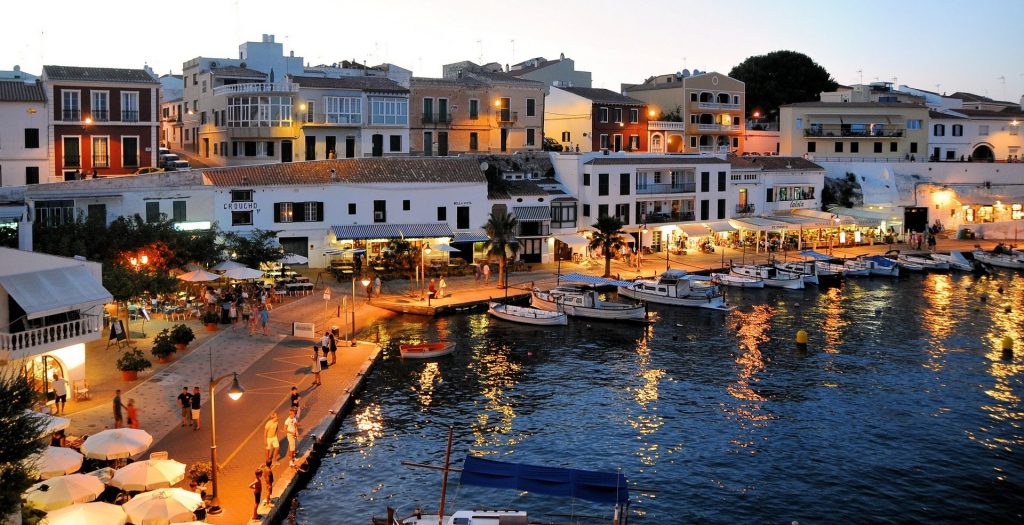 Be Inspired by Ca N'Oliver's Art
Located in the center of Mahón, the Ca N'Oliver is one of the few opportunities you'll have to appreciate the work of Menorcan artists. Its temporary exhibitions showcase what's best done in terms of art on the small island.
In addition to seeing art pieces, you'll also have the opportunity to learn more about Menorca's history. The museum dedicates a whole section to Mahón's harbor's past. You'll learn a lot about the Menorca of the 17th and 18th centuries, the British Menorca, and local personalities!
Tour Two Strategic Fortifications
We've established the harbor of Mahón was very important throughout history. As such, it had to be protected and two of the most important fortifications built with that purpose were La Mola and Fort Marlborough.
The English were the first to who actually started building fortifications on the northern shore of the harbor. However, it was not until the mid 19th century that the La Mola that we now know was built. Visit the Fortress Isabel II, the Queen's Gate, the Princess Tower, the Military Prison, two 38-centimeter naval guns, and many more areas that were built with the sole purpose of defending the harbor and Menorca.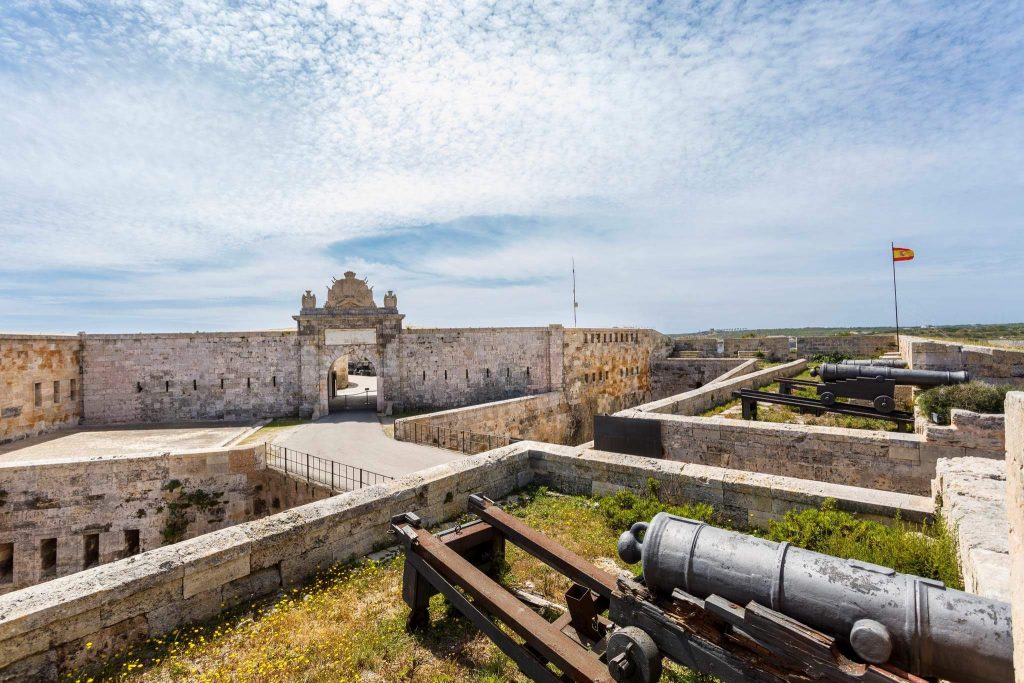 A fortification that still stands on the southern shore of the harbor is the Fort Marlborough. You can easily get there from Es Castell. Spend a while there to visit the fort and its tunnels and to absorb all the information provided. Make sure you go on a tour, get the audio guide or follow a book for that purpose. Without any of those, you won't get the full experience of this wonderful door to Menorca's past.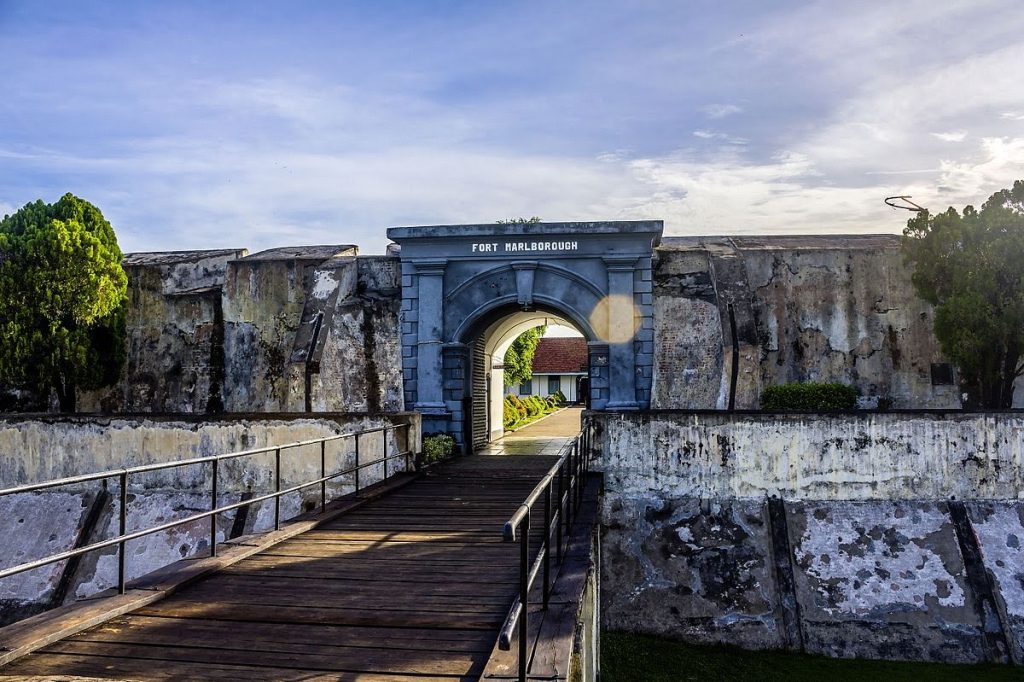 Have a Drink at the Bar Lemon
If you're near Es Castell or Mahón, have a drink at the Bar Lemon. This small bar is said to serve the best cocktails in Menorca! This is your perfect opportunity to have the traditional Xoriguer Gin or pomada. Pomada is a refreshing alcoholic beverage which includes equal parts of Xoriguer Gin and lemonade. Is there a better combination on a hot Summer's day?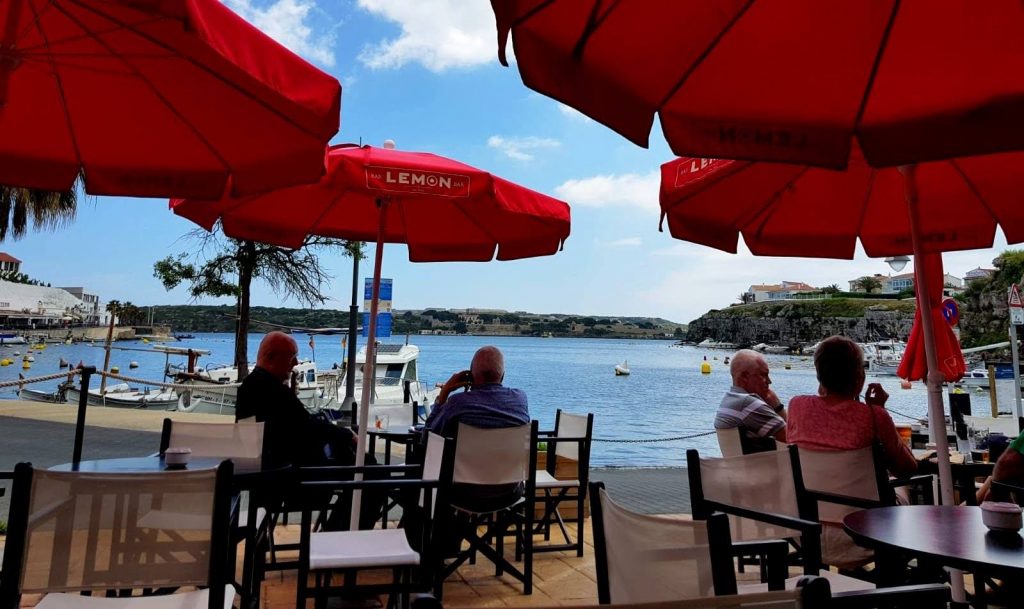 Go to the Small Islands near Mahón
There are three small islands of great importance in the harbour of Mahón: the Isla de la Cuarentena, the Isla del Rey, and the Isla del Lazareto.
A lazareto is a station for those with certain contagious diseases to stay in quarantine. These were essential when shipping increased and the plague lured around every corner. The Isla de la Cuarentena was the first lazareto of Menorca and started functioning as such in 1490. It was later replaced by the Lazareto de Mahón located on the Isla del Lazareto.
The Isla del Rey was occupied by the British, the French and the Spanish. A military hospital was built on this island in 1711 and remained active until 1964. It serviced several navies throughout its years, including during the World War II.
If you want to visit only one of these islands, choose the Isla del Lazareto. It's easy to reach it by boat from Es Castell. The Lazareto de Mahón served 13.864 boats during its 100 active years, between the 19th and the 20th centuries. As you visit this astonishing location, you'll feel the unspoken stories around you.
Get Lost in Ciutadella
Even though it isn't the capital of the island, Ciutadella de Menorca is at least as interesting to visit as Mahón. Many tourists do prefer it! It has a small town's charm but a big city's number of points of interest. 
The Catedral de Santa Maria de Ciutadella is its most popular attraction. This is one of those cases in which following the masses is a good decision. It's an impressive building – both on the outside and on the inside. It was build during the 14th century and includes several interesting architectural elements, such as beautiful stained glass windows. You'll need to pay 6 euros for a visit to both the cathedral and the convent. Near the cathedral you'll also find the charismatic Ses Voltes market.
Explore the Carrer de Sant Cristofol and the Plaça des Born. These are the perfect streets for you to roam. You'll find the Bastió d'Es Governador. It's a defensive bastion dating back to the 14th century which is still standing. From there, you'll get the most spectacular view over the port of Ciutadella. Also, make sure to visit the port itself and to take a look at the hundreds of boats resting there. Even though it isn't as large as Mahón's, size isn't everything!
In terms of museums, we recommend the Museu Municipal. Its exhibition includes Talayotic, Roman and Islamic artefacts. These will help you better understand Menorca's past.
If you get hungry, look for an ensaimada. This traditional pastry is typical of the Balearic islands and is sold in a variety of flavours (including custard and chocolate!).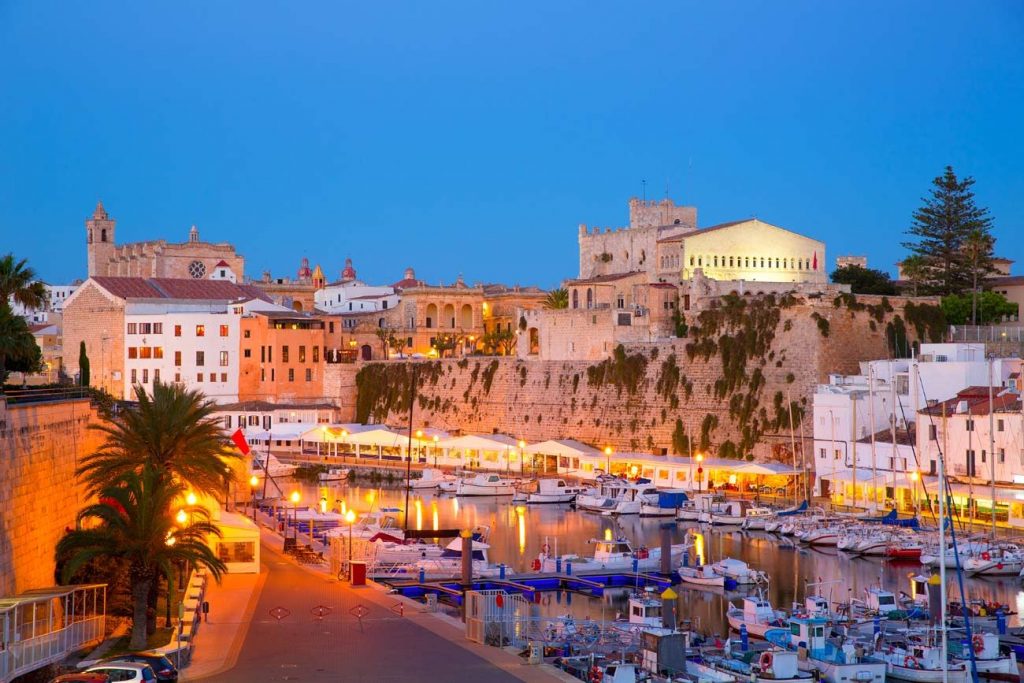 Learn about Past Traditions at the Megalithic Burial Chambers
The Naveta d'es Tudons is a pre-talaiotic site located near Ciutadella. The limestone building was used as an ossuary, which is a place where human remains are put to rest. It was founded around 2000-1000 BC and abandoned around 750 BC. It's composed of two floors with distinct functions. You may visit its grounds but you can't get inside the building. Even so, it's a very popular and interesting thing to do in Menorca!
Have a Look at the Torre d'en Galmés
Since we're on the topic of ancient traditions, another location you shouldn't miss is the Torre d'en Galmés near Son Bou. This site dates back to the talayotic era, around 1400 BC! It was once a town but it suffered many tribulations throughout the years. It includes the remains of houses, a religious site, a public square, watchtowers, defensive walls, and more. Since it's located on top of a hill, it provides wonderful views over the nearby areas and even Majorca. If you're into the past in general and archaeology in specific, this is an unavoidable stop.
Other talayotic sites you may like to visit are Son Catlar in the southwestern and Talatí de Dalt near Mahón.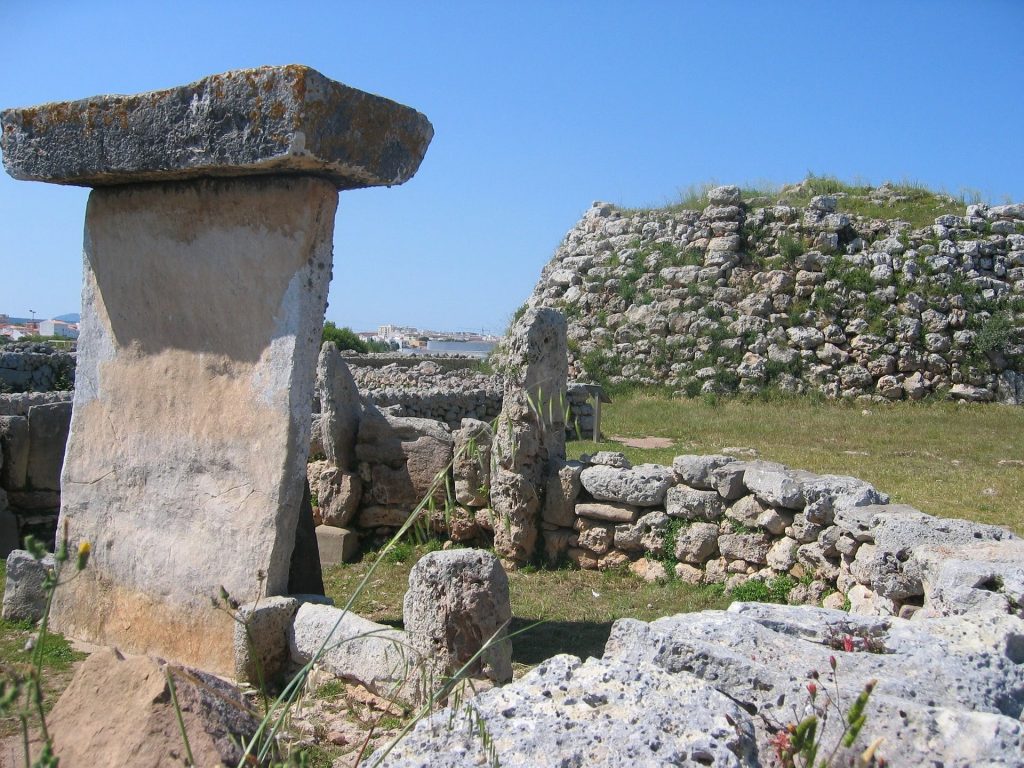 Explore the Camí de Cavalls
With 186 km, the Camí de Cavalls circles the entire island. This path is perfect for the adventurers but also suits those who simply want to explore part of the coast. You don't need to do it all! Choose one or more portions of it and walk as much as you like. There are many points of interests spread throughout the Camí de Cavalls, as well as beautiful views over the Mediterranean Sea.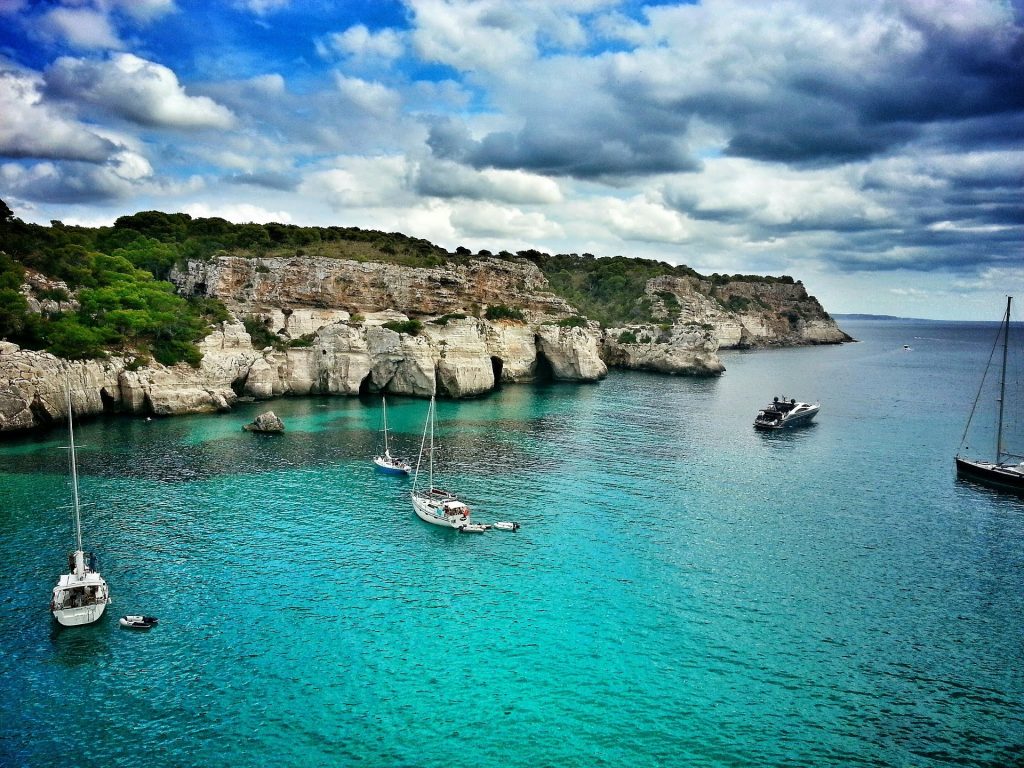 Discover Binibeca Vell
Binibeca Vell (or Binibèquer Vell) has received more attention from travelers in recent years but holds a unique charm. This village was built in 1972 and the inspiration behind its architecture is the old fishermen houses. It gets crowded in August but, otherwise, you should be able to have a great time in Binibeca Vell. After you get lost on the narrow streets lined by cute white houses, visit the nearby small beaches!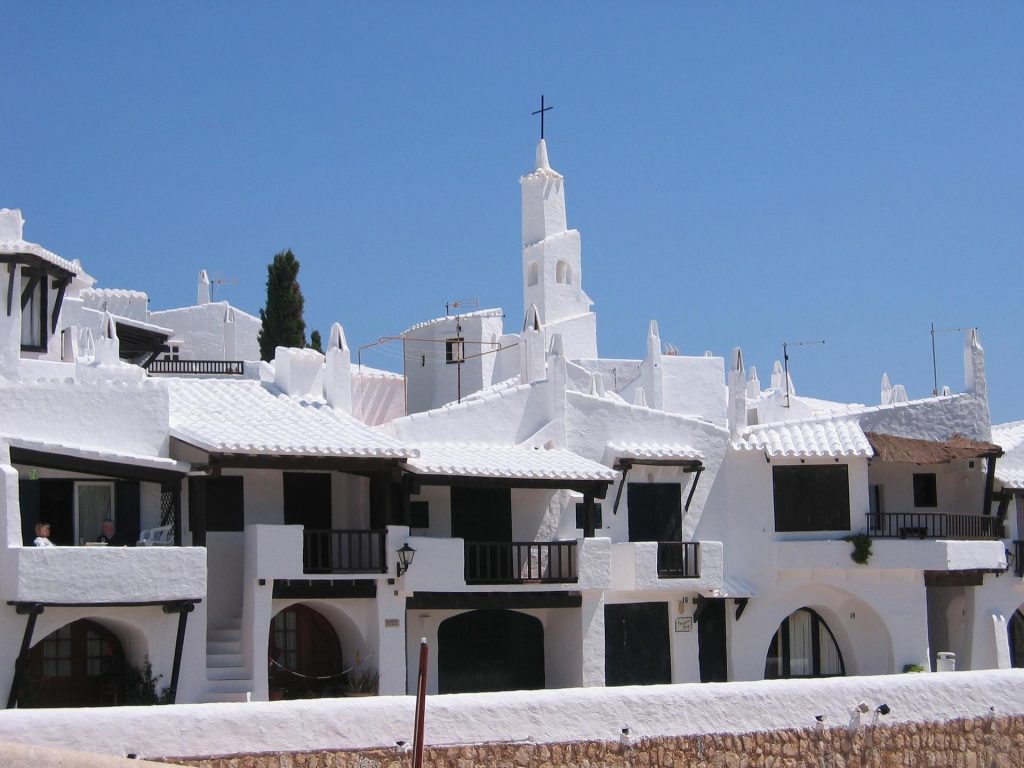 See Majorca from the Artrutx Lighthouse
Being an island, it's a no brainer that there are many interesting lighthouses spread throughout Menorca. One of our favourites is the Artrutx Lighthouse, both due to its architecture, its location and its view! It was built in the 19th century and further developed in the 20th century. It's located near Ciutadella and on the Camí de Cavalls. From there, on a clear day, you may even spot Majorca in the distance!
On the opposite side of the island, head to the Favàritx Lighthouse. It's more recent than the Artrutx Lighthouse, having been built in the 20th century. It's located at S'Albufera, quite close to Mahón.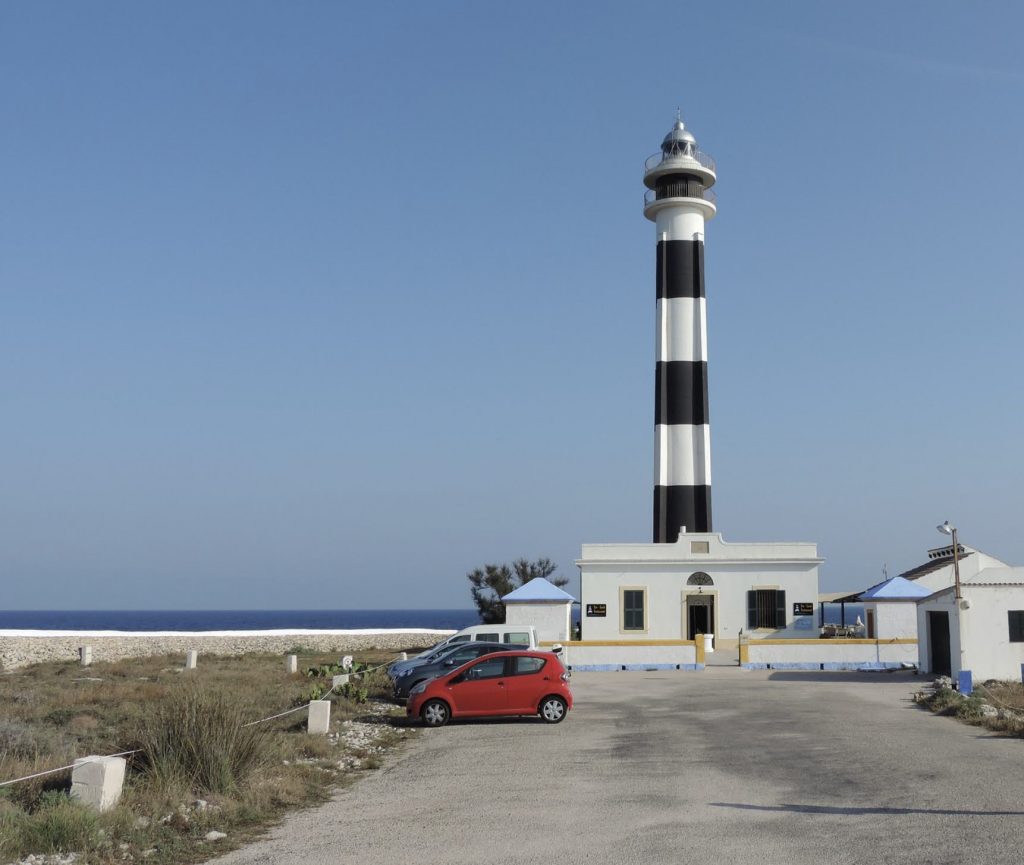 Hike the S'Albufera des Grau
Located near Es Grau, in the northeastern of Menorca, it's very easy to reach S'Albufera des Grau. A taxi drive from Mahón to S'Albufera des Grau will cost you less than 10 euros. The nature reserve is a peaceful area with a lake, beaches, marked trails, bird hides, and the Favàritx Lighthouse. Many animals live there and you'll surely see them for yourself. It's the perfect plan for both hikers and bird watchers.

Buy the Traditional Local Shoes
Most will leave Menorca with at least a pair of the traditional leather sandals that are made and sold on the island. These are known as abarcas, or avarvas, or menorquinas. No matter which designation you prefer, they are stylish, comfortable and recognizable anywhere in the world. The Toni's Abarcas workshop at Mahón is the only remaining place that uses traditional methods to create these shoes.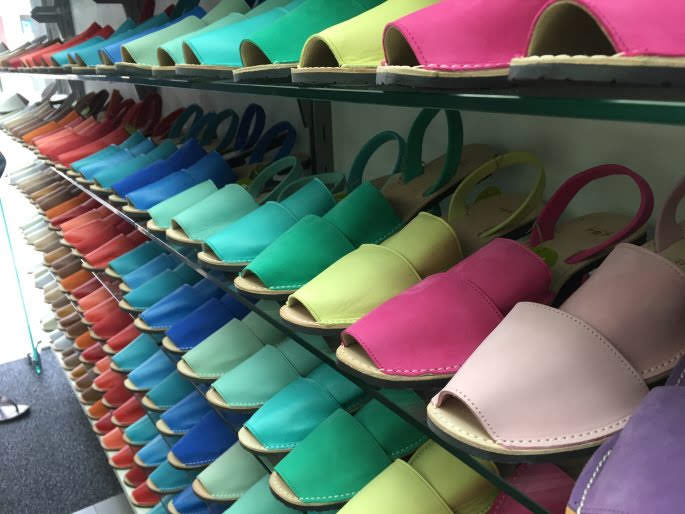 Bathe in the Warm Mediterranean Sea
We said we weren't going to talk about beaches but let us just give you a few bonus tips. You'll find pleasant beaches on all sides of the coast of Menorca. There are the mainstream ones and then there are the hidden treasures. Which to choose depend on what you're looking for. Cala Galdana and Cala Pregonda are the most famous and, therefore, the most crowded! Some less known options are Cala des Talaier, Cala En Turqueta, Cala Macarelleta, Cala Mitjana, Arenal d'en Castell and Playa de Cavalleria. However, there are literally hundreds of beaches in Menorca to choose from!
From fiestas to horses, from cities to megalithic sites, from bars to fortifications, from islands to beaches. Anyone can find a fun thing to do in Menorca that suits their interests! Unless you want an utterly slow and relaxing vacation, I advise you to not stick with only one location on this island. Try to visit both Mahón and Ciutadella, making a few stops on the way between those two cities
Do you need further help in creating the perfect trip to Menorca? I can work with you to devise a  personalized plan that fits all your needs!