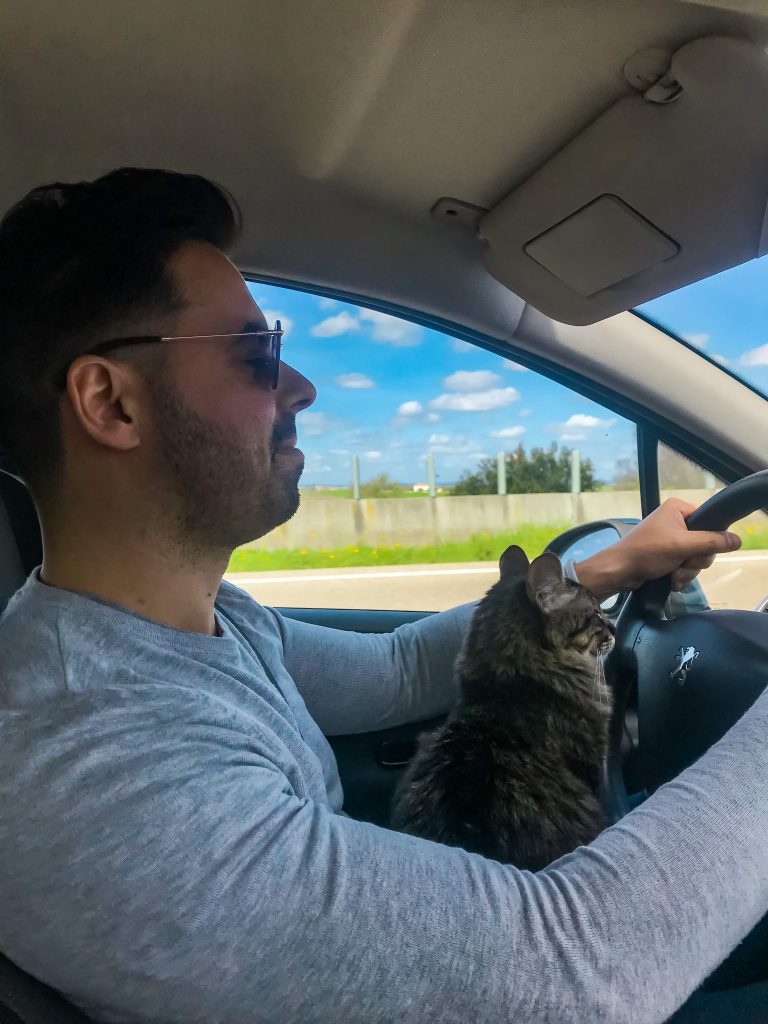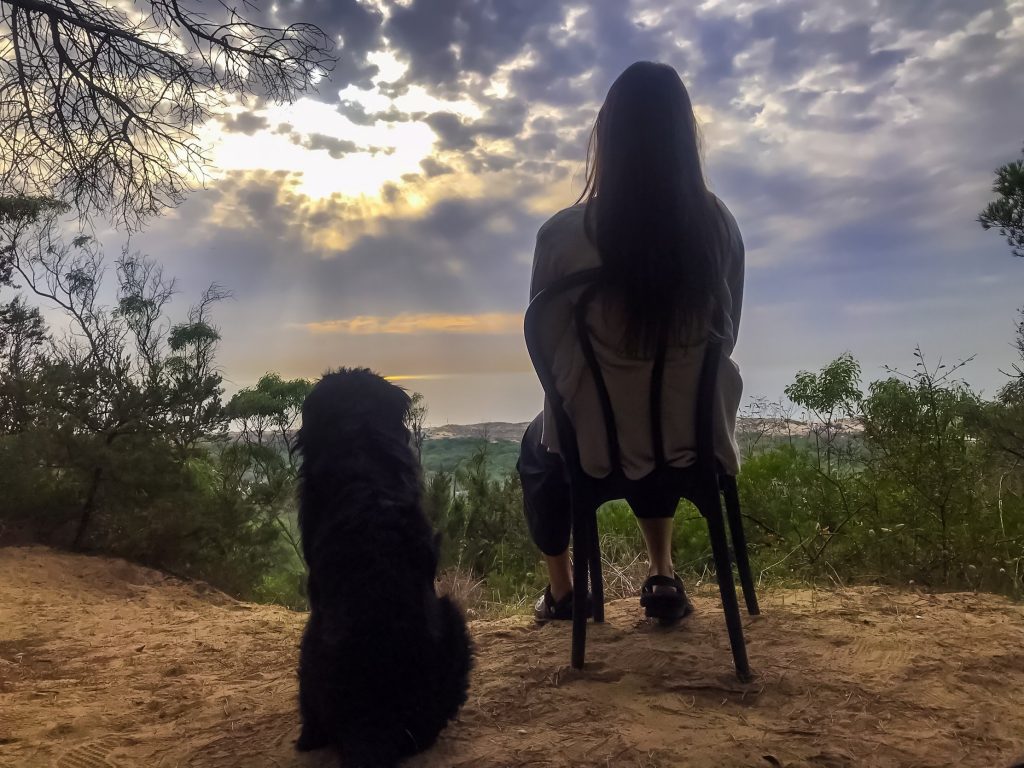 Photo: Me and Boris
One of the most frequent questions I get asked is: Is it safe to travel to Portugal? It's an essential question with quite a complex answer. Safety comes in many different shapes!
Overall, it is safe to travel to Portugal. However, there are precautions you should take to ensure you have a peaceful trip here. Read on to find out my best tips on being safe while visiting Portugal without compromising on any of the fun.
Is it Safe to Travel to Portugal: Top 10 Tips For a Safe Trip in Portugal
1 – Take Care of Your Belongings When in Crowds
Photo: Belem tower Outjazz Festival 
There are several essential precautions for you to take in order to avoid pickpocketing. This is a danger mainly present in crowded areas of cities such as Lisbon and Porto. However, keep in mind that you should take these precautions in any crowd.
Safety starts before leaving your room. Make sure you aren't carrying more belongings than you actually need. Leave your extra cash at the place you're staying at. Other valuables could be left behind as well if not necessary: jewelry, watches and high-profile cameras.
Secure what you choose to take with you out of other people's sight and avoid attracting unwanted attention. Wear your backpack in front of you and make sure all zips are closed.
2 – Don't Use Public Transportation When It's Too Quiet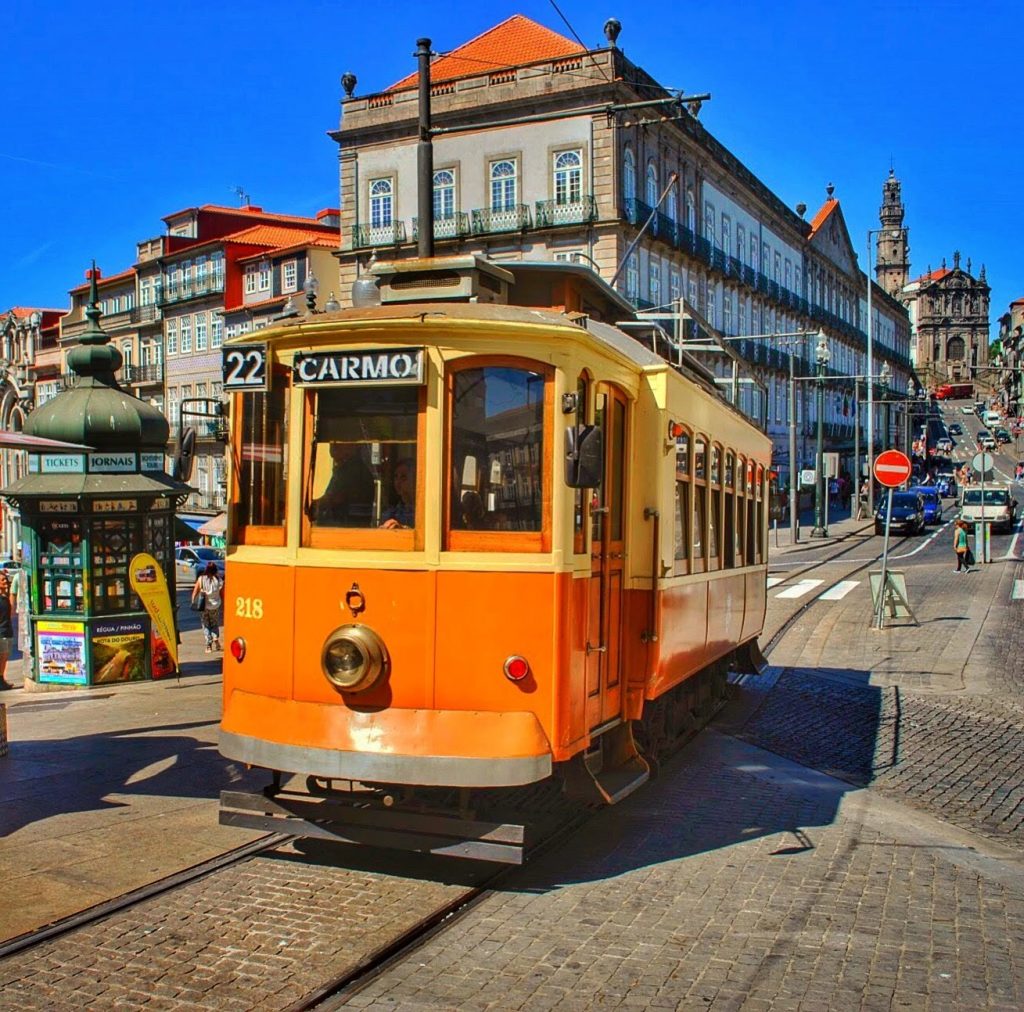 Photo: Tram Porto city 
Public transportation is, for the most part, safe to use in Portugal. However, there are two situations during which you may have to take extra precautions: when it's too crowded and when it's too quiet. If you find yourself in a crowd, take the same precautions mentioned in the previous point.
Quiet hours are a bit trickier. You should avoid traveling by yourself late at night on the underground (or subway).
When it comes to taxis, always wear your seatbelt.
3 – Be Aware of Your Surroundings to Avoid Dangerous Situations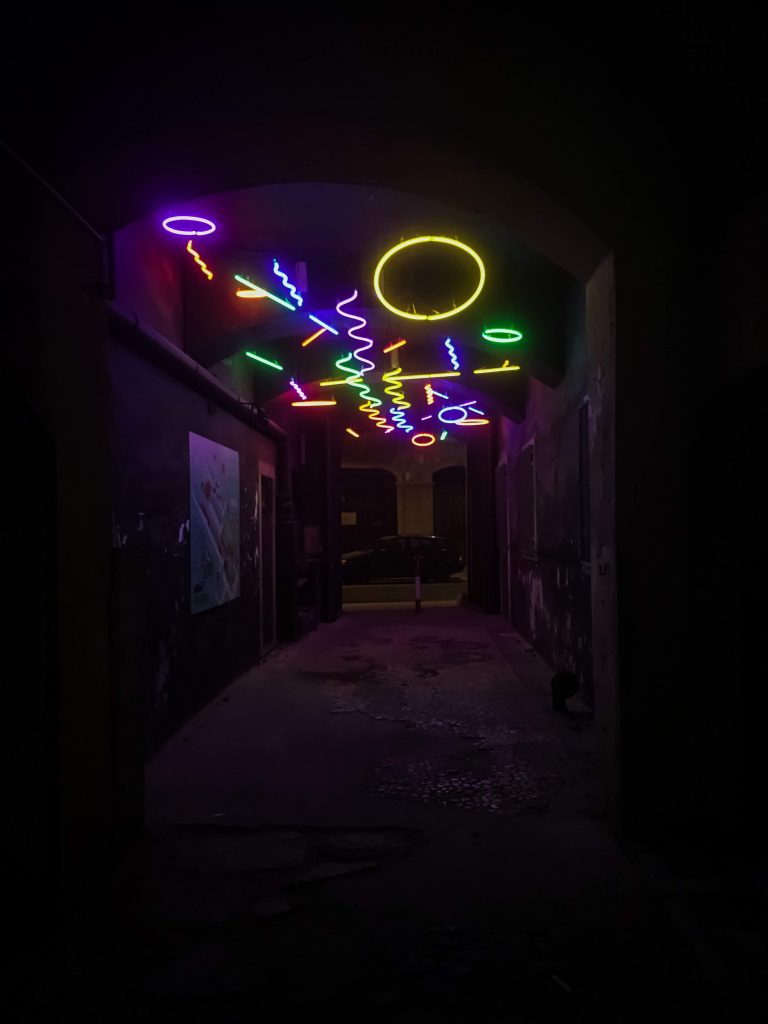 Photo: Santos Populares Alfama / Lx Factory
Acts of violence aren't common in Portugal and prejudice against people of other ethnicities, religions or sexuality isn't something to worry about.
However, you should be careful near discos and bars late at night. In those areas, make sure you're always aware of your surroundings in order to notice and avoid dangerous situations. You'll only be able to do this if you're completely alert – drink responsibly!
4- Ignore Drug Dealers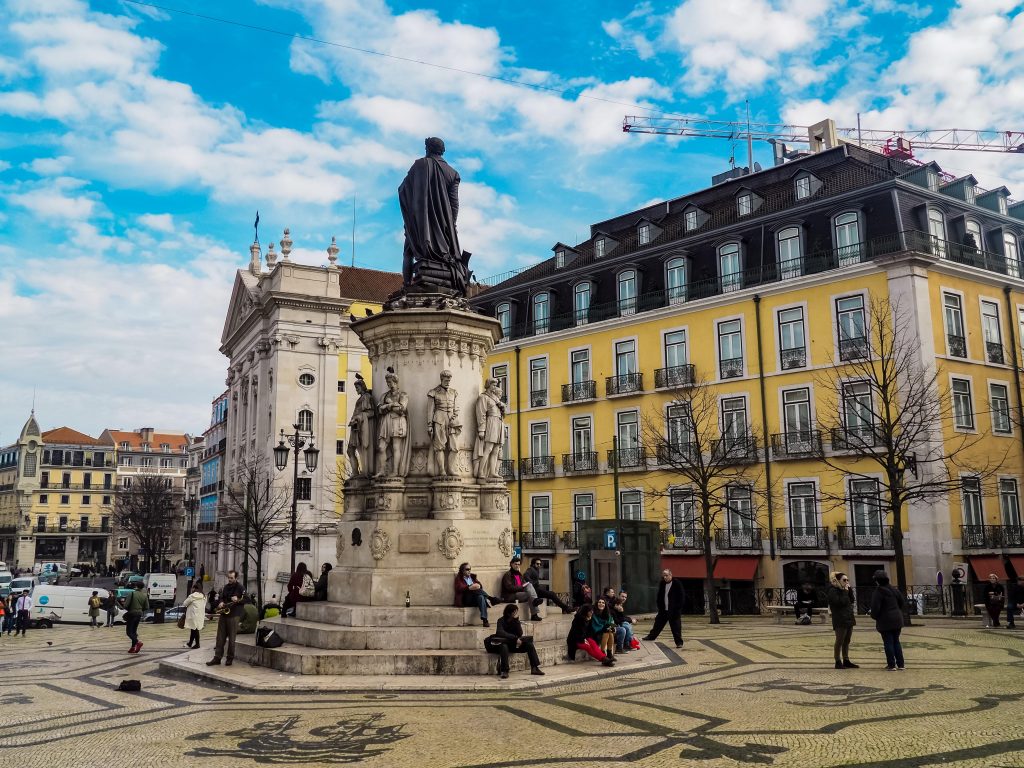 Photo: Praca Luis de Camoes 
If you like going out at night in the big cities, you'll probably find drug dealers on the streets. Whether you find them at night or during the day, simply ignore them. They can be persistent – just keep walking. And the funniest part is they're not even selling real drugs, so yeah.
5 – Protect Your Skin – It's Sunny Here!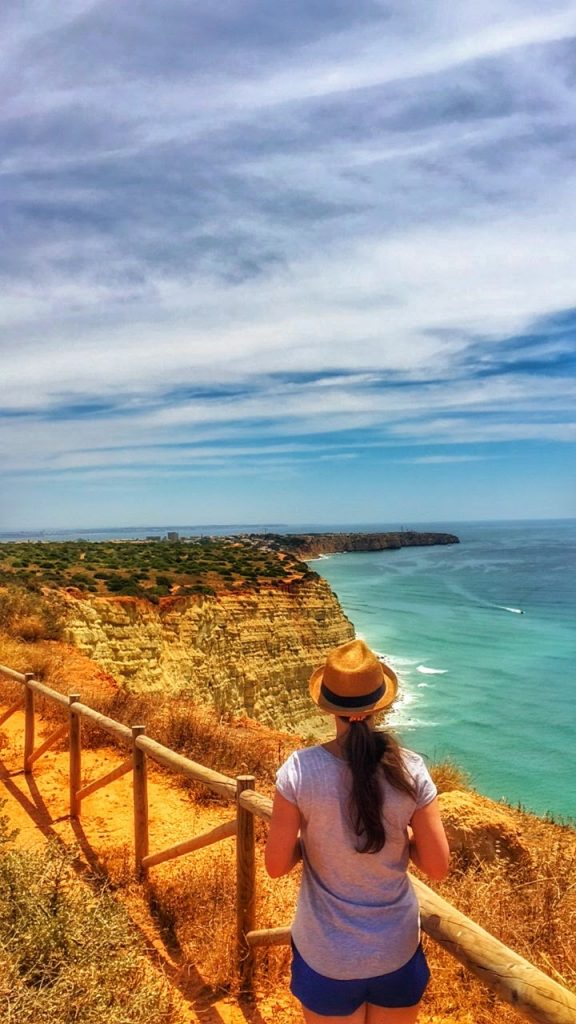 Photo: Me in Algarve Coastline, South of Portugal 
If you come from a sunny country, you're used to protecting your skin – it is essential to avoid sunburns and to prevent more dangerous conditions. Use high-quality sunscreen (or sunblock) and re-apply it at the recommended frequency. Don't forget to wear sunglasses and hats. Children (and even adults) should also wear t-shirts when in direct contact with the sunlight.
Also, don't leave your kids or pets inside your car unattended – it gets quite warm in Portugal most of the year and it won't be safe for them there.
6- Be Careful When in the Ocean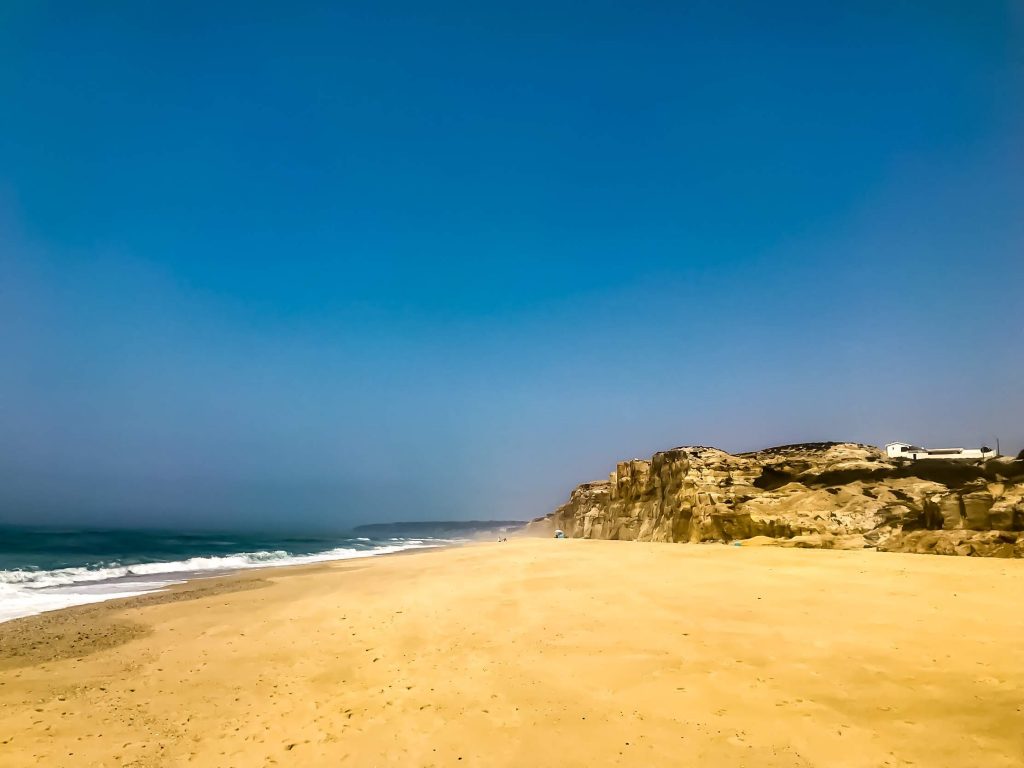 Photo: Del Rei Beach 1h from Lisbon
Portugal is known for its beautiful weather and beaches. Whether you're heading to the Algarve or any other beach in our country, there are always dangers you should account for.
Some beaches in Portugal are known for their waves, while perfect for some water sports, they can be risky. You should be careful in the ocean, especially with younger kids and the elderly. Falls may occur when entering the water if the waves are strong.
Make sure your beach has a lifeguard on duty. Respect the lifeguard's indications – if they whistle, it means you should leave the water or swim closer to the shore.
Make sure you know the meaning of the colorful flags displayed in the Portuguese beaches and act accordingly. These are controlled by the lifeguard on duty and are changed depending on the level of danger at that moment. A green flag indicates that the ocean is calm and that you may enter the water and swim. If you see a yellow flag, there is danger – you may bathe but you shouldn't let the water rise above your waist. The red flag indicates that no one should enter the water. Many reasons may cause a red flag to be hoisted: strong waves, water contamination, weevers, jellyfish, or even sharks (very unlikely to appear in Portugal).
Jellyfish represent a danger in Portuguese beaches. If there is a lifeguard watching the beach you are in, a yellow flag or purple flag may be hoisted to advert the presence of these invertebrates. In those cases, don't let the water rise above your head and make sure your feet are in touch with the ground at all times.
Rip currents are channeled currents of water which flow away from the shore. If you find yourself being pulled out to sea by one of these, swim parallel to the shore in order to escape the rip current. There is no point in swimming against them because these currents are too powerful and you won't be able to reach the shore.
Many Portuguese beaches include dangerous rocks and cliffs. Be careful of these. Wear water shoes to avoid slipping or cutting your feet when walking on pointy rocks. Don't lay your towel too close to cliffs because stones may fall from it.
7 – Don't Leave Your Bags Unattended at the Beach
Photo: Galapos beach 40 min from Lisbon
It's easy to forget your bags when you're at the beach or at any other location having fun. Just as you should in any country, don't leave bags unattended.
It's trickier to do this at the beach. Don't bring valuable belongings with you, leave them safe where you're staying at. If you're with other people, take turns leaving your towels in order to have someone looking after your belongings at all times.
8 – Don't Light Fires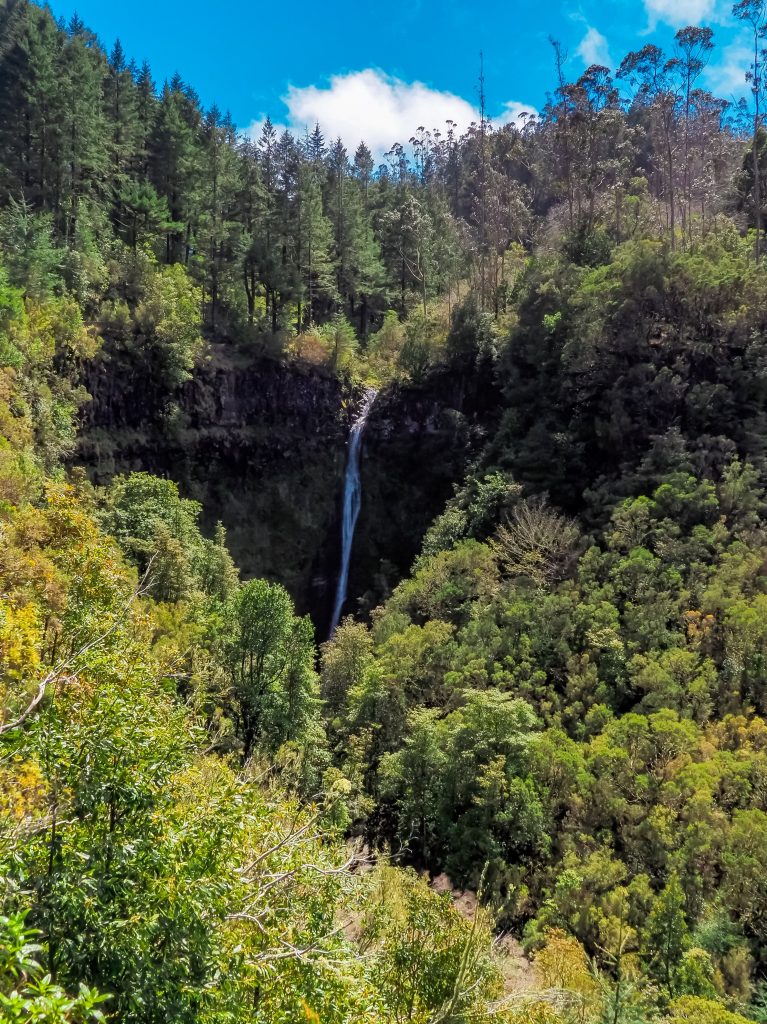 Photo : Madeira island
You may have heard of forest fires in Portugal. These happen pretty much every year here and it's everyone's responsibility to prevent them. Don't light fires in rural or wooded areas, no matter the time of the year. Dispose of your cigar butts in the appropriate containers and make sure they're put out – don't throw them out your car window!
9 – Take Precautions When In Water Parks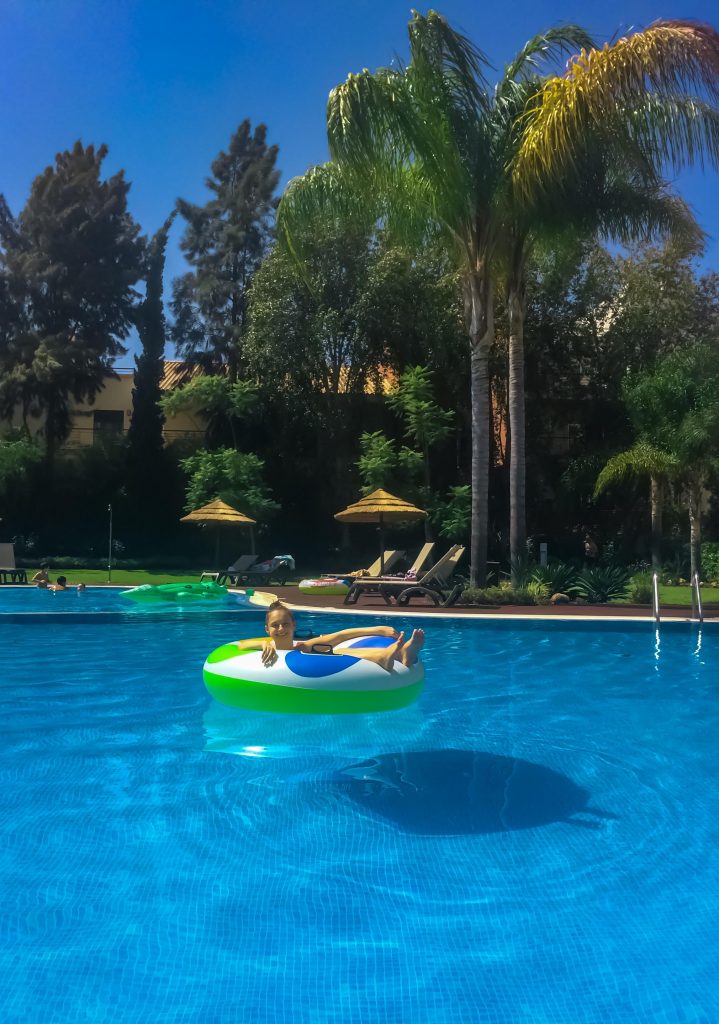 Photo: Me at Algarve, South of Portugal  
Water parks are very common in the Algarve. Besides the precautions mentioned before related to pickpocketing, sunburns and unattended bags, water parks have their specific dangers.
Some rides are so fast that you'll fall in the water very far from the slide. However, some may leave you quite near it and it's important that you swim away from the slide as fast as possible to avoid a collision with whoever is sliding next. If you're accompanied by children, teach them what they should do after dropping in the water in order to prevent possible collisions.
Just as you should by other pools, do not walk barefoot – you'll be preventing falls and the transmission of fungal infections.
Avoid swallowing water as much as possible, both in water parks and in other locations where you swim, to prevent the transmission of diseases. Even if the water is clear, you should never drink it.
10 – Drive Safely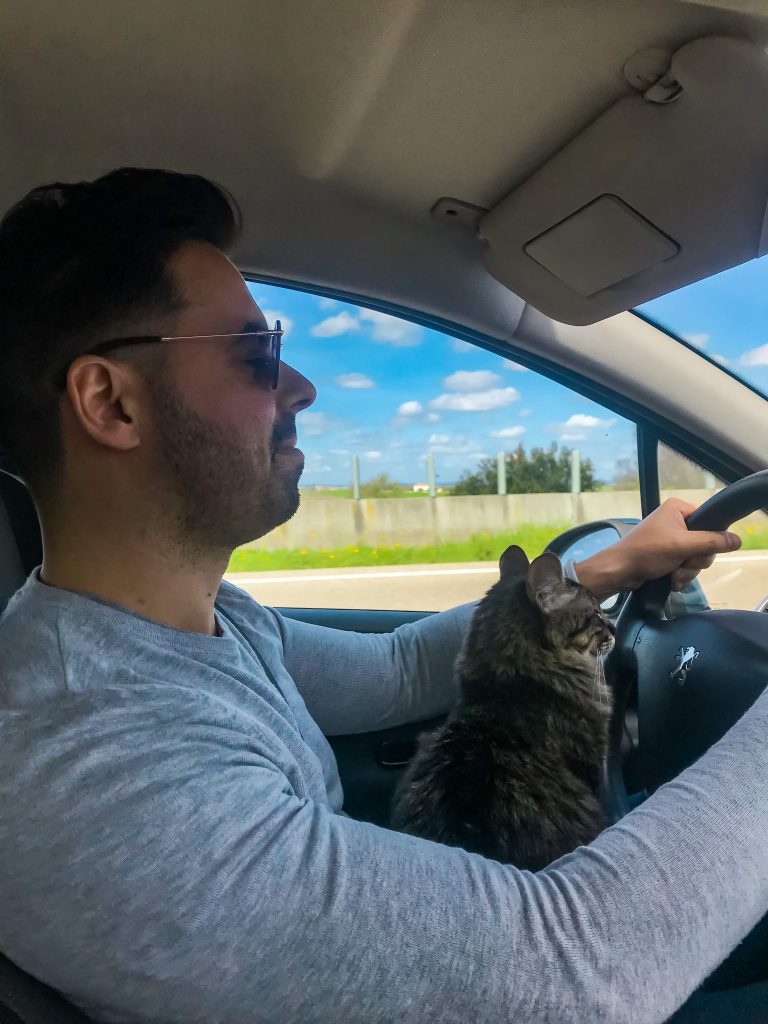 Photo: My Husband Bruno with our baby cat Ushi 
It's overall safe to drive in Portugal. However, precautions should be taken, as in any other country.
Study the roads you plan to drive on beforehand, using a map or GPS system. If you aren't comfortable driving on narrow roads, most of Portuguese older roads won't be for you!
Don't speed, especially on roads you aren't familiar with, at night, and when it's rainy or foggy. There may be dangers you aren't familiar with, such as black ice.
Always stop at Stop signs and proceed only after making sure your way is clear.
If you see someone standing by a pedestrian crossing (or crosswalk), always let them through – it's the law and the safe thing to do!
Car thefts do occur. Avoid theft by locking all doors both while driving and while parked. Also, don't leave personal or valuable items in plain sight inside your car.
Read this article for more tips on driving in Portugal. It covers general information on driving in Portugal, tolls, speeding, traffic lights, traffic circles, road signs, and more!
Is it safe to travel to Portugal? Yes, it is. It's unlikely that you will have any issues here, specially if you carry on these precautions!
And if you need help planning your trip to Portugal, do let me know, please.