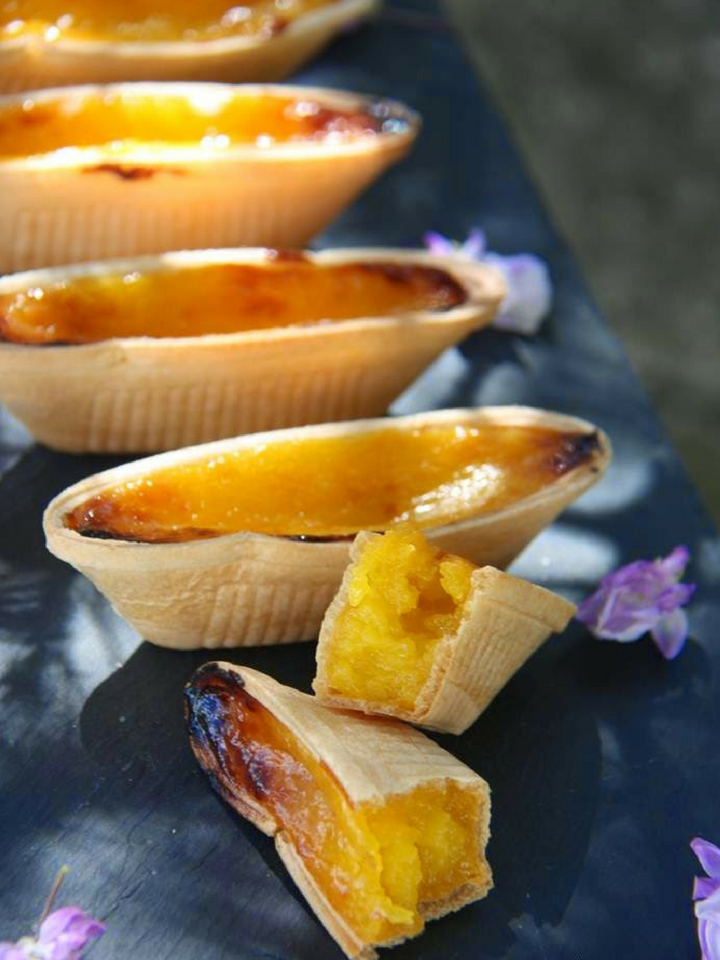 The first time my husband's grandmother visited Lisbon, she saw "bica" in the menu and ordered it. There came espresso coffee. She was in shock. She said to the waitress that she had mistakenly brought her coffee instead of bread. Who as wrong in the story? Noone. They were both right. The Lisboetas call bica their coffee. In the interior of Portugal, bica is known as the olive oil infused flat bread. This leads us to the #1 on the list:
1. Bica
You can only find this delicious bread in traditional bakeries in the central villages of Portugal, as Penha Garcia, where the grandparents of my husband come from.
2. Pastel de Bacalhau com Queijo da Serra da Estrela – Cod Fish with Cheese from Serra da Estrela.
The original recipe is without cheese. I've tried it and it's OK. But with this melty and strong-taste cheese, it's an epic experience in your mouth. Codfish, potato, eggs, olive oil, and melty cheese, it's divine. This new recipe is proprietary to A Casa Portuguesa do Pastel Pastel de Bacalhau on Rua Augusta. A must-visit.
Photo by Dupla Gourmet
3. Bacalhau com natas – Codfish with Cream.
This classic recipe is a punishment to the lactose intolerant or those who don't include lactose in their diet. If you're the latter, I suggest you make an exception. This famous dish can be found in various typical restaurants in Portugal. I've got 3 recommendations for Lisbon and Porto.
For Lisbon
Laurentina This restaurant is a bit outside of the visitor's route, but it's worth taking the "desvio" – detour. They have their own version with spinach.
A Casa do Bacalhau  Their version comes with shrimps, yummy.
For Porto
Taberna do Farrapo Velho – classical recipe
4. Peixinhos da horta – Deep Fried Fresh Green Beans in Flour Batter.
There is a story I love to tell all my friends when we eat peixinhos da horta. From this simple Portuguese dish originated the Japanese Tempura. The recipe was brought by Portuguese missionaries to the city of Nagasaki in the 16th century, according to Wikipedia. The Japanese have mastered the batter to perfection, but the Portuguese version is delicious, too. I love to eat it in Vestigius to accompany a glass of wine. They have their own version which is a perfect afternoon petisco.
5. Francesinha à moda do Porto
This is a Porto's classic heavy-looking sandwich, that's made of two thick pieces of toasted bread, veal or pork steak and different type of stuffed sausages, cold meats, and melted cheese. The sauce is prepared with tomato, beer, and piri-piri (very small spicy red pepper).  I'm ashamed to admit that despite visiting Porto two times, I've never eaten one. It just looks so heavy to me. But after talking to friends who tried, it, and said the opposite, I'm planning a trip back to Porto with the ultimate task to eat the best Francesinha there is out there. According to Portuenses' reviews, the best places to try francesinha are: Café Santiago and Yuko. Reservations are recommended.
Photo by Café Santiago
6. Artisanal Cheese
Portuguese cheese might not be as famous as French os Swiss cheese, but this is a marketing failure. Portugal has some of the best cheeses on the planet. And the variety is huge. My favorites are Queijo da Ilha (from the Azores islands), Mixed type of cheese –  goat, sheep and cow milk, Cheese from Penha Garcia – this is quite strong though. You can buy cheeses in the supermarkets or in the gourmet shops for a more refined choice. If you want a platter of cheese, go to Queijaria in Lisbon.
Photo by Queijaria
7. Prego no Bolo de Caco
This is more about the traditional bread from Madeira – o bolo de caco. It's like no other bread I tried and is delicious. Except on Madeira island, you can try it Lisbon and for sure in Porto, too. For Lisbon, I can recommend O Prego da Peixaria, where you can eat this bread with veal steak, tuna or mushroom hamburger.
Photo by Prego da Peixaria
8. Pastel de Nata
You must have heard of it. It's so famous. It originated in Belem in 1837. The original recipe is only known to the founding family and is the only place on Earth where you can try it. There is one more place I love to go to, with a bit of a different taste, but quite a worthy rival to try. Some Portuguese rate it as the best in the country right now. You can find in my free e-book: The 15 Secret Spots of Lisbon. Download it here.
Photo by Pastéis de Belem
9. Queijadas de Sintra
This is another of my favorite traditional pastries. I actually like it more than the pastel de nata. The best ones are, well, made in Sintra. One of the oldest pastry shop in Sintra is Casa do Preto  and it's all the time full of locals, so it's a safe bet. . Even older is Casa Piriquita since 1862, it's also more central, its queijadas are very famous and delicious.
Photo by Piriquita
10.Pão de Deus
This food masterpiece combines the love of the Portuguese of the bread with the love of sweets. Sweetbread with grated coconut cream on top. OMG. No more comments. The best is sold at any of the A Padaria Portuguesa pastry shops. A must-try while on vacations in Portugal.
11. Ovos Moles
This is another sweet with unique taste, invented in Aveiro. The egg cream is extremely sweet, you either love it or hate it. Most people love it. The best place to try it in Aveiro is Maria da Apresentação, the traditional recipe is still the same since its opening in 1882. Otherwise sold at pastry and gourmet shops throughout the country.
12. Pão de Ló
This a very very fluffy sponge cake, I love to have it topped with chocolate. I had it as a birthday cake in 2012 and since then I'm a true fan. You can also find it in A Padaria Portuguesa. There is even a Pastry Shop in Lisbon O Melhor Pão de Ló do Universo (The Best Pao de in the Universe). But my favourite brand Ti'Piedade is sold at supermarkets and gourmet shops aroud the country http://www.tipiedade.com/index.php/en/ondecomprar . Ovar (North) e Alfeizerão (Center) is where you can try the traditional famous recipe.
13. Salame de Chocolate – Chocolate Salami
This was a shocker for me as I've been eating it since kid in Bulgaria. But eating the original is always a fun experience. I'd say any pastry shop that have it will do.
14. Sericaia
This is a traditional sweet from the alentejo Region. This "almost cake" has creamy and wet texture and is the perfect blend of eggs, lemon, flour, milk, sugar, and cinnamon. I've tried it in Momentos restaurant in Evora. You can also try it in this Pastelaria Conventual Pao de Rala pastry shop in Evora.
15. Santini ice cream
Santini was established in 1949 in Cascais. And I've got to tell you that it rivals the Italian gelatos. You can also find it in Chiado and Belem for Lisbon and near São Bento train station in Porto. Perfect yo refresh on a hot summer afternoon.
Subscribe to Download a PDF that you can take on your trip with the complete list of the foods, restaurants, addresses and contacts.