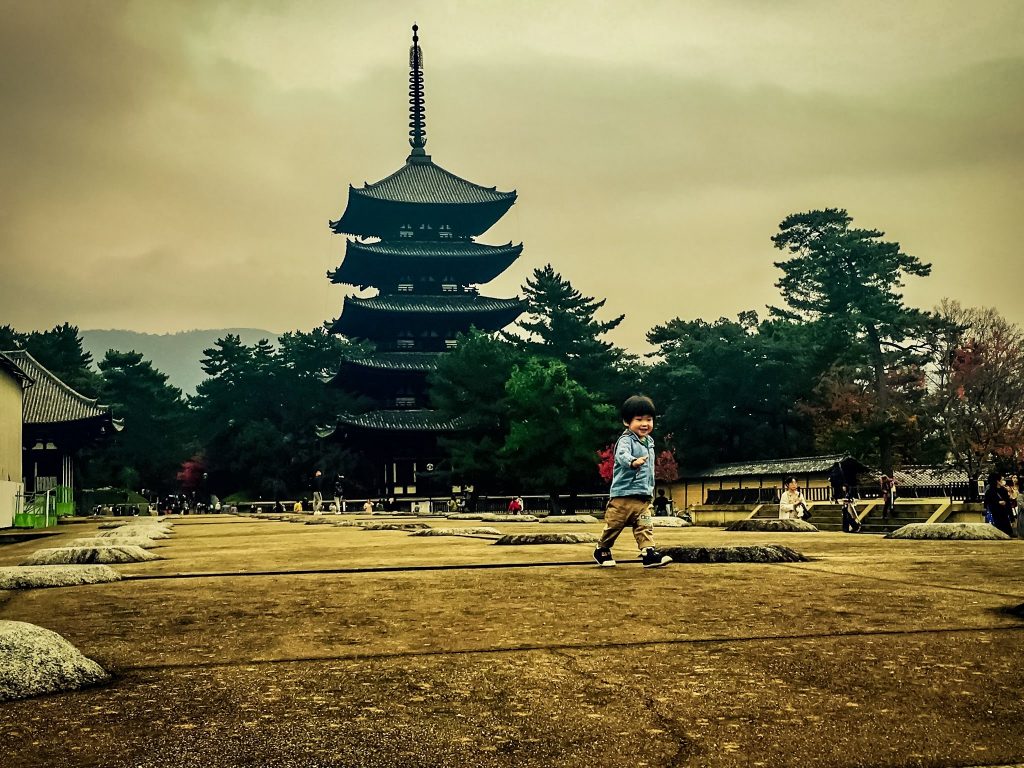 We visited Nara Park on a rainy day. I didn't mind at all. The two of us walking under the big black umbrella in the rain visiting Japanese temples, pagodas and moss gardens, and feeding daring dears.
I wasn't sure what to expect in Nara. It's famous. And we both dislike crowds. I was aware that we needed to venture a bit further in order to find a peaceful corner for ourselves. Did that happen? Read on to find out.
Nara Park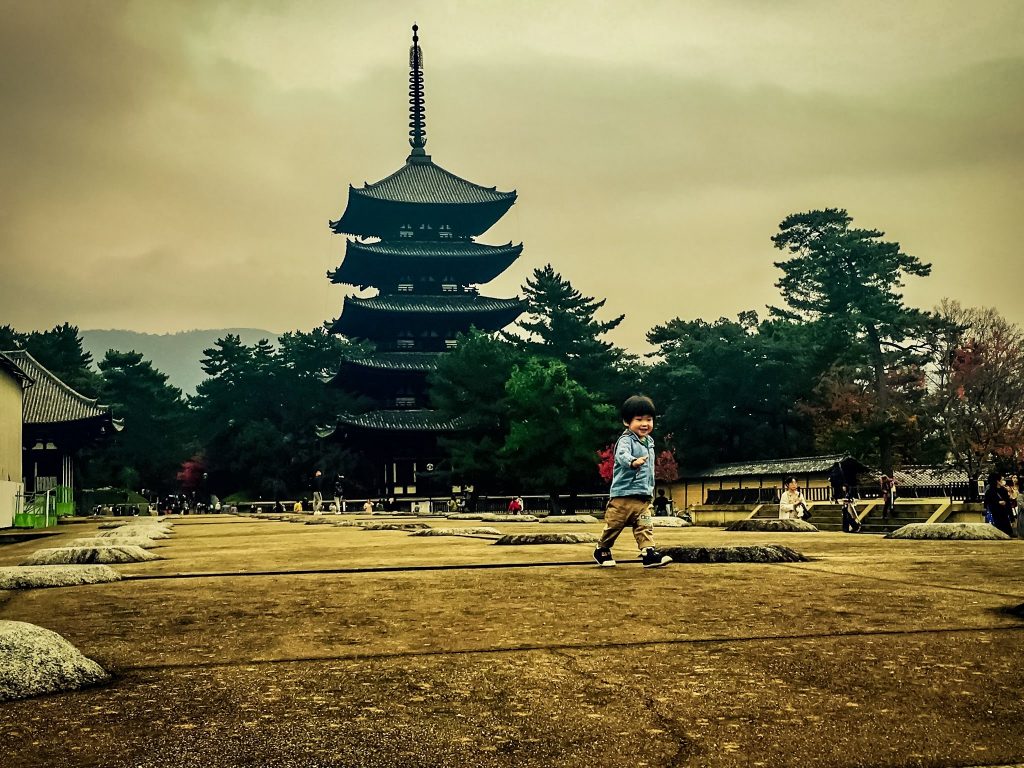 But first, let's start from the beginning.
We decided to visit Nara on the day we were leaving Osaka and heading to Kyoto. It made sense as Nara is located between both cities.
We got on a local train. As usual for Japan, it was quiet so you could hear your thoughts. Not until a bunch of high schools girls entered the train giggling and talking low between each other.
They did get some angry looks from elder Japanese though. They were dressed in blue uniforms with a jacket and a skirt, and a checkers shirt. Most of them had umbrellas with them even though it was not raining yet. As the train continued to the next stops, they were slowly leaving. And so we arrived in Nara.
After thorough research, I knew we could leave our bags in secure station lockers. So we did.
About Nara
Nara was Japan's first capital established in 710. Until today it remains full of historic treasures, including some of Japan's oldest and largest temples. 
When we arrived in Nara
it was almost lunchtime and we decided to eat something before exploring. From the station, we just followed some crowds to a commercial street with a lot of restaurants and shops. It's in the direction of the temple area of Nara.
We were looking at various places and weren't sure what to choose from. Then we found this small local place with a very secluded, cozy and homey feeling. It just spoke to us. We ordered the daily menu for about 8$ without even knowing what it was. There was no English menu, neither the owner spoke English or we Japanese.
There came a miso soup, a ginormous plate of rice, chicken tempura, green salad, boiled eggs in cubes and potatoes in gravy. It didn't look like much, but it was so delicious. It was also served with a lovely homemade Jasmin tea. This combination kept our energy high for hours.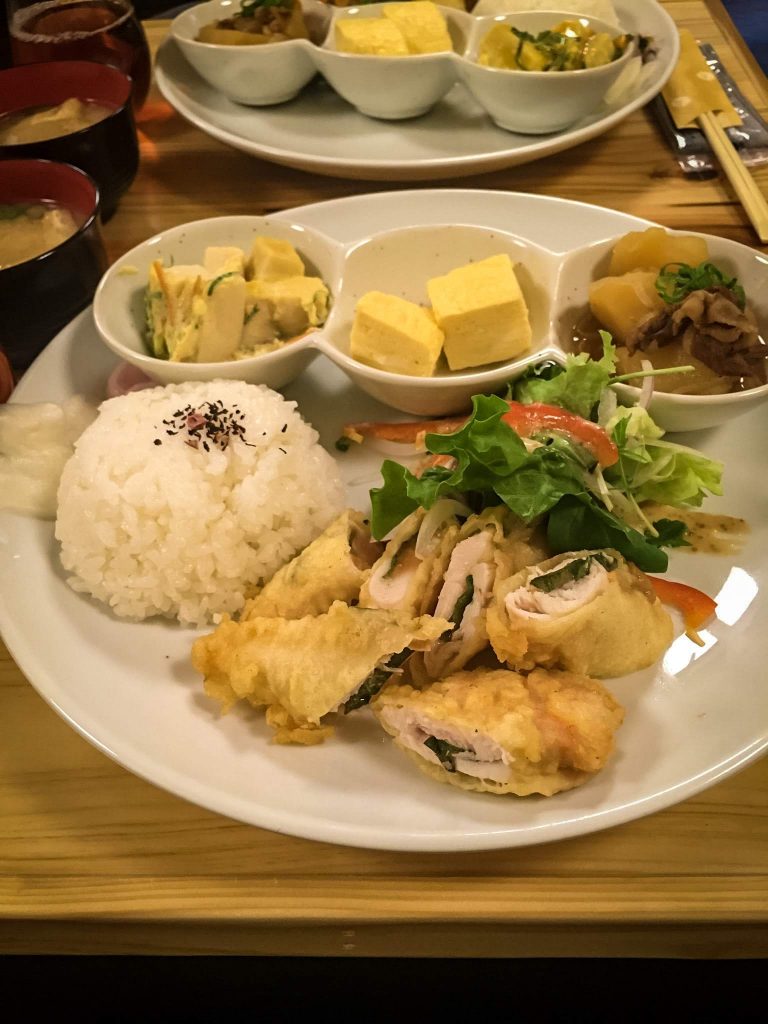 Then we entered the Nara Park
We must have chosen one of the side entrances because it was very quiet and serene. We passed by beautiful temples and Japanese gardens. Our next stop was an encounter with deer.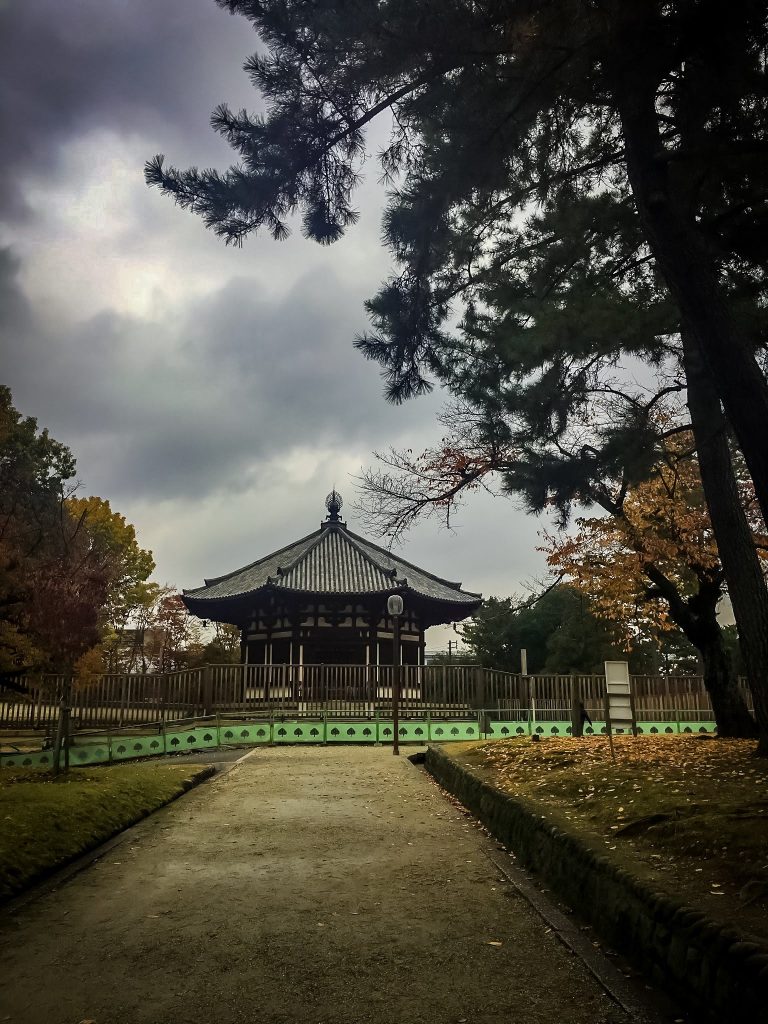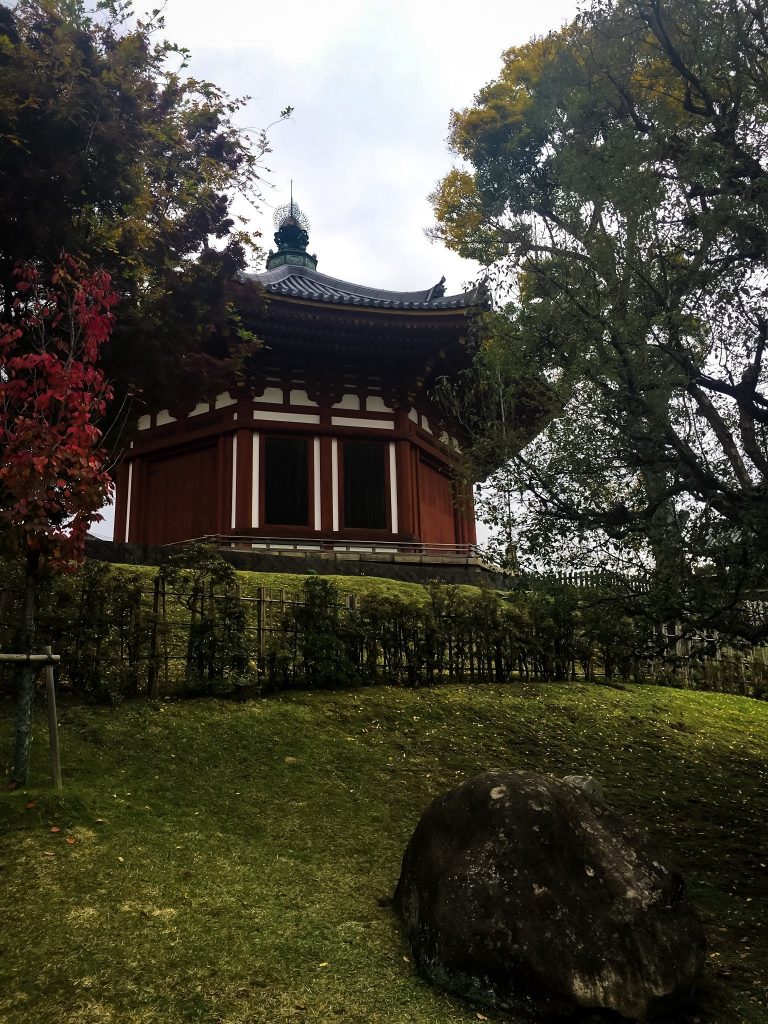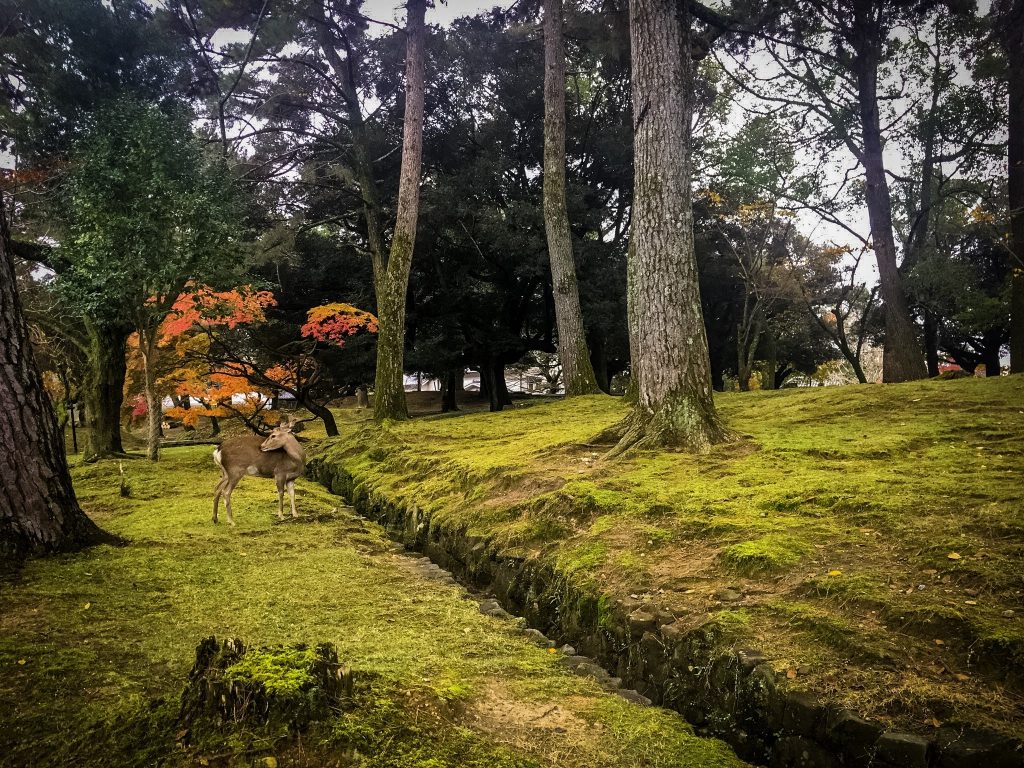 Tip for feeding deer in Nara
You can only feed them with the special biscuits that are sold inside the park. Also, don't try to feed the first deer you see. It won't be hungry because so many visitors have already given them bites.
We just walked a bit further until we found more deer than people and they were happy to be fed and were very playful, especially the young ones.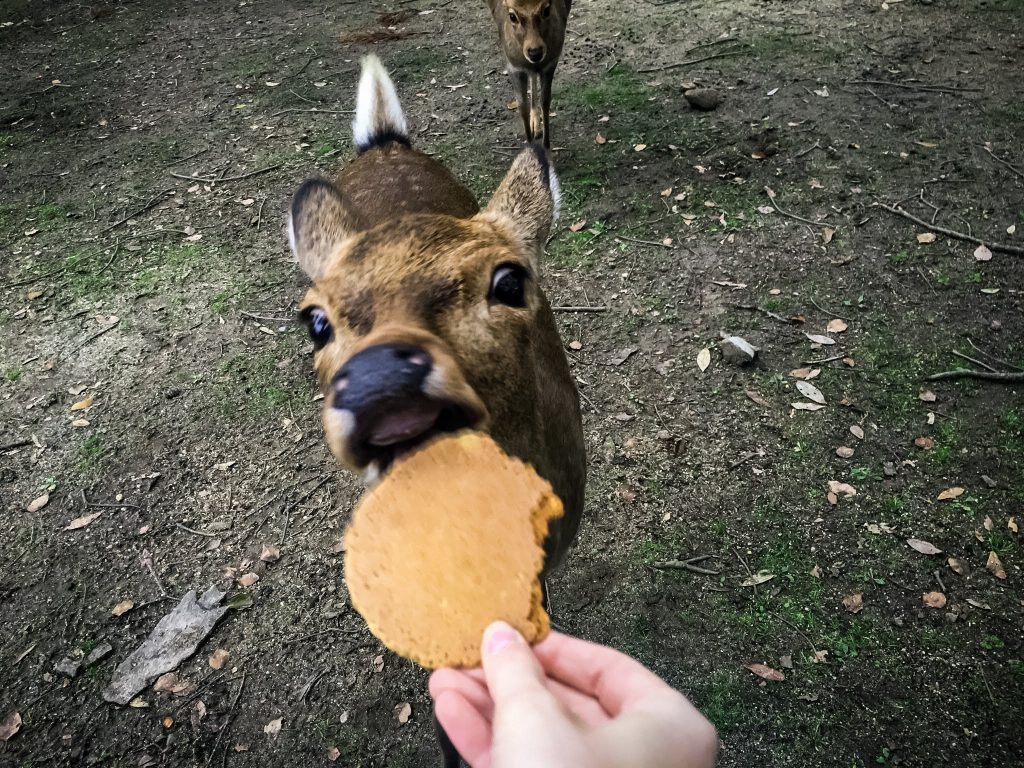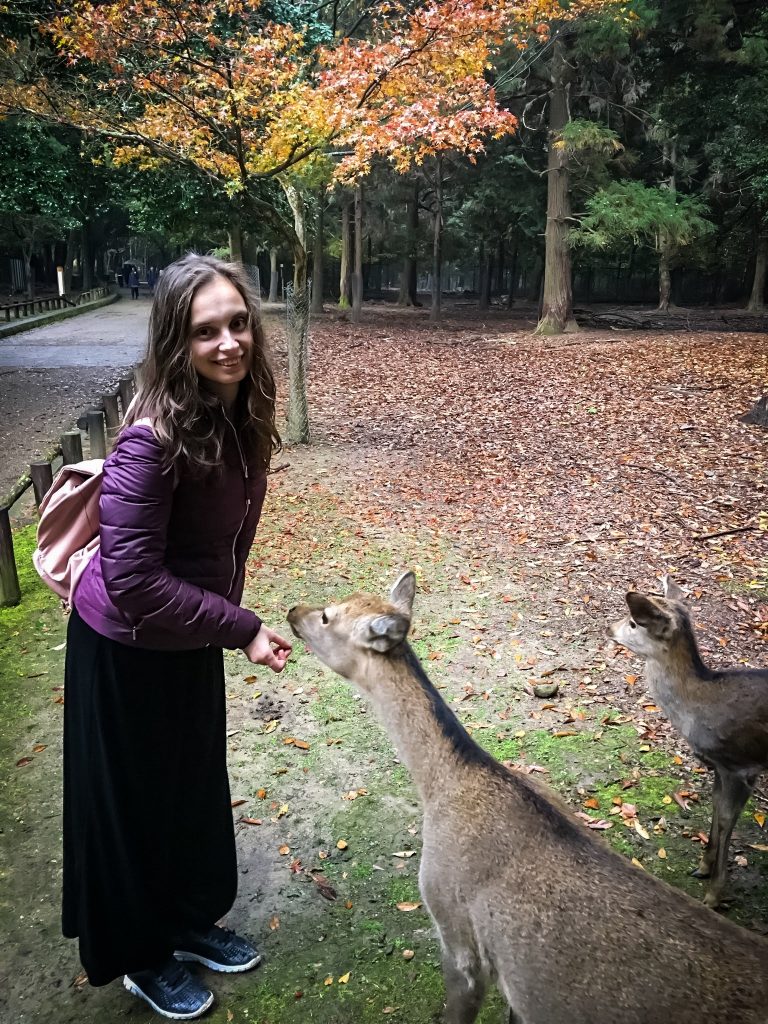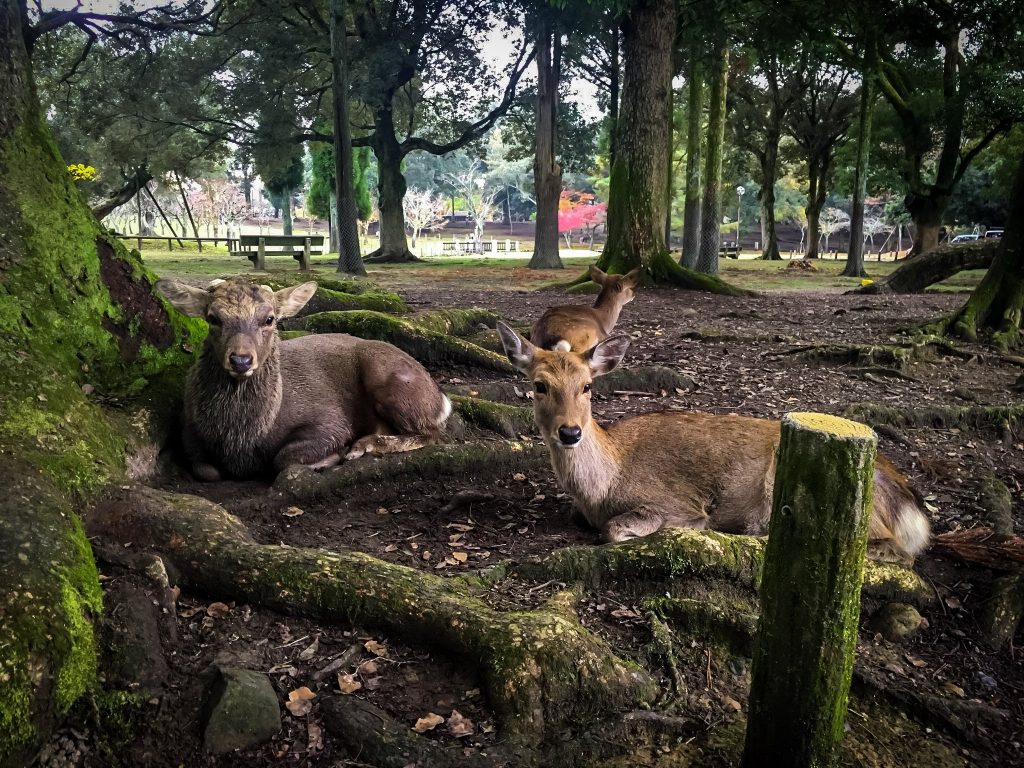 We visited on a Sunday and there was a procession with beautiful traditional Japanese costumes. Then we just walked and walked, and we did find some quiet corners to rest, feed deer or just contemplate. We managed to visit some peaceful and serene temples where we could watch the time pass by in the rain.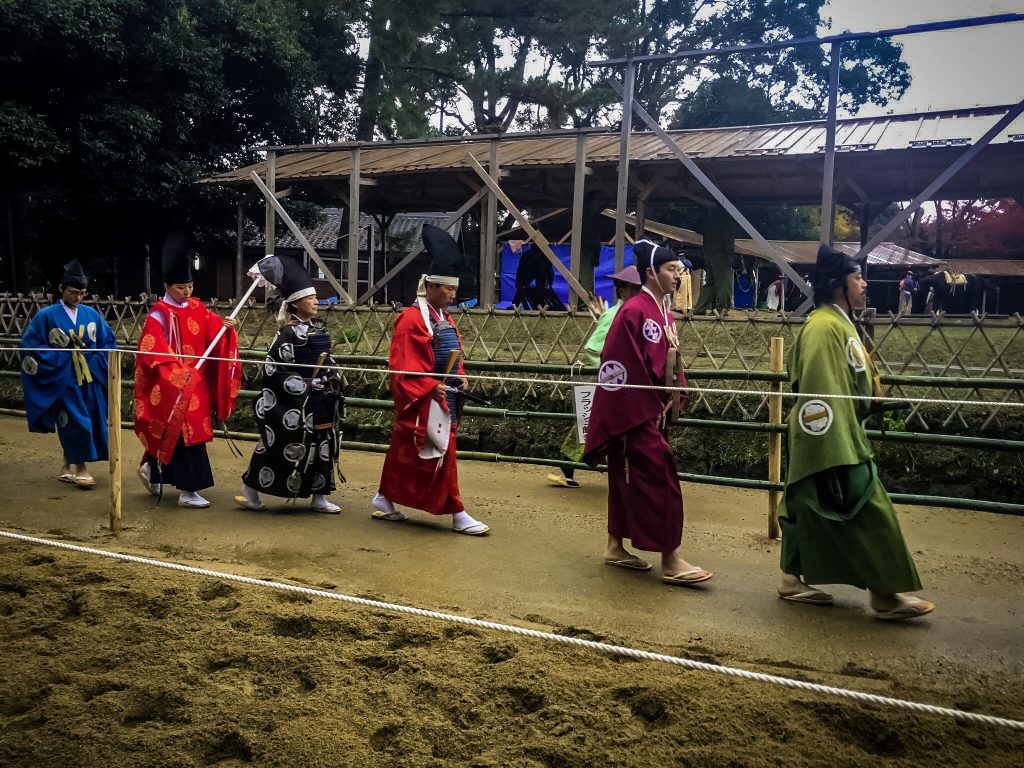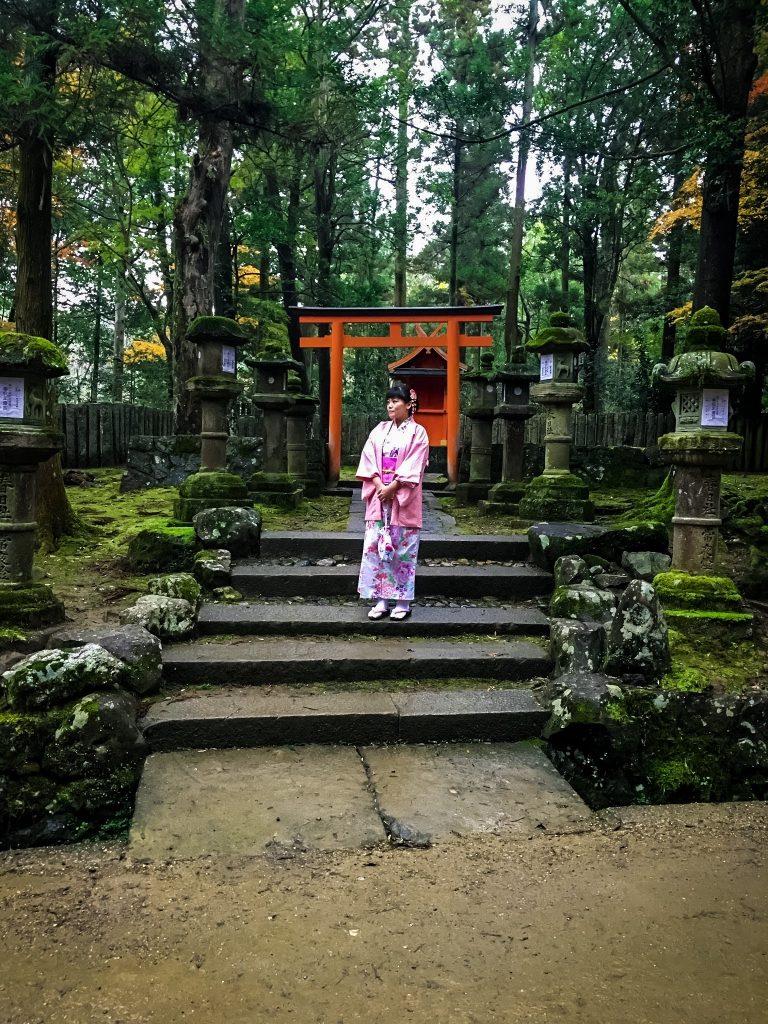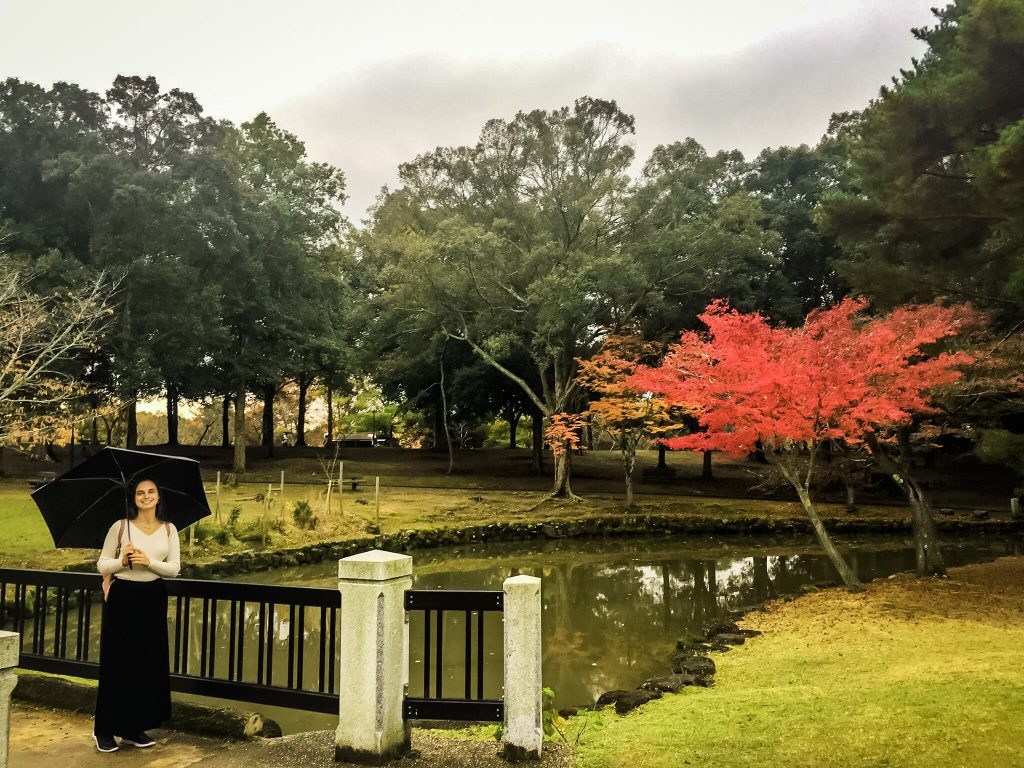 Our last stop was the most famous temple of Nara –
Todaiji with the giant Bronze Buddha. The 15-meters-tall, seated Buddha represents Vairocana and is flanked by two Bodhisattvas.
The temple one of the world's largest wooden structures and the oldest, too. it dates back to the year 752. The present reconstruction of 1692 is only two-thirds of the original temple hall's size. (1)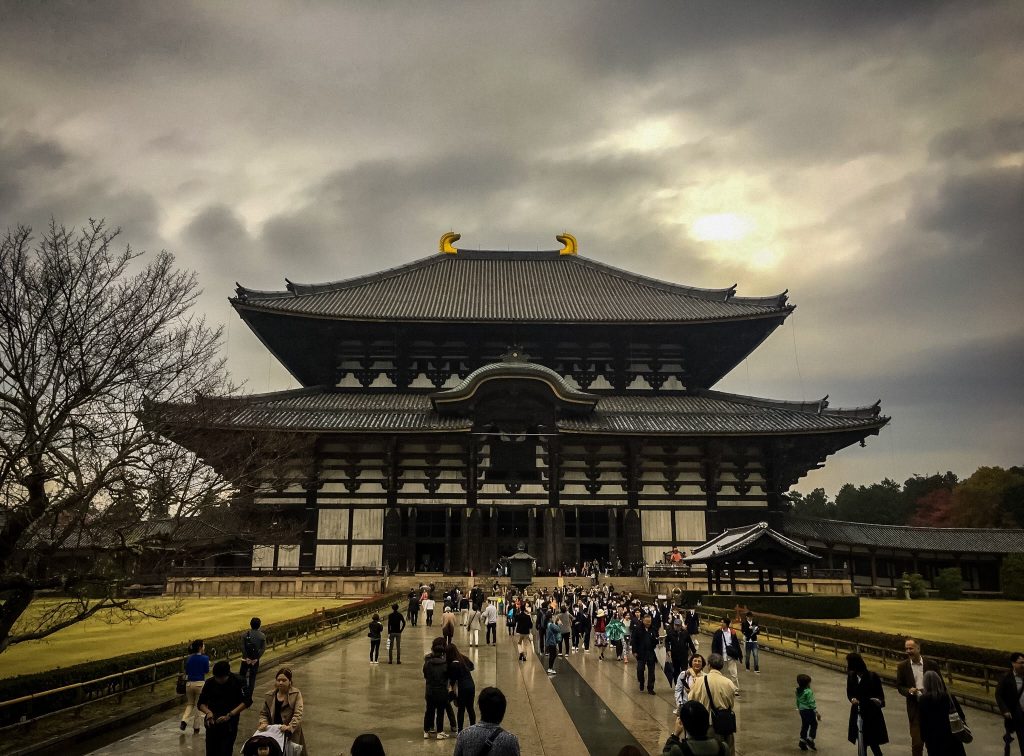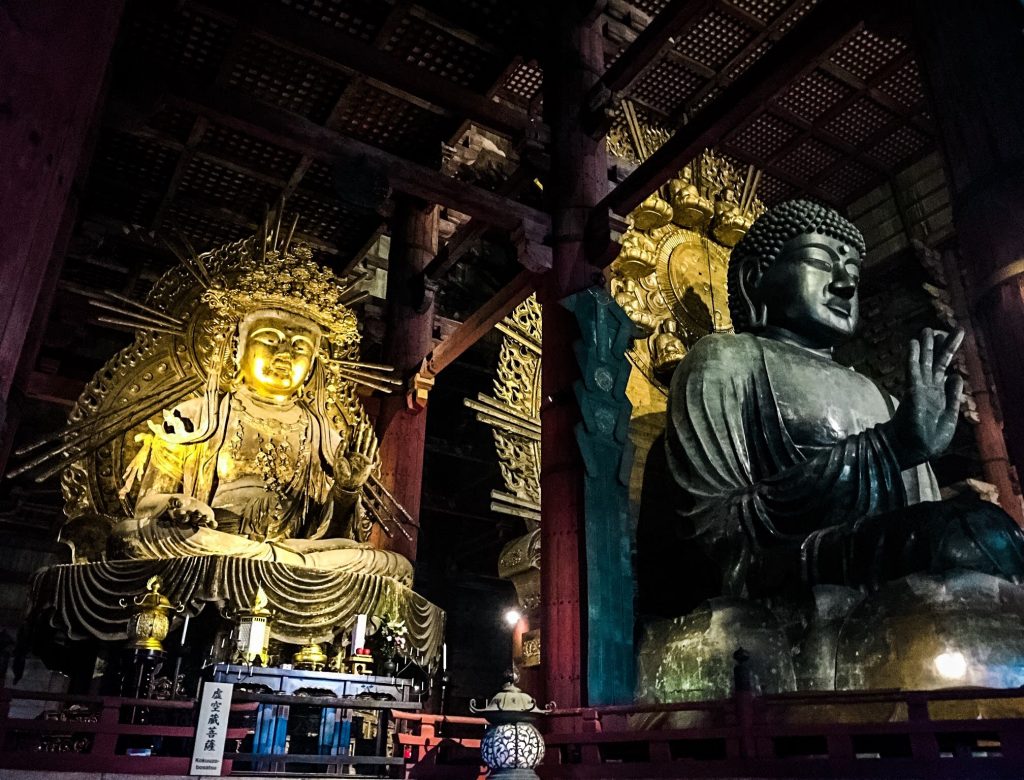 It was already late afternoon, so I guess the temple wasn't that full as during the day. We entered 30 min before closing and there was enough time to admire the enormous Bronze Buddha and other statues. I even had time to smell the essence fumes outside the temple for good luck right before the essence burners got covered. Don't be alarmed by the smoke, it's very normal for visitors to light their own incense. If you decide to purchase incense yourself (I didn't have time), never light your own while the others are still burning. It's viewed as being symbolic of taking on another's sins (2). You don't want that I guess.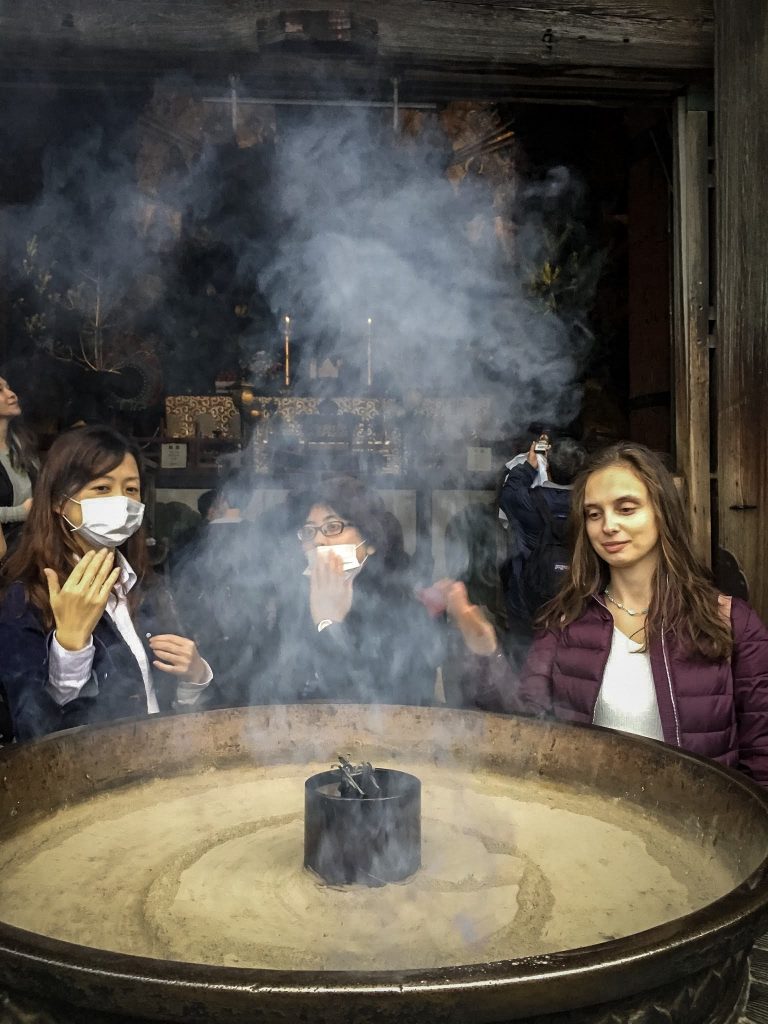 As we began to exit the park it was getting more and more secluded and serene, there were almost no tourists and everything was silent and relaxed. I stopped various times on the way to stalk private Japnese homes' Zen gardens. They were so beautiful, clean and carefully designed.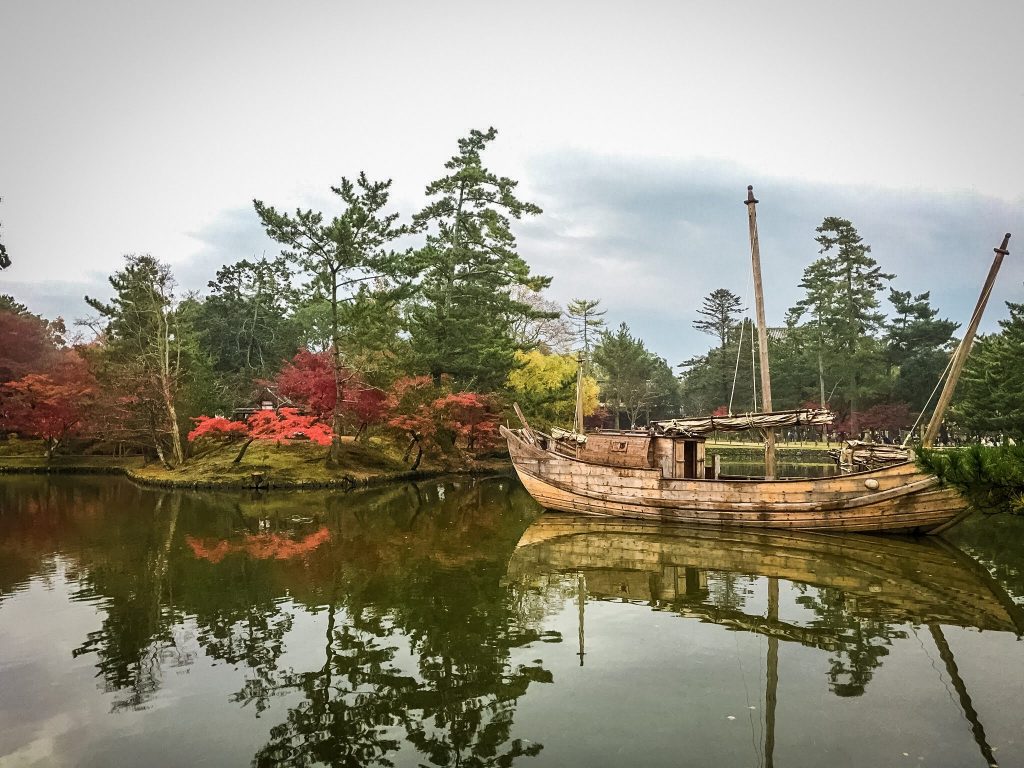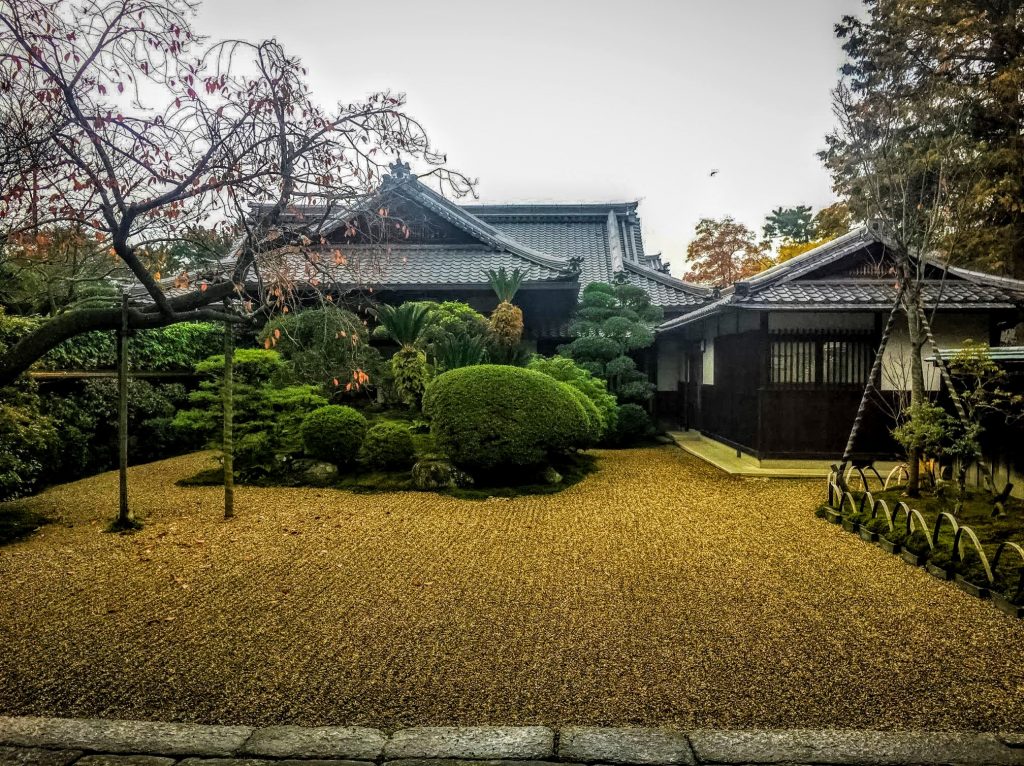 One full day went by appreciating the peacefulness of the rain mixed with Japanese temples, gardens, and deer in the Nara Park. It couldn't have been a more magical experience.
If you'd like to include Nara in a meaningful way in your Japan itinerary, don't hesitate to contact me. I plan personalized experiences for the demanding traveler.