Description
Not sure what you want to visit in Portugal yet? And you you want to explore all your opportunities before deciding?
Or you're, but it's for more than just a week and want to combine various parts of the 1 Week itineraries yourself?
If the answer of any of these questions is Yes, then the 29.90$ pack of all 1 Week Itineraries is made for you
What's included:
City Lover 1 Week Portugal Itinerary – Lisbon-Porto with day trips
The Wine & The City- 1 Week Portugal Itinerary – Lisbon – Douro – Porto
Northern Wonders of Portugal – 1 Week Itinerary – Porto – Aveiro – Guimaraes – Douro
Southern Beauty – 1 Week Portugal Itinerary – Lisbon – Algarve
The itineraries give you the daily program for 1 week divided by
-Morning
-Afternoon
-Evening
Lunch and Dinner restaurants are covered. You'll also have time for spontaneity, no worries.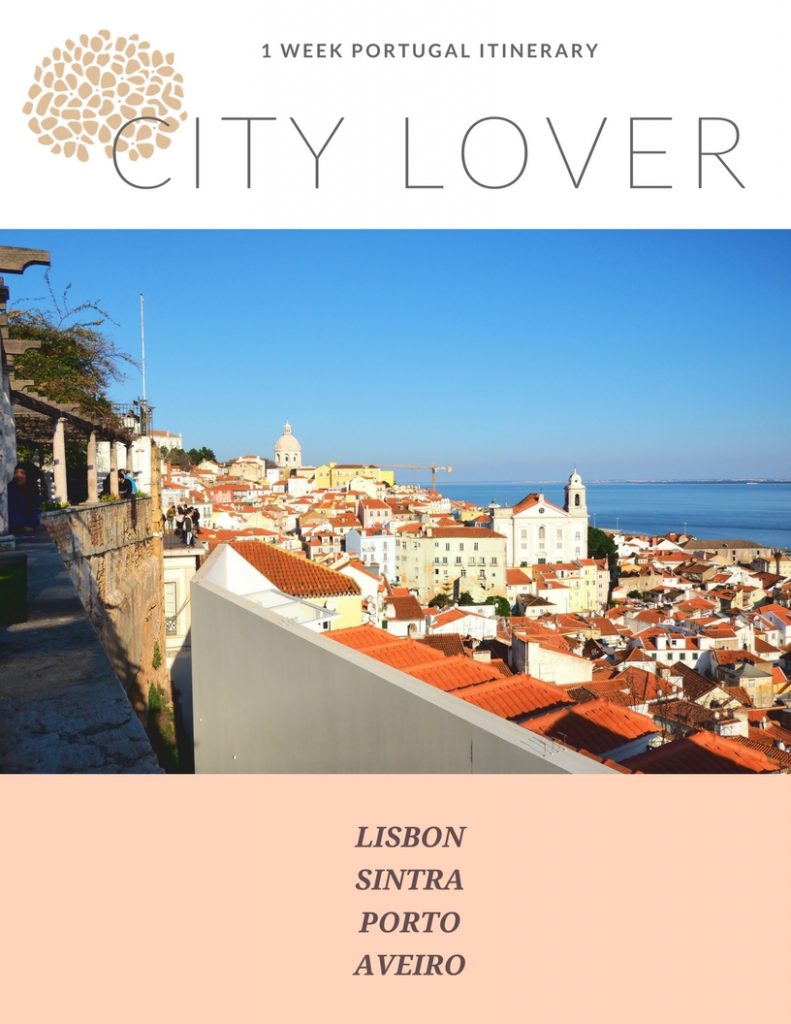 About the 1 Week Itineraries
Finally an easy and budget-friendly way to prepare a journey of a lifetime.
There's nothing more exciting than researching you trip, but there's always something that doesn't click. Make sense of it all with these 1-week Portugal itineraries. Get the help of a professional travel adviser for the fraction of the cost.
Enjoying the picture perfect Lisbon's viewpoints, tasting Port wine in centuries old estate while marvelling the Douro unique landscape, discovering monuments, exploring lush vegetation gardens, SUP-ing the Algarve seas, getting lost in small streets, experiencing a completely different reality. This is just a part of what Portugal has to offer and you'll find it all inside the 1-week itineraries.
THE ITINERARIES ARE THE RIGHT MATCH FOR YOU, IF YOU
Are looking to have the time of your life in Portugal, relying on public transport only and want to make sense of it all
Want to know exactly how much time to spend at each place and what to do there
Don't want to spend countless hours researching online or reading old Tripadvisor threads just to find yourself right where you started
Don't want or have the opportunity to hire a travel adviser to plan the trip for you
Still want to be involved in your trip planning, but need a push in the right direction
I made the itineraries for you, because I'm just like you.
A classic millennial that relies almost exclusively on the internet for planning my trip.
But after making several trips abroad, I've always wished that there were some comprehensive itineraries out there that give me all the relevant details of the trip planning.
For my last trip to Japan, I've even used a well known brand of printed guides. And it wasn't beautiful, rather stressful, having to flip back and forward all the time and complete my research on the internet.
THE PORTUGAL ITINERARIES HAVE IT ALL IN ONE PLACE. HERE'S WHAT THEY INCLUDE
7 Night/ 8 Day trips divided into morning, afternoon and evening leaving you flexible enough to decide your own hours, but giving you a solid direction to follow
Each day is carefully crafted to make sense of exploring, help you avoid crowds and burn-out
Google Maps – all walks are mapped out, easy peasy right?
Everything is one click away – from train and bus schedule to activities and specific restaurant recommendations, you'll find all the useful links inside. Never wonder how to get from point A to point B and where to go to dinner today, just follow the suggestions.
Easily Portable even with reduced baggage allowance, whereas you might not have space for a traditional guide, but you always do for your smartphone and tablet. Hey, and if you have, just bring your favourite vacation time reading.