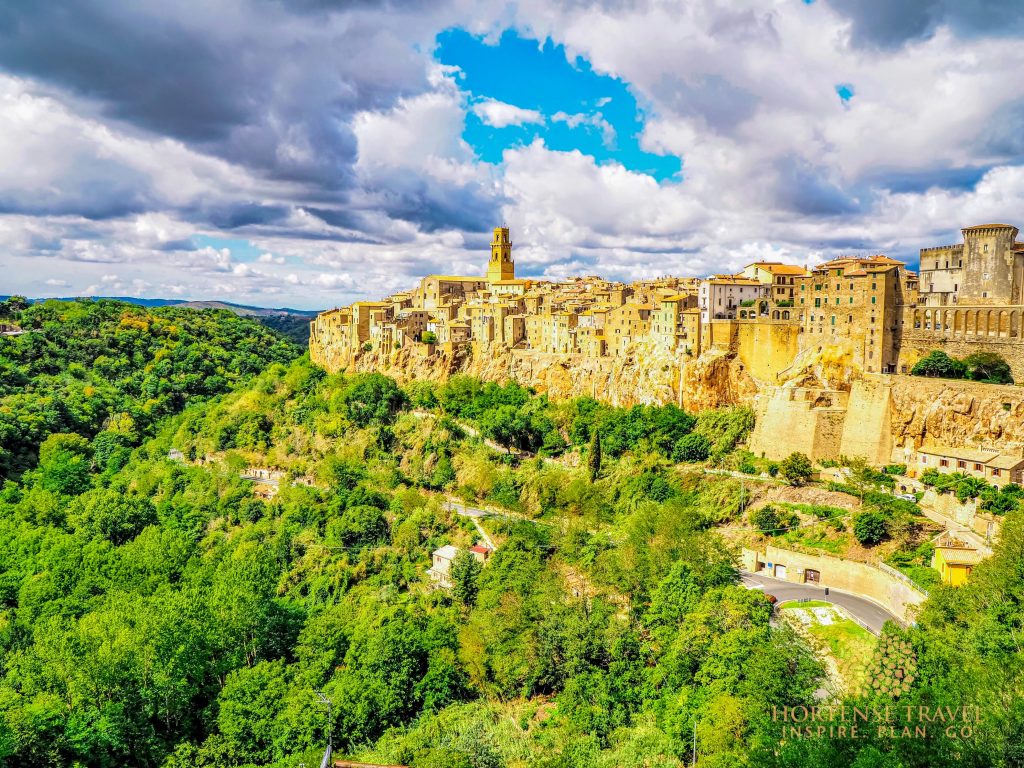 Maremma is the unknown part of Tuscany. The one that you won't find in X places you need to visit in Italy before you die. But its natural beauty, polite locals, stunning beaches and great cuisine should push it to the top of your list. Especially if you prefer uncrowded and back-to-the-roots Italy. 
Geographically, Maremma is the coastal area of Western Central Italy, bordering the Tyrrhenian Sea. It's located only 2 hours by car from the international airport of Pisa, Maremma is very accessible yet unadulterated. 
Best Places to Visit in The Amazing Maremma Region of Tuscany:
Castiglione della Pescaia
Our journey began at L'andana 5* Hotel. The hotel is located close to Castiglione della Pescaia – a small coastal town that becomes alive in the Summer months and turns sleepier as soon the second half of September comes. This is when children begin school in Europe normally and you'll see mostly couples and groups of friends on the weekends. That's it. No tourist hordes, you can have the whole place to yourself and take as many pictures as you want without being disturbed. The old town is just so pretty, allow yourself to get lost, you'll be doing yourself a favor.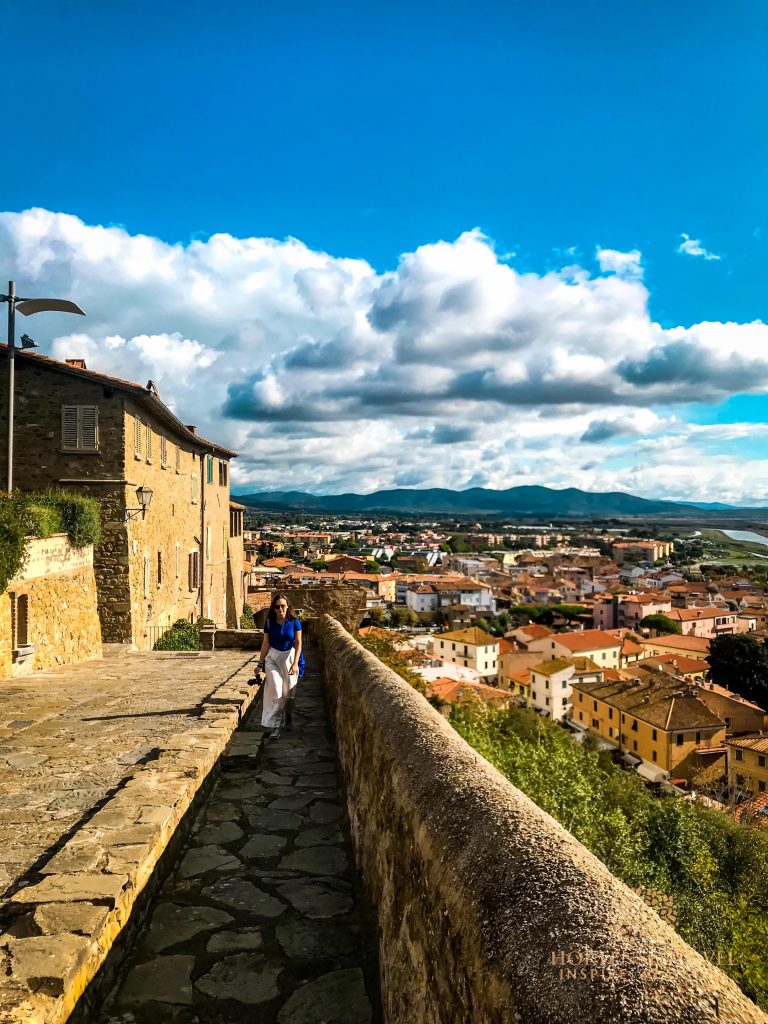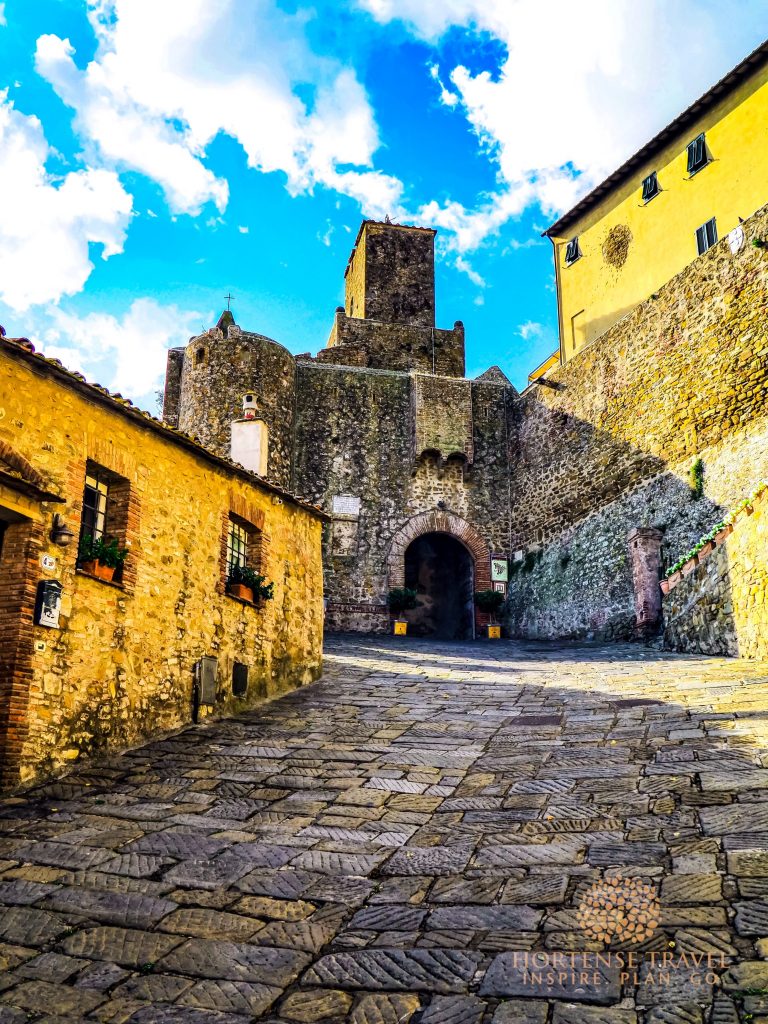 We dined out in Castiglione for 3 nights during our stay and food was excellent each time. The price-quality ratio is amazing. You'll find anything here from beef tartar, succulent steak, and pizza to the freshest seafood. Yes, the seafood is to die for and I live in Lisbon, so…  believe me. What I really loved is that it's served with delicious vegetables which makes the whole meal healthier. Vegetables as a whole are an important part of the Maremma cuisine.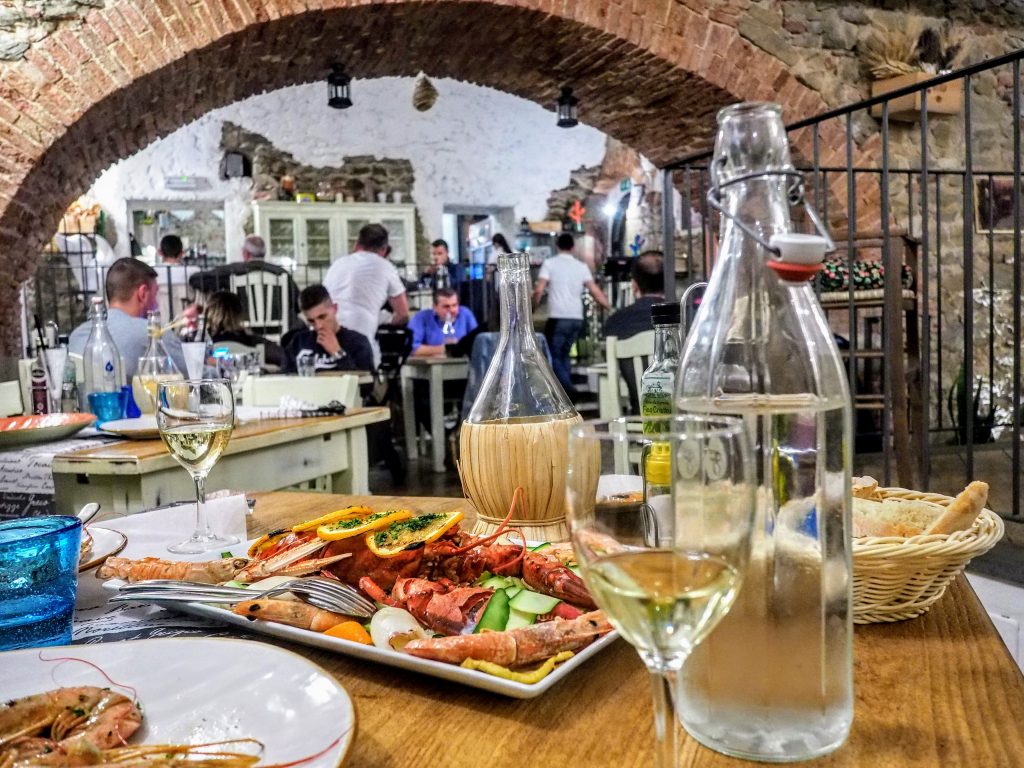 L'andana 5* Hotel
This is the best hotel in the region. We really enjoyed our stay there. When we arrived we were welcomed warmly but asked to wait a bit because there was a wedding going on and all the staff were waiting for the bride to arrive. We didn't mind as we got married the year before (2016) and were still interested in such events. 
After she arrived, we were taken to our room which was huge and stylish. The design was traditional for Tuscany with lovely brick orange-colored walls, giant windows with views to the gently rolling Maremman hills.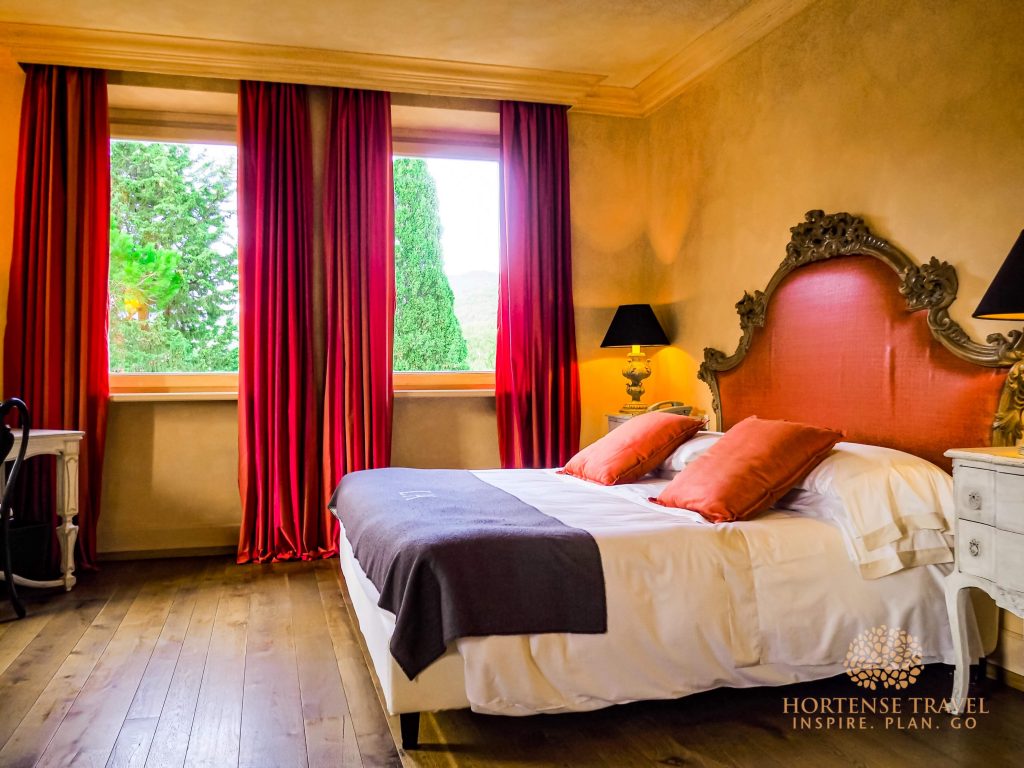 The spa and swimming pool of the hotel were a great place to relax after a day of exploring. It was late September but the weather was still very warm and so pleasant. Never hot, never cold, just right.  
The food in the restaurant was very delicious although more expensive than in local restaurants but that's to be expected. Breakfast was excellent with a lot of choices – healthy and let's say less healthy ones. I mostly went for the latter.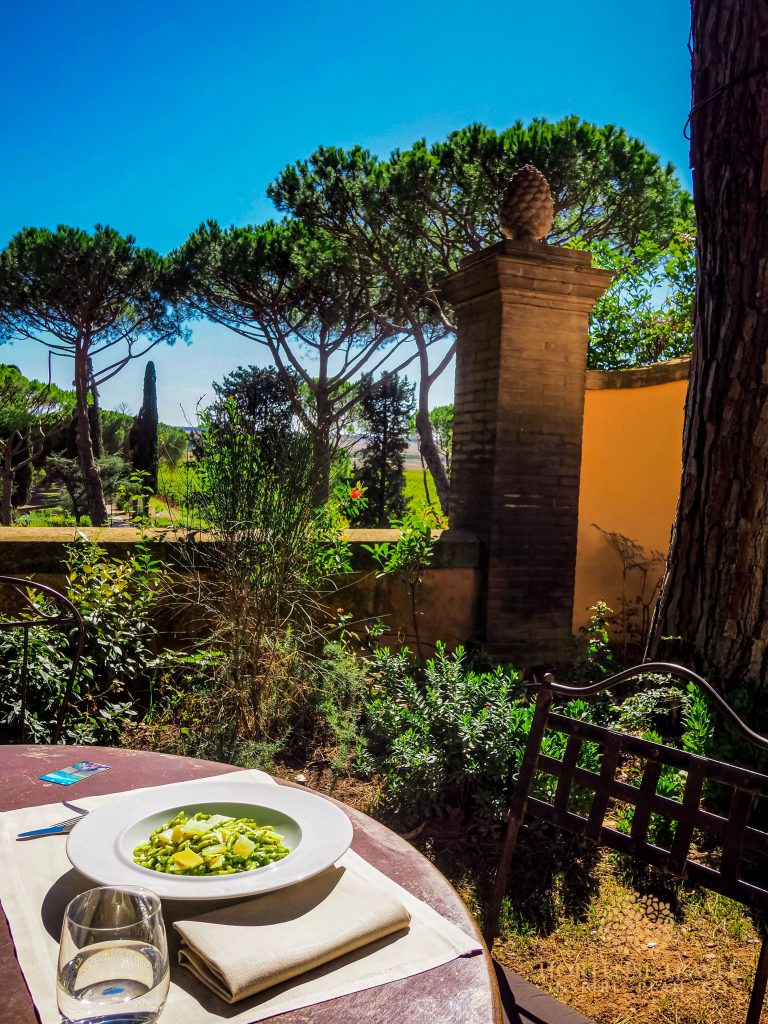 Bike among the vineyards
L'andana is situated among acres of vineyards that in September were still very green and inviting. We took advantage of the free bikes offered at the hotel to explore the surroundings. The beautiful scenery – the vineyards on the backdrop of the hills made our experience amazing.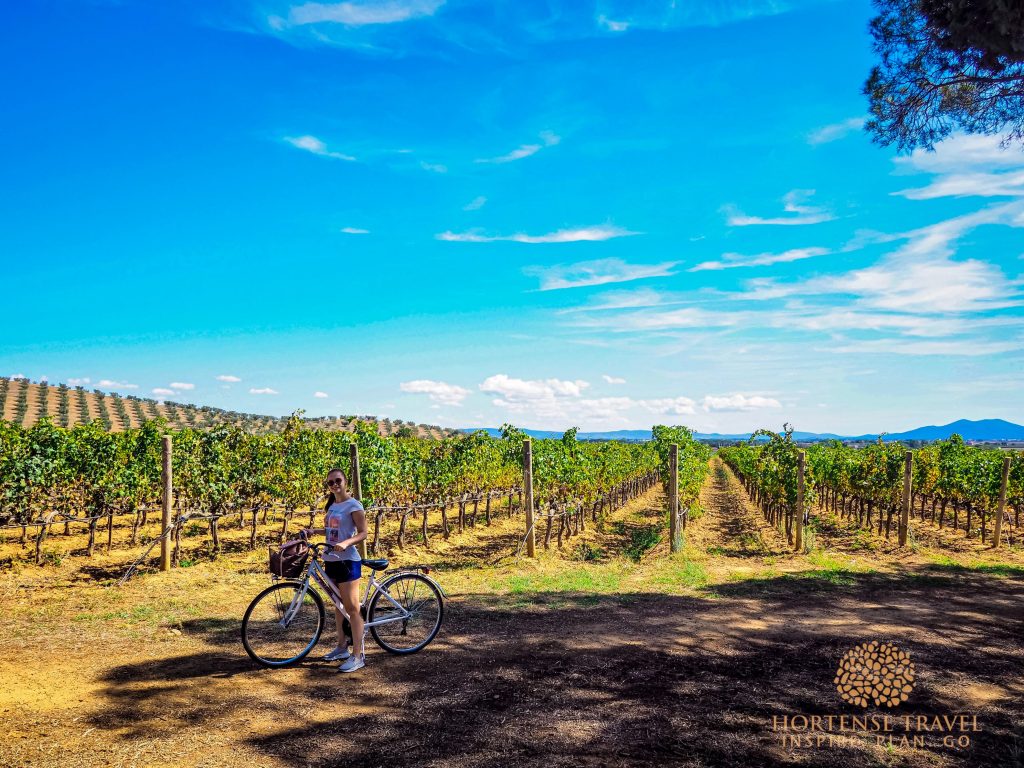 Vetulonia Village
The next place we visited was a small village perched on a hilltop – Vetulonia. We went there for dinner and it was already dark but I couldn't help but think that it looked so much like Monsanto, Portugal. I was back in Portugal, I thought. The buildings were made in a medieval style, characteristic for the South of Europe.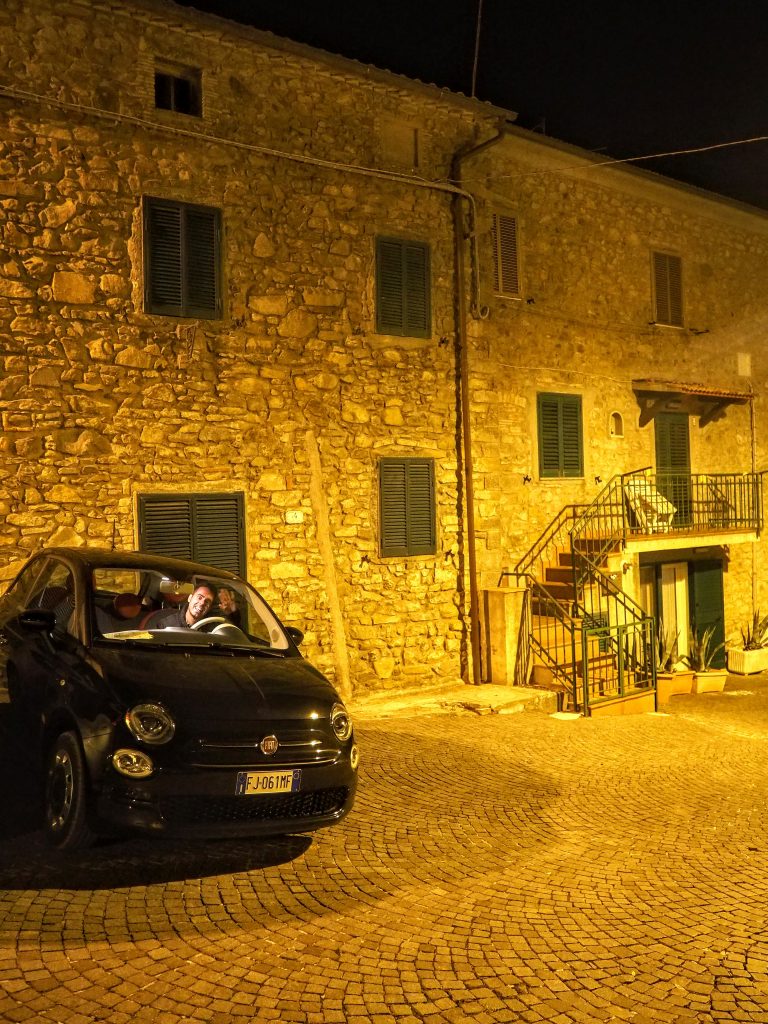 The restaurant was gourmet and we had some of the best wild boar and tiramisu. The owner even offered us limoncello after dinner. How cool is that? I just want to mention here that Tuscany is definitely renowned for its excellent bottled wines. But several times we went with the red house wine and it was great every single time, so give it a try if you decide to visit one day.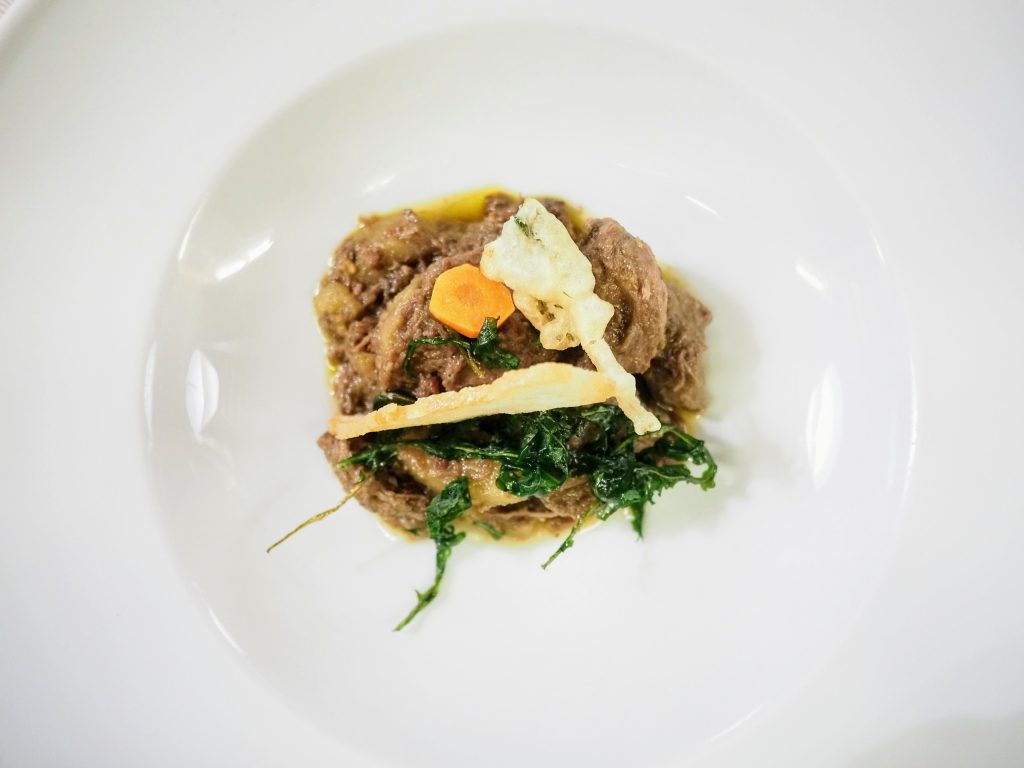 Porto Santo Stefano and Monte Argentario peninsula
Our next stop was Monte Argentario peninsula and Porto Santo Stefano. When we visited it was just after the big floods of Italy in 2017 and it was still raining a lot in the nights. And this morning it rained again. We decided to head to the beach anyway.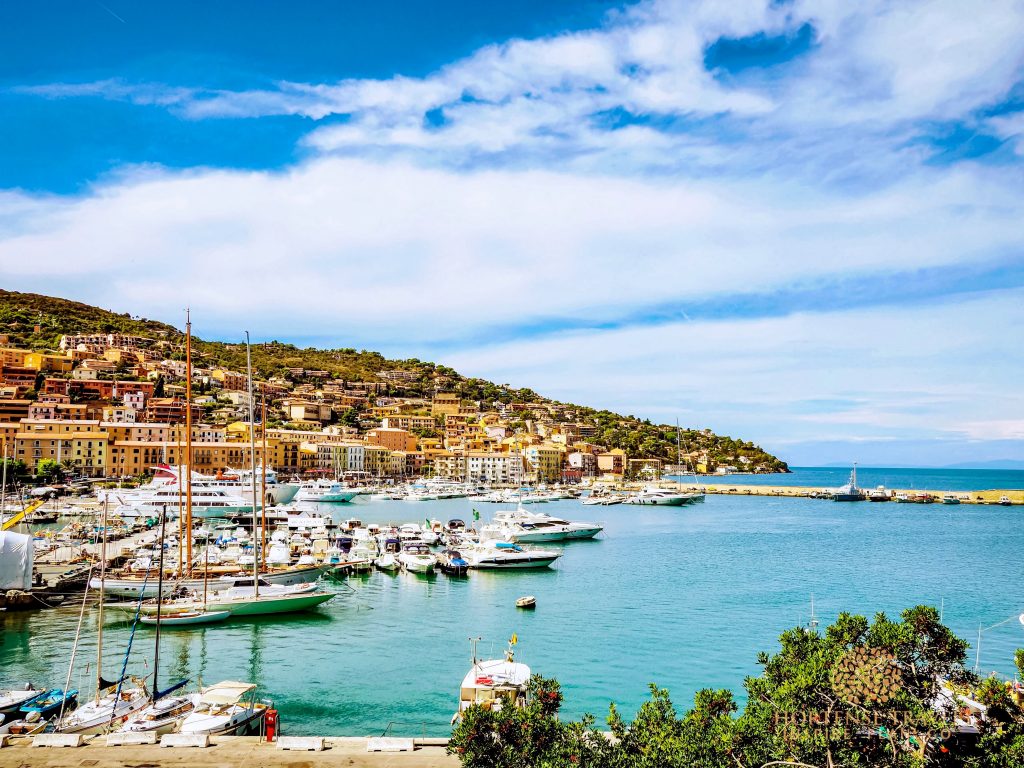 We didn't know what to expect but fortunately, we were met by white clouded skies and some sun and made it to the warmest beach on Monte Argentario.  We stayed there for a while but the clouds were becoming dark again and decided to head to Porto Santo Stefano for a gelato.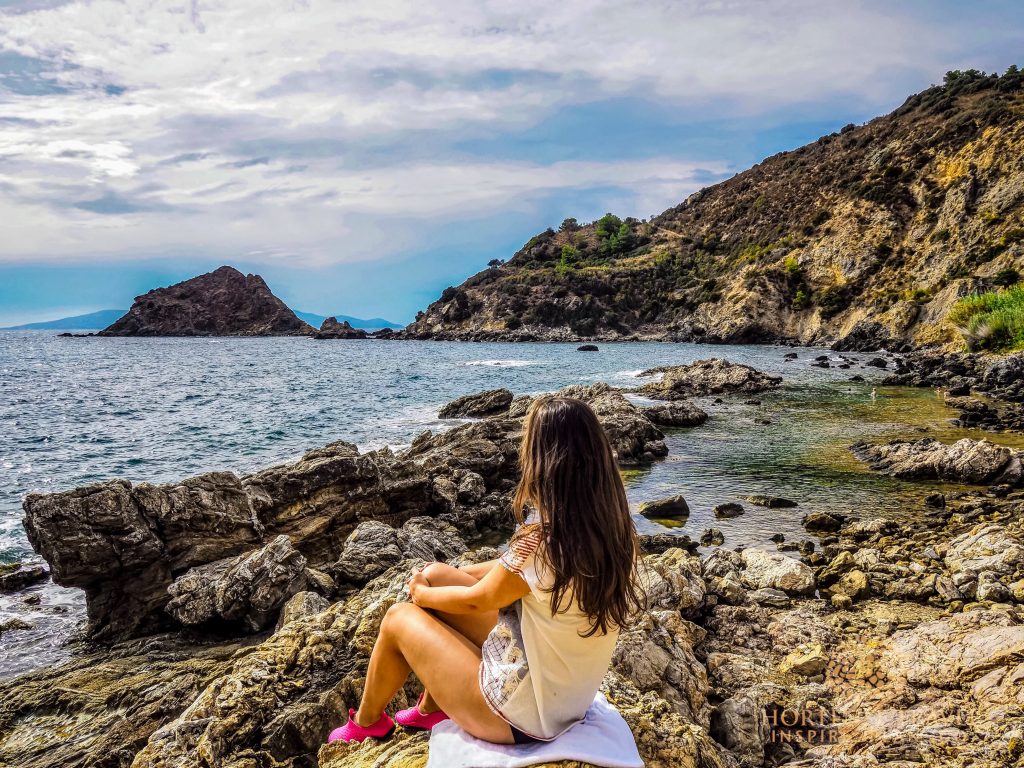 It began raining but this didn't stop us from eating some delicious ice cream and enjoying the view of the beautiful port and colorful buildings behind it. Italy has so many of these beautiful port towns and Porto Santo Stefano is definitely worth considering if you want to escape the crowds of Amalfi Coast or Cinque Terre.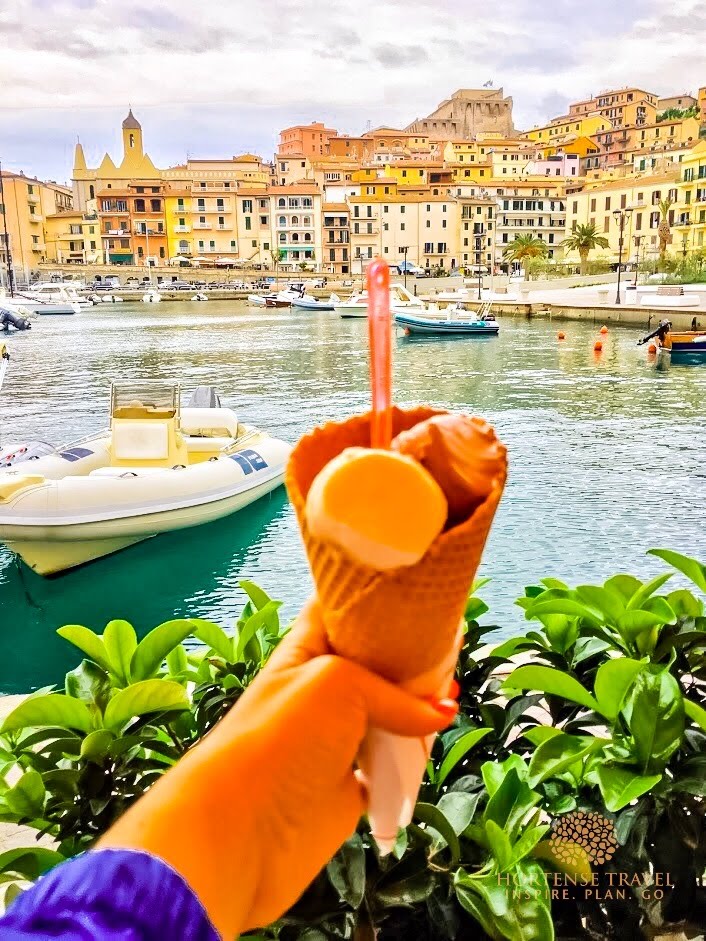 Pitigliano
Pitigliano is one of those places that defy gravity. Before reaching the village, we stopped at a viewpoint to admire this architectural wonder. It hangs on a 90-degrees perpendicular cliff more than 20 meters tall overlooking the river and valley below. It's so impressive that it gives you shivers but you need to see it for yourself, pictures don't do this wonder justice.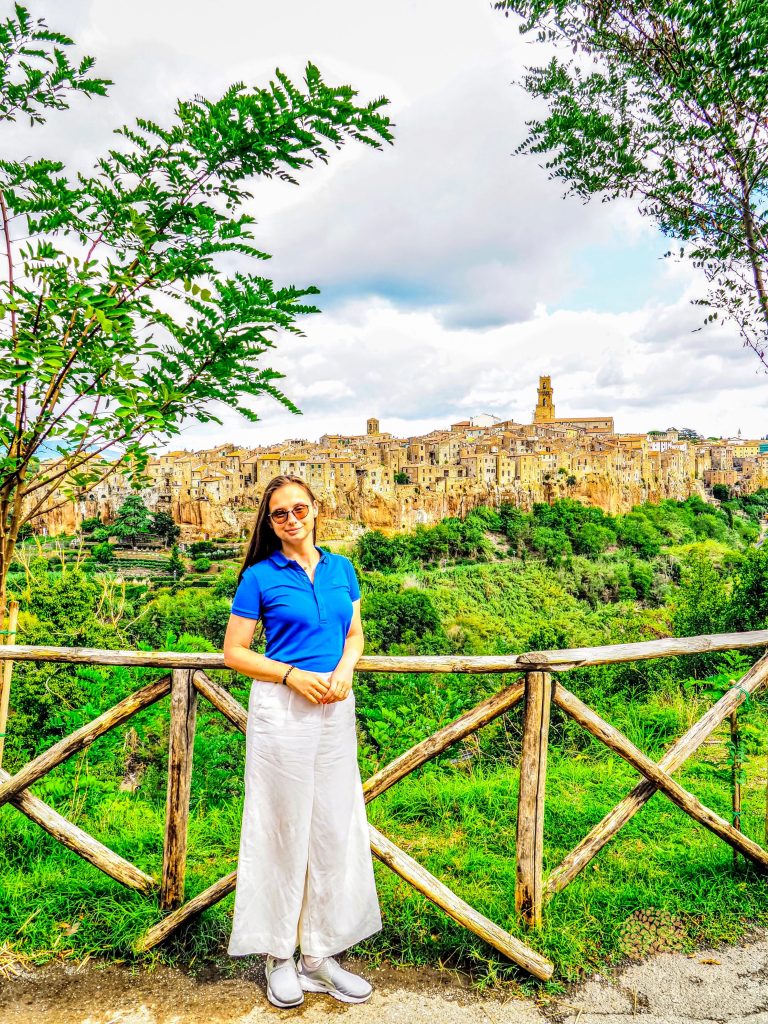 On the inside, Pitigliano is a pretty village in the traditional medieval Italian architecture. There are 2 main streets and numerous smaller narrow ones. We stuck to the main streets but walked to the very end of the village. The further you go from the parking lot the fewer people you'll find although it was not crowded at all.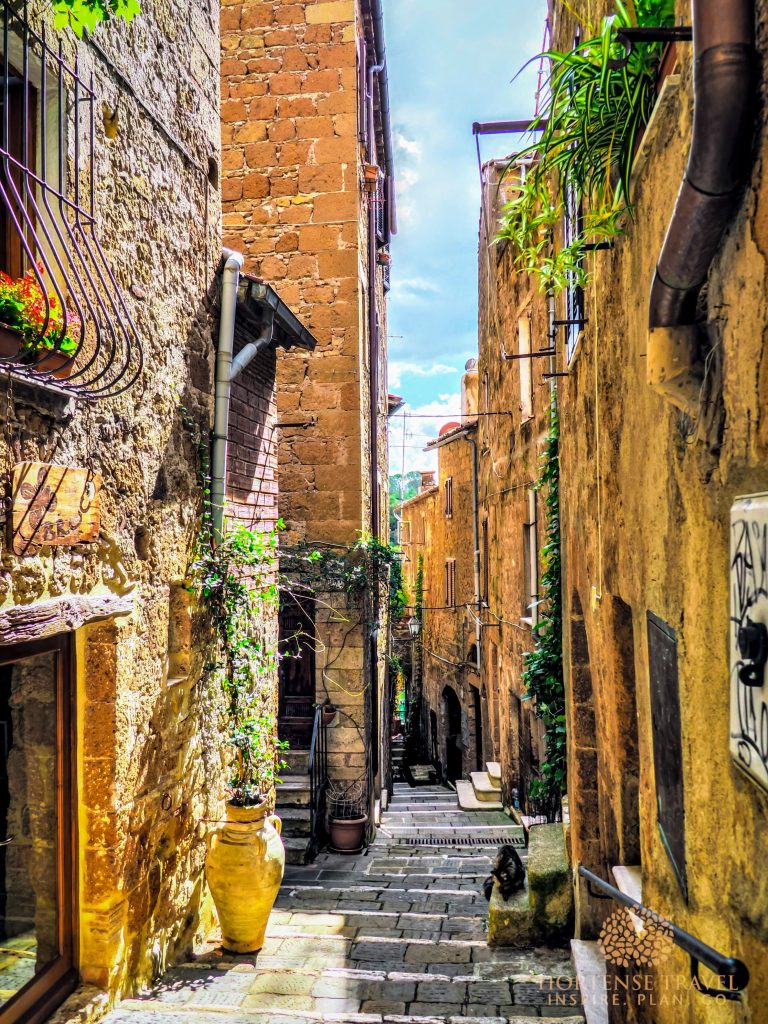 We saw more cats than locals I think. All the buildings are tall narrow and glued to each other which makes them so picturesque. There are quite a few restaurants in Pitigliano for its size but the ones on the main streets were full of tourists or empty. We didn't want to wait or take the risk of bad food in Tuscany so we continued until we found a secluded restaurant where you could only hear Italian speech. That's always a quality indicator. And so it was – I ate the most delicious porcini mushroom risotto.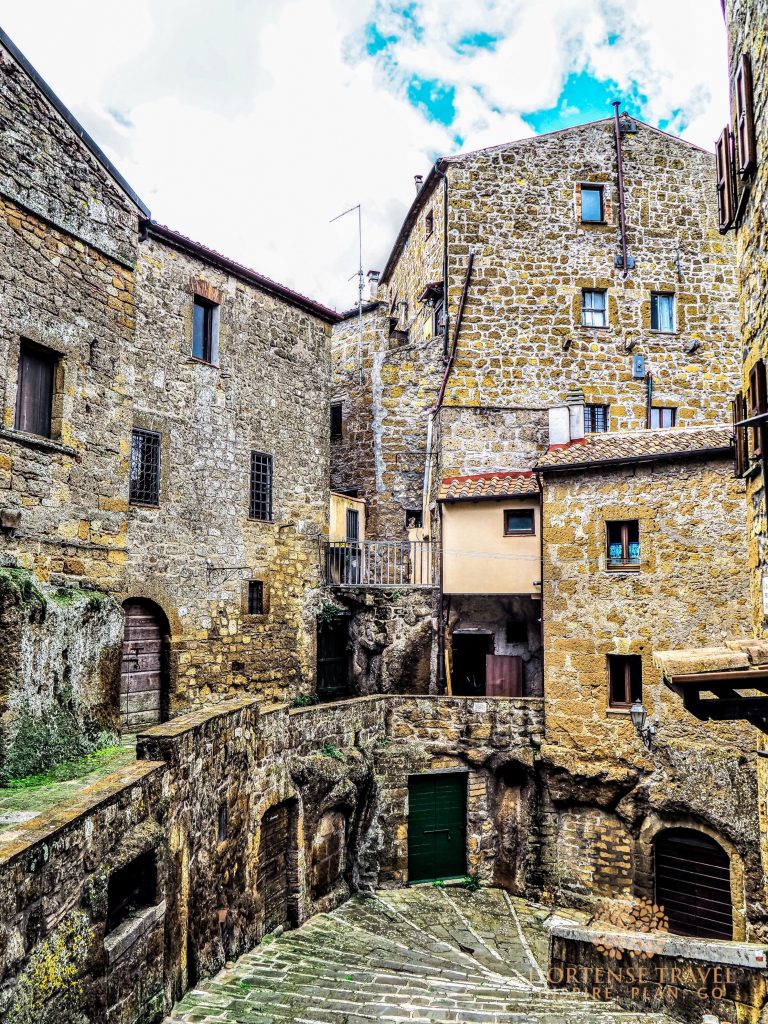 Saturnia Thermal Baths 
After so much exploring we wanted to get some relaxation at what's probably the most famous sight of Maremma – the Saturnia Thermal Baths.
These are hot thermal springs, 100% created by nature herself. The waters have this sky blue a bit greenish color due to the white stones that lie on the bottom. 
We arrived there in the late afternoon and found a parking spot fairly easily. This is not an off-the-beaten-path destination anymore. The first lakes were fuller as this is where the water is the hottest but the lower lakes were less crowded and if you were willing to look you could find a nice spot. 
Siena 
Siena is not officially part of Maremma. But as I said great sights are so close to this region. I was a bit skeptical about visiting Siena as I wanted a really low profile no-crowd vacation but after hearing some nice comments about it from the L'Andana hotel guests I decided to take the leap. 
Siena has an architecture that's very similar to the one of Florence but on a smaller scale which mind you – doesn't make it less beautiful and worth it. Especially with the thinned-out crowds. There were the usual Chinese groups but nothing too much. Close to the center, you'll easily find small streets empty and unchanged by the passing of time passing.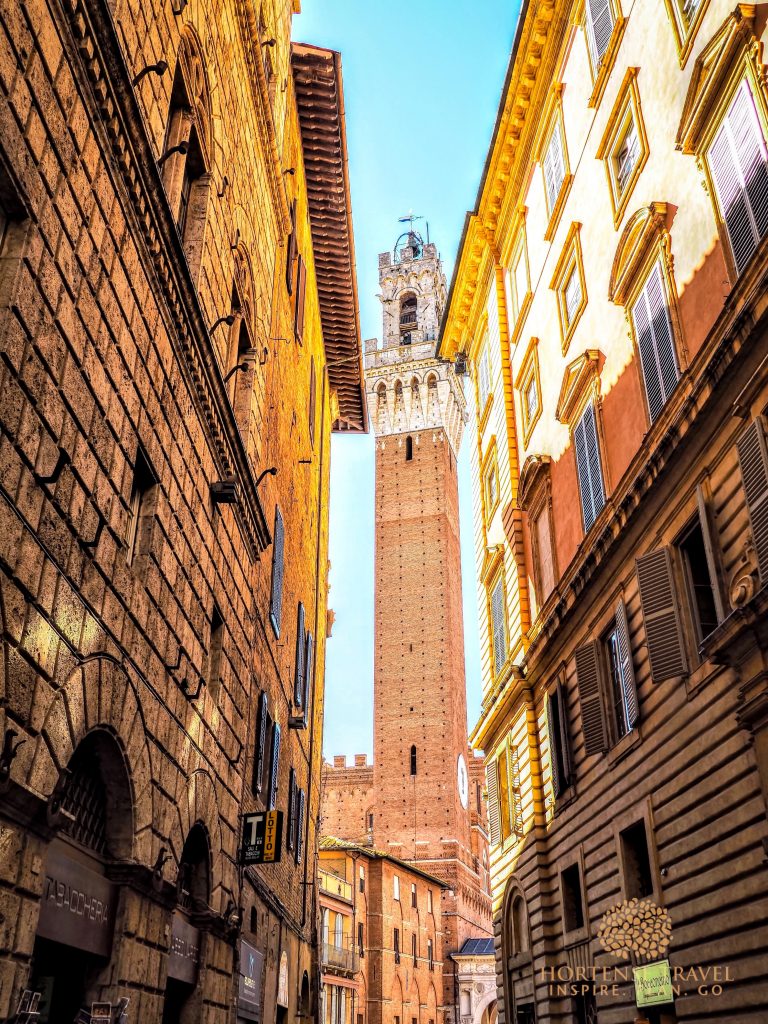 The highlight of Siena is the central square with its clock tower which is visible from almost everywhere in the city. It's really beautiful and you need time to take it all in. That's why we decided to take the risk and lunch at one of the cafés on the square overlooking the tower. Touristy, I know but it was worth it just to be able to sit in the shadow and appreciate the view. The pasta I ordered actually was not bad at all, a bit fatty for my taste but it seems to be the way it's done in Italy because I tried the same dish in other places and the way they serve it was very similar.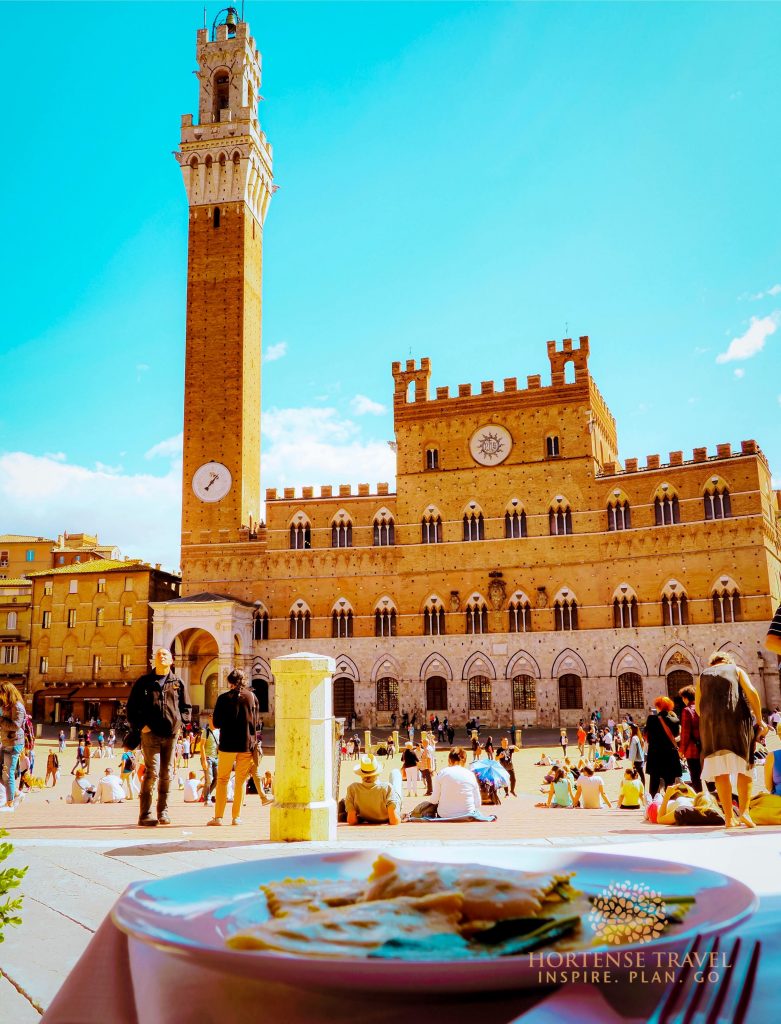 On the other hand pizzas in Tuscany are served in some places on a thick white flour base compared to the traditional thin base pizza that originated in Naples. Again I thought it was because of the restaurant location but in Pisa, we ate it done in the same way. It was very delicious actually with the best tomato sauce ever. Tuscanians don't joke when it comes to tomato sauce in my opinion. It made even an airport slice of pizza shine. 
After the nice lunch, we wanted to see Siena from above. You can climb on the top of the clock tower but we really wanted to catch it in our photo memoir.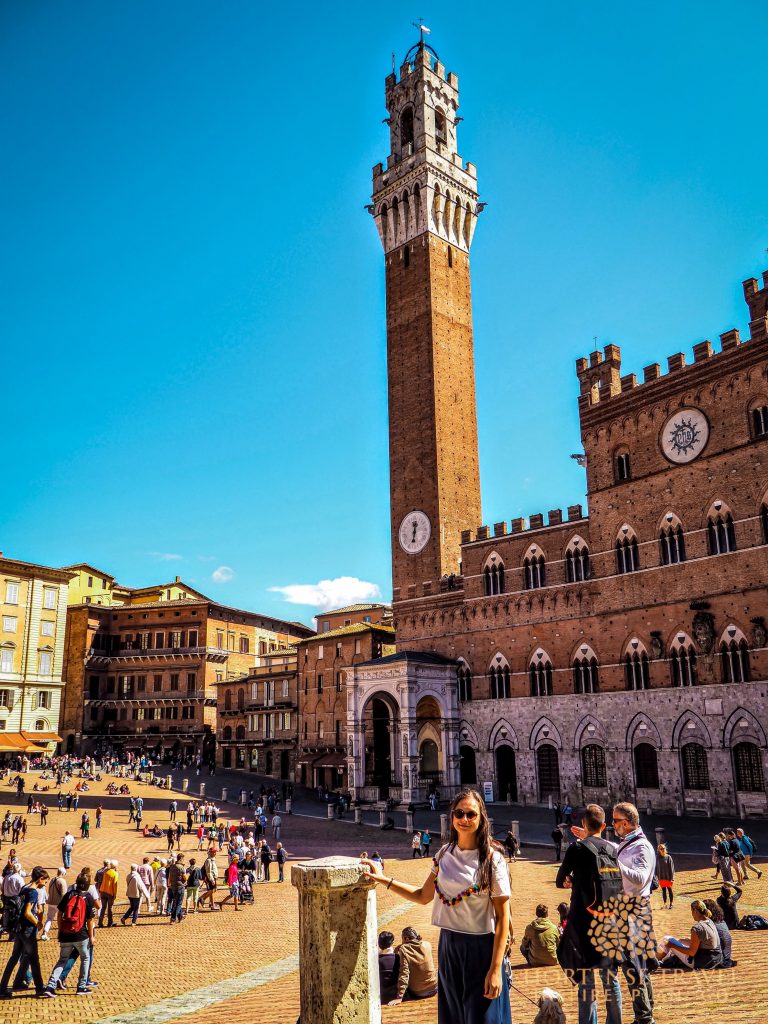 So we decided to do Panorama dal Facciatone instead. You need to know that it's a very small viewpoint and only 20 people can go at once. So we had to wait for about 20min o a queue. It got us annoyed but in the end, it was worth it. We got to enjoy spectacular views of the gently rolling Tuscan hills and to Siena and the clock tower and square. 
Siena is known as the red city due to its characteristic buildings being built all by red brick. You could easily confirm that from the top. 

Maremma and Tuscan Hills drive 
If you have the time I recommend getting lost in the beautiful hills of the region. Just drive your car out of the highway and enjoy the pretty scenery. You'll see small towns and villages perched on steep hilltops, vines and olive trees. All this makes part of an unforgettable Maremma and Tuscany experience.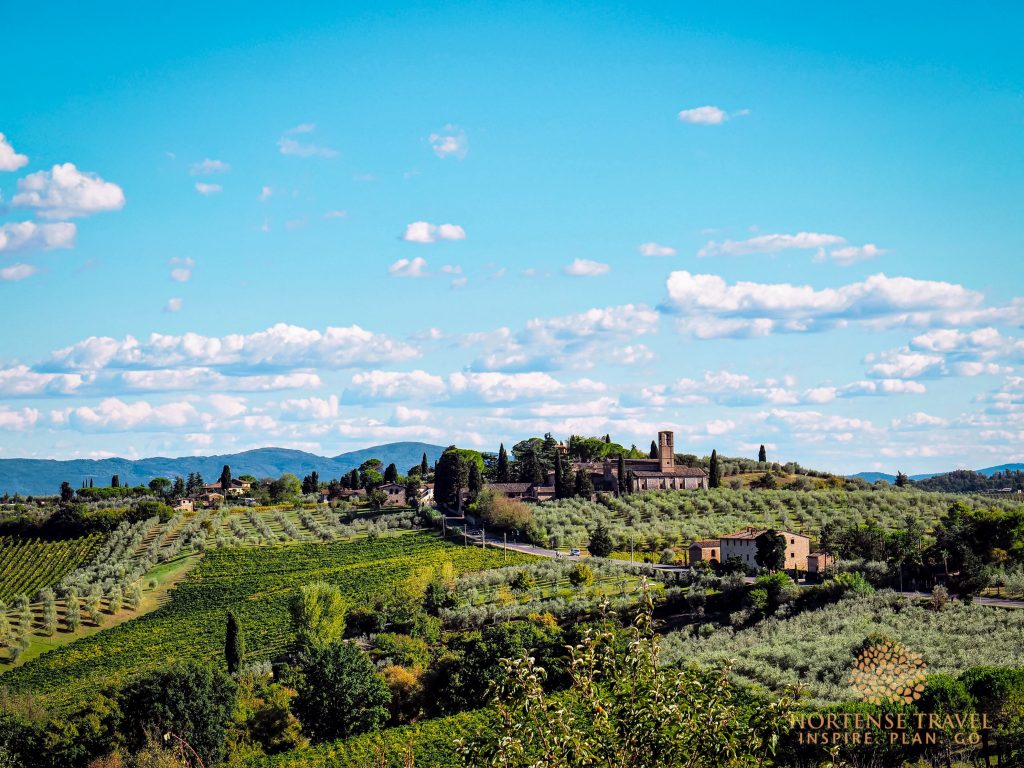 Maremma can offer so much to the traveler that's looking for a trip without the crowds, or if you want to get a feeling of the Italian "Dolce Far Niente". If you'd like to visit this region just let me know and I'll help you plan an amazing trip to Maremma, or Tuscany. I work closely with locals to create the perfect itinerary tailored to your needs.