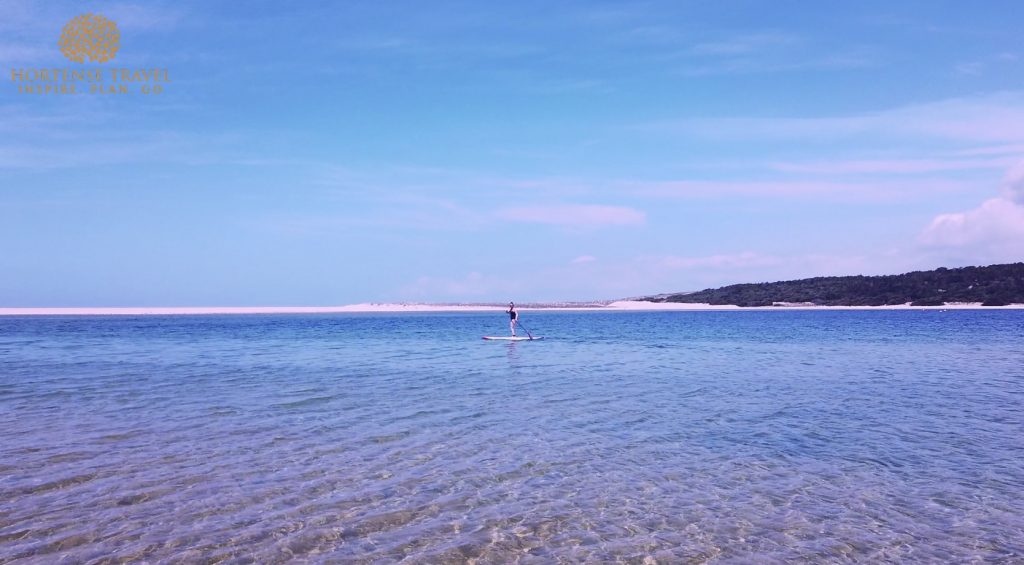 SUP is one of the best activities to learn as an adult. I come from a skiing background so it was relatively easy for me to keep my balance. The most difficult part is the paddling which requires a lot of strength in the upper body. I didn't have it when I started but you just build it up every time you get into the water. SUP is one of the greatest exercises out there and you get to spend a lot of time in nature. Portugal is blessed with sunshine and warmth from May to October (although it occasionally rains) so you can paddle in comfort. The lagoon from the video is located about 40 min by car from Lisbon, Portugal – Lagoa da Albufeira. Its flat waters make your learning easy and calm. But you need to be there on a good day with less wind and preferably early in the morning.
The lagoon of Albufeira is very famous for wind sports because it is very exposed and mostly windy – windsurf, kitesurf, and now the SUP foil wing surf which I have to try. In the video, you'll see me preparing our breakfast and a sandwich to take. There is one restaurant next to the lagoon but it wasn't open on the day we went. Also, it can get very busy in high season so it's always a good idea to have a snack.
The SUP I'm using in this video is F-one Custom Noosa 9'6 x 29″ 125l. This is not a beginner SUP because it's very narrow and the rails are super thin. I also don't recommend it for a full day of SUP-ing because it can get tiring and uncomfortable, also no ropes to put your snacks and water under. But it's just so fast and excellent for SUP surfing (longboard style) if you're a petite like me 160 cm, 57kg. Using it on flat water helps me learn how to balance it while SUP surfing. For 1h – 1h30min it's a great board.
These are the materials I used in this video SUP board: F-one Custom Noosa 9'6 x 29″ 125l (French brand) Similar at https://amzn.to/2TUUUI7
SUP paddle: Coasto 100% carbon (French brand) Similar at https://amzn.to/2MpPqR
Leash: 9′ (any straight lash will do while surfing, coiled is great for flat water) https://amzn.to/2TUViq3
Swimsuit: Filippa K (Swedish brand, made in Portugal, quick-dry) https://amzn.to/36JNFb7
Camera: Osmo Pocket https://amzn.to/2zIeeBq
Visiting Portugal soon? Check these out: