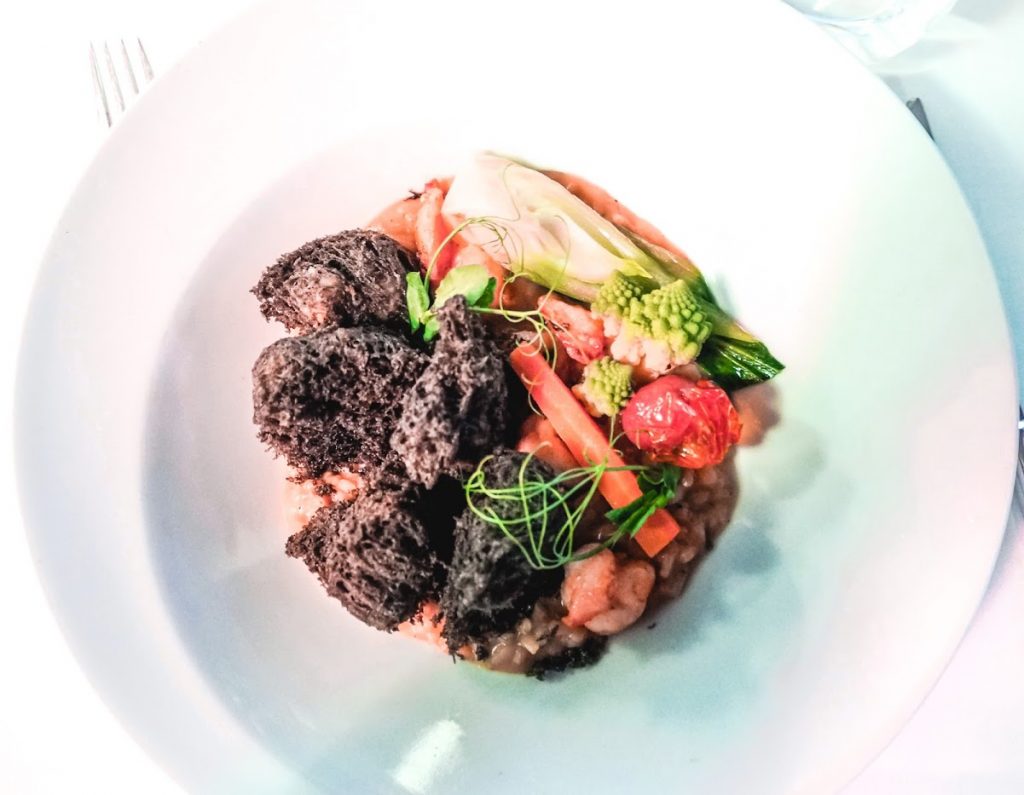 One of the main reasons why we travel is to experience the abundance of food on offer in the different destinations around the world, and a trip to Madeira should be no exception. Even though the islands are relatively small, the cuisine here is just as varied and delicious as in any other country on the planet. Whether you love seafood, meat, or are a vegetarian, you will definitely find something to delight your palate while on your vacation here. To get an idea of what kinds of food you will be able to sample, here is a guide to the best Madeira foods you can find.
1. Bolo do Caco
A flat, circular and soft bread, bolo do caco is a popular starter on the island. If you translate the name literally, you may be confused that this is actually a bread; the word bolo means cake – which refers to the shape it takes – and caco is the basalt stone slab that the bread is baked on. When served in a restaurant, it often comes with garlic butter. However, bolo do caco is not just eaten on its own or as a side dish; it is also used for sandwiches of a variety of fillings, such as ham, cheese, octopus, and sausages.
Prego no Bolo do Caco
As was previously mentioned, bolo do caco is used for sandwiches, and a big favourite among both locals and visitors is prego no bolo do caco. Prego is beef steak, so essentially prego no bolo do caco is a beef steak sandwich using the island's traditional bread. As well as the standard sandwich, you can also find a Special Prego on Madeira menus, which also includes ham, cheese, lettuce, and tomato, and is occasionally served with fries. Whichever version you decide to try – or whichever one you decide to try first – you know that this is going to be a cheap and filling lunch.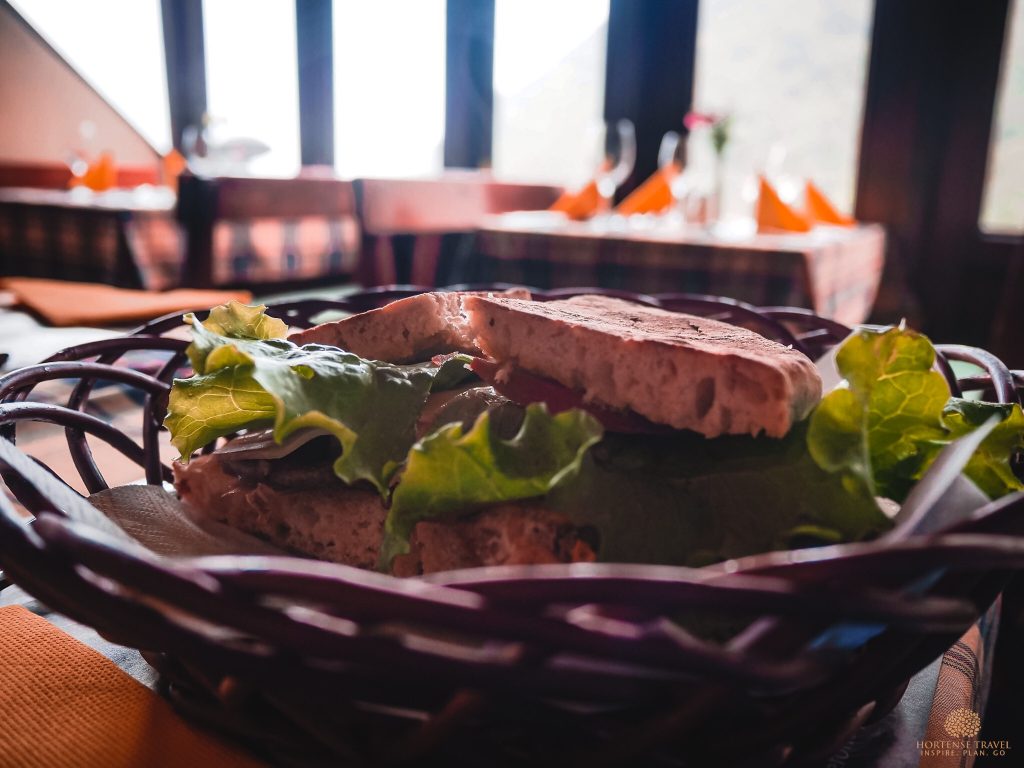 2. Lapas
As an island nation, it should come as no surprise that some seafood makes it onto this list. Similar to clams, lapas – or limpets – are a form of shellfish which are traditionally cooked with garlic and butter with a dash of lemon zest squeezed on top right before serving. Although slightly chewy, they taste delicious and are perfect as a light snack or appetizer, particularly when served alongside bolo do caco and a glass of crisp white wine or a Coral beer.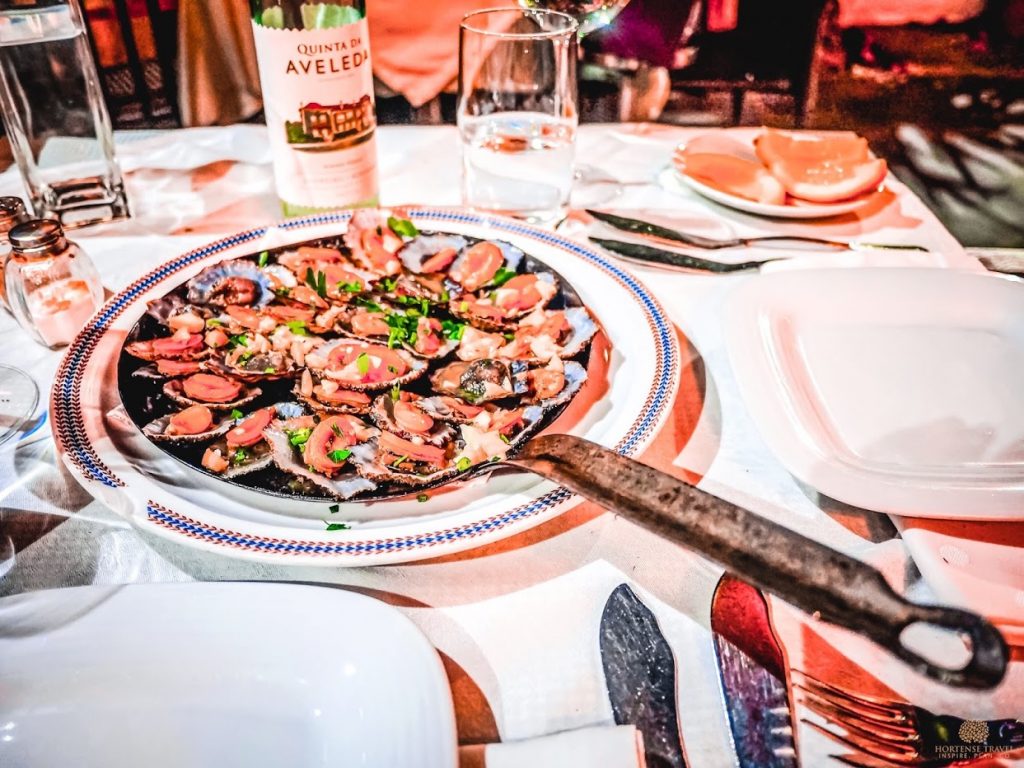 3. Cracas
An absolute must-try if you are a fan of seafood, cracas are similar to barnacles that in the wild form in colonies around rocky coastlines, so Madeira is the perfect environment for them. Found both on Madeira Island and Porto Santo, they are usually cooked in sea water and are the ideal snack with a completely unique sea flavour. As such an unusual dish, this is simply something you must sample before leaving Madeira.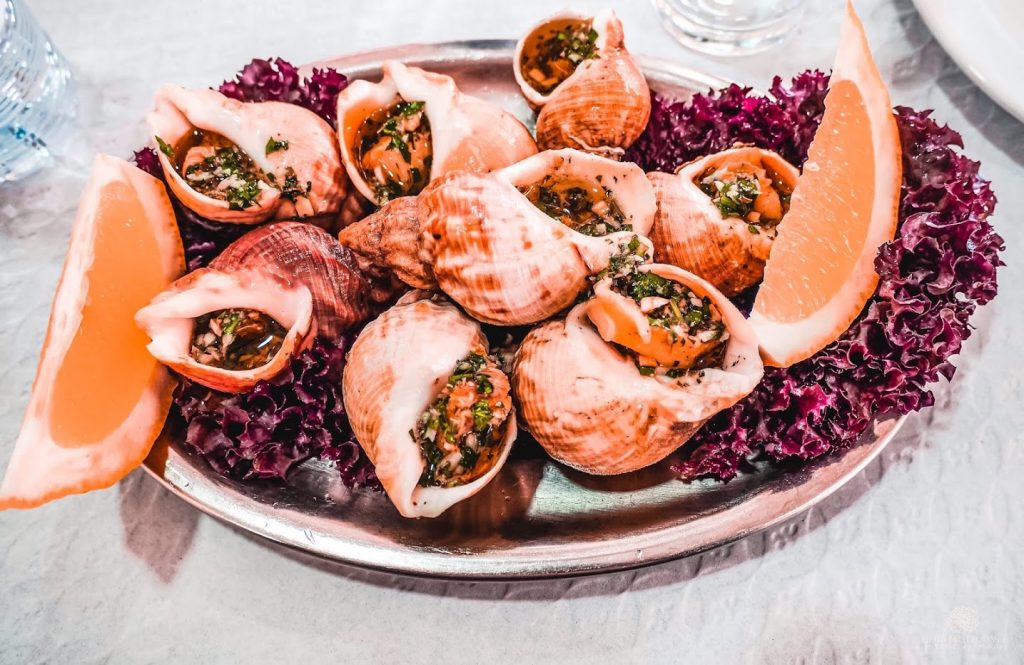 4. Madeiran Beef Skewers
Known locally as espetada Madeirense, this mouthwatering dish consists of beef chunks seasoned with salt, garlic, and bay leaves, which are then placed on skewers and grilled over wood or charcoal. Many restaurants in Madeira will have tables with the iron structures needed for cooking the skewers in the centre of them so you can hang the meat there and see it cook. Accompanying the skewers will either be bolo do caco or minho frito, a popular Madeiran side dish (more on this later). If beef is not your thing, there are also many other grilled meats you can try such as pork or chicken, although these are not considered to be as true a part of Madeiran cuisine as the beef skewers.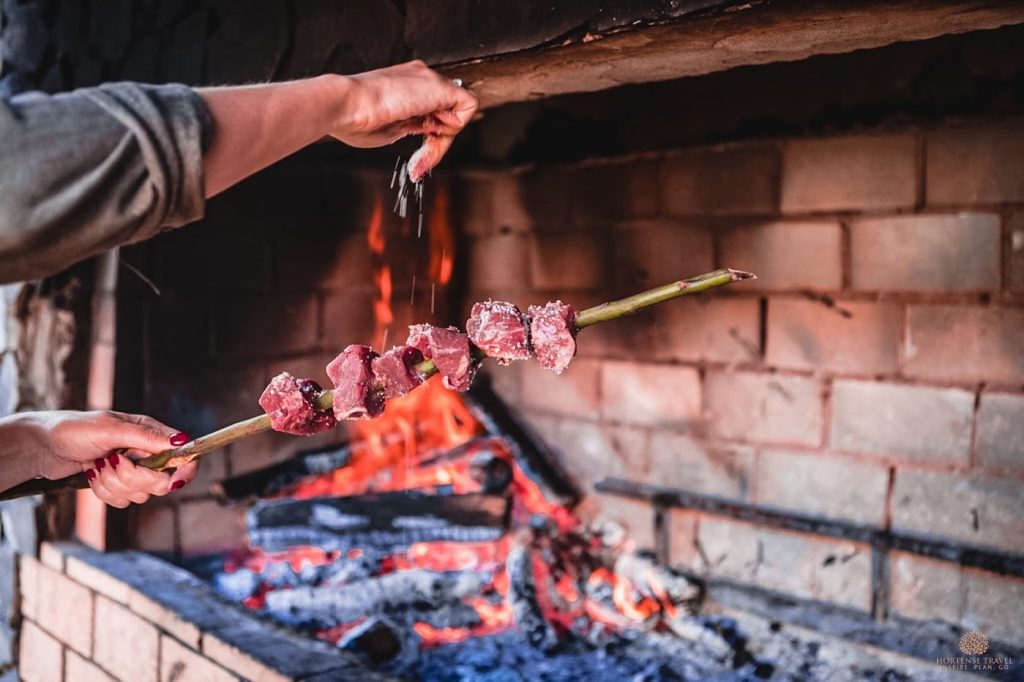 5. Picadinho
Found in pretty much every restaurant on the island, picadinho is a dish you simply cannot leave Madeira without trying. Traditionally made using beef – although you will find pork variations too – the meat is prepared by being cut into small cubes before being fried and seasoned with garlic and pepper. The meat is then served on a platter as it is designed to be shared amongst a few people who help themselves with the aid of a toothpick or fork. In many cases, you may find that the beef is surrounded by French fries. As well as beef or pork, you may also find versions with octopus and squid, although the presentation may be slightly different.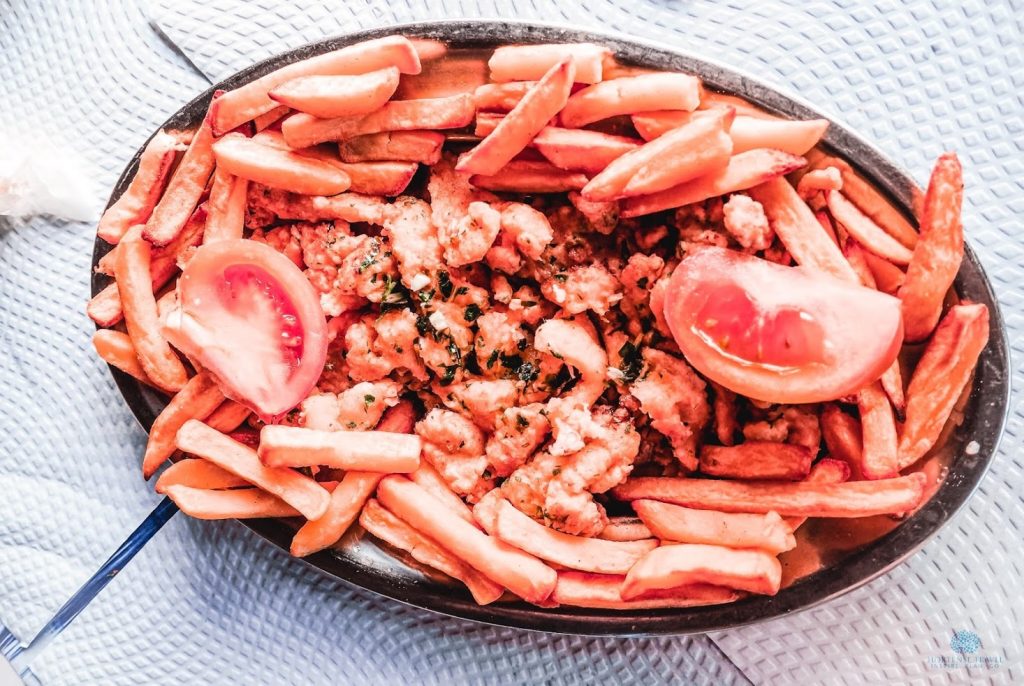 STAY IN FUNCHAL IN ORDER TO SAMPLE ALL MADEIRA FOODS AT: THE VINE HOTEL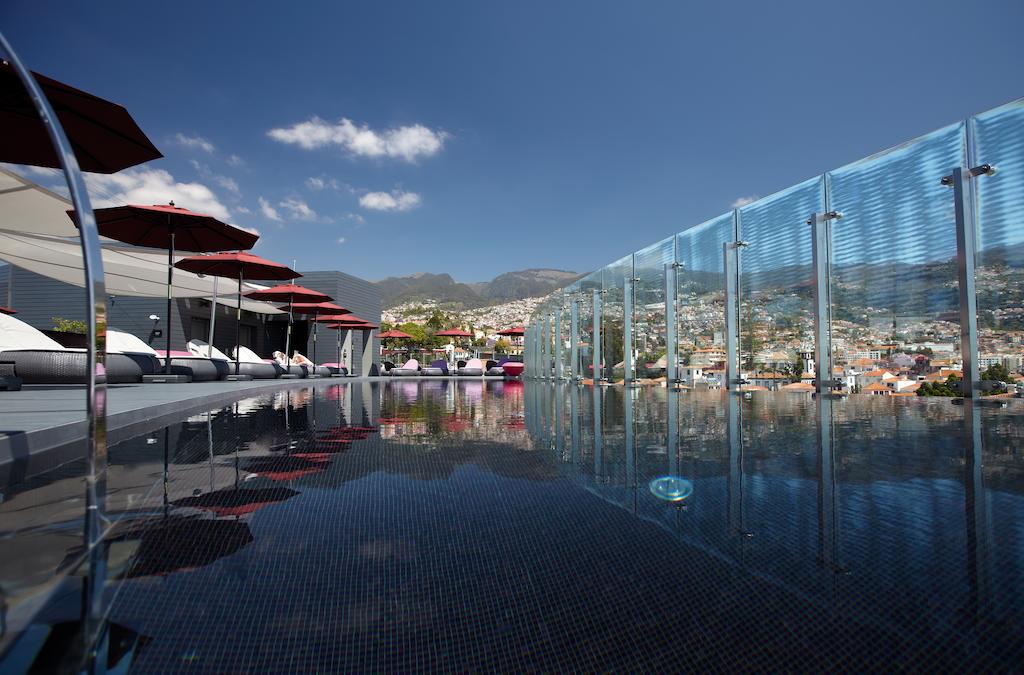 6. Wine and Garlic Pork
A dish traditionally associated with Christmas, although it can also be appreciated at any other time of year, Carne Vinha D'Alhos is a pork dish where the meat is cooked in white wine, garlic, salt, pepper, and bay leaves, and then left to marinade for at least two days. Just before eating, it is fried in the same sauce and then served with either fried bread or bolo do caco.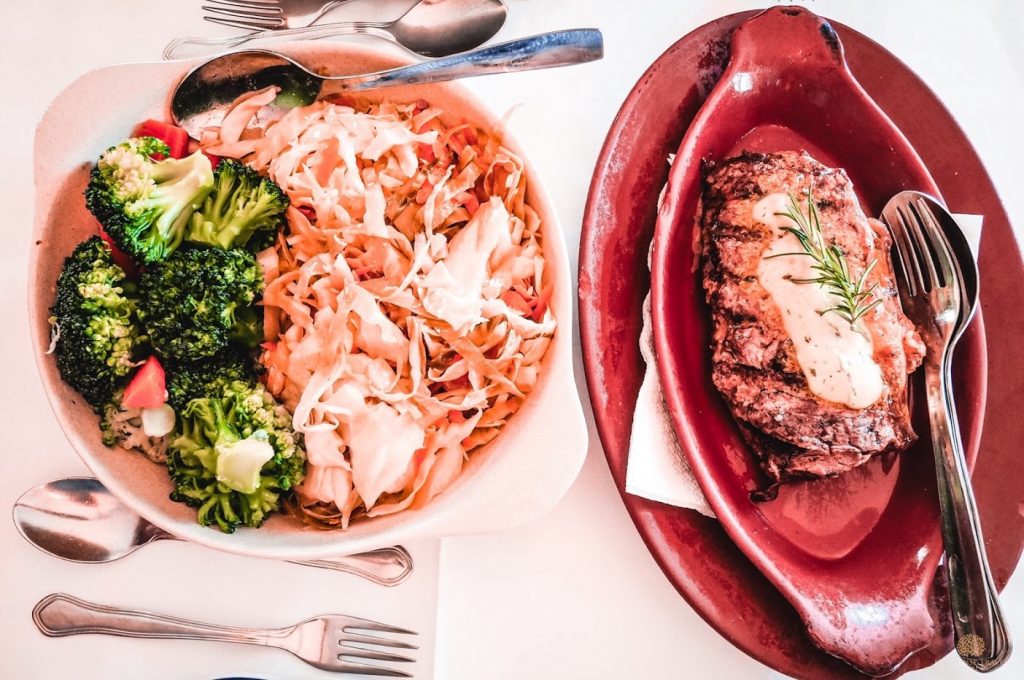 7. Cozido Madeirense
The most famous of all Madeiran stews, cozido Madeirense consists of sausages, salted pork, and a variety of vegetables, among them sweet potato. The best thing about cozido Madeirense is that it is cooked over a wood fire which helps to give the dish a characteristic and unique flavour and aroma. It can be accompanied by either rice or couscous.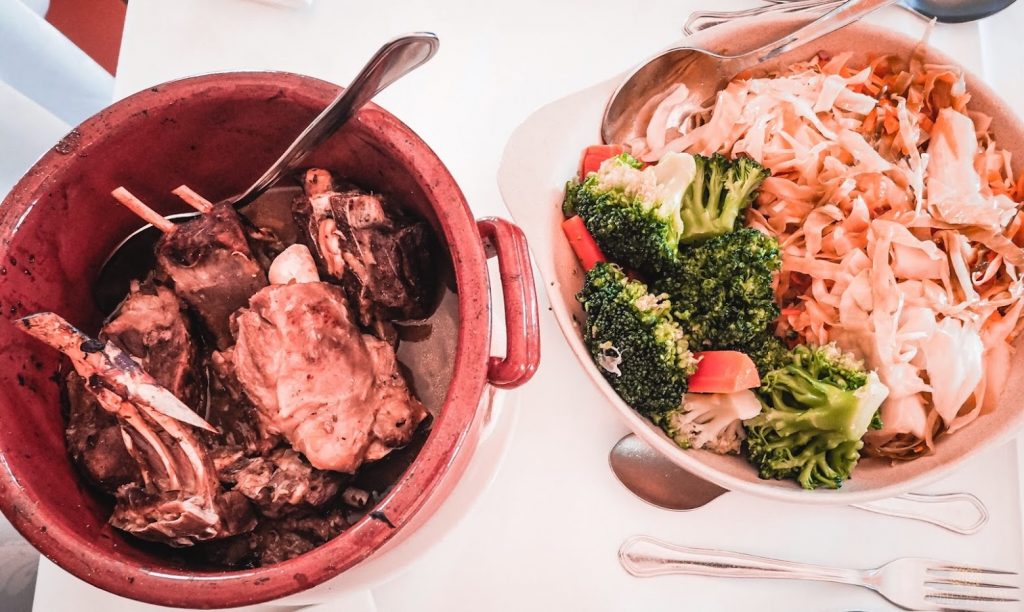 8. Guisado
One of the finest Madeiran dishes you will try, guisado is a stew made with tender meat or fish which has been slow-cooked with carrot, potato, and tomato, and is often served with rice. The meat or fish that is used can vary from place to place, but if you have the option to try octopus guisado, give it a go; octopus is not considered to be a traditional seafood of Madeira, but is always delicious.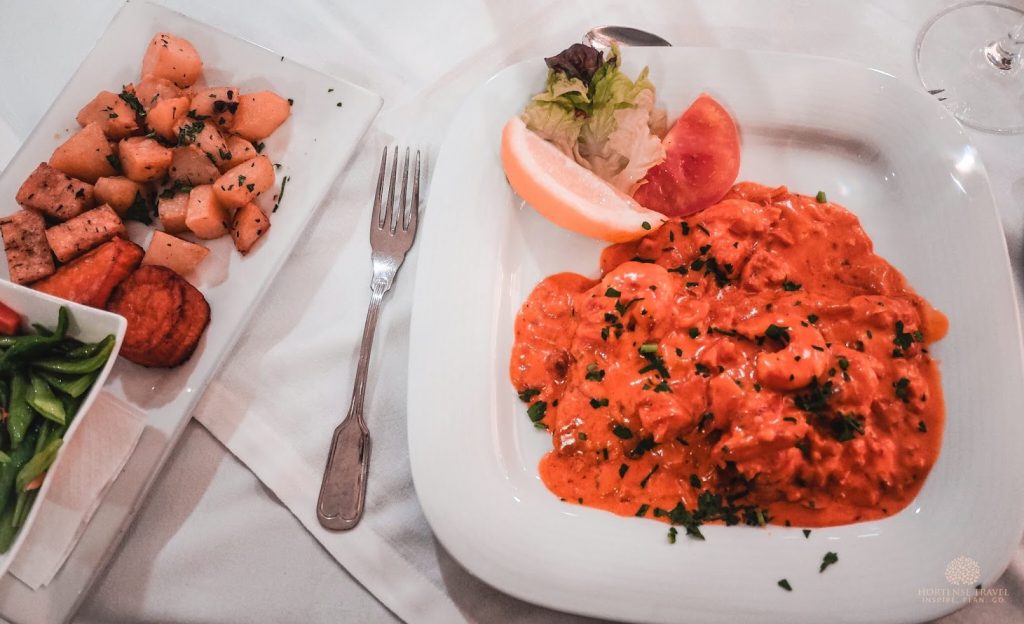 9. Black Scabbard Fish with Banana and Maracuja Sauce
One of Madeira's most famous regional dishes, black scabbard fish does not look particularly appetizing – it has an unfortunate ugly appearance; if you are wandering around food markets in Madeira, you will definitely notice it – but thankfully it tastes much better than it looks. To try it in the most authentic Madeiran way possible, you should order it with fried banana and passion fruit sauce. First, the fish is seasoned with salt, pepper, and herbs and then dipped in flour and egg before being fried. The banana is then also fried and served along with the fish. To finish, the passion fruit sauce is poured over the top. As the island's most typical fish, you will find it on pretty much every menu in Madeira, and it is something you should definitely try as black scabbard fish is not something that is available in lots of countries.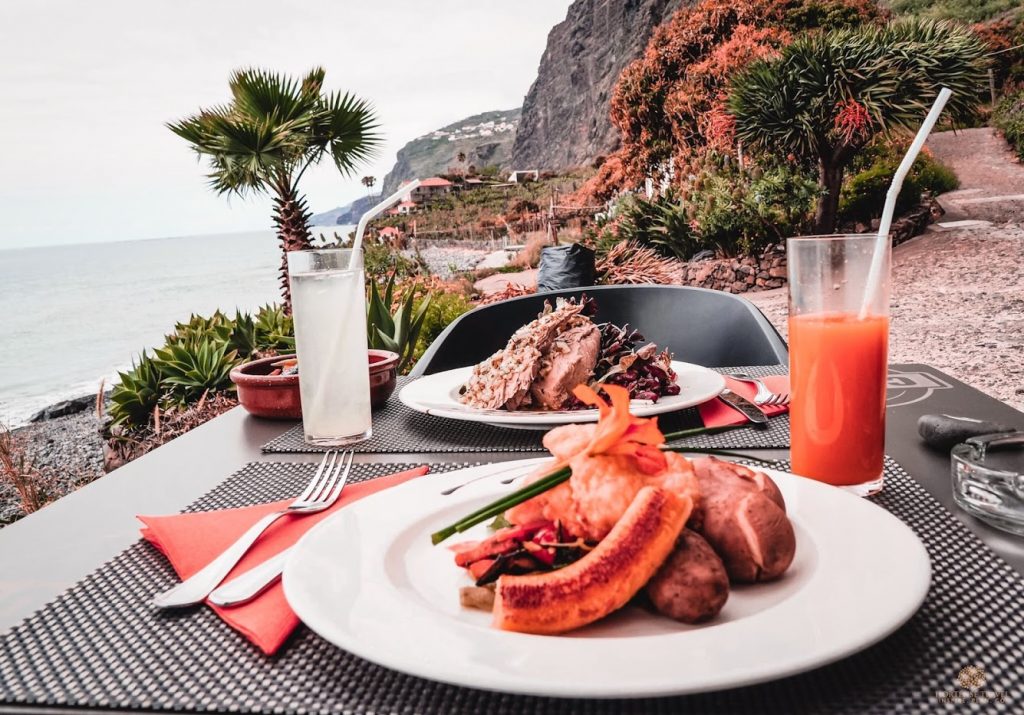 10. Castanhetas 
Another fish which may not look particularly appetising when you first look at it, castanhetas – bluefin damselfish – is also incredibly popular throughout Madeira due to the abundance of it along the coast. Seasoned with salt and fried in hot oil, it is served with a slice of lemon on the side so you can squeeze it over before eating. It is particularly common in Canical, so if you are visiting, make sure you give this fish a try.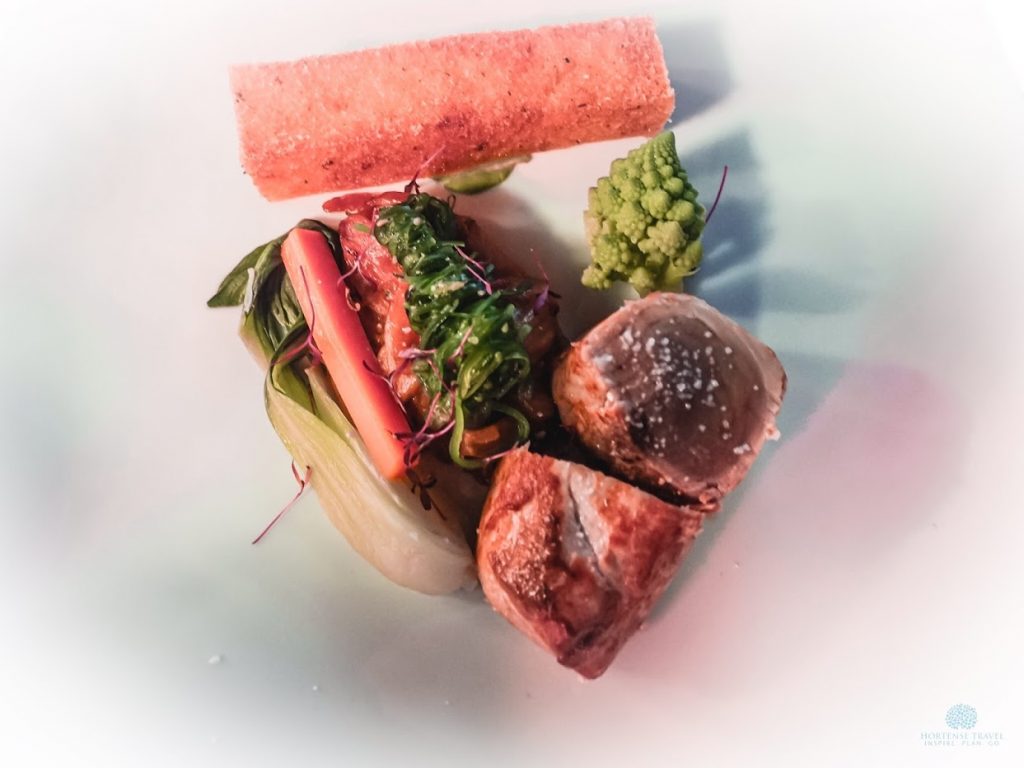 11. Madeira-style Tuna Steak
Tuna is an important staple of Madeira cuisine, and there is no better way of trying it than this traditional way of preparing the fish. The tuna is first cut into steaks and then marinaded in olive oil, garlic, salt, and oregano. It is then typically served along with milho frito. Don't forget to add a typical Madeira drink to your menu when ordering.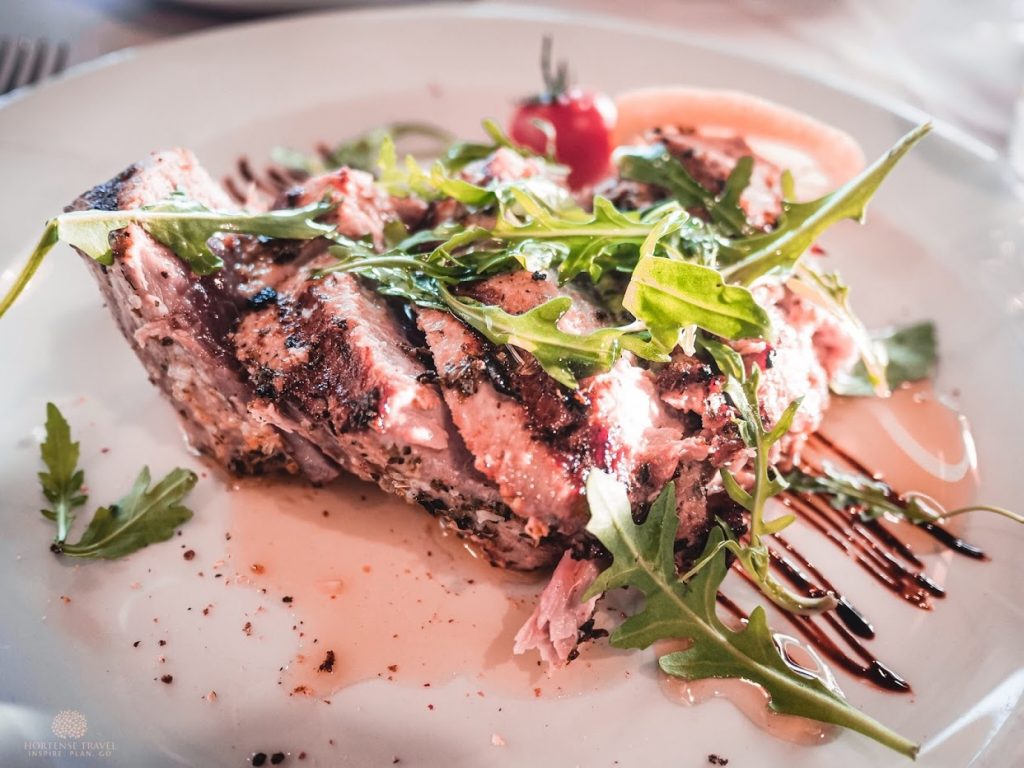 12. Tomato and Onion Soup
A simple dish but so, so tasty, tomato and onion soup is a heart-warming favourite. Made with – you guessed it – tomatoes and onions along with garlic, oregano, and olive oil, it is often also served with a poached egg resting in the centre of the dish – perfect for dipping a piece of bread into.
Wheat Soup
A Madeiran speciality, wheat soup – sopa de trigo – is fantastic to eat in winter due to its thick texture, although it can be enjoyed any time of year. Exactly what you will find in it will differ depending on the region – or regions – you visit in Madeira, but the recipes which are considered to be the best are those using pork and various vegetables, such as pumpkin, carrot, sweet potato, and turnip. Of course, wheat is the common ingredient in all variations around the island.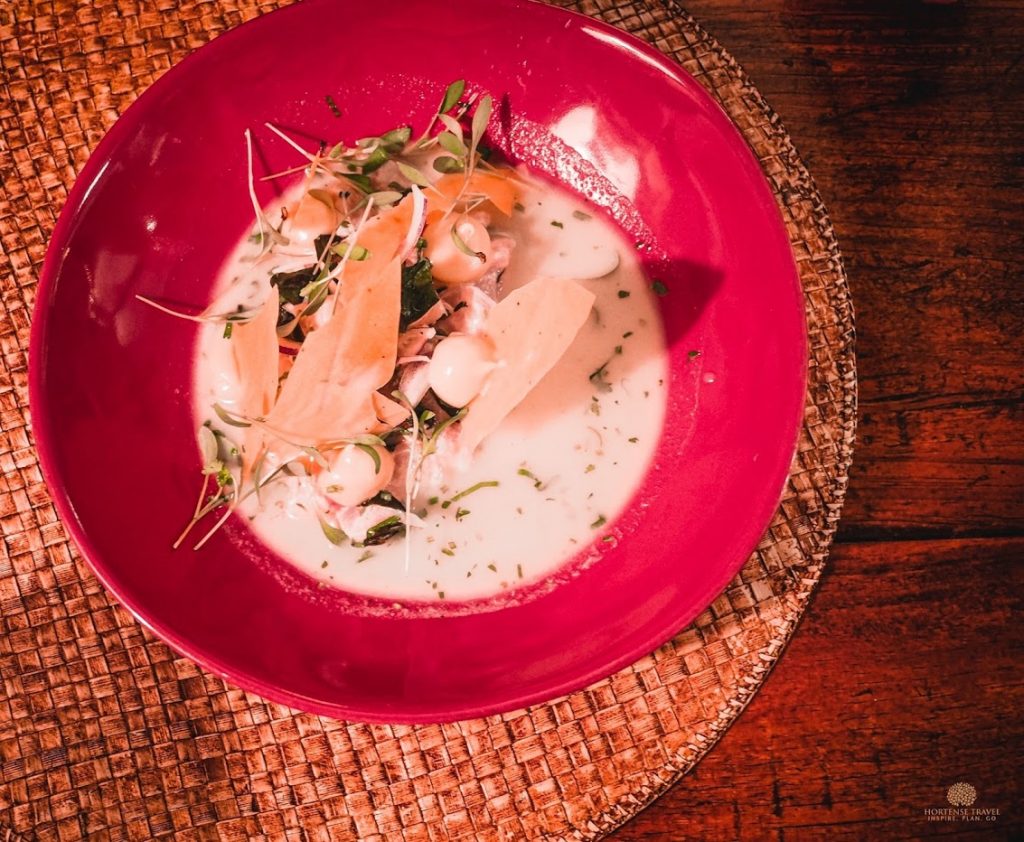 13. Milho Frito
Fried cornmeal is something of a favourite as a side dish in Madeira, so do not be surprised if you see it accompanying many other dishes – particularly meat ones – when eating out in restaurants. The cornmeal is cut into small cubes and then fried along with sliced kale, garlic, lard, and olive oil.
14. Vegetables
The vegetables you will find on Madeira are mostly those which have been locally cultivated on the island. These include carrots, green beans, chayote (a member of the squash family), field pumpkin, and peas. They are often prepared in a simple way, and make a delicious side dish alternative to fries or rice. You may also find vegetables in salads, although salad is not the preferred side dish of many people from Madeira. If you do find salad on a menu, it will normally be composed of lettuce, tomatoes, grated carrot, and sliced onions.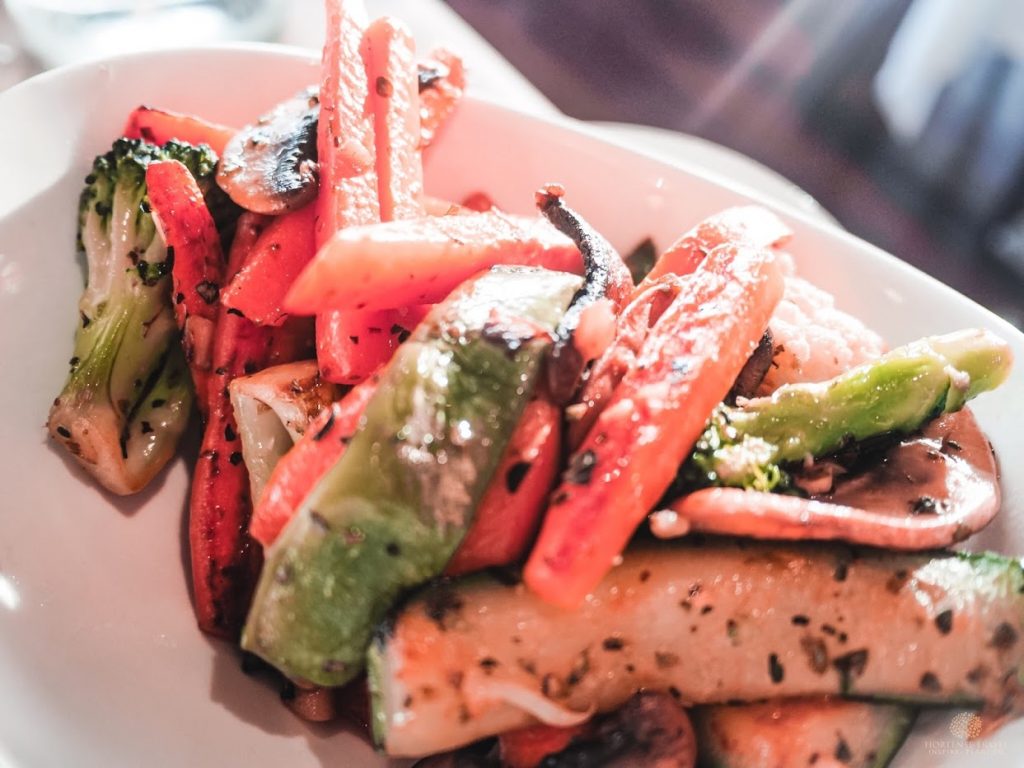 15. Fried Banana
While often served with black scabbard fish, fried banana can also be eaten in its own right in Madeira. They can either be fried on their own in sugar, or another way of preparing them is to fry them in Madeira wine and a pinch of cinnamon. If you are a fan of bananas, this way of eating them can make them a little bit more exciting.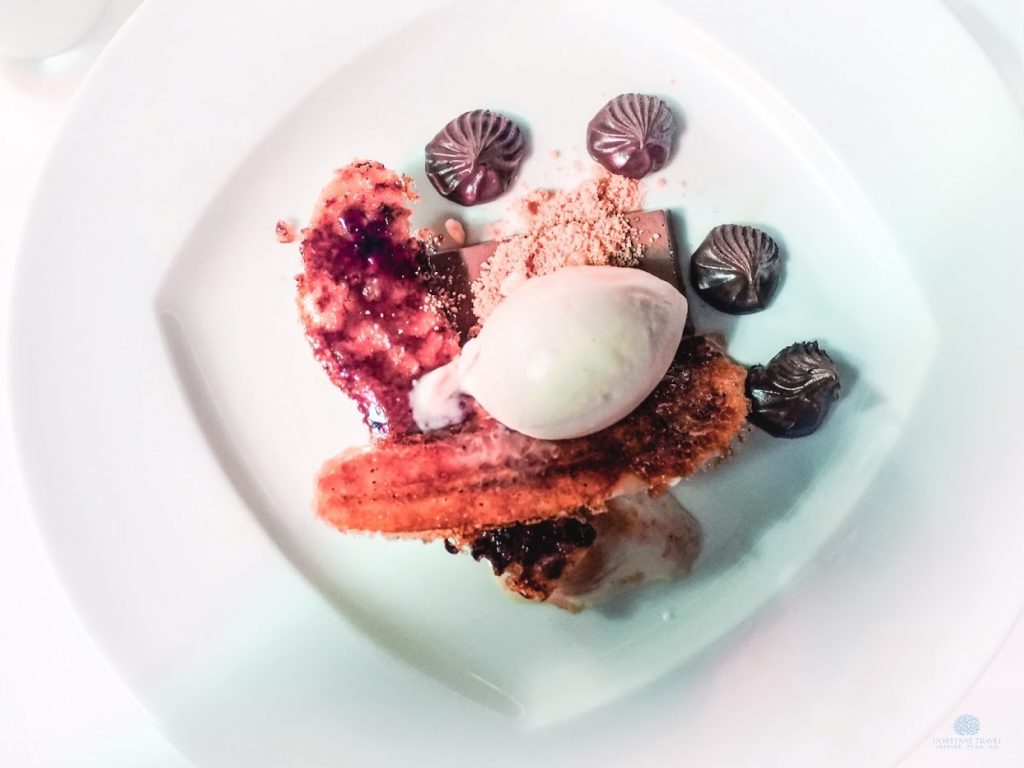 16. Exotic Fruit
As you can imagine, a vast number of different types of exotic fruit grow in Madeira. These include – but are not limited to – papayas, bananas, mangos, grapes, avocados, and pomegranates. However, one which you may not have heard of but should certainly try when you are in the country is tabaibos. Locally known as the 'figs of the devil', this fruit from a species of cactus that grows on the island is juicy and fresh, so do not let the name put you off trying it.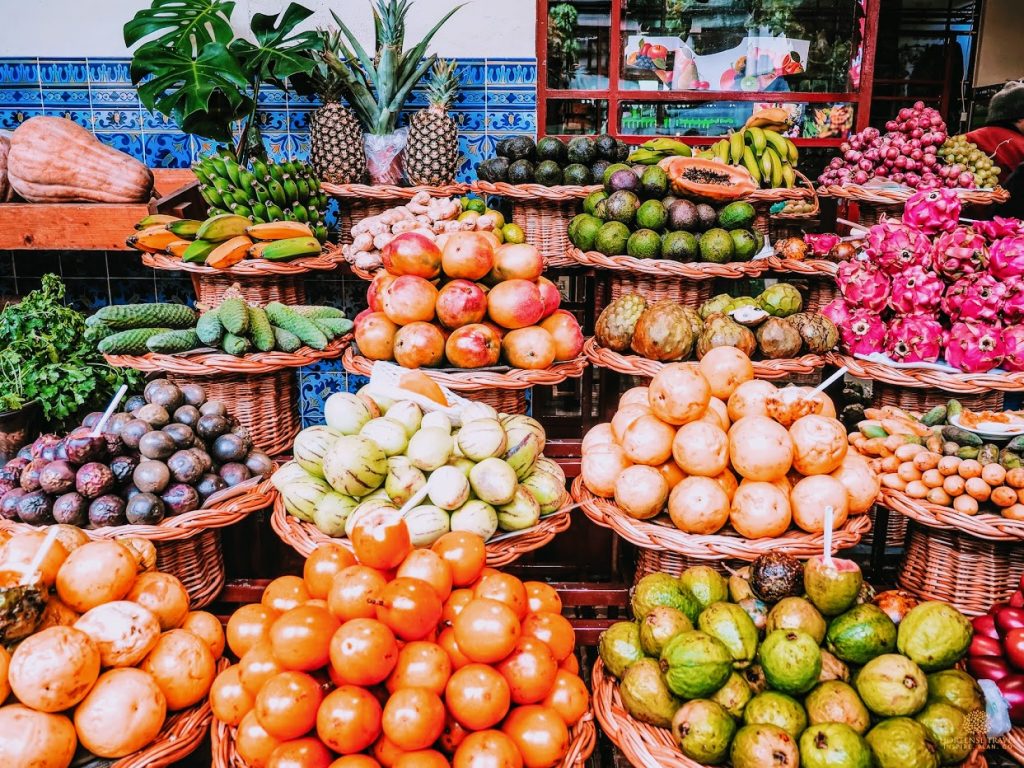 17. Maracuja Pudding
As you have probably guessed, passion fruit is incredibly popular on Madeira, making its way into a number of dishes, both main dishes and desserts. A delicious dessert you need to try when holidaying in Madeira is maracuja pudding, a sweet dish made from passion fruit pulp, jelly, condensed milk, and cream. It is a really refreshing pudding and makes the perfect finale to a meal.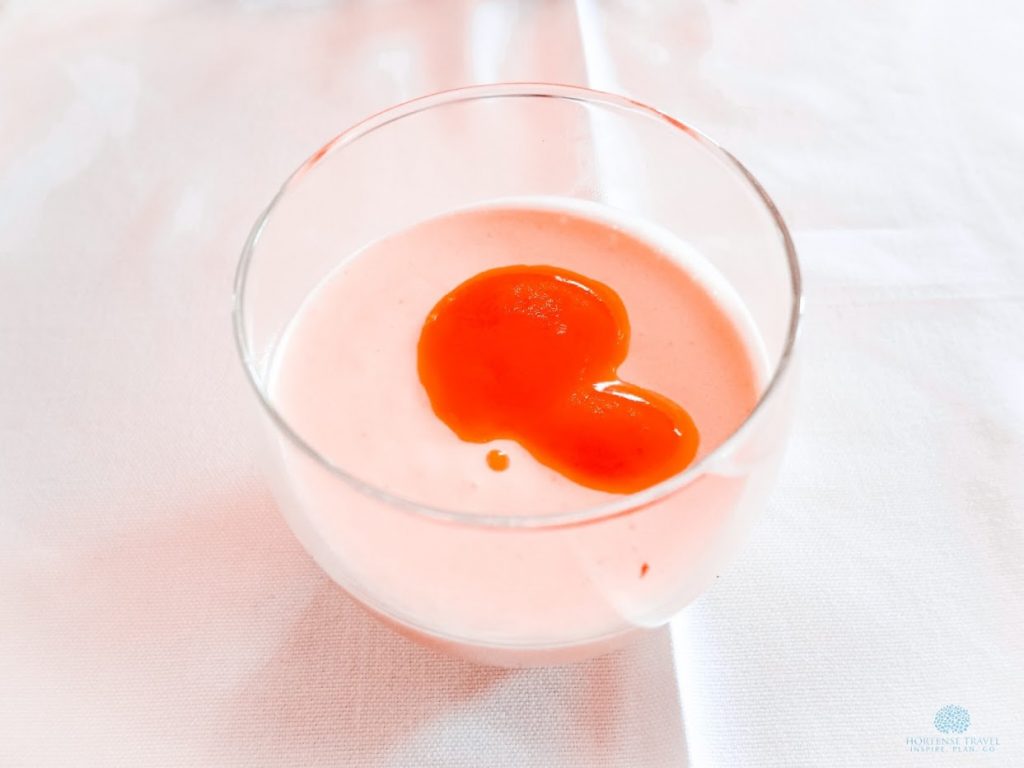 18. Bolo de Mel
Considered to be Madeira's oldest dessert, bolo de mel – honey cake – was first made on the island in the 15th century by the nuns from the Convent of Santa Clara in Funchal. Originally, the cake was made using molasses, meaning that its shelf life was potentially up to five years – if it was not eaten before then! However, nowadays, the usual ingredients are honey, flour, sugar, butter or margarine, lard, walnuts, almonds, and spices. Bolo de mel is generally eaten around Christmastime, although many people make huge batches of it and its consumption can continue for a number of weeks after the festive period. When served in Madeira, the traditional custom is to tear chunks off with your hands rather than cutting it with a knife.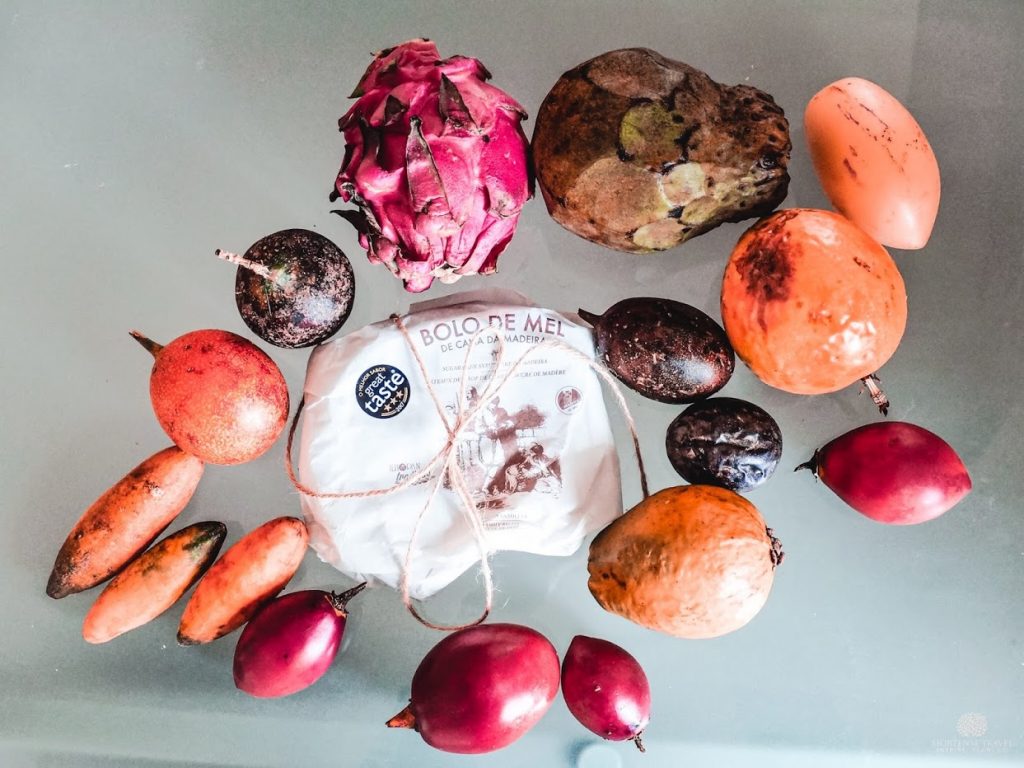 Of course, this is just a small selection of dishes that you can try in Madeira, but if you only get to eat the things which are on this list, you can be sure that you have tried the best of the best. While you may not see much in the way of fine dining when sampling traditional Madeiran foods, what you can guarantee is that they will be wholesome, filling, and absolutely delicious.
Visiting Portugal soon? Check these out: