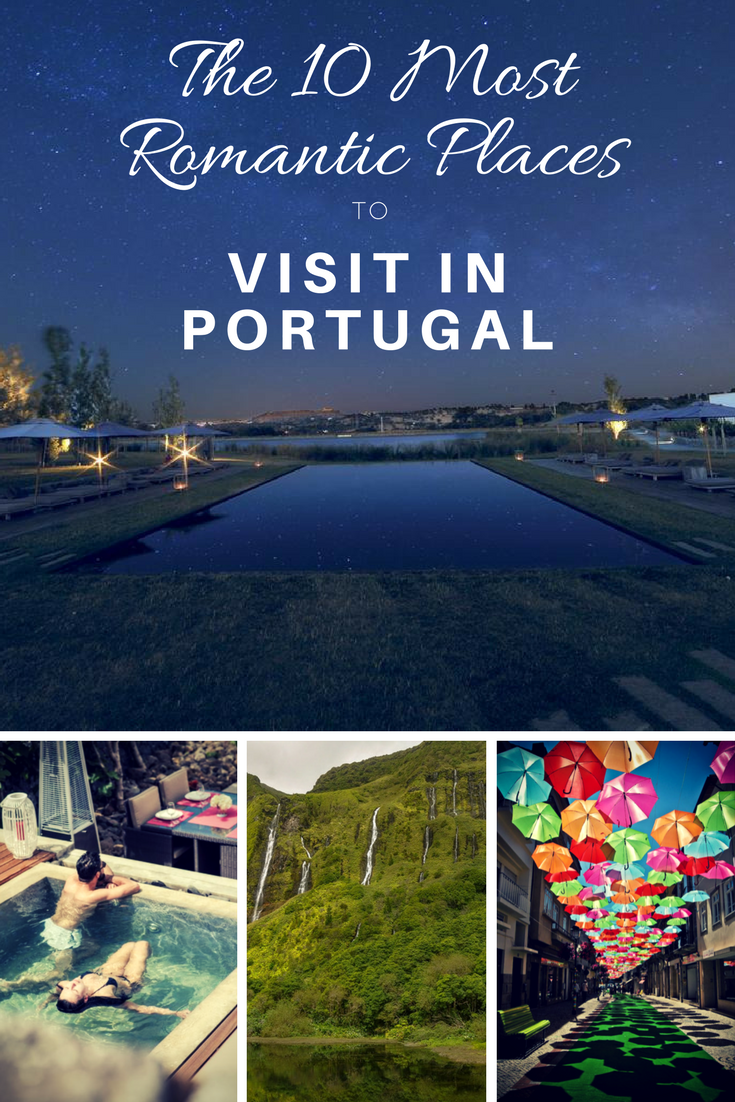 I believe that celebrating love should be done every day, not only on Valentine's Day. But sometimes we forget it and what I like about the 14th of February is that it reminds us of that. And for travel junkies, it's one more reason to pack the bags.
As I love to compare my experiences before and after living in Portugal, I'd like to say that in Bulgaria, we celebrate Trifon Zarezan – the day of the Guardian of vine growers instead, with a lot of wine on the 14th of February. So I'll recommend excellent wine destinations, too.
This is the third edition of the Top 10 Most Romantic Places to visit in Portugal, and we have one new place that made it to the top. Scroll down to find out which it is.
1. Santa Cruz and Areas do Seixo
About an hour away from Lisbon, Santa Cruz offers a romantic rocky beach, great seafood and cool bars.
It has also one of the most charming hotels I've ever seen – Areias do Seixo. I fell in love with the decoration – shabby chick with a bit of Moroccan touch. Very cosy  and welcoming. Staff are also helpful and kind. Most of the rooms have sea or private garden views. The hotel is isolated and not so easy to reach which makes it the perfect getaway for two.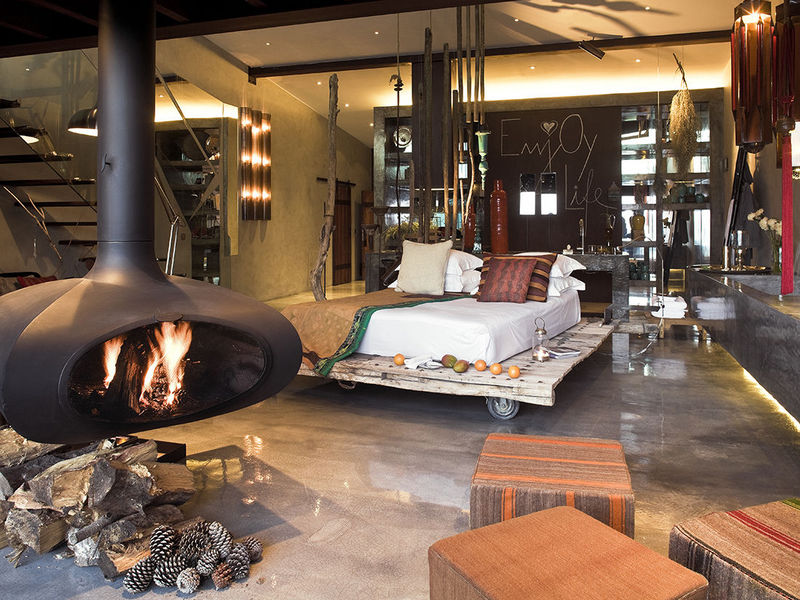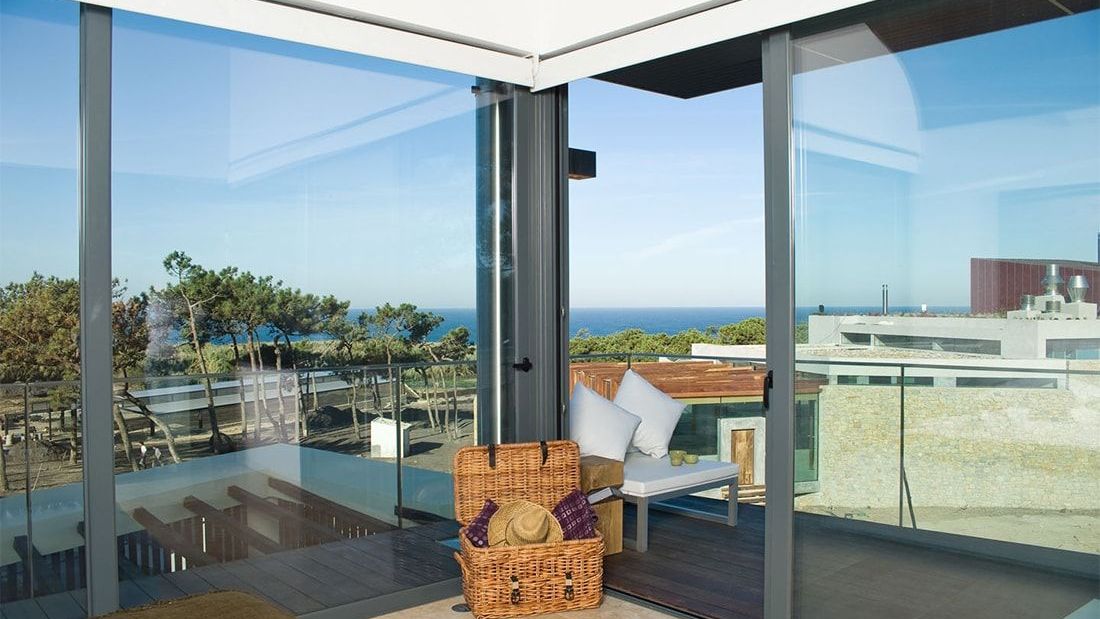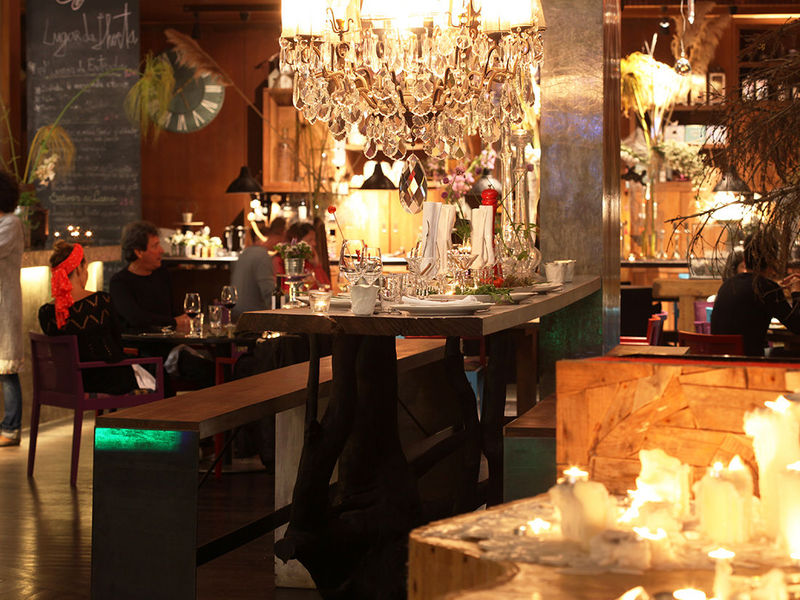 Eating at the hotel restaurant is an experience by itself, but you can also check Cervejaria Restaurante Boca Santa  for a typical Portuguese food experience with sea view.
2. Évora and L'AND Vineyards
Évora is an amazing destination offering historical sights as the Diana Temple and Chapel of Bones. Plus some kilometers away you'll  find the Portuguese Stonehenge.
There are certainly great hotels in Évora, but the romantic choice falls on L'AND Vineyards in Montemor-o-Novo, just a few kilometers away. Go there on a clear night and you'll be able to gaze at the stars and milky way as there is no light pollution near.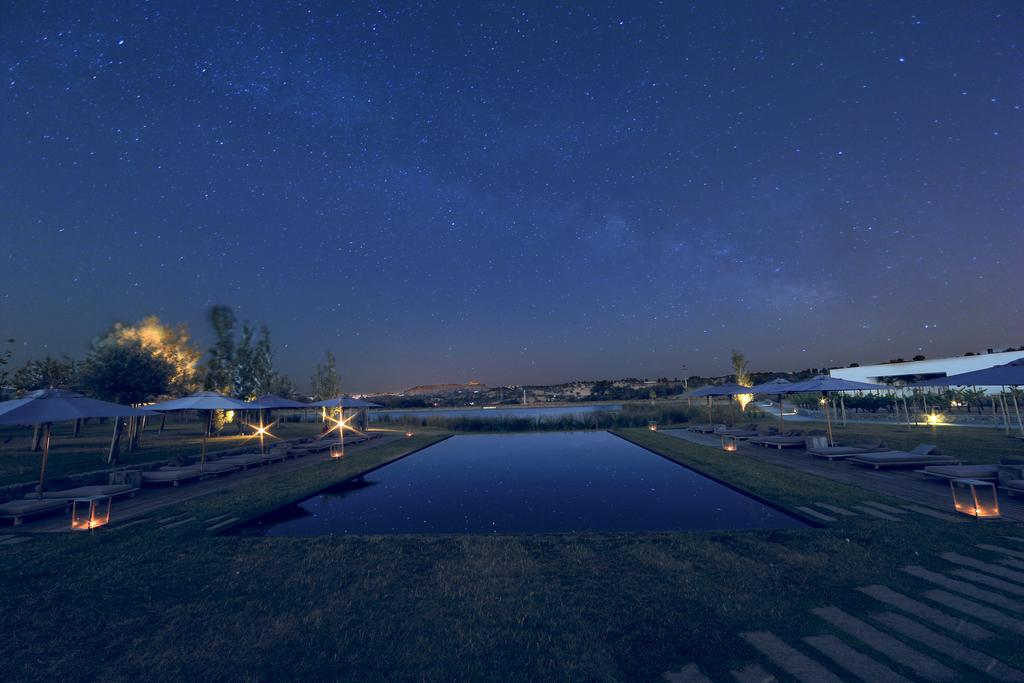 Rooms are simple and minimalist, inspired by Japanese culture. Also the toilets are Japanese style, nice. When you arrive, you'll be met by the kind bell boy and brought to the reception to try their tea, served in Japanese tea set. You'll have one free wine tasting. Take advantage of it, because their produce is organic and wines taste distinctly different. I'd say they have some of the best wine I've ever tried.
The restaurant is highly recommended, concept is Portuguese gourmet cuisine,  but portions are generous.
They also have heated pool and sauna. I even recommend going there in low season to avoid crowds and fully unwind.
Don't forget to ask for the eggs Benedict for breakfast to complete the romantic and healthy experience.
3. Tomar and Luz Houses
Tomar is one of the most beautiful Templar towns of Portugal, featuring a medieval center, small white washed streets and an impressive convent on a hilltop. It's all you can ask for a romantic getaway.
The place to stay is definitely Luz Houses, this boutique hotel was one of the most romantic  experiences my husband and I had last year. The rooms are all white with wood and grey cement accents, which makes them very calming and let's you immerse in nature. You can take one of their bikes and ride it around the property or just lie by the bool and enjoy a relaxing afternoon. See my complete review of Luz Houses here.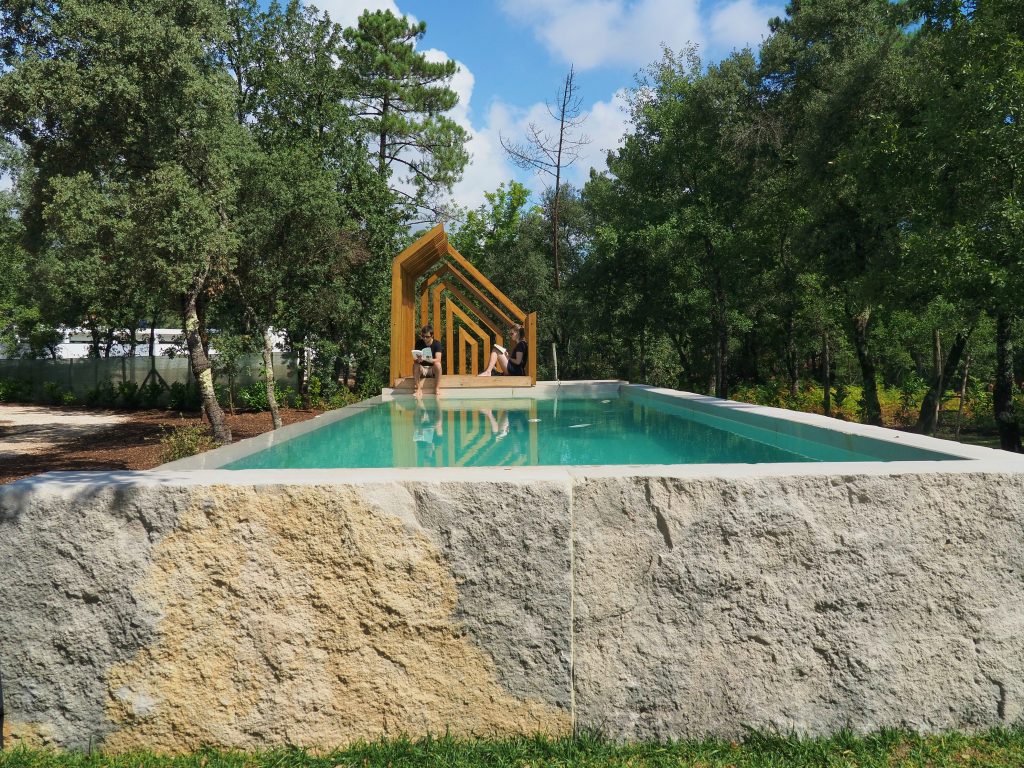 4. Óbidos
When I first visited Óbidos, I instantly thought it was the most romantic little town, I've ever been to.
Walk on the top of the walls – make the whole round if possible and then descend through the the small streets which are the most charming. On the main street, you'll find a fabulous chuch, cute little shops and traditional pâtisseries.
No visit of Óbidos is completed without having the famous Ginga of Óbidos – sour cherry liqueur, served in a chocolate cup.
5. Águeda and Agitágueda Arts Festival
If you want to offer your beloved one a trip present for July, include the small town of Águeda in your itinerary. It not very well known, but its Agitágueda Arts Festival makes it well worth the visit.
Music, street art, dancing performance, and much more. And what I believe the most romantic part is – the hanging umbrellas. How beautiful the streets become.
Águeda can also be done as a day trip from Porto, which won the Award of Top 2017 Destination.
6. Aveiro
Have you been already to Venice, or it just won't happen this year? Then head to Aveiro, known as the Portuguese Venice. Hop on a Molicerio  (the traditional Aveiro's boat) and enjoy the romantic ride.
Aveiro is also the home of the traditional Ovos Moles pastry that has extremely sweet egg cream inside. The best ovos moles are said to be at Maria da Apresentação.
7. Douro
Douro region has become more popular in the last years, but if well-chosen the place and hotel it couldn't be farther from mass tourism.
For the most romantic experience, I recommend the spectacular Six Senses Douro Valley Hotel. The hotel exterior is a renovated 19th-century manor house overlooking the vine hills of the Douro Valley and the river. There are several restaurants, but whichever you choose, you can't go wrong because consulting chef is Ljubomir Stanisic, who's the chef-owner of the famous 100 Maneiras in Lisbon.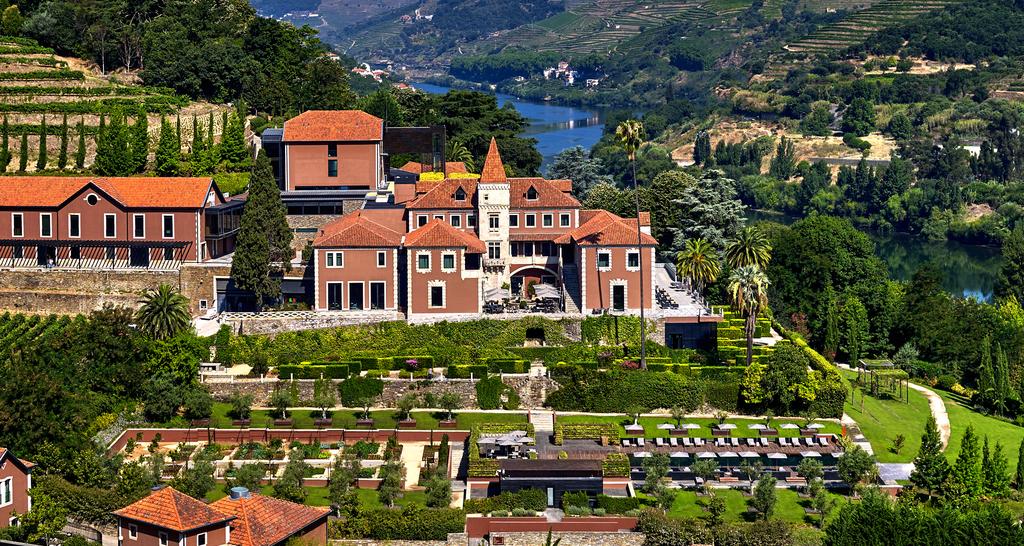 If your budget doesn't allow Six Senses, check  Rio Douro Hotel & Spa.
Also adding a private yacht/ boat with a skipper to take you on a cruise on the river will be one of the most memorable experiences you'll ever have.
8. Flores Island
This is the most remote of the Azores islands archipelago. It's also the most humid, thus ever-green, offering lush vegetation, Jurassic park style cliffs and waterfalls.
The island is so small that it can and should be explored on foot for the most romantic experience.
The recommended hotel is Casas da Cascata, overlooking a stunning waterfall.
9. Santa Maria Island and Vigia da Areia
Another Azores Island in the top 10 romantic places in Portugal for this year. It's the beach destination of the Archipelago. With just about 5500 inhabitants, relax and slow life are guaranteed. But if you like adventures, hop on a boat and sail in the open sea to see some marine life. Scuba diving, snorkeling, kayak, fishing and even visiting a red desert are just a part of the activities there.
For full relaxation and spectacular sea views from your private deck with jacuzzi, stay at one of the Vigia da Areia Houses.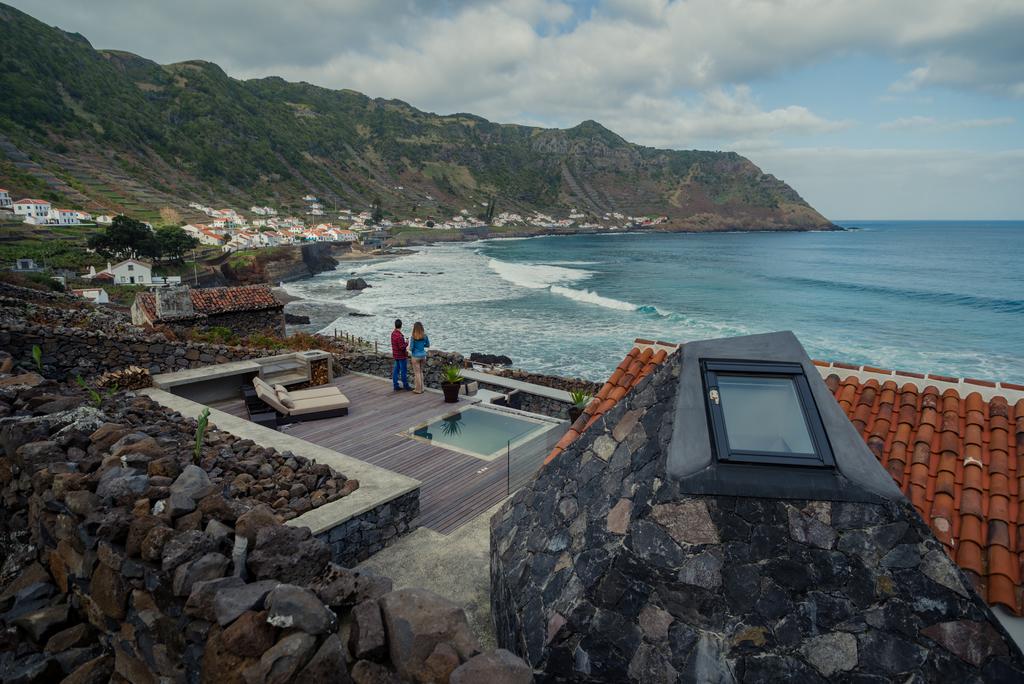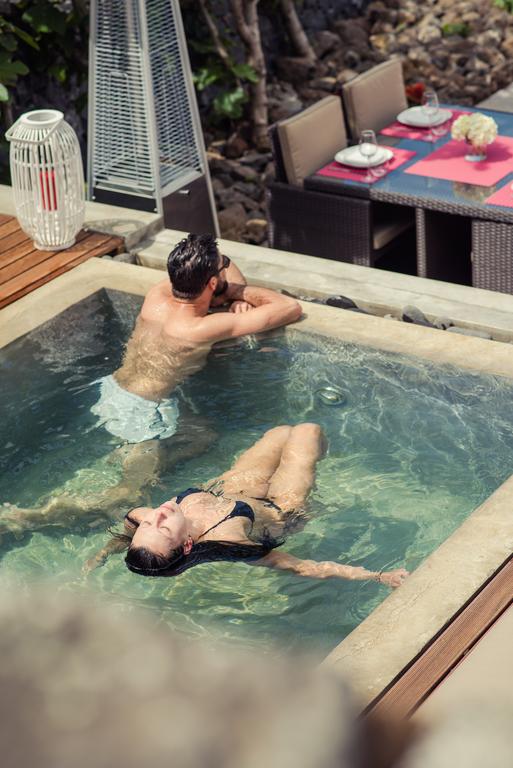 10. Madeira and Fajã Dos Padres
While Madeira is very well known, Fajã dos Padres receives very few visitors. This area is accessible only by lift or boat, so it means no cars, just the noise of the sea.
It's quite isolated but very beautiful like the rest of the island
You can stay there overnight or just have lunch at the romantic restaurant, overlooking the ocean.
I hope that you liked my suggestions about the most romantic places to visit in Portugal. If so subscribe below for more tips.
11. Lagos and Casa Mãe (2020 pick)
Lagos is one of the best places to stay in the Algarve region. It's a very atmospheric old town not ruined by mass tourism and over-built like Albufeira. There are two beaches that are walking distance from the center of the town. They tend to get crowded in July and August. But if you have a car, you can explore more serene locations as Praia Porto de Mos. Remember – the longer you walk, the less crowded the beach will get. And is there something more romantic than a walk on a beautiful beach with emerald-colored waters?
Casa Mãe is the best accommodation in Lagos. This 4* boutique hotel is located in the heart of the town walking distance from restaurants but on a quiet street. Romantic and relaxing are two words that best describe Casa Mãe. Our experience in the hotel was excellent. From the welcome drink to the minimalist rooms and delicious healthy breakfast – everything was on a very high level.