When it comes to Madeira cuisine, you will find lots of articles on the internet about what you can eat on the island, but then what do you pair your meal with? Luckily, Madeira has lots of traditional drinks for you to try which will add to your experience of the island just as much as any dish would. If you are wondering what kind of drinks you will be able to sample when on your trip, check out this guide to the thirteen most typical Madeira drinks.
1. Poncha
Perhaps the most typical drink you can find on Madeira aside from its wine, poncha is a delicious alcoholic drink made from sugar cane rum, honey, and lemon juice. You may also find that some establishments make poncha with other kinds of juice, such as orange, but if you really want to try the most traditional, opt for the original. All the ingredients are then mixed together with a mexelote, a tool specifically created for the purpose of making poncha. Fruity and delicious, you should definitely have at least one on your trip.
While many places in Madeira serve poncha – and you can even buy it ready-made in stores and supermarkets – there are some places which are better than others. In Funchal, some places you should definitely try are Venda Velha, Bar O Avo, and Rei da Poncha. If you happen to be traveling along the ER104, make sure you make a stop at Taberna da Poncha, a wonderful bar in a superb spot overlooking the mountains. It is just as popular with the locals as it is with passing tourists, so you know that the poncha here must be good.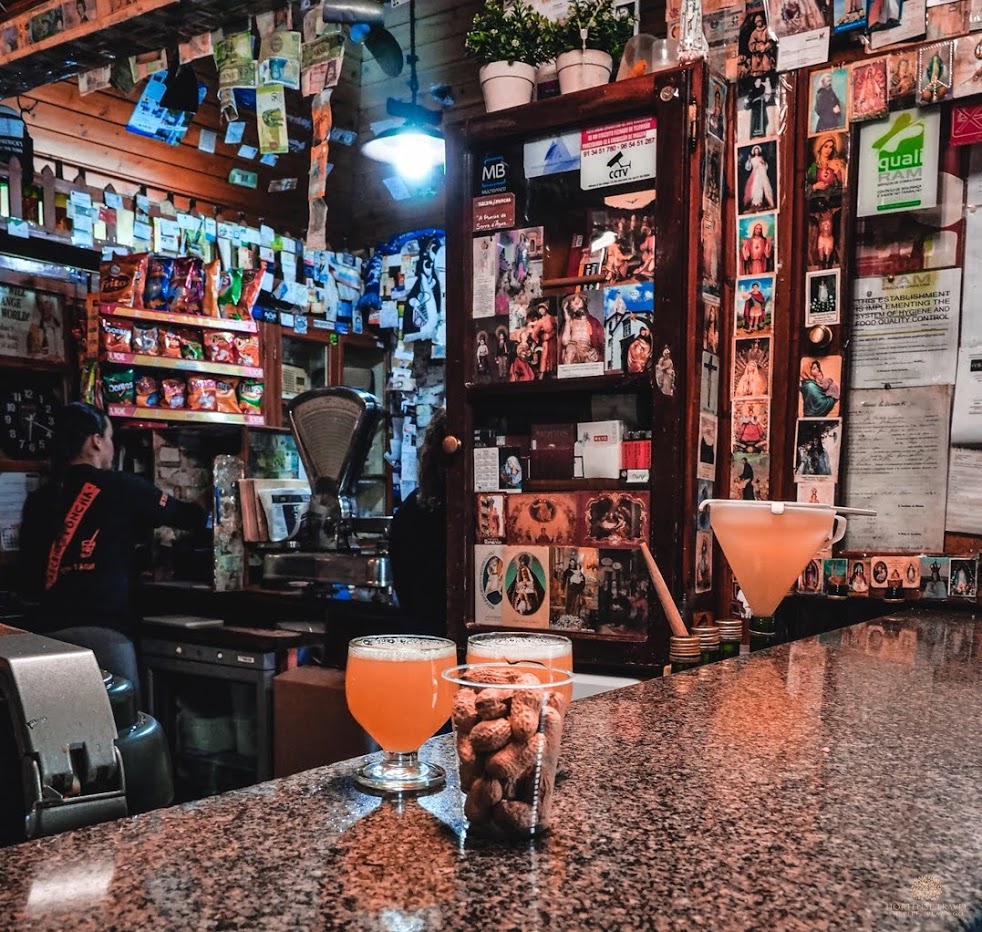 2. Nikita
Whether you are looking to drink something alcoholic or non-alcoholic, Nikita is the perfect choice on hot days. Traditionally made with passion fruit Brisa, a regionally-made carbonated soft drink (more on this later), vanilla ice cream, and a pineapple ring at the bottom of the glass, if you want the alcoholic version, you will find many places which will add beer or white wine. All the ingredients are then mixed until the texture is creamy, and it really is quite refreshing on a summer's day.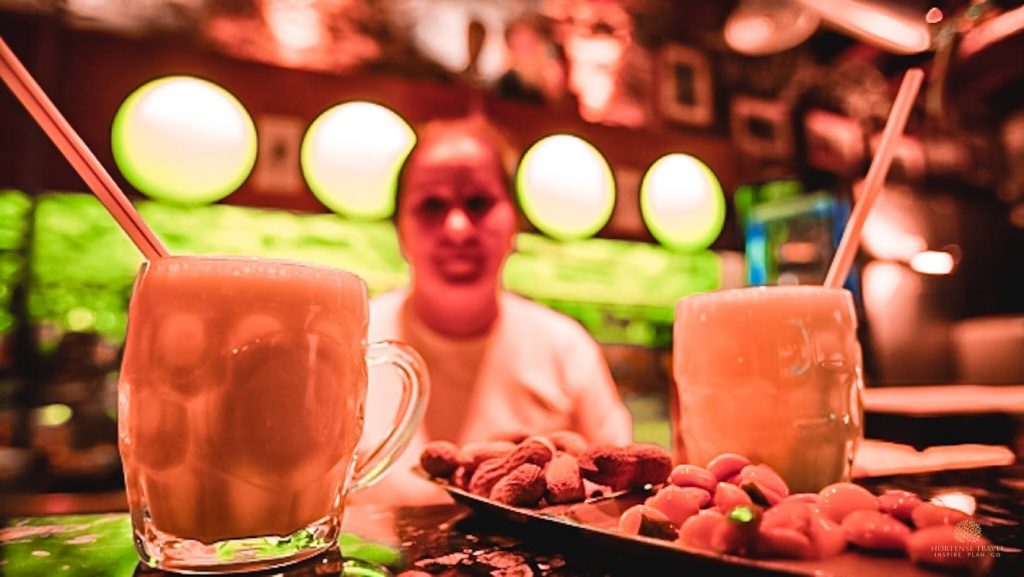 3. Madeira Wine
Famous all around the world, Madeira wine is one of the main reasons why people head to the island. A fortified wine produced in a variety of ways, from dry to sweet, it is often drunk either as an aperitif before a meal or with dessert. For those of you who have never tried Madeira wine before, you may be surprised by the taste of caramelized sugar; this is caused by the aging process in wooden casks. You will find Madeira in pretty much all restaurants, bars and stores across the island, but you can also visit one of the many wineries for a tasting. Some locals are even brave enough to make their own, so if you find yourself invited to someone's house, you may get the chance to try some.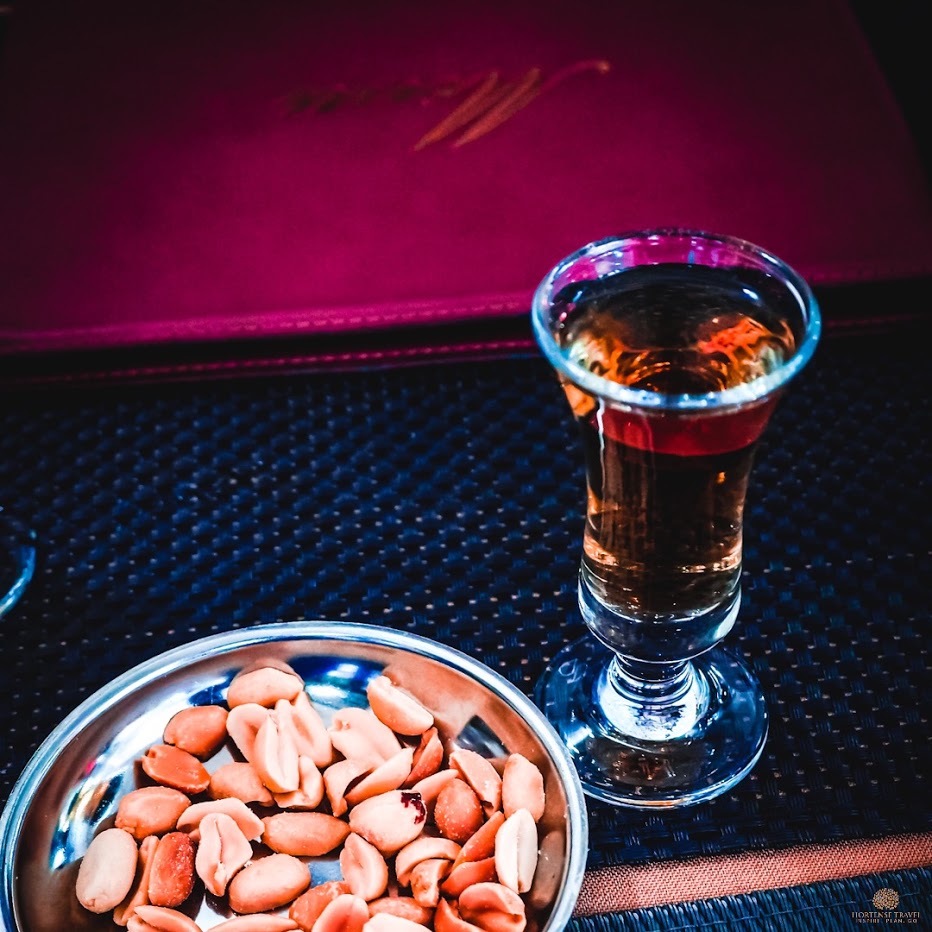 4. Sidra
Typical of the Santo da Serra region, sidra – or cider in English – is made by fermenting apple juice. It can be served both cold and hot, so no matter what the weather, this can be the drink to have. Although both versions are essentially the same drink, the taste and aroma is slightly modified by the heat when drinking it hot. Sidra is one of the drinks in Madeira that has its own festival. Usually taking place in September each year in Santo Antonio da Serra, this event involves apple, pear, and cider farmers and producers giving a variety of demonstrations of what happens during the cider-making process, so it can be really fascinating for those of you who are interested in this side of cider. There is also a lot of live entertainment to enjoy in the form of music and dance.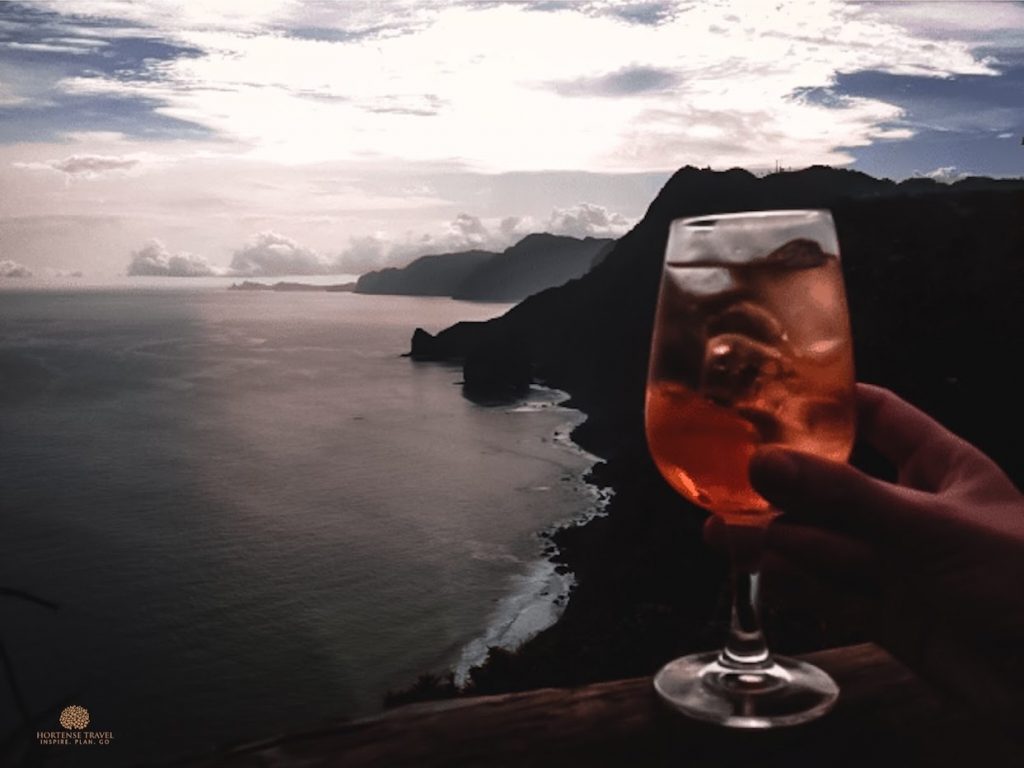 5. Green Wine
The name vinho verde – literally green wine – is actually a bit of a misnomer; the wine is never green in color, but rather white or very occasionally red. The name green actually refers to the wine being young. However, the full name Vinho Verde is also the name of the region in northern Portugal that produces the wine. Despite the wine not being produced in Madeira itself, it is still a popular drink here and you can find it in most restaurants and bars. One particular popular place to drink vinho verde is Wine Bar 3Vs in Porto Santo.
WHERE TO STAY IN MADEIRA? CHOOSE FUNCHAL TO BE ABLE TO SEMPLE ALL THE DRINKS ON THE LIST: BELMOND REID'S PALACE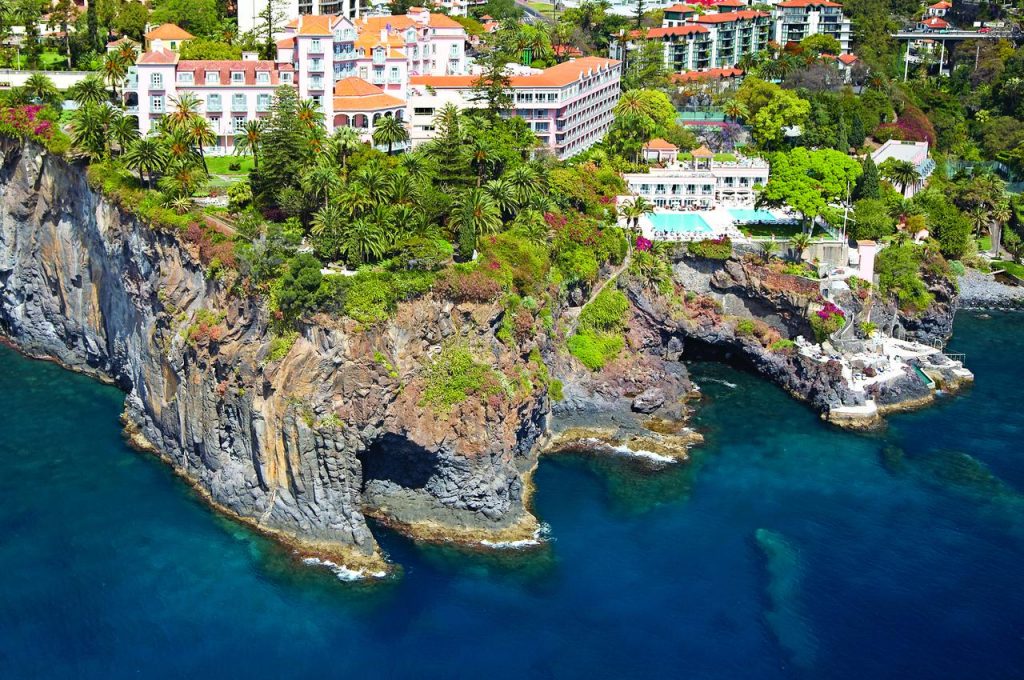 6. Pe de Cabra
One of the most unique drinks you will find in Madeira, Pe de Cabra is an alcoholic drink consisting of dry Madeira wine, black beer, sugar, chocolate powder, and lemon peel. Originally from Camara de Lobos, the preparation involves the help of a tool used to create another of Madeira's popular alcoholic drinks, the poncha stick. If the weather is really hot, you may also find that ice is added for that extra chill. If you are in Lombada-Funchal, there is a bar called Bar Pe de Cabra which specializes in the drink, making it one of the best places to try it.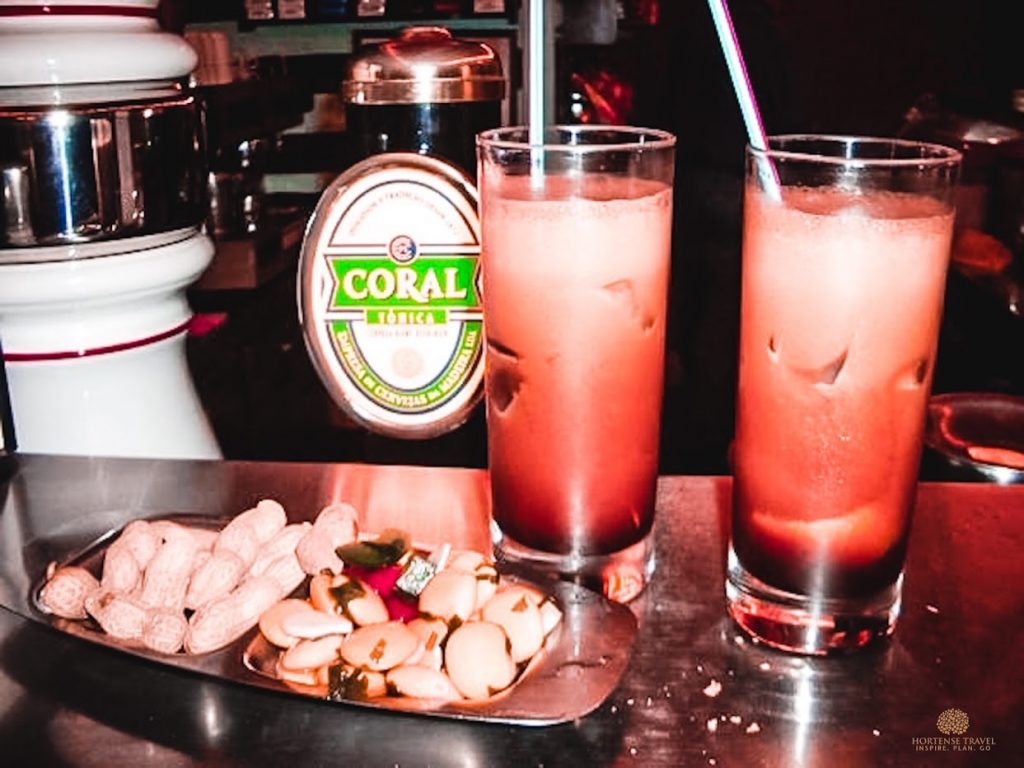 7. Ginja
A traditional drink from Curral das Freiras, this tasty liqueur consists of sour cherries, grape spirit, and sugar, with a sour cherry placed at the bottom of the glass. It is typically drunk around Christmastime and served with sugar cane honey cake and biscuits. If you like the taste of Ginja, you may want to coincide with your Madeira trip with the annual Ginja Festival which takes place in Jardim de Serra every summer. In addition to sampling this delicious liqueur, you will also be treated to a festive parade, get to enjoy some live entertainment, and browse the numerous stalls which pop up here.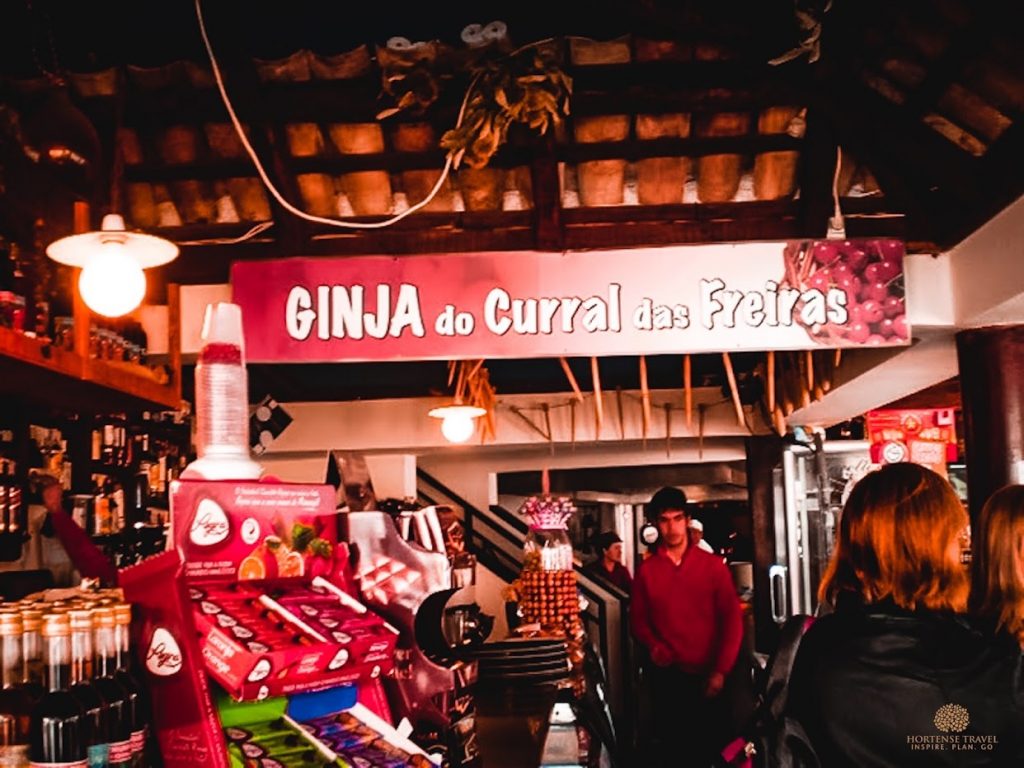 8. Eucalyptus Liqueur
Home-made liqueurs can be found in pretty much every country in the world, and Madeira is not any different. Aside from ginja, there are plenty of other liqueurs for you to try. One of these is eucalyptus liqueur, which is made from alcohol, sugar, water, and eucalyptus extract. Also from the Curral das Freiras, as well as trying some made by local people, you can also buy it in bottles. As it is only 20%, it is a lighter liqueur so you enjoy more of it without getting too drunk very quickly.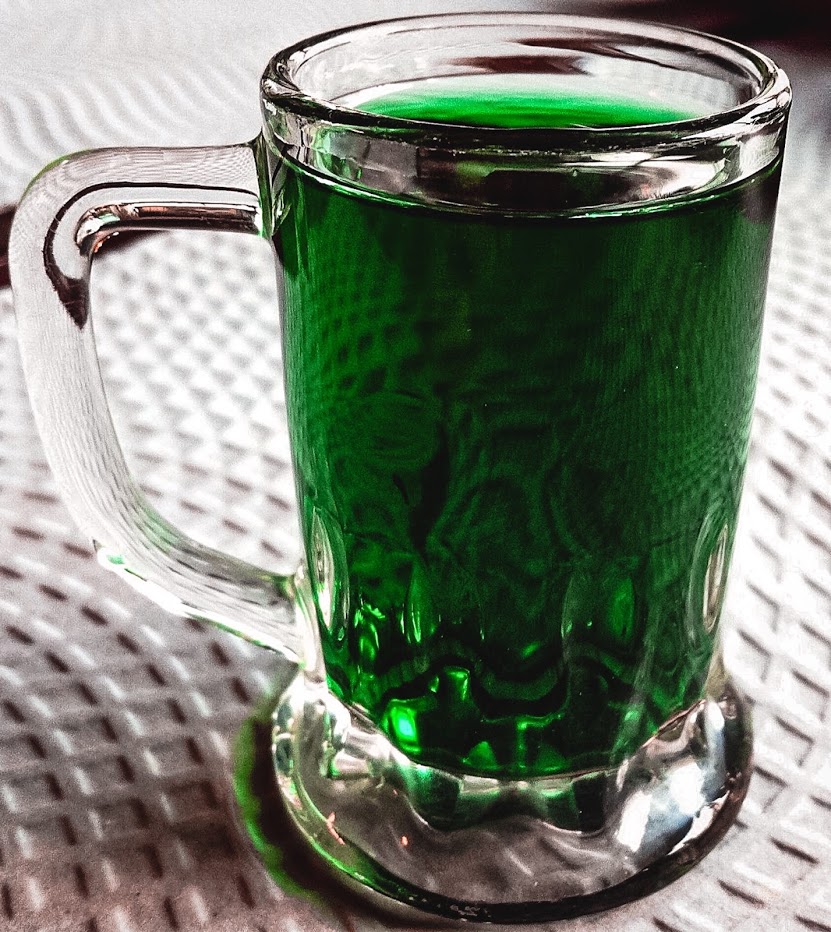 9. Tangerine Liqueur
Another tasty Madeira liqueur, the tangerine liqueur is made from tangerine peels with the white insides removed mixed with alcohol, and then left to macerate for a month. Then a warm syrup of sugar and water is prepared, which the alcohol is then added into and then shaken. The tangerine has a pleasant flavor and aroma which is perfect for the Madeira climate.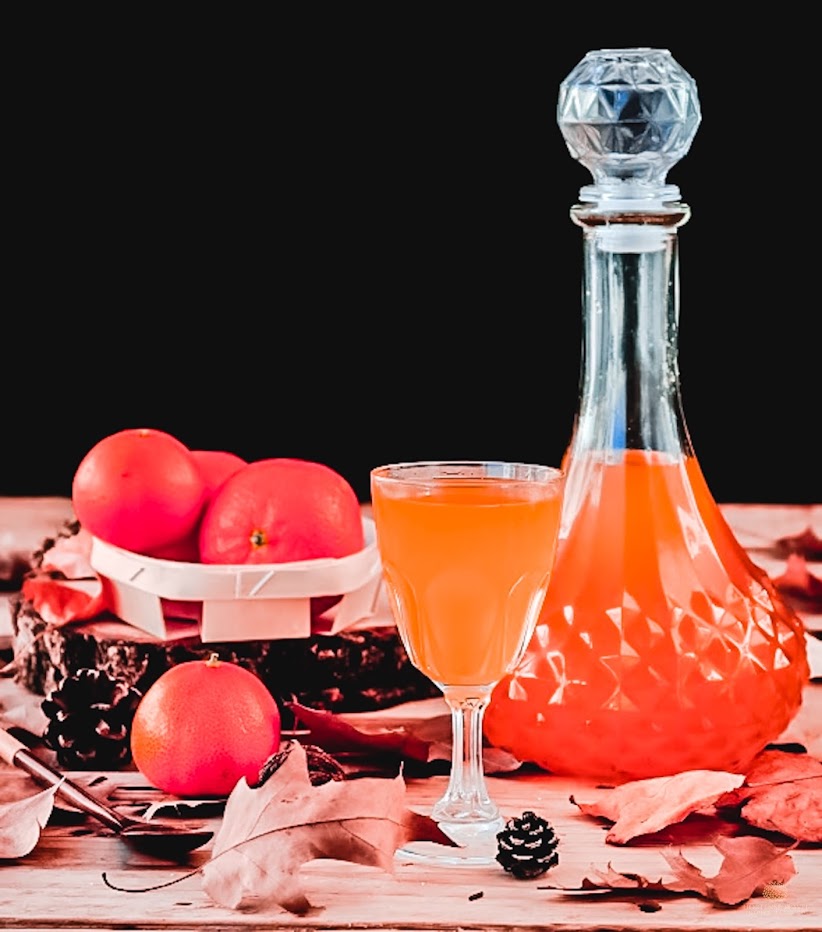 10. Laranjada
Derived from the Portuguese word for orange, Laranjada is the Madeira version of Fanta, an orange-flavored carbonated soft drink. However, once you have tasted Laranjada, you will never want to drink Fanta again; Laranjada is simply so much tastier. This soft drink has an incredibly long history. It was first produced in 1872, making it the first soft drink to be made in the whole of Portugal. It remains one of the most popular soft drinks among locals and is a firm favorite at local music festivals during the summer, where it is often mixed with the local white wine.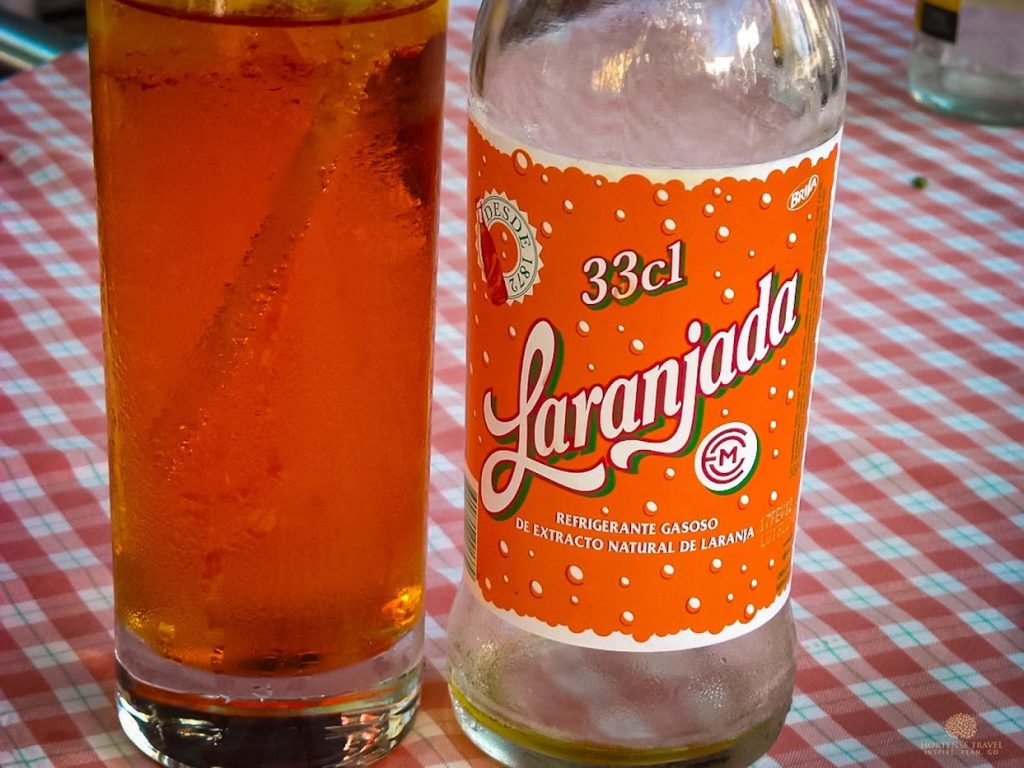 11. Brisa and Brisol
Another soft drink favorite, Brisa and Brisol are pretty much the same thing except that Brisa is fizzy and Brisol is non-fizzy. Both of them come in a variety of flavors, including passion fruit, orange, lemon, and apple. There are even coca cola versions of Brisa if you want to try a local version of the world-famous drink, as well as a tonic water version. If you want to try either Brisa or Brisol, it is easy to find in every shop, supermarket, and restaurant.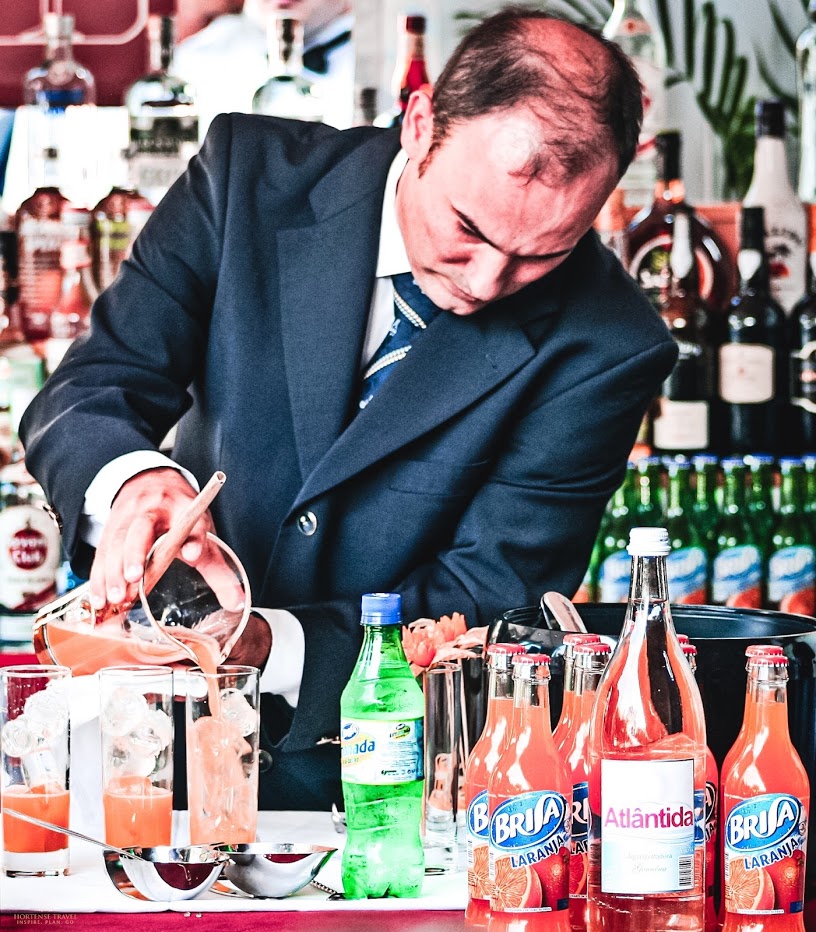 12. Coral Beer
Forget international imports, when in Madeira you should definitely try the locally-brewed beer Coral. Often served in a ballooned glass, the beer is brewed using high-quality malts of Czech origin before being fermented and ripened at low temperatures. Pale and golden in color, the taste is rather light and aromatic, and also smells pretty good too. The percentage of Coral is slightly stronger than it tastes – 5.3% – so just be careful if you are a lightweight!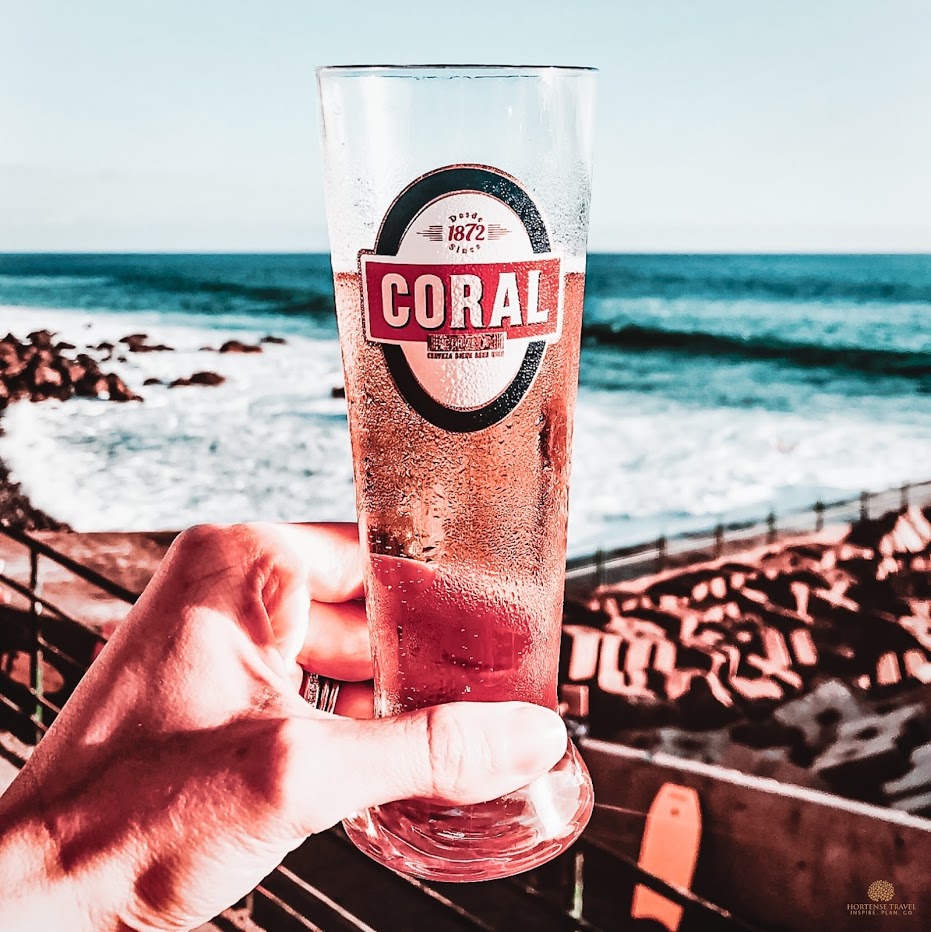 13. Aguardente de Cana

As you may have noticed on this list, sugar cane rum is a popular ingredient in Madeira drinks, but you can also drink it on its own. Madeira's sugar cane mills date back quite far and are where Aguardente de Cana is made. Produced through alcoholic fermentation and distillation of sugar cane juice, Aguardente de Cana is characterized by its distinctive aroma and flavor. If you are interested in the production of this fine Madeira product, consider heading to the factory in Calheta, which allows visitors to view the equipment and machinery used in the production of the rum. The factory only produces Aguardente de Cana once a year – usually just after Easter week – and the produce is considered to be some of the highest quality on the island. The factory can be visited at any time of year, and there is also a tasting room and a cellar bar to enjoy.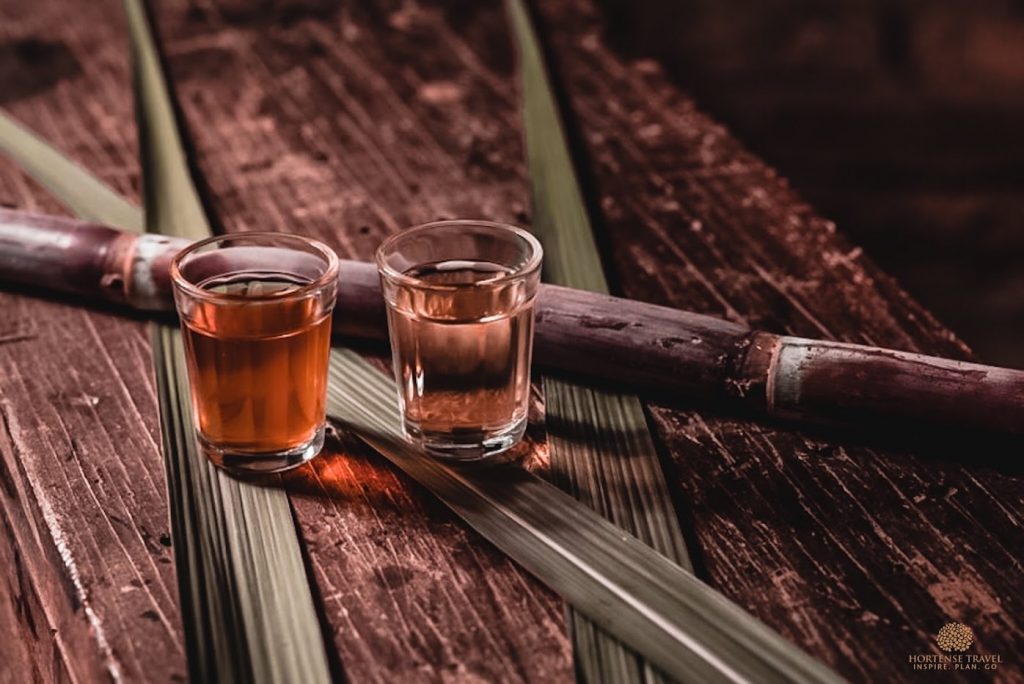 As you can see, Madeira has a wide variety of drinks that you can try and enjoy while on your holiday here. Having a delicious Madeira drink after hiking the island is quite a treat! Whether you are looking to try something fruity and soft to quench your thirst on the many hot days Madeira has every year or want something alcoholic to pair with your evening meal or while away a pleasant evening in one of the many bars on the island, you can be sure that you will find a drink exactly to your liking here.  
Visiting Portugal soon? Check these out: