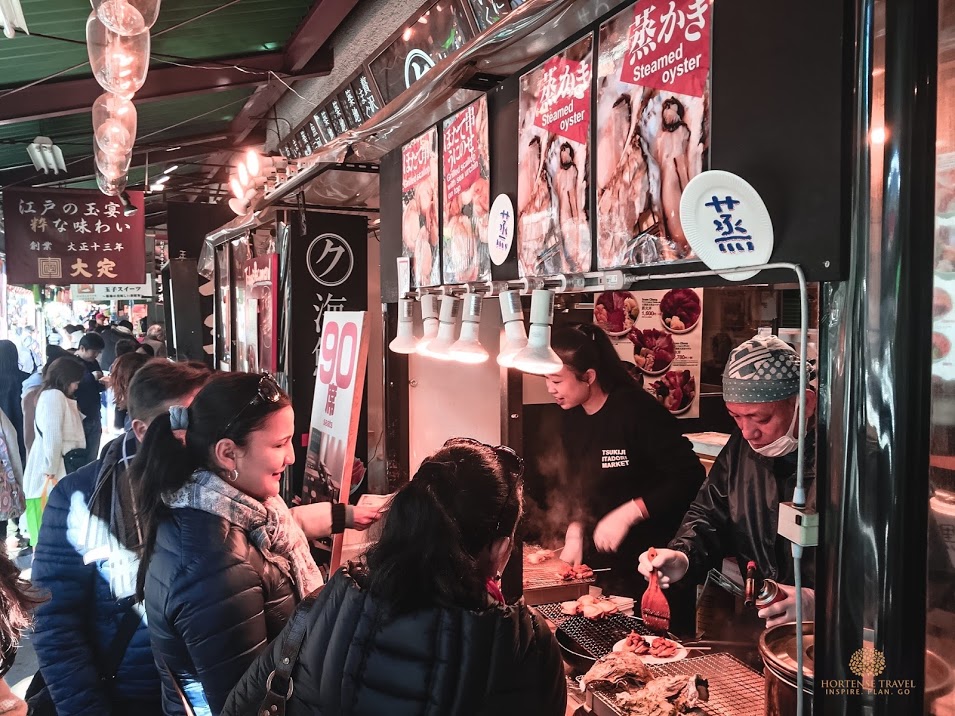 I'm pretty sure every Tokyo guidebook has Tsukiji Fish Market penciled into the "top sights" chapter – after all, it was one of the largest wholesale fish markets in the entire world. It was also the site of the insanely competitive tuna auctions held before dawn (we're talking millions of yen shelled out at 2 AM), huge slabs of fish bartered over by restaurant owners.
With the moving of the famous Inner Market to its own plot in the newer, modern Toyosu Fish Market, visitors have started to ask whether Tsukiji is still worth visiting. In my honest opinion? Yes.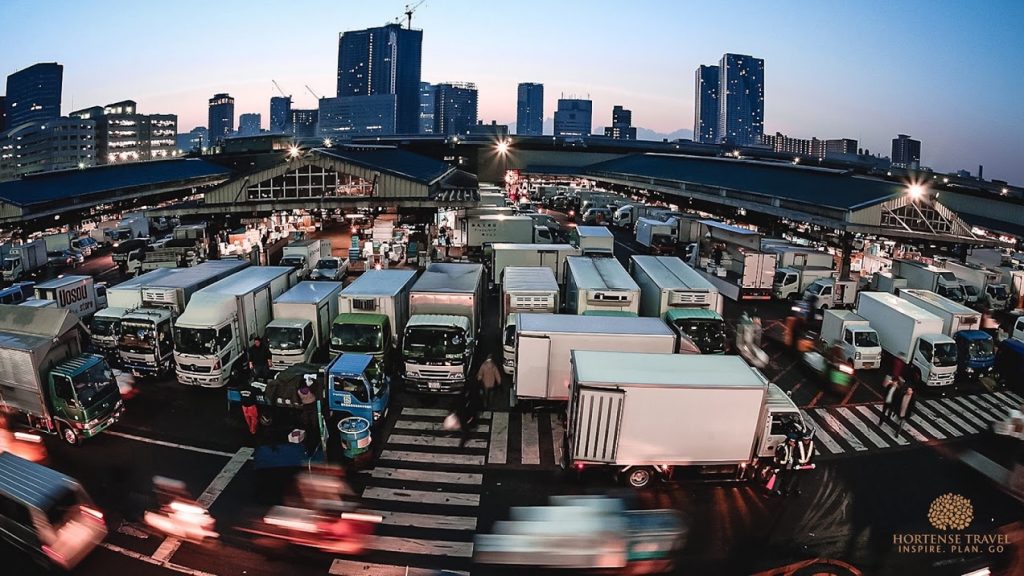 While narrow alleys and soaking wet grounds of the Inner Market are no longer accessible, the bustling cluster of the Outer Market still remains a huge draw for anyone interested in sushi, seafood or cooking. History is rooted in the 300 plus shops of the outer edges, the humble stalls, clamoring vendors and constant bustle a key piece of the Tokyo puzzle.
Unlike the inner wholesale shops, the Outer Market is completely open to public access. It is comprised solely of restaurants, shops, and customer-serving stalls; it remains a lively market for fresh produce and cooked goods. Long established relations between the producers and sellers mean Toyosu's goods are brought over to the old market. You are guaranteed to experience the same cacophony of voices selling fresh sashimi and shellfish, kitchenware, dried seaweed, and other culinary goodies.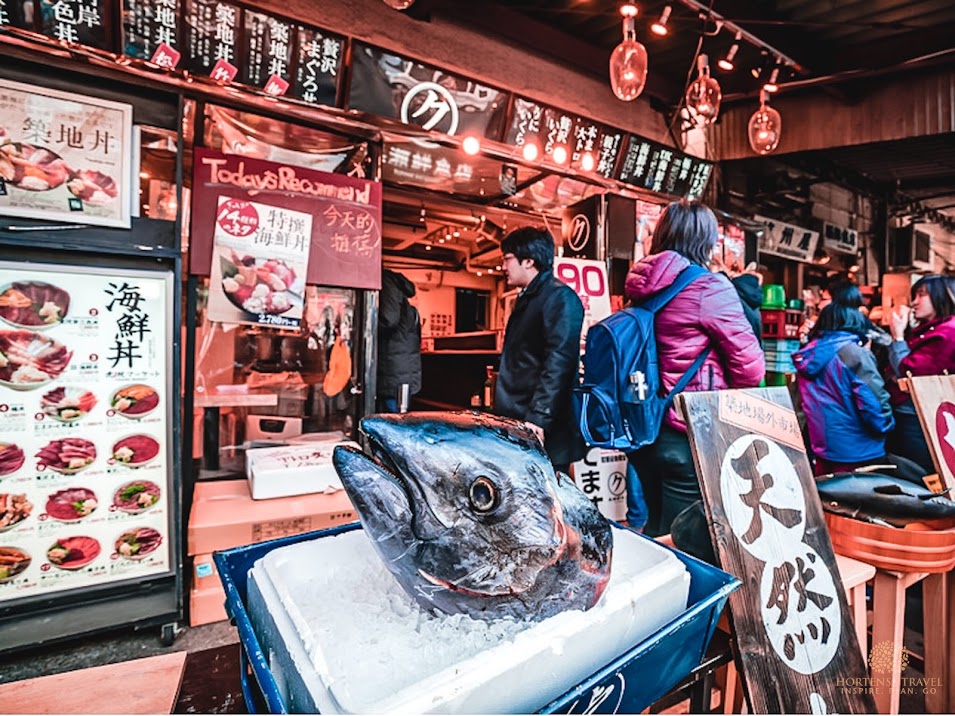 Brief History
The Great Kanto Earthquake of 1923 destroyed much of Tokyo's developed grounds, including an earlier market in Nihonbashi. Tsujiki Fish Market built on the former site in 1935 as a replacement, soon becoming an indispensable part of Tokyo's seafood industry. It gained traction as the hosting grounds of hundreds of wholesale operators, but its popularity was earned via the daily tuna auction – giant Bluefin tuna sold for millions of yen per piece. The auction has become something of a tradition as restaurant owners compete every New Year's Day to see who breaks record for the first tuna price.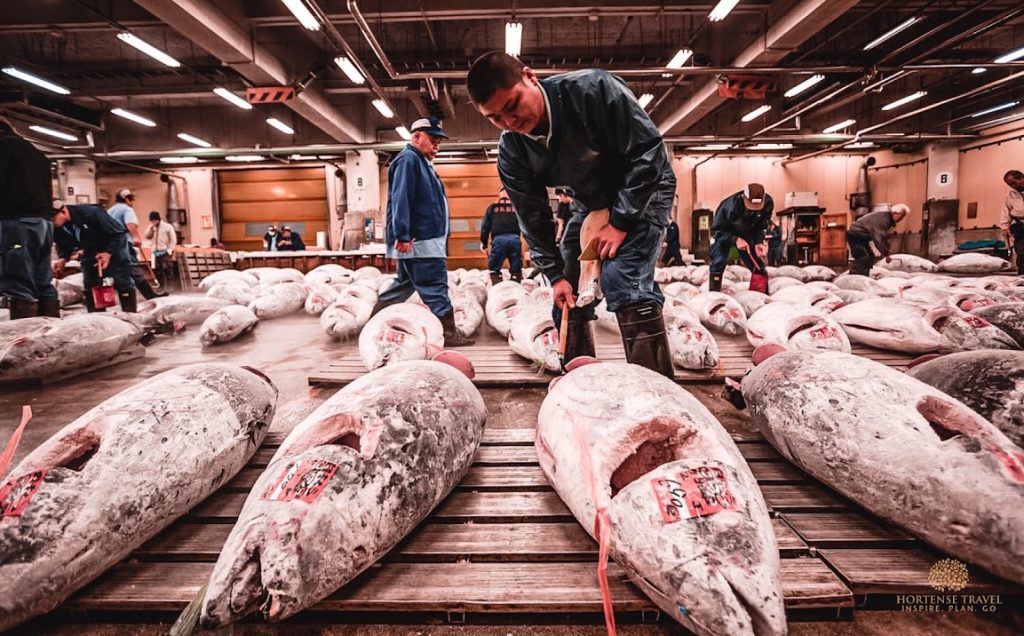 Tourists have since suffered through early morning alarms (or perhaps not slept at all) to attend the 2 AM auction session. While it's probably a continued tradition at the Toyosu Market, it's a far cry from the original experience, one backed by the din of restaurants opening for their earliest customers.
Making your way to Tsukiji Fish Market
Since the market runs from 5 AM to just past 2 PM, I decided to head over earlier for breakfast and lunch. I heard that there were numerous stalls for quick bites.
You can reach Tsukiji Fish Market by walking from either Tsukiji Shijo Station (Oedo Subway Line) or Tsukiji Station (Hibiya Subway Line). JR Shimbashi is a 20-minute walk away; it's pleasant enough when the weather is cool.
I got off at Tsukiji Station as Exit 1 will bring me directly to the entrance of the market. I passed by Tsukiji Hongan-ji Temple on my left, following the signs that brought me straight to the Outer Market. If in doubt, follow the crowds!
The entrance of the Outer Market isn't the most obvious. It is right by the zebra crossing and on the right of the Lawson and Jonathan's building. The sign itself is white with a bright red icon in the middle and printed kanji below it.
Keep in mind that it might not look like the markets you're used to. Japan favors covered outdoor shopping arcades; the entrance of Tsukiji is similarly marked by an extended cover. The streets are also narrow and clustered.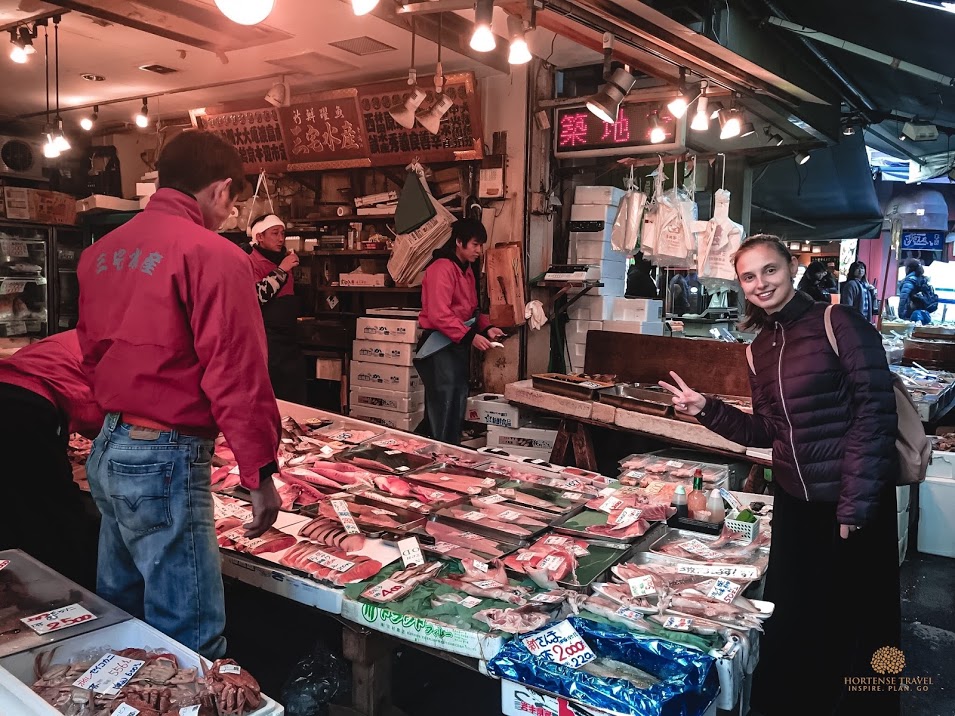 Finding the best eateries
There is no best way to explore! Tsukiji has a reputation of offering only the freshest and finely honed seafood cuisine – whichever eatery you choose, the food will still be delicious. The Outer Market is rife with choices, ranging from casual cafés to sushi stalls, restaurants that serve sashimi rice bowls only and eateries that have a bit of everything else. There are also stalls that sell dried foods, processed foods and bite-sized things to nibble on.
Of course, you can expect the usual tourist lines that make you wait 2-3 hours for the "best" sushi prescribed in guidebooks, but you don't have to be picky to love your meal. A cheap way to taste test is to visit different stores and try out various fresh sashimi, maybe grab a bento box to fill you up properly. There's a sit-down area on the third floor of the Outer Market's western building.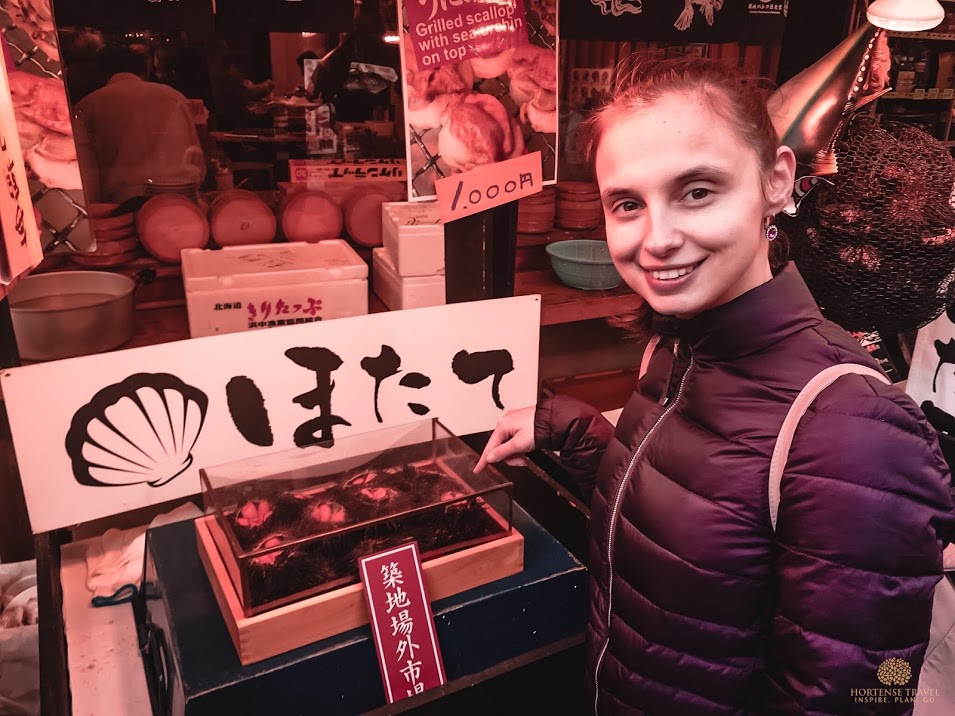 Visiting the current place
From the moment I stepped past the entrance sign, I was drawn into the stream of people making their way past small sushi stores. I passed by numerous eateries on the left while the right side of the walkway was teeming with open boxes and owners checking on their deliveries. Colorful pictures were stuck on the outside beams and surfaces of these eateries, showcasing what they have to sell. This sure makes it easy for international visitors to point and order.
Not long after, you can turn down a side street or keep going to find bigger stores selling dried and processed foods alongside fruits and other meats. Turning down the side street will take you into the heart of the Outer Market.
There's so much to see!
Countless stores have opened up the front to display fresh seafood in Styrofoam boxes, front eaves extended to avoid weather contamination. There are restaurants with huge fish models as signposts, and other smaller vendors with grills out and skewers ready to eat. It only gets more crowded the further you wade in as the sheer amount of produce means they inevitably take over the walking space.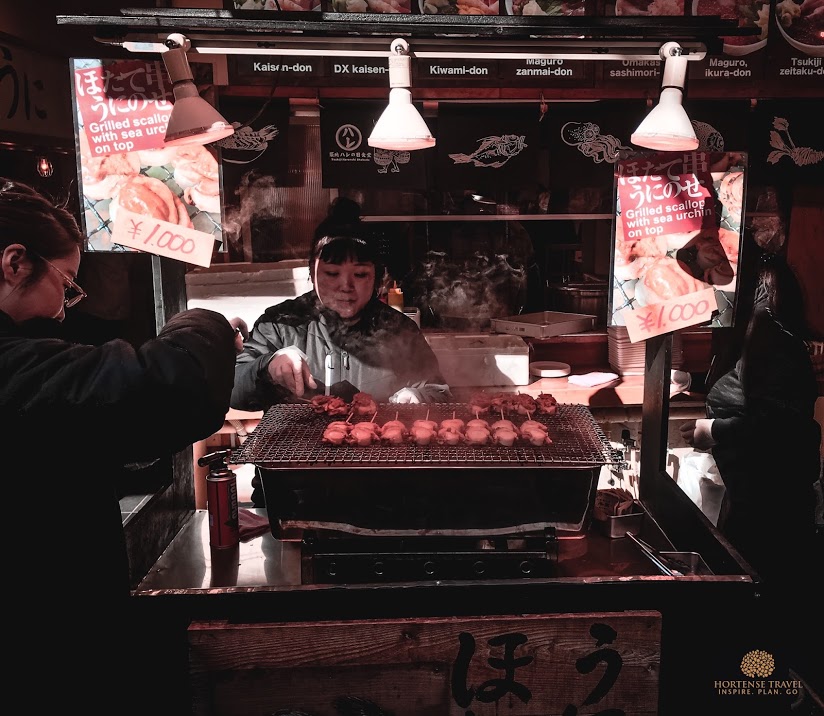 I took my time wandering past these neatly laid out products, trying to figure out what to eat first. Should I go with some fresh buy-to-go sashimi slices first? Or should I just sit down and enjoy well-prepped sushi? There were also countless restaurants advertising the seemingly inexhaustible range of sashimi rice bowls. The smells of grilled seafood caught my attention too – and they make for great pictures.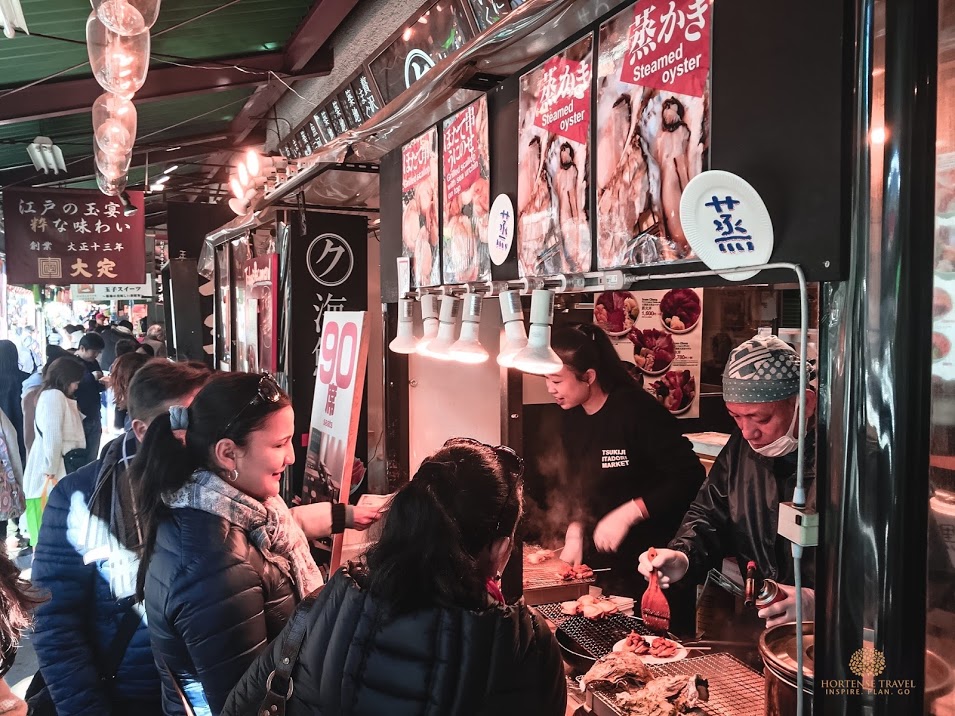 I recommend you take your time exploring the various shops instead of jumping headfirst into the first thing that catches your eye. There are more restaurant options in the quieter back area where you can sit and eat slowly as opposed to rush-rush time limit upfront. That said, rush eating is a legitimate experience of its own!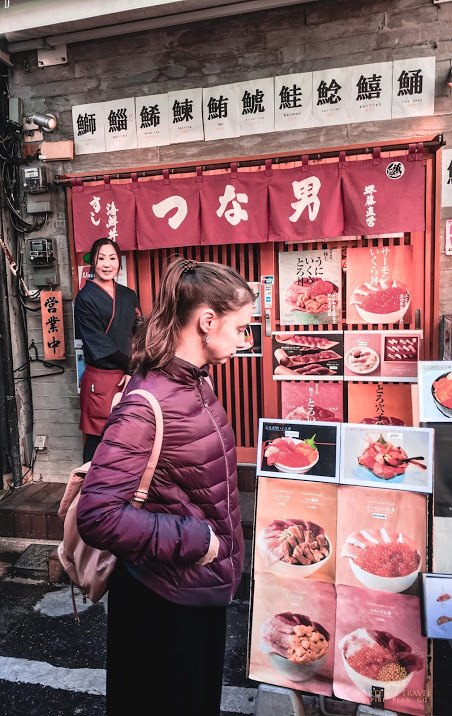 Here are a few eateries that caught my eye (even if I didn't get to try all of them):
It didn't have any fancy signs or colorful pictures but the neat row of barstools along the tiny counter sure suggested a unique dining experience.
Another small and humble eatery, Kagura Sushi serves both sashimi bowls and plated sushi dishes. A quick in-and-out meal so you can try more foods.
 

Tsukiji Itadori Unitora Kurau
Sea urchin is not easy to prep and cook, so if you find a restaurant that specializes in it, you should grab the opportunity and not let go. Tsukiji Itadori Unitora Kurau serves generous sea urchin rice bowls, with a side of soup and bite-sized tofu to balance out its intense flavor.
You know how I mentioned those tiny shops with a mass of food pics? Tsukiji Kanno has a limited amount of seats and an unlimited amount of sashimi bowls to choose from. It is exactly the delicious, moderately priced and quick meal that Tsukiji is known for.
 

Tsukiji Itadori Minamiten
Looking for something more clean-cut, upscale and quiet? This restaurant is a chain that serves up prettily arranged rice bowls, sushi platters and all the seafood you can think of.
 

Unagi Haibara Tsukiji Nigoten
Don't pass up the chance for a good grilled eel bowl – it's one of the best cuisines Japan has to offer. You can take your pick of grilled eel at a regular or large portion.
If you're a fan of oysters, drop by Kakigoya Tsukiji Shokudo for fresh shellfish!
Eating at Tsukiji is by no means cheap – although bentos and takeaway sushi can be found for a few hundred yen – but that is only to be expected. Sashimi rice bowls start from ¥1000 up, with well-established restaurants charging an average of ¥2,300 for a standard bowl. It's very much worth the price however; not only are the portions generous and filling, but these specialty shops are often passed down through generations to ensure top-tier preparation. Much of the price hinges on the ingredients too, which you can bet are the freshest in town.
I also loved simply looking at the range of foods on sale. Some shops had dried seaweed hanging from the rafters and other bags of processed foods that I considered bringing home as a souvenir. There was a surprising amount of dried and pickled foods – not just seaweed but other sea plants and fish related products like dried fish shavings. Do keep in mind that every country has its own list of banned items; you might not be able to bring some home.
It was fun watching other people do their shopping as well. If you manage to reach where the raw fish and produce stalls are, you'll find a lot of locals doing their weekly haul. It is a glimpse of local living you otherwise wouldn't see.
If you have further plans in the afternoon, consider buying a takeaway bag of sushi to munch on at a nearby park or garden. It is an interesting experience eating out on the streets of the market as you slurp up fresh sashimi slices or try not to burn your mouth on grilled shellfish, but there's some pleasant about savoring it in a quiet space too.
Tips to help you navigate the market
Restaurants have limited seats. Keep in mind that many of the shops have limited seating, so don't drag out your meals. I recommend eating earlier or staggering meal times to avoid long lines.
Don't split meals. It might be tempting to split meals if you're hoping to taste test every place possible, but it's considered rude during busy hours. If you see lines forming and the chef is preparing the food right in front of you, show your appreciation by ordering a dish for every person.
Avoid bringing luggage. Baggage and strollers are inconvenient as the streets are narrow and crowds are the norm. Stick to a backpack or decently-sized hand carry if you must. There are coin lockers for rent near the information center but they are limited in number and size.
Wear practical footwear. The ground is often wet from the ice that keeps the fish fresh. Avoid wearing heels or sandals to keep your feet safe (and clean!), as there are many bikes and carts weaving in and out.
Bring cash. Cash is the most convenient method of payment especially if you're set on street food. Keep your credit card as a backup, but each shop has its own policy. There aren't many money exchange counters around either, so prepare Japanese yen prior to your visit.
Consider hiring a tour guide. It's definitely enjoyable exploring Tsukiji Fish Market on your own, but it can be overwhelming with the countless food choices too. Consider finding a local tour guide to give your exploration a bit more structure and to learn more about Tsukiji's background. They might even sign you up for a sushi-making workshop!
Like all attractions, it's all about what you want to get out of it. Some see Tsukiji Fish Market as a unique cultural experience (auction viewing included) whereas others are there solely for the food. Whether you got for non-stop small bites or prefer a sit-down meal – the choice is there! People sometimes get put off by it being a major tourist destination, but some things are clichéd for a reason and that's because many people see value in it. If you have any more questions about Tsukiji or want to see exactly what they have on offer, check out their official website for more details.
To sum up my Tsukiji Fish Market experience: it was exhausting but fruitful.
Visiting Japan soon? Check this out: