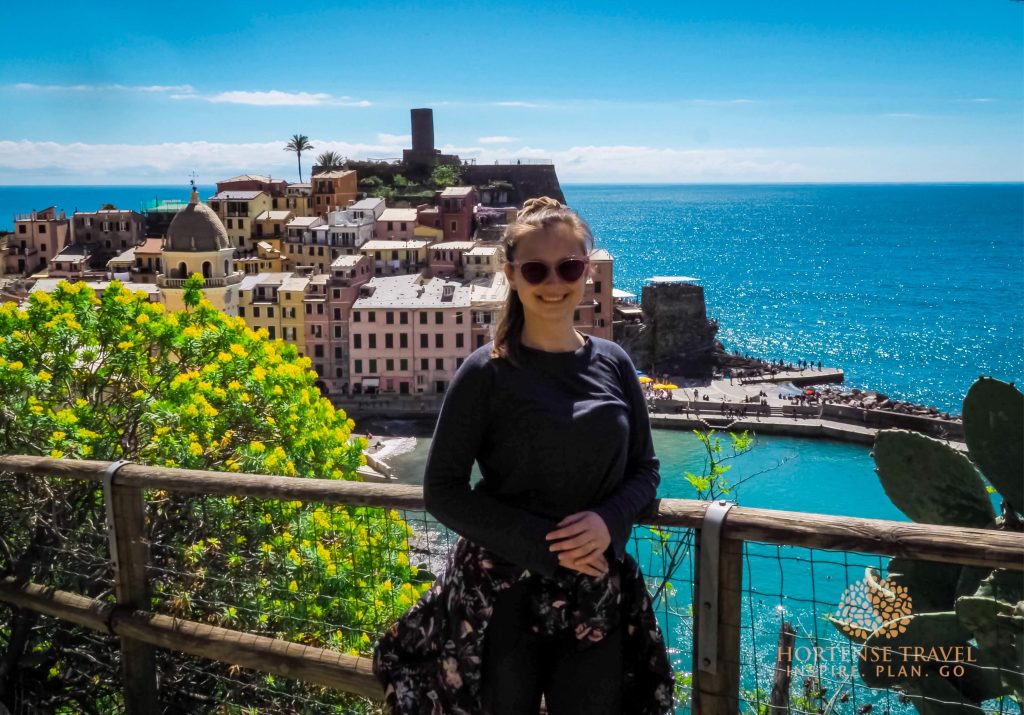 Once one of Italy's hidden areas, Cinque Terre has been opened up by tourism over the last few decades and is now one of the most popular regions in the whole country. But it remains the perfect place to visit if you want to have a real Italian experience.
Here you will find dozens of hiking opportunities, plenty of historical treasures to discover, exquisite food that can be washed down with delicious Limoncello, and that is not even considering that the whole area is one of the prettiest places you will ever visit. If you are planning a trip to Cinque Terre, or have never even heard of the area and are now intrigued, check out this Cinque Terre Travel guide to what to see and do when on vacation there.
Cinque Terre Travel Guide
What is Cinque Terre?

Located in the north-west of Italy within the region of Liguria, Cinque Terre translates as 'Five Lands' and is in reference to the five coastal villages which make up the area. All of the villages are listed on the UNESCO World Heritage List due to their outstanding beauty and are considered to be the highlight of the Italian Riviera. All five are characterized by colorful houses, harbors filled with fishing boats, vineyards clinging to the cliffs which rise out of the sea, and restaurants serving fresh seafood and the region's specialty, pesto, although each of the villages has its own distinct personality.
The Five Cinque Terre Towns
Riomaggiore

A small fishermen's village, Riomaggiore has a lovely harbor and is noted for its fantastic restaurants and for having the best nightlife of all the villages. It is the first stop on the way from the nearest city of La Spezia and, because of this, it tends to get pretty busy during the day, especially during peak season. 
Manarola

While all of the Cinque Terre villages are incredibly picturesque, Manarola is probably the most photographed of all of them. It has remained a bustling fishing village for many centuries but is equally well-known for its production of Sciacchetra, the Cinque Terre dessert wine. It also has some of the most wonderful hikes and views. It is worth coming here for sunset as the view of the sun going down over the pastel-colored houses is one of the best sights in the whole area.
Corniglia

Corniglia may have a lack of direct access to the sea, but this certainly does not make it any less attractive as a Cinque Terre destination. What may put you is the climb to reach the village; Corniglia is located 100 metres above sea level and the only means of getting there is either by climbing over 350 steps or taking the unreliable shuttle bus. Those that do make the climb, however, are rewarded with magnificent views and a magical traditional village atmosphere. It is also the only place where, given its high vantage point, you can photograph all the villages at once.
Vernazza

Often called the pearl of Cinque Terre, Vernazza is considered to be one of the most beautiful villages in Italy, never mind just the area. Historically, Vernazza was the most economically successful of the villages due to its natural harbor, and this wealth still shows in its architecture. A horrific flood in 2011 wiped out the bottom level of the town, but it has since been lovingly restored to its former glory and the village also gained a rocky beach.
Monterosso al Mare

The largest of the five and known for its beautiful beaches, Monterosso al Mare is the best place to stay if you are looking to incorporate beach time as part of your trip as they are larger here than in the other villages. As well as the lovely stretch of sand, the sea is really calm here, making it a great place to go swimming. The village is also known for its lemon trees and the exquisite fresh anchovies which can be served right off the boat.

Things to See and Do in Cinque Terre
Hiking

There are dozens of hiking and walking trails throughout Cinque Terre; after all, for many centuries walking was the only means of transport between the villages and the only connection to the outside world. There are currently around 100 kilometers of hiking trails which will take you through vineyards, forests, olive groves, and tiny villages, mostly all within the presence of the sparkling sea.
A particularly popular hike is the one from Monterosso al Mare to Vernazza. Offering spectacular coastal scenery, the trail is about three kilometers long and takes around two hours to hike. It's accessible most of the year and reveals amazing views to both villages and the azure blue sea.
There is also a forested hike from Vernazza to Corniglia, taking around 90 minutes to walk four kilometers. You can also try the trail between Riomaggiore and Manarola, which takes about an hour.
While hiking is indeed one of the best things to do in Cinque Terre, it is highly advisable that you check the trail you want to hike with a local tourist office before you set off. The area is prone to rock- and landslides, meaning that some of the trails can be closed, sometimes for a significant amount of time.
Biking

Hiking is, of course, the main reason why most people head to Cinque Terre, and there are certainly fewer biking trails in comparison with hiking ones, but fans of biking can definitely find places to set out on two wheels. Monterosso al Mare is the best place to cycle around; this village is the flattest of the five and even the locals use their bikes to get around. If you enjoy more strenuous biking, you could use the car road above the Cinque Terre villages, and there are also some trails within the national park.

Swimming

As was mentioned previously, Monterosso al Mare has the largest beaches in Cinque Terre, so if you are looking for a place where you have plenty of space to chill out in between swimming in the sea, this is the place to go. However, swimming can be done pretty much everywhere off the coast of Cinque Terre.
Manarola does not have any real beaches, but it does have a natural swimming pool just off the main road going down towards the sea. It is a popular area and in the height of summer, you will no doubt see plenty of people sunbathing on the rocks and splashing about in the pool.
Water Sports

Aside from swimming, there are lots of other water sports for you to participate in. Kayaking, sailing, diving and snorkeling are all possible here. There is a particularly excellent diving center in Riomaggiore which can also rent you snorkeling equipment. Boat tours regularly run from Manarola, and kayak tours usually leave from Monterosso al Mare. If you enjoy fishing, this is possible from Vernazza.
Pesto-Making Classes

Pesto is a regional classic here and you can now even try your hand at making your own when on a trip to Cinque Terre. Taking place at the restaurant Nessun Dorma in Manarola, you will get to pick the basil leaves for the sauce yourself before preparing the ingredients in a Carrara marble mortar as well as hear stories about the history of pesto. Lunch and a wine tasting are also included in the price.
Sightseeing

Cinque Terre is not just about beautiful scenery, fun activities and great food. There are also a number of interesting historical sights to see. One of the most popular of these is Doria Castle in Vernazza. Constructed in the 12th century, it was the home of a Genoan noble family and is still an important building in the village. If you climb the Belforte tower, you will get amazing views of the harbor.
There is also a castle in Riomaggiore, which is intriguing because not much is known about it. What is known is that it was built in the latter part of the 13th century for defensive purposes; if the town was attacked, the villagers would hide within its walls. During the 19th century, the castle was used as a cemetery. It is now used for ceremonial events such as weddings and cultural events, but it is still possible to climb up there and enjoy the lovely views.
If you are a fan of religious architecture, Cinque Terre will not disappoint. There are a number of churches here which are absolutely delightful to see. These include the Church of San Giovanni Battista in Riomaggiore; the Church of San Lorenzo in Manarola; the Church of San Pietro in Corniglia; the Church of Santa Margarita d'Antiochia in Vernazza; and the Convent of Cappuccini and Church of San Francesco in Monterosso al Mare. There are also a few oratories – small chapels next to the churches, in some cases built to commemorate the victims of a plague – dotted around the area.
There are also various museums in Cinque Terre which are definitely worthy of visiting, but they are, unfortunately, all closed at the moment. As with the hiking trails, check with the local tourism offices to see if they have reopened when you visit.
Festivals

Depending on the time of year you visit Cinque Terre, there are a number of festivals and events which take place throughout the year. One of the highlights is a pirate attack in Vernazza in August which celebrates how the village successfully defended itself against Saracens during the Middle Ages. Other popular events and festivals include the Manarola nativity scene during the Christmas and New Year period, the anniversary of the liberation of Italy at the end of World War II in April, and Monterosso al Mare Lemon Festival in May.
When to Go to Cinque Terre

Like with many destinations in Italy, the shoulder seasons are the perfect time to visit Cinque Terre. In the autumn months of September and October, most of the tourists will have already departed and the weather will not be as fierce, giving you plenty more space on the trails and the climate being better for hiking. Spring is also a nice time to visit. Just be aware that during spring and autumn there is a chance of showers.
While there may be certain disadvantages to traveling to Cinque Terre in winter, such as cold weather and amenity closures, if you manage to hit on the sunny days, it can be a delightful time to visit. You will also find that accommodation is much cheaper during this time.
Summer is, of course, when many people like to take their holiday, and this time of year is certainly when most people head to Cinque Terre. Just bear in mind that the weather can become unbearably hot during this time, plus there will be many people around, so the likelihood of you finding some of the trails to yourself will be pretty much impossible.
How to Get to Cinque Terre

La Spezia is the closest city to Cinque Terre and is the place where you will most likely need to change trains in order to get to the area. La Spezia is connected to many major cities in Italy, including Florence, Venice and Milan, although in certain cases you may need to switch trains on route. So wherever you are coming from, you will need first need to get to La Spezia and then continue your journey onto Cinque Terre.
Once you get to La Spezia, you can take the train to the villages in the Cinque Terre. It is a ten-minute ride to Riomaggiore, then about a five-minute ride to each of the villages after that. They run fairly regularly during the day, but occasionally there may be a train which does not stop at every single station, so make sure to double-check the timetable before you hop on the train.
How to Get Around Cinque Terre

Obviously when you are hiking, you are going to be getting around the area on foot. The train is also a great option. As was mentioned previously, there are train stations in each of the villages, which are further linked to the main transport hub and city of La Spezia. Tickets between the stations are cheap, but if you are going to be using the train a lot you may want to consider buying a Cinque Terre Card. As well as giving you free transportation on the trains, you also get use of the ecological park buses, access to all the trekking paths, and WiFi internet connection. The prices are as follows:
Low season:
1-day: €13 for adults, €7.30 for children aged two to 12 years old.
2-day: €23 for adults.
High season:
1-day: €16 for adults, €10 for children aged two to 12 years old.
2-day: €29 for adults.
3-day: €41 for adults.
If you are traveling as a family, there are also family tickets available. You can buy these cards from any Cinque Terre train station or there is now the option to buy them online.
Due to its designation as a UNESCO Site, access to Cinque Terre by car is extremely limited, so this is not a great option for getting around.
Bonus Village: Cervo
While the beautiful village of Cervo is not a part of the Cinque Terre  I wanted to include it as a kind of an alternative to the unfortunately sometimes crowded villages. I really wanted to visit someplace peaceful but beautiful. Cervo seemed to fit in the description. We arrived around 2PM but luckily found a restaurant open. There were two Italian ladies who took an interest in us and asked us where we were from and what we were doing in Cervo. All this in Italian. And we responded in Portuguese but it was fun.
Not unlike the Cinque Terre villages, Cervo's charm is in its beautiful views to the azure sea, colorful streets and picturesque church.
While you may read in many blogs or magazines that Cinque Terre is a great day trip from some of the more famous destinations in Italy, as you can see from this article, there is plenty in the area to keep you occupied for days. You can be sure that whenever you visit Cinque Terre, you are in for a wonderful holiday.  
And this was my ultimate Cinque Terre Travel Guide. I didn't want to overload you with information, I think you have enough, now you just need to take the leap and visit. If you still need help or coordinating Cinque Terre with the rest of your Italy itinerary, just let me know.