You desire an incredible journey to Portugal
but you don't know where to start.
You want something really special and fabulous, that connects you to the unique charm of the country at the same time. I'll create for you a personalized itinerary that acknowledges You and your travel style. Your Portugal travel dreams will turn into an amazing, uncomplicated trip.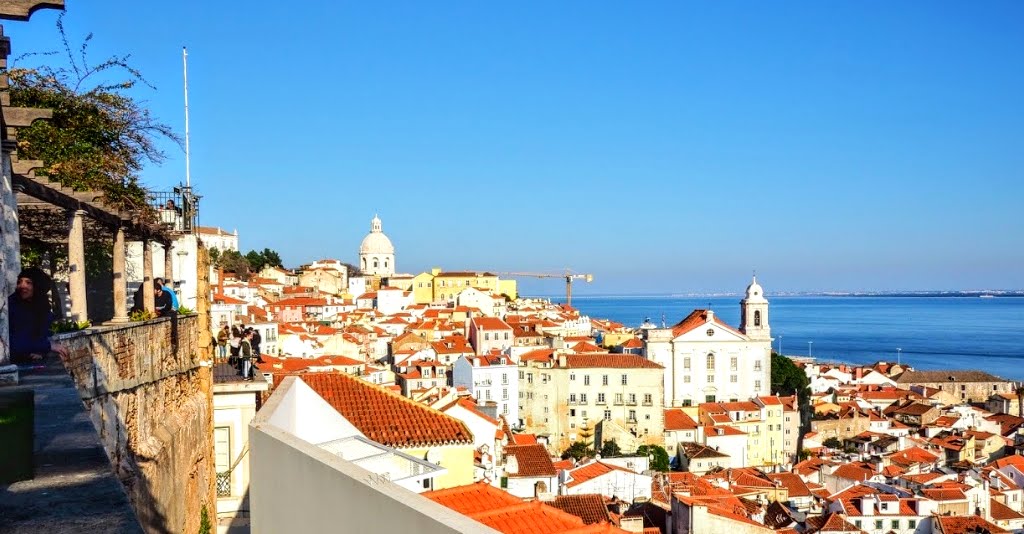 The itineraries I create do have something in common though

100% Tailor-made

– no two travelers are alike, why should yours be the same as someone else's?

Save you tons of time

– your most valuable resource. Let me make your vacation my priority, it'll be yours once you're there. In the meanwhile use your time for something else, live now, not in the future.

Cut through the confusion and overwhelm

– Sometimes it looks like there is so much to do and you're confused how to fit it all in in only one trip!

Reduce legwork by 99%

– you want your experience to be unmatched, but don't want to do the tedious research yourself. I'll handle the details, you'll only need to pack your bags.

Offer you a different perspective

– the one you value the most. Whether you'd like a more local approach, instagrammable locations, off the beaten path experiences, adventures, food, beautiful accommodations, it's up to you. Everything I create is with you in mind, it respects your nature and the way you want to travel

Itinerary done by a local and a professional

– I've lived in Portugal since 2012, have visited a lot and I'm still visiting. I've been studying and working in the travel filed since 2009. So you're in good hands.
You have a special occasion
Whether
it's your honeymoon, bachelorette party, anniversary trip or the surfing vacation of the year, there's nothing I can't help you with within Portugal.
How to know if we're a good match

You want the most fabulous trip to Portugal

You appreciate the small details and special touches

You're not looking for the lowest price, but rather for the best experience
Here's how to work with me

Step 0
Contact me here to tell me more about your trip to see if we're a good match. If you prefer a call, let me know.
Step 1
Book the service. Payments are done via PayPal.
Step 2
Fill in a quick Questionnaire to help me determine your preferences
Step 3
1-hour Skype Consulting, optional, the consultations can be done via email only. We can also have more than one calls if necessary or if easier for you.
Step 4
I send you 3 itinerary outlines that are within your budget and make sense for you
Step 5
You choose the most suitable itinerary for you and let me know if you'd like a:
Fully managed option
– everything will be booked for you. This is the best option if you're very short on time and want everything to go as smoothly as possible.
Self-managed option
– I'll send you the individual supplier details so you can book everything you'd like. For the traveler that wants to be somehow involved and has the time to do so. Also if you're unsure that you want tours now or not and prefer to decide on the spot.
Mixed option
– I'll book some parts and you others, depending on your preferences.
You can decide later don't worry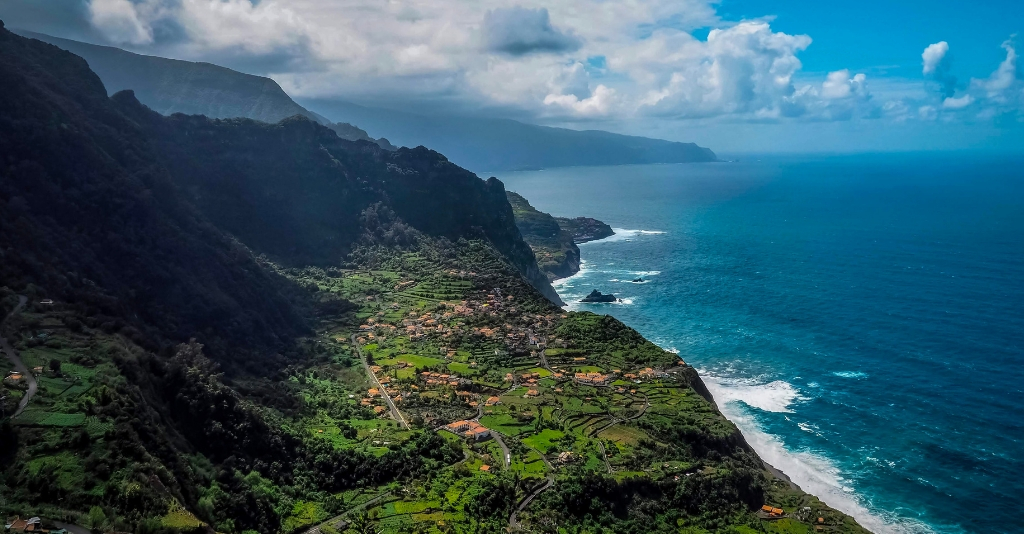 Here's what's included in the Portugal Trip Planning service

A 1-hour call to determine your travel style and preferences, optional, email only is fine

100% personalized trip planning

Booking of all your Portugal trip components, if you choose this option

Highly detailed Itinerary delivered as a printable pdf and a phone-friendly app. I don't provide a printed version, due to ecological concerns.

I'll be your local contact, so you'll never feel lost

…and more!
Testimonials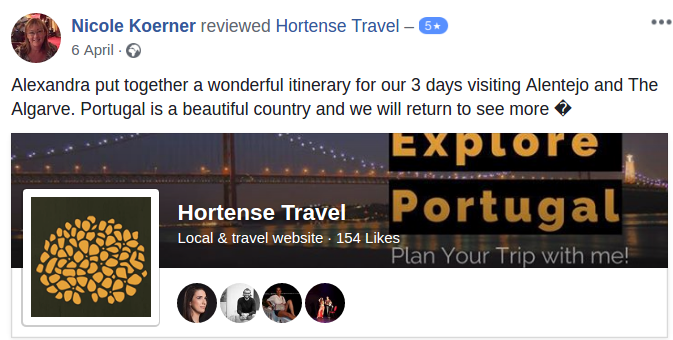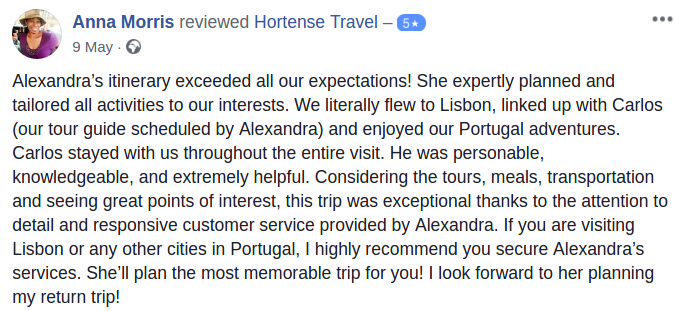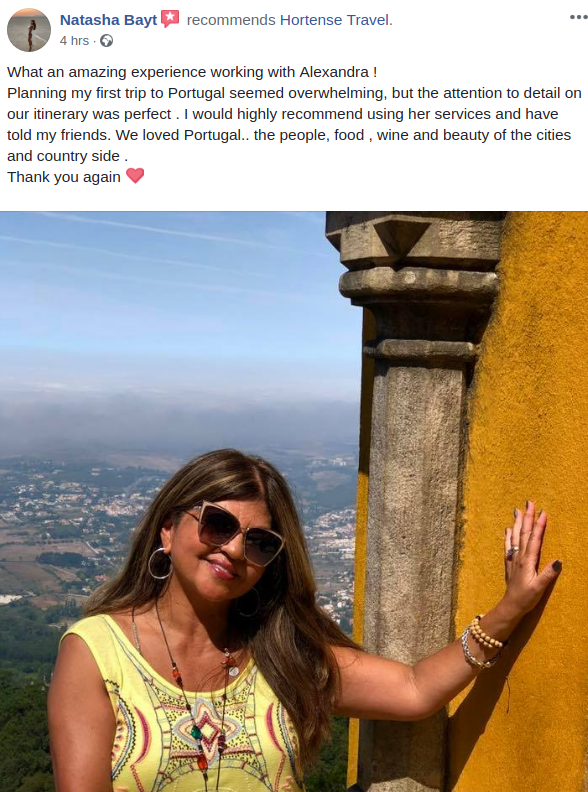 ---
 Fees
19$/ day – daily itinerary, if you have already booked accommodation
29$/ day – your Portugal Trip from scratch
75$ – one-time consulting fee to clear your mind. Ideal for last minute inquiries, too
Min planning fee –  equal of 5 travel days
Max planning fee – up to 500$ for the whole trip
Are your rates refundable?
I'll do all the work and changes necessary so that you are completely happy with your itinerary. If there's anything that's bothering you, please let me know so I can improve it. However, I don't offer a refund for work already done. Any other concerns will be accessed on an individual basis.