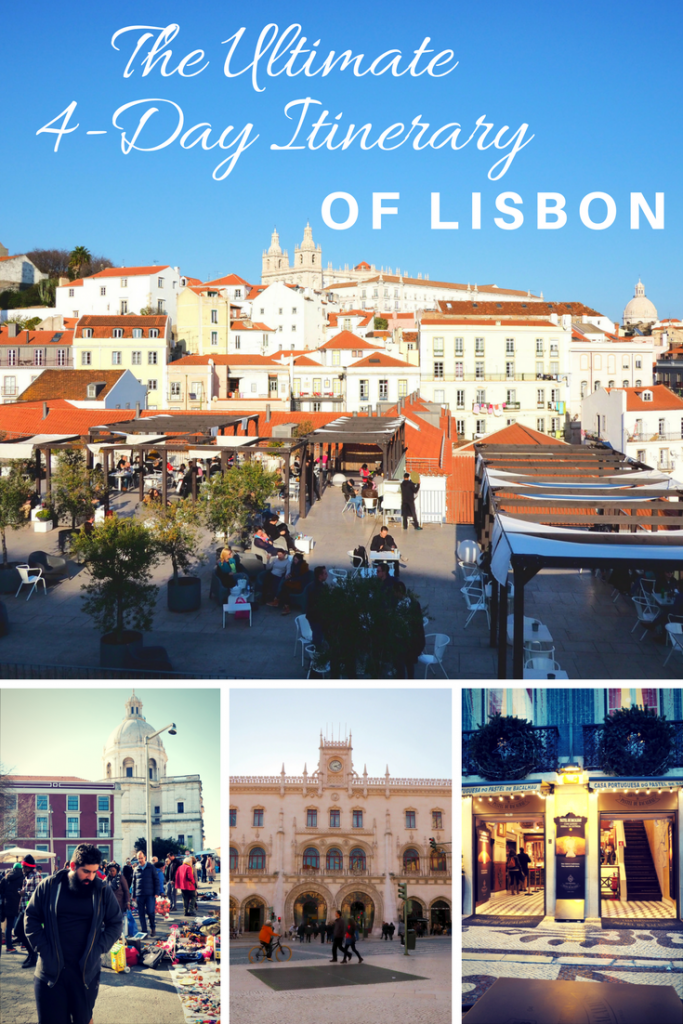 The first time I visited Lisbon back in 2012 I had a private guide – my husband Bruno, who was born and raised there. We had about 10 days to explore the city, I remember, and even so I didn't feel I dived into the deep, there was just so much more left to see. Don't get discouraged tough, I've prepared for you a 4-day itinerary of Lisbon featuring my favourite places to visit just over the weekend without having to bustle around like a crazy tourist.
For the sake of the article I'll assume that you've booked 3 nights at a hotel or apartment, arrive in the early afternoon and leave in the afternoon as well.
Day 1 – afternoon
Baixa, Chiado and Praça do Comércio
Time to unwind a little after the flight. From Praça Luís de Camões have a leisure stroll in direction of Parça do Comercio. On the way you'll visit the old streets of Lisbon, Praça Dom Pedro IV and check also Rossio train station. Its impressive facade dates back from 1890. You'll see a lot of cafes, small and big shops, restaurants.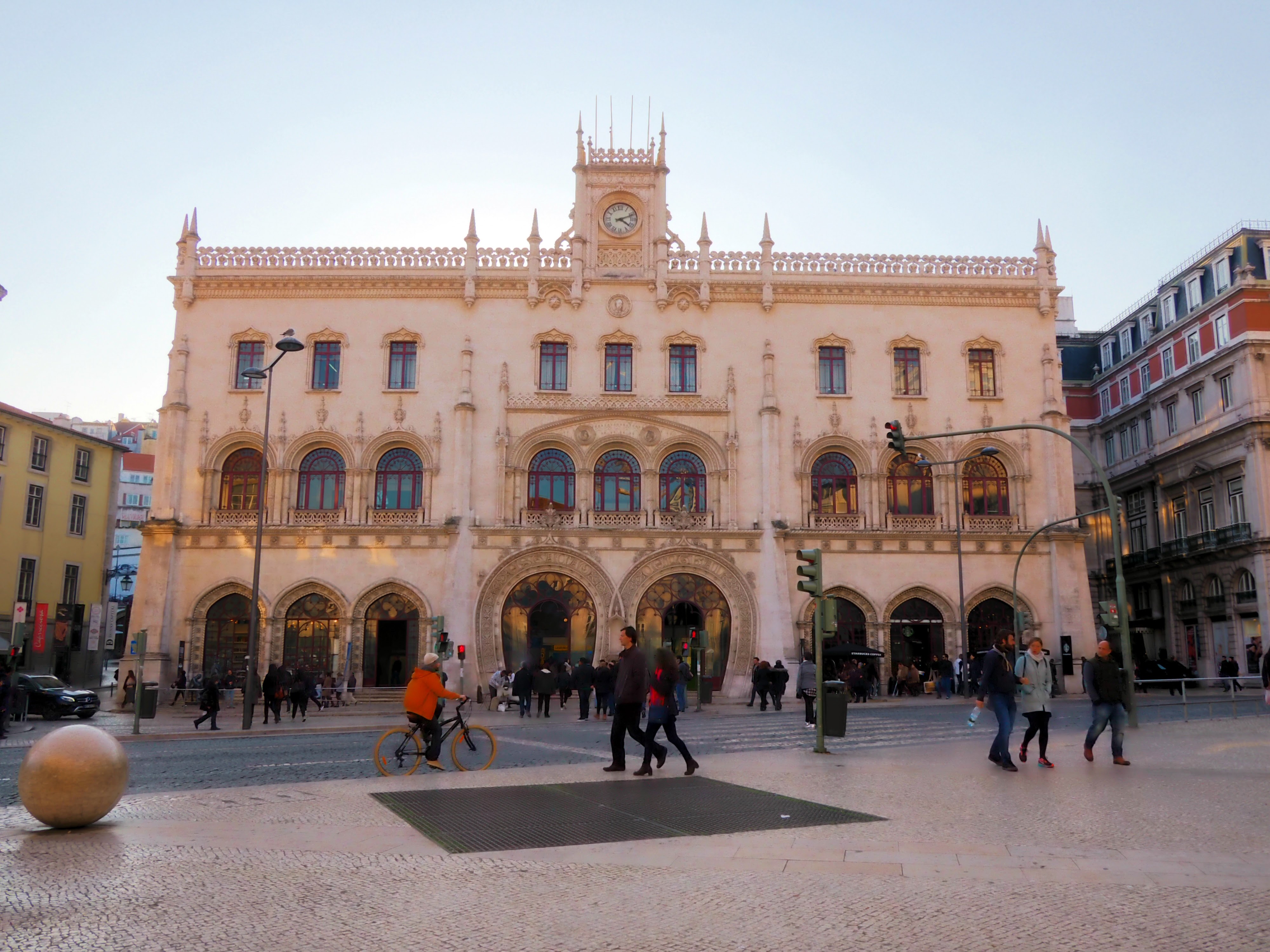 Feel free to stop at a pastry shop to treat yourself with a sweet. Or eat "Pastel de Bacalhau" (Cod fish fried cake) at the A Casa Portuguesa do Pastel Pastel de Bacalhau on Rua Augusta, this is the only food they sell.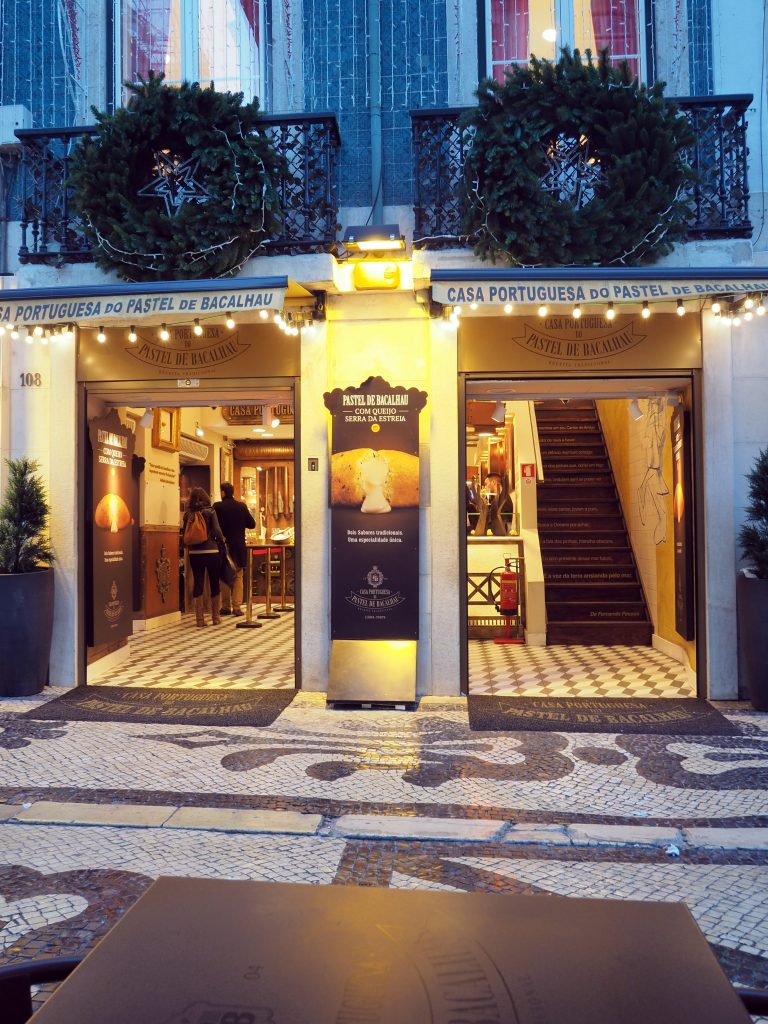 Continue down to Arch of Rua Augusta. This viewing platform costs only a couple of euros and offers beautiful vistas of the Castle São Gorge, the River and the Square just below you. Go down and take some selfies with the statue of D. José I, a Portuguese king.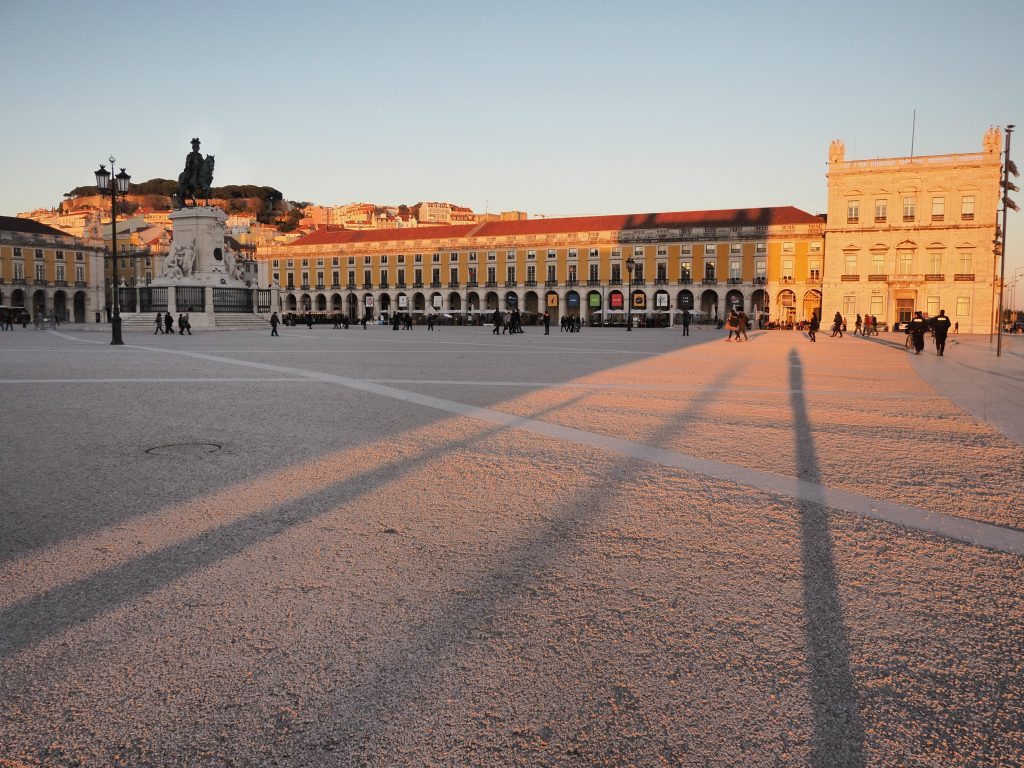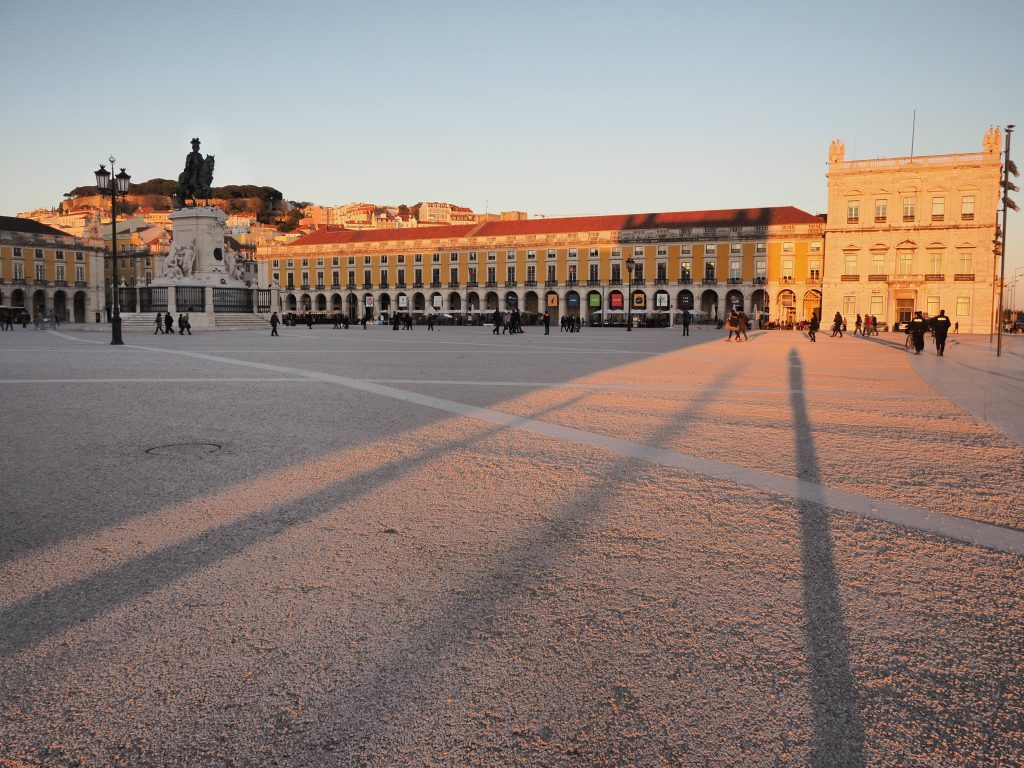 Cais do Sodre and a Cool Esplanade Restaurant
After this continue the walk in direction of Cais do Sodre, it's a beautiful riverside promenade.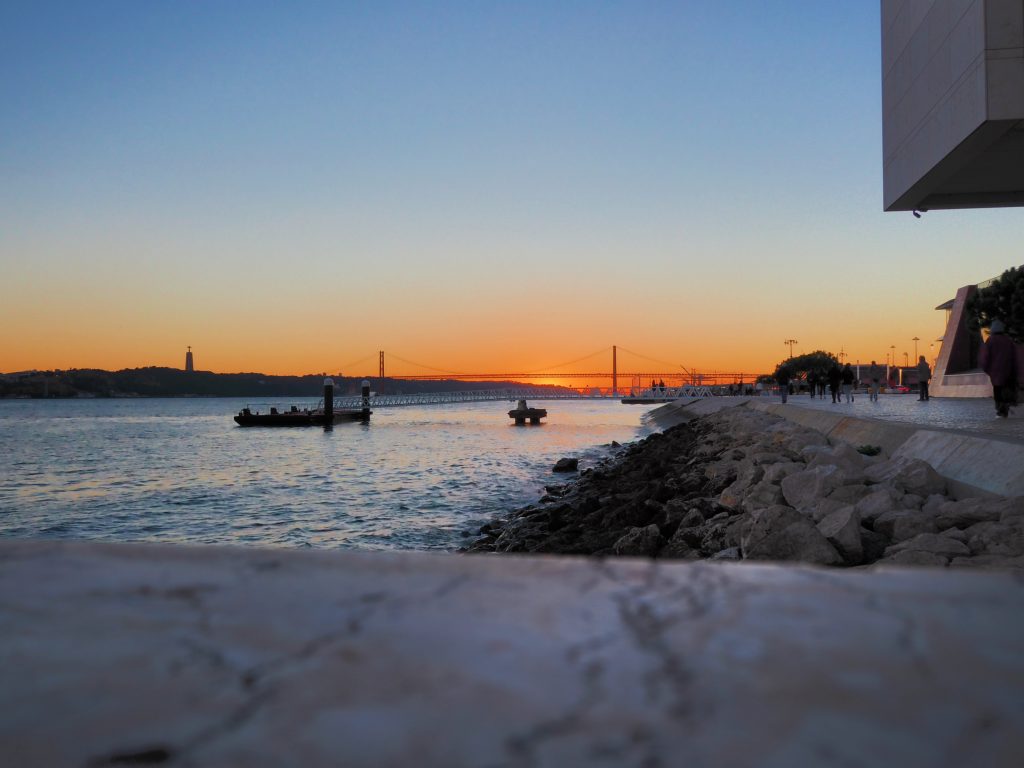 Continue straight until you reach the train station. After that begin the restaurants where you can have your first light dinner in Lisbon. The first one on your way I can recommend is Vestigius. Continue a bit further and you'll find Monte Mar. The views of the river and the 25th of April bridge from this one are spectacular. But if it's cold I'd recommend IBO Marisqueira for seafood and  grilled fish.
A Rua Cor de Rosa – The Pink Street
After dinner head to the Pink street, just across the train station. It's a very animated area – with lots of bars. My favorite one is  "Pensão Amor" – a former strip club, it has a bit from its original decoration, they invite different music artists and it's pretty cool for a drink after dinner.
Day 2 – Full Day
Feira Da Ladra
If this day happens to be a Saturday or a Tuesday, go straight to the "Feira da Ladra" (Market of the Thief) flea market. It's enormous and you'll find all kind of "tralha" (stuff) there. Handmade shoes, bags, some old cutlery, furniture, too many things. It's quite fun. I recommend buying some amazing photographs of Lisbon that are sold there, the rest is up to you, it's cheap and it's a lot.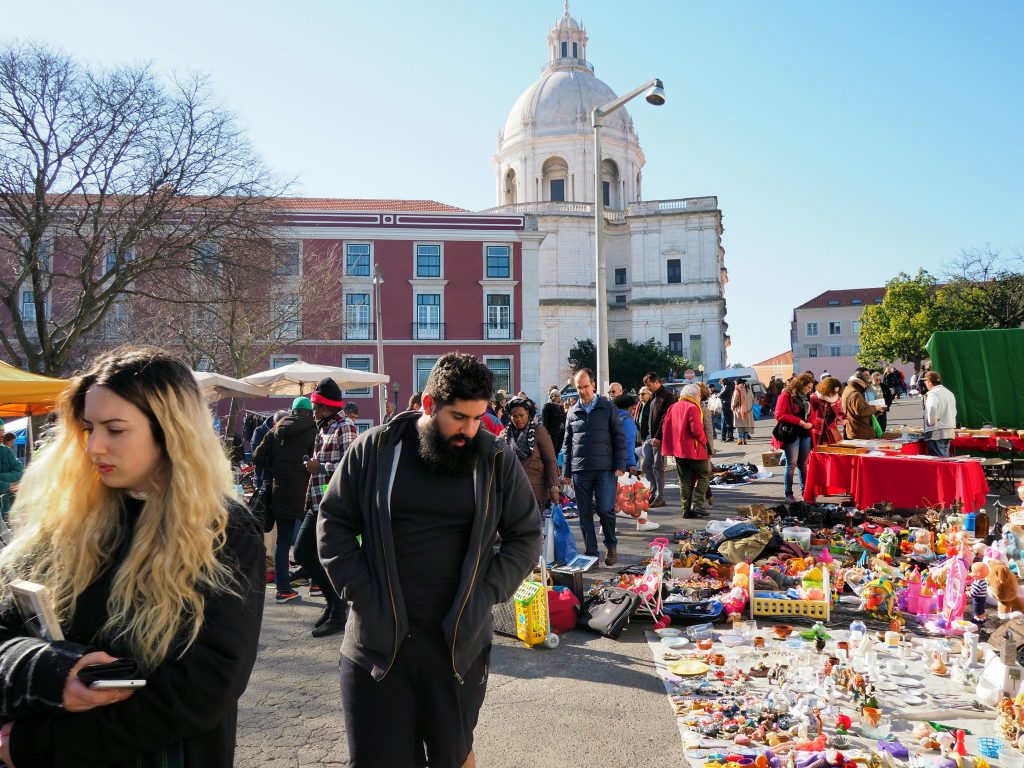 The Mushroom Restaurant
Probably you've already spent half a day at the market, so now it's time for lunch. If you're a fan of mushrooms, you'll be pleasantly surprised by the unique Lisbon's restaurant – Santa Clara dos Cogumelos, which theme is mushrooms. You'll find out that most of the foods in the menu contain yummy mushrooms. Not a fan, no worries, just head to the typical Restaurant of Ti Natércia, just half way between Feira da Ladra and S. George's Castle, which is your next stop.
São George Castle and its Amazing Vistas
In the afternoon you're going to explore the oldest part of the city – Alfama. It survived the 1755 Earthquake, being a shocker for the institution of the church. Once the Lisbon's red light districts, now it's one of Lisbon prettiest and most authentic neighborhood. Alfama is also the birthplace of Fado – the Portuguese music that'll give you goosebumps while listening. But more on that later. Now it's time to visit S. George's Castle. It reveals some magnificent views of Lisbon and the river, and it's quite a romantic walk. I don't know why, but what I loved most when I first visited it, were the beautiful colourful peacocks.
The Incredible viewpoint Esplanade of Graça
Now it's time for a break. It'll be well deserved because you'll have to walk about 650m to this amazing cafe – Miradouro da Graça. You might have to wait 10-15 minutes for a table but it's worth it, because this esplanade cafe reveals magnificent views of the castle and the river. Perfect to unwind and relax. If in summer, you'll need your hat  as it's very sunny and hot.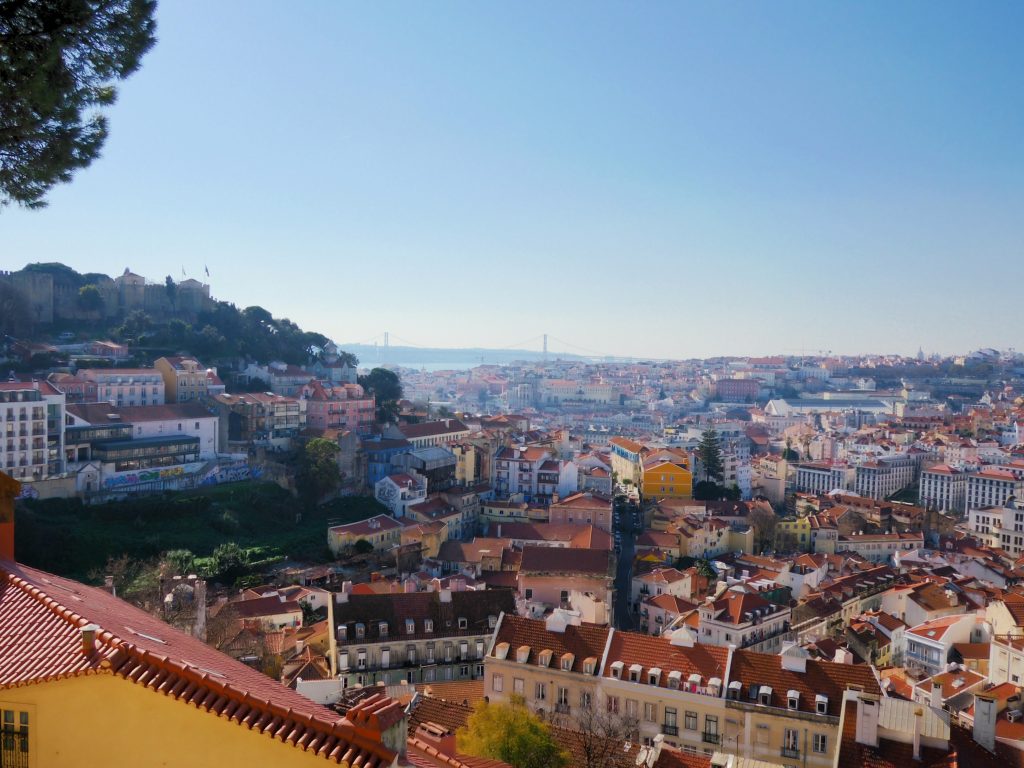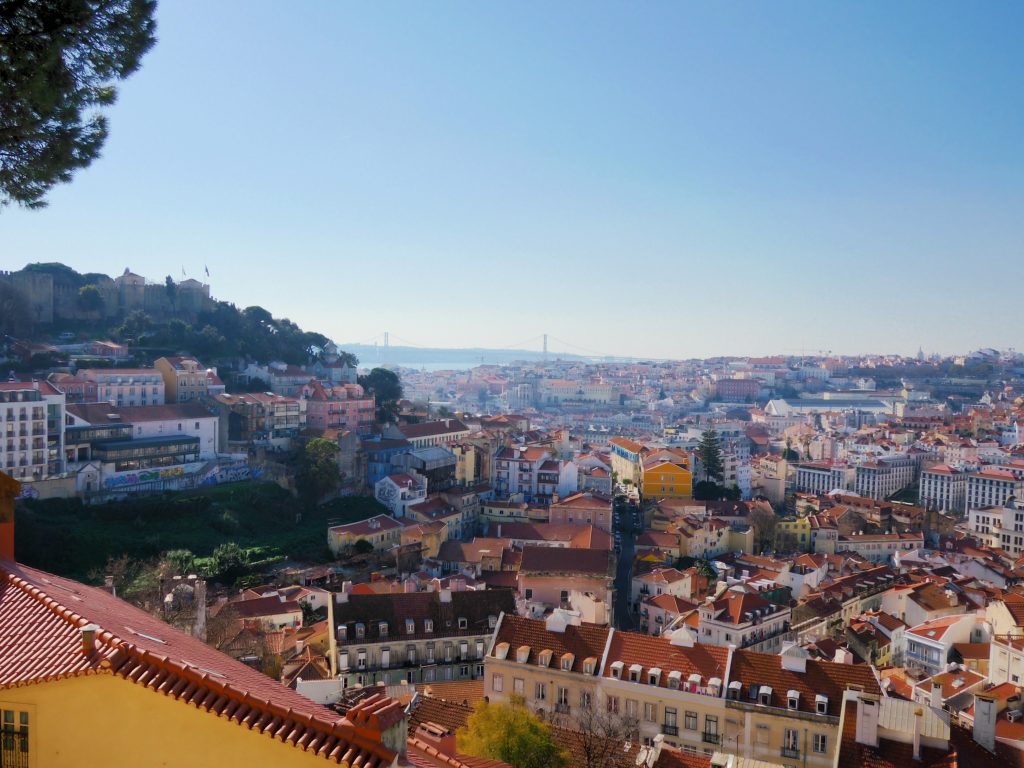 Original Fado Time – Tasca do Jaime
Now just continue the stroll in the small streets of Alfama and Graça, take some cute pictures, gaze at the river views on the numerous miradouros (viewpoints) on the way, enjoy Lisbon! Around 18.30-45h, depending on where you are right now head to Tasca do Jaime, this authentic place is perfect for listening to the traditional fado that originated in Alfama, without being overly expensive. The ambience is familiar, the place is small and packed, food is simple, but delicious, and fado will feed your soul.
If you still have energy head to Bairro alto for a drink after dinner.
Day 3 – Full Day
Today you can sleep in a little bit, we'll take it slow.
Monastery of Jeronimos and Pasteis de Belem
First stop is Belem. If you've just taken breakfast head first to the Monastery of Jeronimos. Visit the church and the inner monastery. It's really impressive and a lovely way to begin the day. After that it's time for the famous Pastel de Belem – the Portuguese custard tart. They sell it everywhere, but here these small sweet pastries have existed since 1837, always warm and right out of the oven. I love to tell my clients to go inside, not wait on the queue, which is normally for the takeaway. Don't worry, you can order takeaway on the inside, too. They now have a pleasant inner garden, so just walk inside until you see it.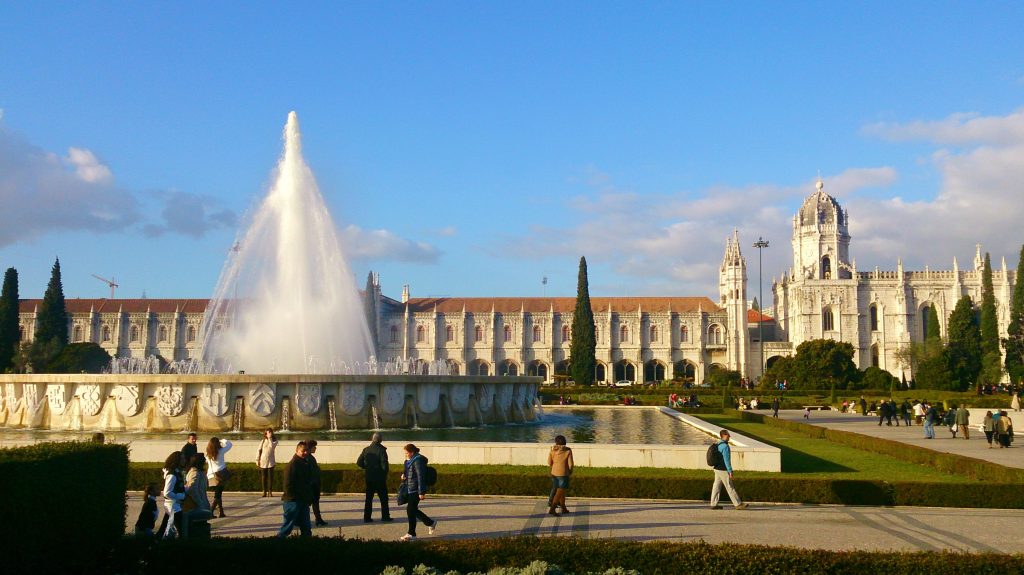 Promenade on the riverside
Now it's time to visit the rest of Belem's charming sites. Take a promenade from the Monument of Discoveries to the Tower of Belem. I see many people go inside the tower, which is nice, but if you don't suffer from vertigo, I recommend going on top of the Monument of Discoveries. Views are unique and you can see quite a bit of Lisbon. Walk slowly and enjoy the river, take pictures with the 25th of April bridge. You'll have your friends jealous of you for sure.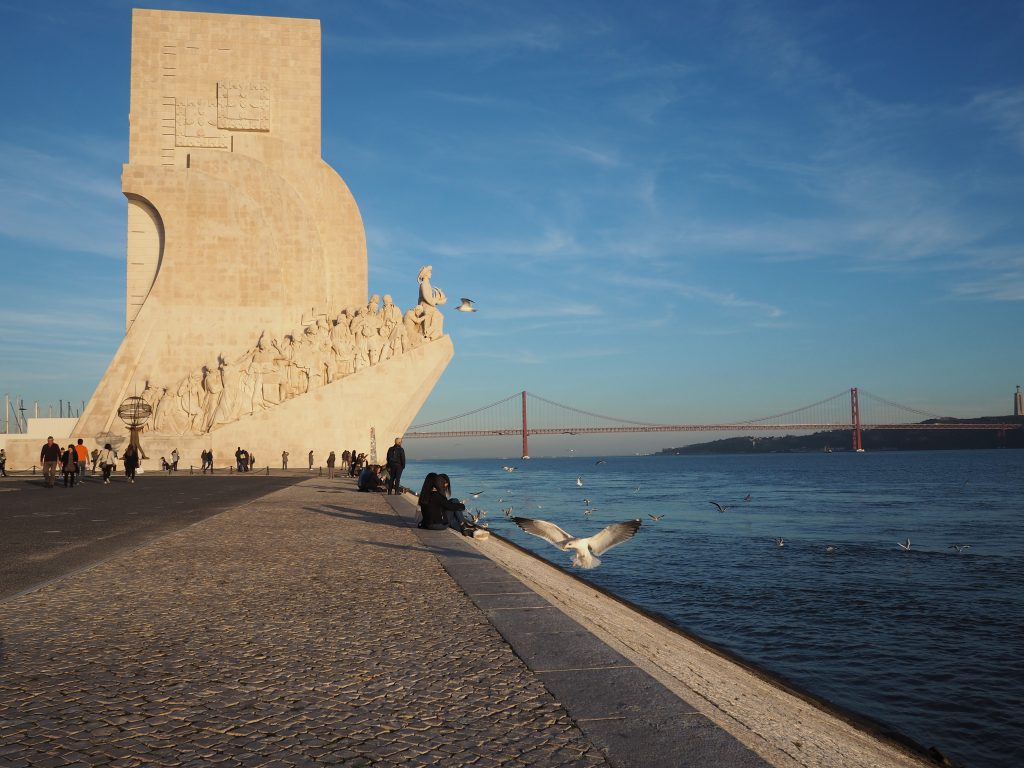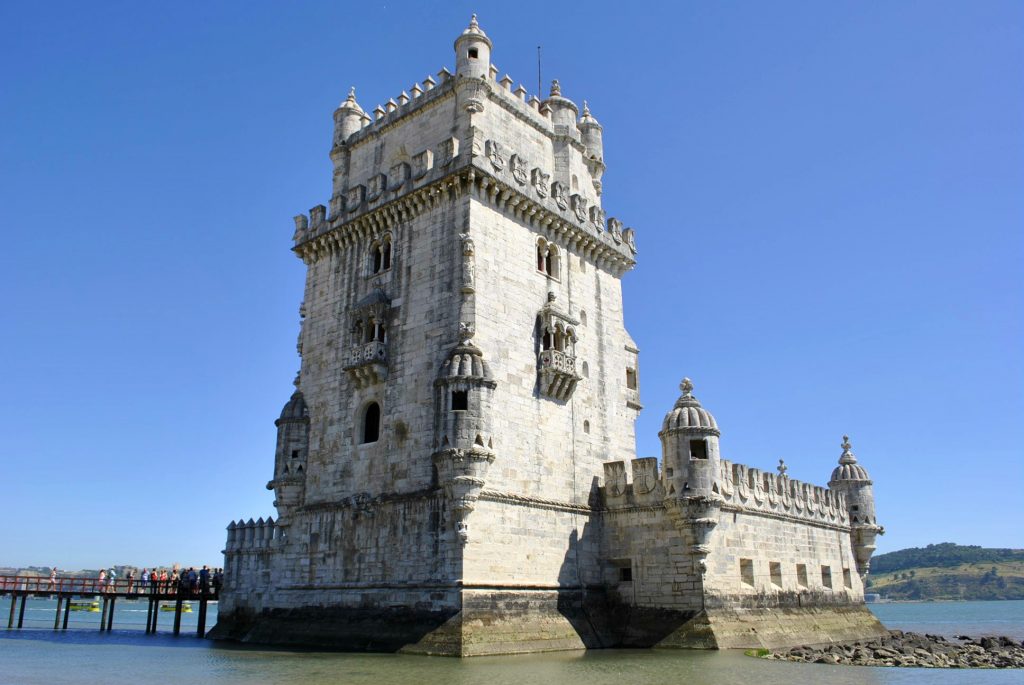 Lunchtime favourites
For lunch I love two places in Belém. Darwin's Cafe and Este Oeste. They both have beautiful esplanades. But you might have to wait for a table outside or just ask your hotel's concierge to reserve it in the morning of the visit.
Darwin has a bit more sophisticated food. I love the black risotto. Este Oeste has modern fusion food inspired by Asian dishes, it's more petiscos style (like tapas). Perfect to try and share various items from the menu.
LX Factory
In 2012 when I first visited, LX factory had just Karé, the design furniture shop, and some other cool places, but not much. Today it has developed and became the Lisbon's alternative culture spot to go. There used to be old factories beginning to demolish.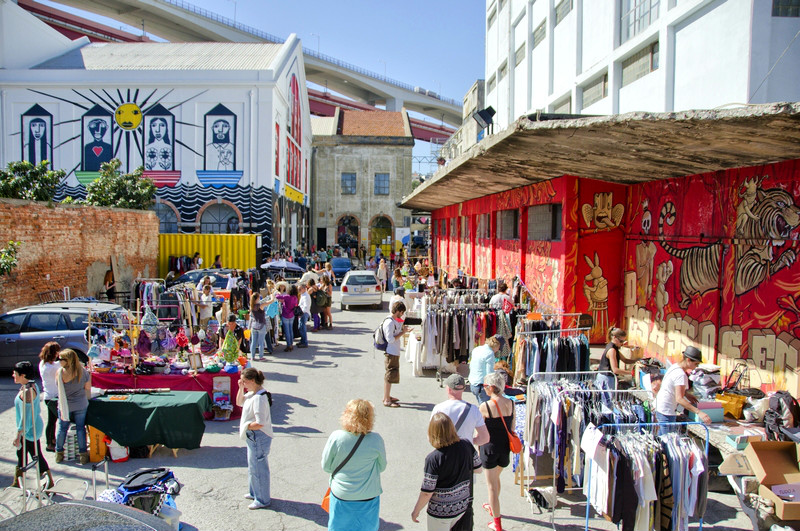 Now on the top floors of the factory there are new companies, run mostly by youngsters and innovative minds. There is also a co-working space.
But the fun begins on ground floors, where you'll find design shops. And assuming that today is Sunday, there's a flea market, with artisanal goods. There a lot of small shops and cafes. Graffiti fans won't be disappointed, too. Just go on the back of the main street and you'll be surprised.
Dinner
Stay as much as you want, but don't forget that Lisbon is a foodies' paradise and you deserve an amazing last dinner.
I'd suggest one of these restaurants for a splurge: Sea Me or Largo. Food is great, modern meets traditional in both. If you love sushi, seafood and small bites, go to Sea Me. If you prefer plates and a more refined ambiance, Largo is the place to go. The scallops, shrimp risotto, lamb chops are just some of the amazing plates they serve that I've tried and loved.  Both restaurants require reservation though.
For a more simple, but delicious dinner, I love to go to Peixola – a bar-style restaurant with excellent plates that include raw fish, braised tuna, also a petisco style. Cocktails are worth the try, too. If you go earlier, no need of reservation.
Day 4
Principe Real
This is your last day here. For today I've saved for you Principe Real. Begin with the viewpoint of S. Pedro de Alcantara, with beautiful vistas of the river and the castle. Continue up the street and enjoy the design shops on the way. If you haven't had time for shopping, you can do that now. When you reach the garden, you can finally have a rest, perfect to escape the summertime heat. On the opposite site of the street is Embaixada – a shopping mall in a very beautiful arab-style palace. Have a walk inside, the design shops and the decor of the palace are worth the visit.
Lunch time
If you can stay for lunch, definitely go to Prego da Peixaria. There can possibly be some queue, but don't worry you won't have to wait long. You should have their specialty – Prego no Bolo do Caco – tender beefsteak in a traditional Madeira's bread. A really delicious way to finish this epic weekend.
I hope you've enjoyed the itinerary and wish you an amazing trip to the beautiful city of Lisbon.