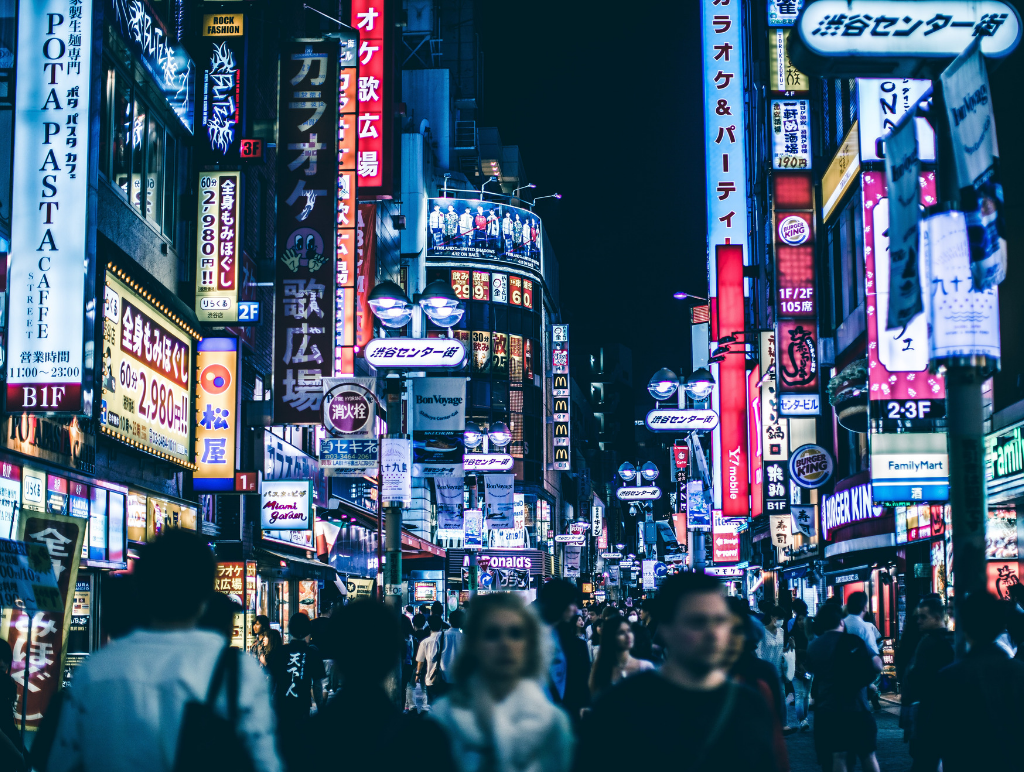 It's impossible to say which are the best Tokyo neighborhoods. Each of them has a certain vibe to it. You have to be there in order to feel it. But you'll need an eternity to visit all the neighborhoods thoroughly. I picked 8 typical Tokyo neighborhoods to present you with. I worked with four fellow bloggers to get an objective view and different recommendations. I hope this helps you choose which places to visit when you travel to Tokyo. After deciding which is the best Tokyo neighborhood for you, you'll need accommodation. Airbnbs are value-for-money in Japan. Here's a list of some of the most stylish Tokyo Airbnbs.
8 Typical Tokyo Neighborhoods
Shinjuku
Shinjuku is one of Tokyo's main entertainment hubs, so you'll have no shortage of things to see and do. And if you visit on a Sunday or a holiday, some of the roads close to become a pedestrian-only zone, known as a hokousha tengoku (歩行者天国) or hokoten (ホコ天 ).
For unbeatable city views, head to the west side. Nishi-Shinjuku is home to the Tokyo Metropolitan Government Building. Here you can see landmarks like Mt. Fuji, Tokyo Skytree, and Tokyo Tower from its observatory. And for something a bit more special, visit the famous New York Grill nearby at the Park Hyatt.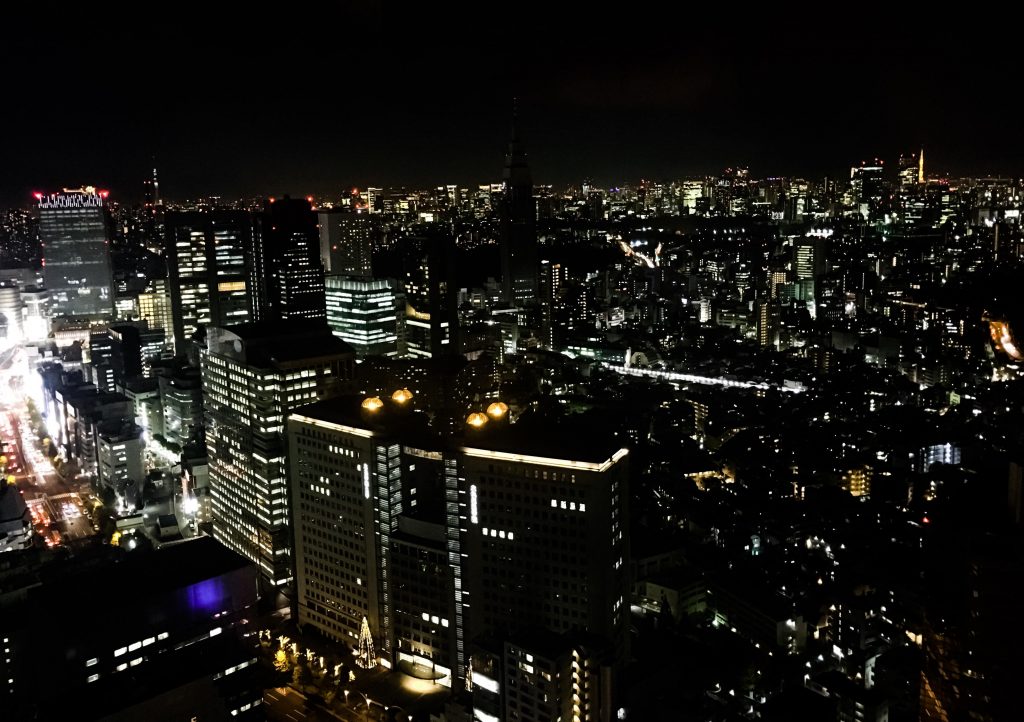 In Shinjuku, you'll also find places like the Samurai Museum and Hanazono Jinja to get your culture fix. You should also stop by Shinjuku Gyoen for some of Tokyo's best nature views.
Shinjuku station is the busiest in the world yet it seems well organized, clean and safe. If you need to you can leave your luggage in one of the lockers for about 500 yen/ day.
You can also dine and shop at the station. Moving outside you'll find the classic for Tokyo glass buildings and skyscrapers. There're department stores, Japanese brands clothing shops, electronic shops, even 100 yen shops.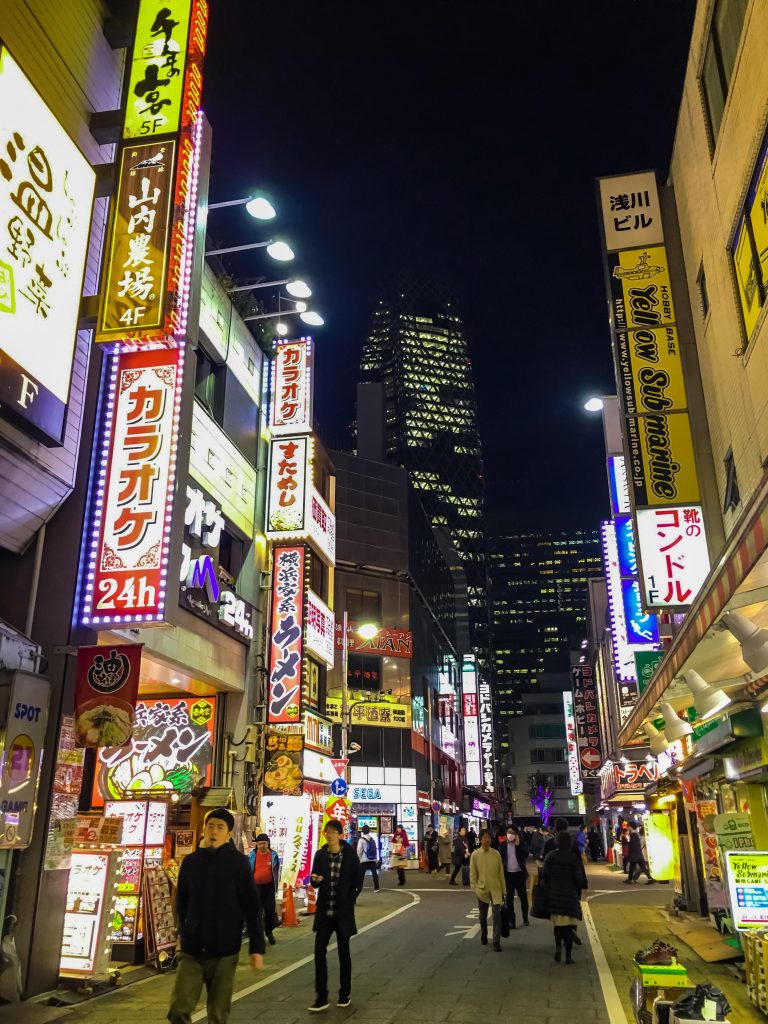 What I loved observing is the after work culture in Tokyo where you'll see, usually, men sitting at sushi restaurants snacking and drinking beer. For breakfast, lunch, and dinner it's easy to spot Japanese queueing at cheap, but seemingly delicious ramen restaurants. Although you'll find so many restaurants with an endless variety of food choices, the best are always with a queue outside or very full.
What Shinjuku is probably most well-known for, though, is its nightlife. Small alleyways like Omoide Yokocho and Golden Gai are home to microbars and yakitori joints. Meanwhile, you can find Tokyo's best gay bars and clubs in Nichome. And at the center of everything is Kabukicho, the city's most notorious red-light district.
From crazy robot shows, pachinko game rooms, bars, karaoke, nightclubs, neon lights. Shinjuku seemingly never sleeps, although you'll find very quiet corners if you want to make it a base for your visit. For insider advice on the best places to stay, check out my top recommendations where to stay in Tokyo.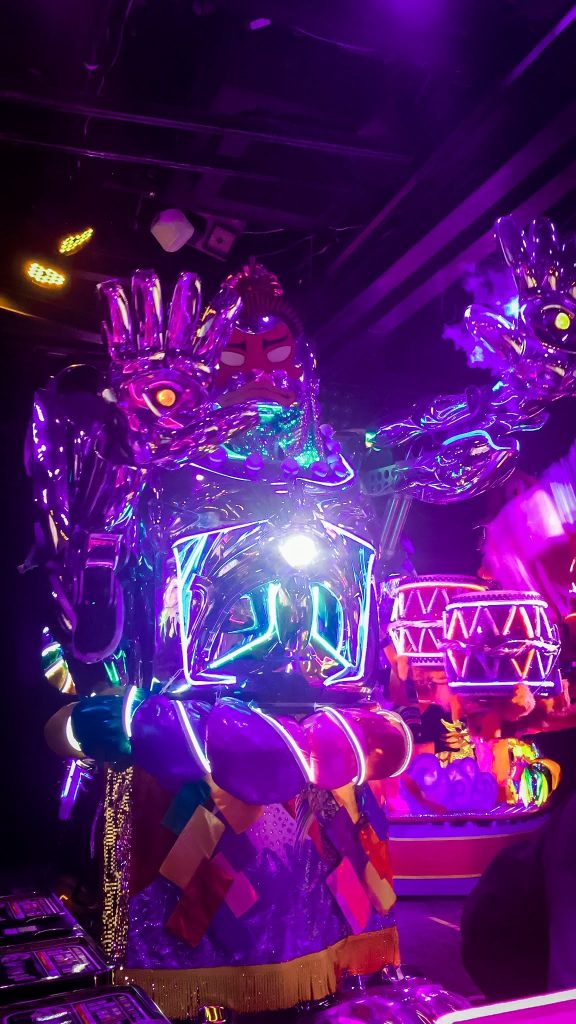 Ginza
Ginza is a must visit because of the outer Tsukiji fish market. Yes, it's crowded, but it's still a great place to get to know the local culture. You'll find stalls of fish, meat, vegetables, spices, seafood, caviar, knives, and other kitchen utensils, food stalls with grilled and fried food, dried fruit and seaweed.
And so many other things I couldn't recognize what they were. There's also a section with traditional Japanese pottery. These can make a great gift, just be careful not to break them until getting home.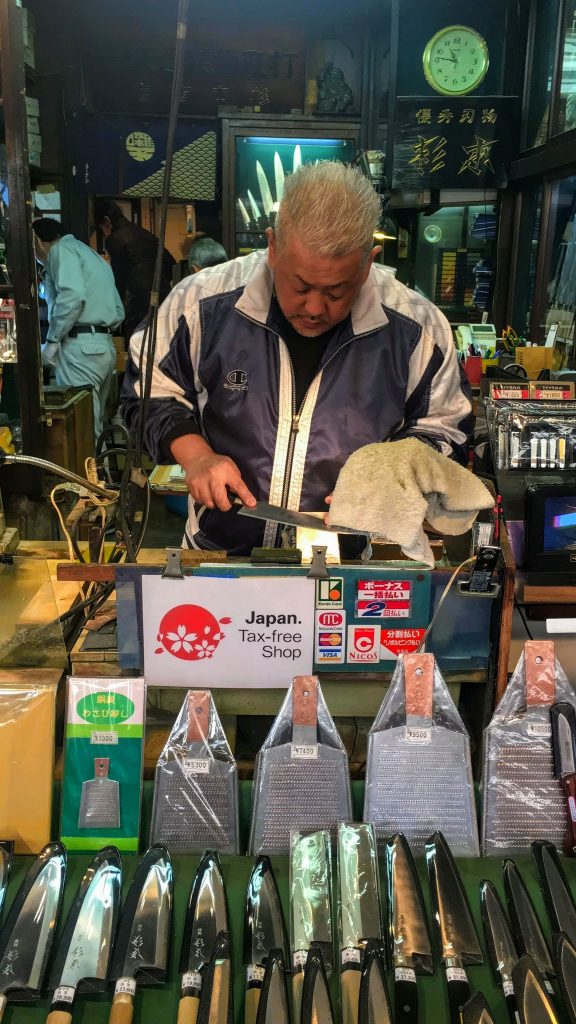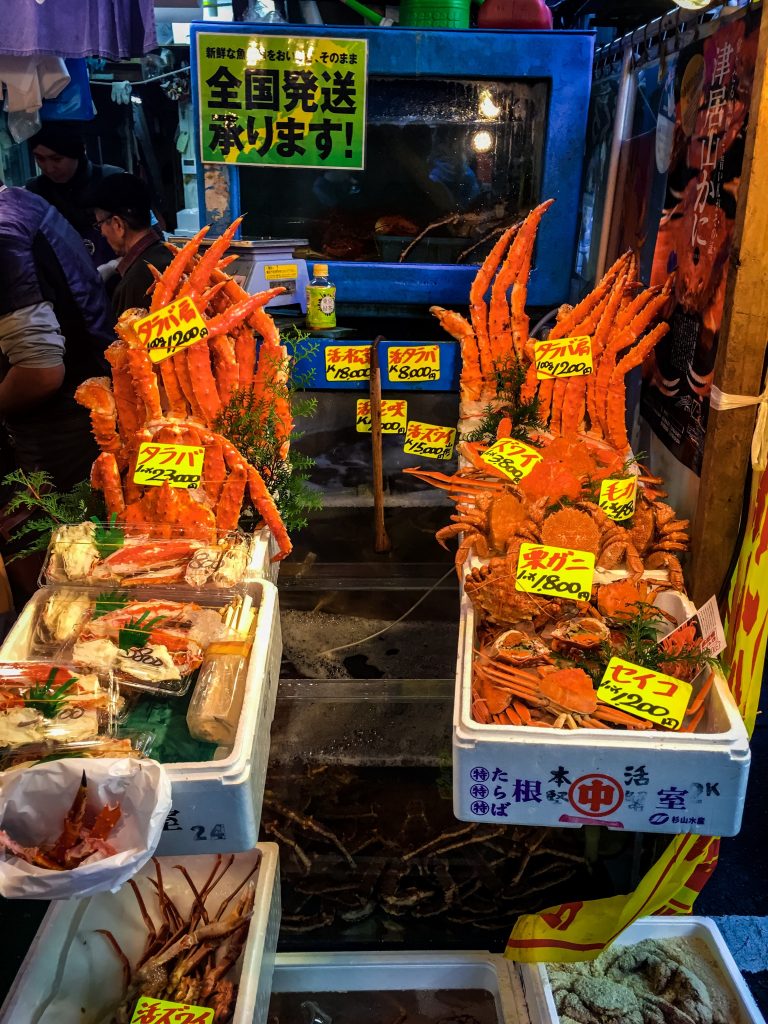 At the Tsukiji market, you'll find the best and freshest sushi in Tokyo, at least so it was on our trip in 2016. Toro or tuna belly that is so fat it just melts in your mouth. Totally worth the splurge.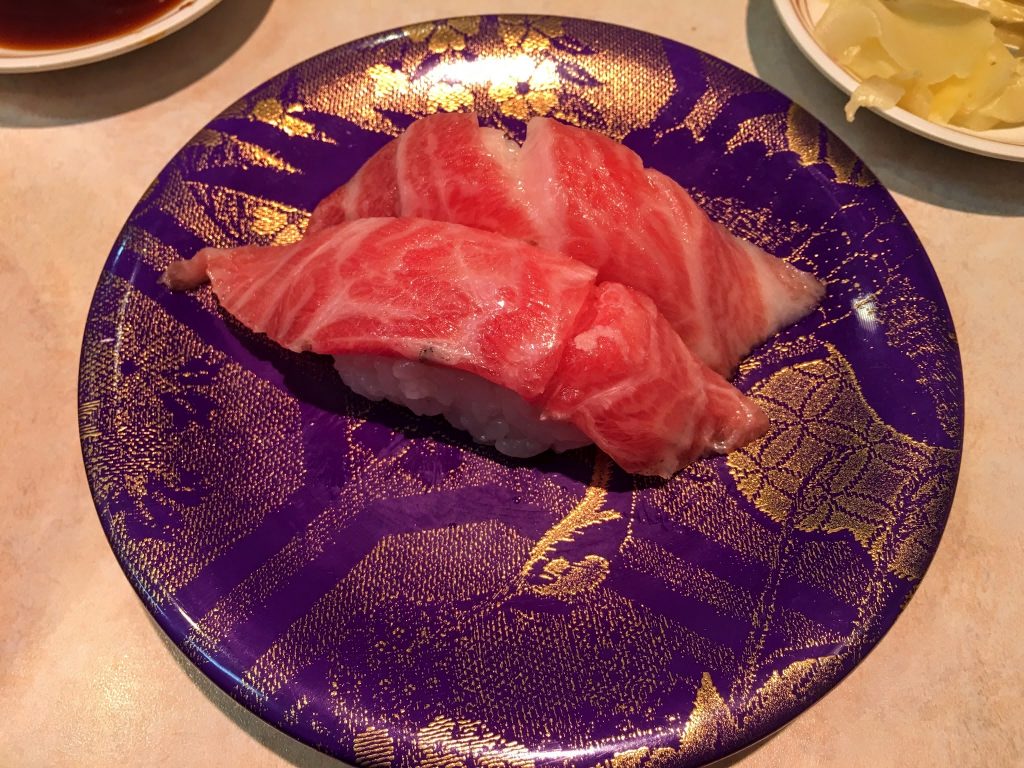 Outside the market, Ginza is knowns as the chicest of all Tokyo neighborhoods, and with reason. Just walk at the main alley and you'll discover fine brand shops and beautiful and sleek buildings. Stay until dusk to see Ginza's lights turn on – this is when the real magic happens.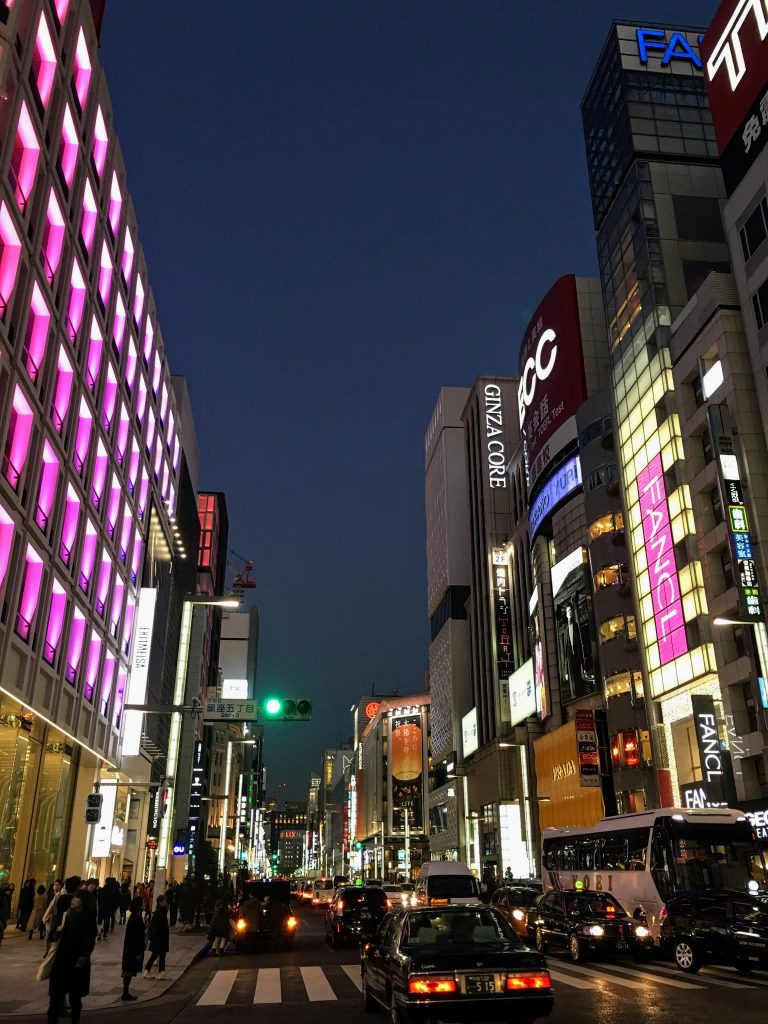 One of the most curious buildings is an old Kabuki theater (although newly renovated) and on the background is a modern white building. On the other side of the street, you'll find a Japanese shop for Kawaii stuff (cute things). We took a picture with a giant plush cat in front of it. So cute, right?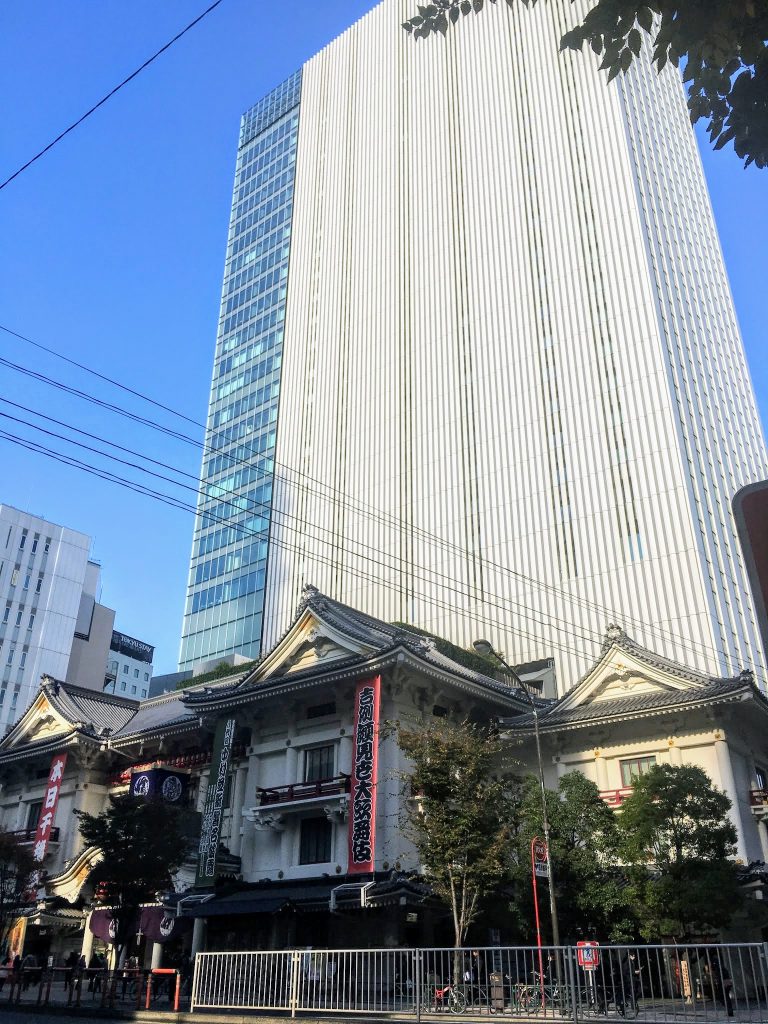 Roppongi
Roppongi Hills is another chic neighborhood of Tokyo. This is where the Mori Art Museum, a  museum of contemporary, art is located. If you want to escape a little the madness of the city or if it rains and you don't want to go shopping, this is the place I recommend.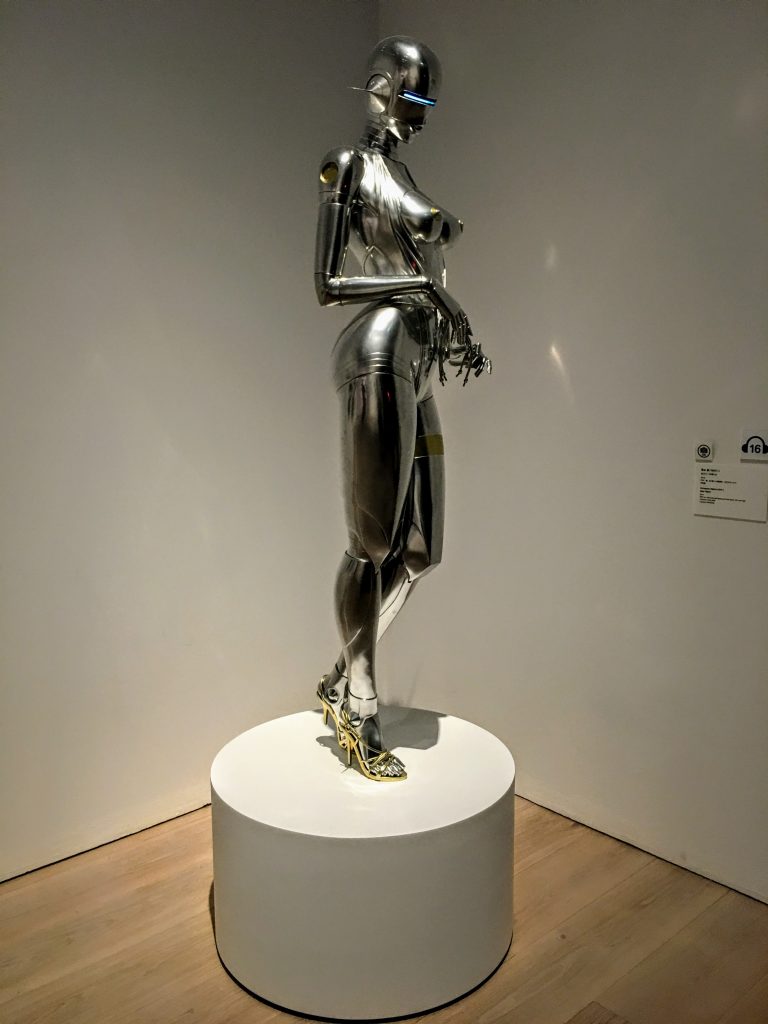 There's a café with beautiful views to the Tokyo skyline and the Tokyo Tower. Take some time to enjoy it at twilight so you can appreciate day and night views. Not only tourists but locals visit, too so it's a nice spot for people watching.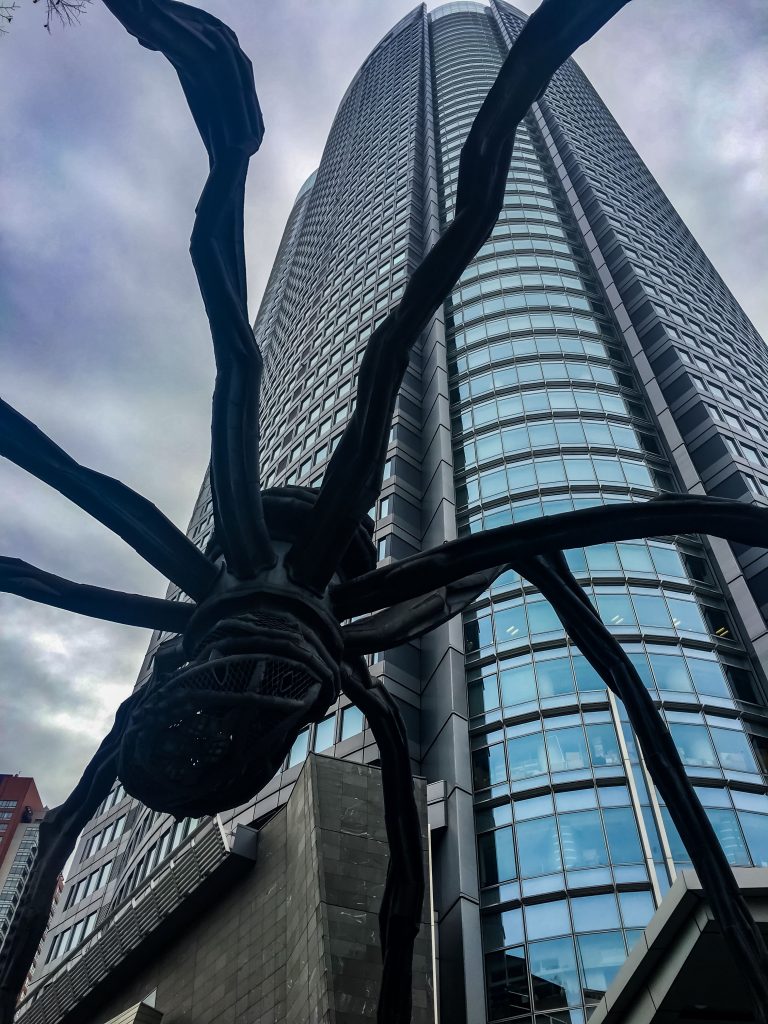 The Mori garden in front of the museum is also a great place for your eyes to rest from the high buildings.
Akihabara
Akihabara is a place like no other in Tokyo, although at first sight, it might seem similar to Shinjuku or Shibuya with the neon lights and animated streets. But here it's about a different kind of fun. Akihabara is for the diehard fans of weird electronics and anime and manga. You'll see a whole building painted with Pokemon creatures.
How fun is that! And if you're about my age (28 as of writing) it will definitely make you remember the old days, when we used to play with real Pokemon balls, not on our phones. And if you have children they'll definitely go crazy.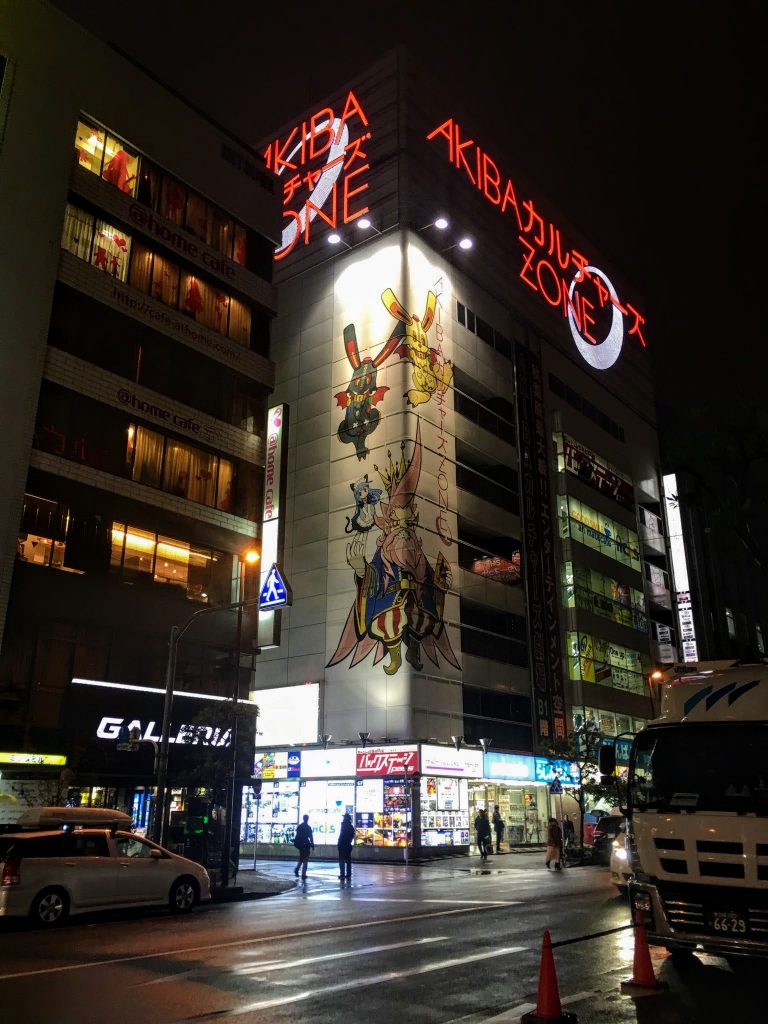 We arrived at Akihabara on a Sunday after 5 PM and unfortunately, many small electronics shops began to close their doors. I was a bit surprised though. But you only know when you arrive there as opening times of private shops might be listed online, but we didn't know the names. There're so many of them.
It's definitely more fun to see Akihabara at night, but if you want to shop or go to a themed café do arrive like after lunch I'd say. Maid cafés are one of the attractions here, where the servers dress like French maids. I'm not sure if it's that nice. But I'm really curious to discover when we return to Tokyo.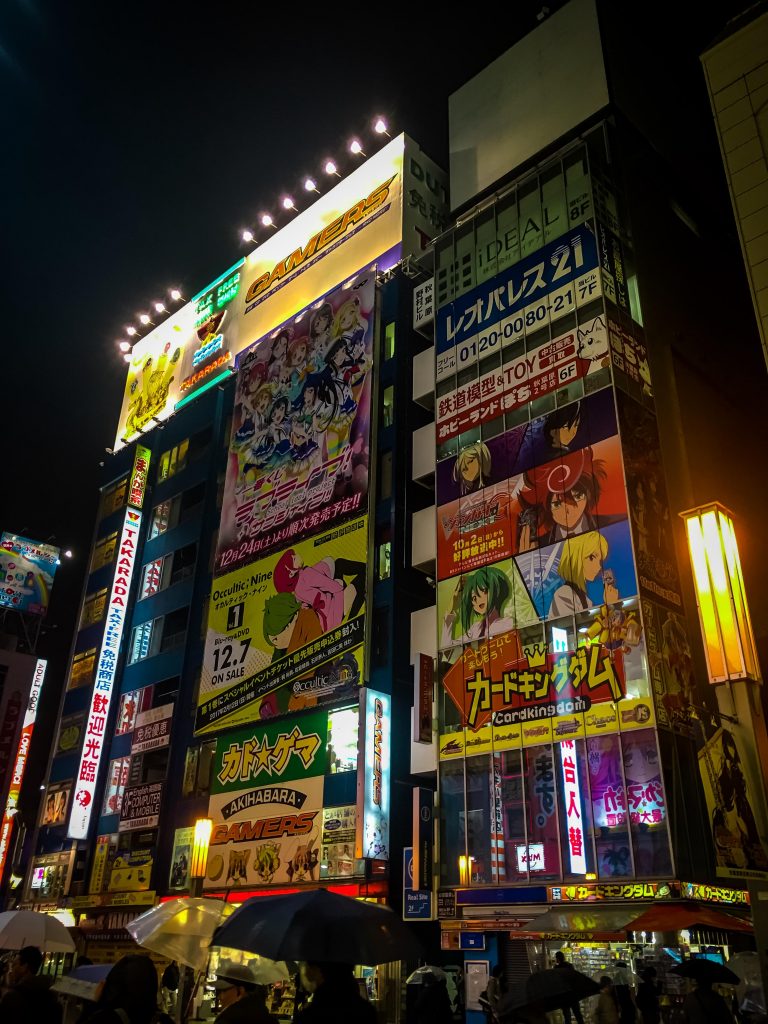 As the small shops were closing, we found ourselves visiting the bigger ones like Yodobashi camera. One of the most impressive things we saw was a home phone robot that talked to you. But the funniest thing was a small stuffed animal that repeated after you in a funny voice. It was hilarious, I laughed so hard. I wanted to buy it, but due to its high voice, I was afraid I was going to piss off my cat.
You know cats have a very strong hearing.  Another curious shop to visit is the Tsukumo Robot Kingdom, you have everything to build… your own robot. It's actually a very technical shop and you need some engineering knowledge, but it's crazy that a place like this exists and is open to the general public. You can buy ready robots, too. What a great gift!
But you have to stay until nightfall when the neighborhood changes into this amazing neon light district. And if you stay even later into the night you might be able to spot the local fast and furious fans that also love manga – a great hybrid. My husband was mesmerized watching and filming the cars passing by.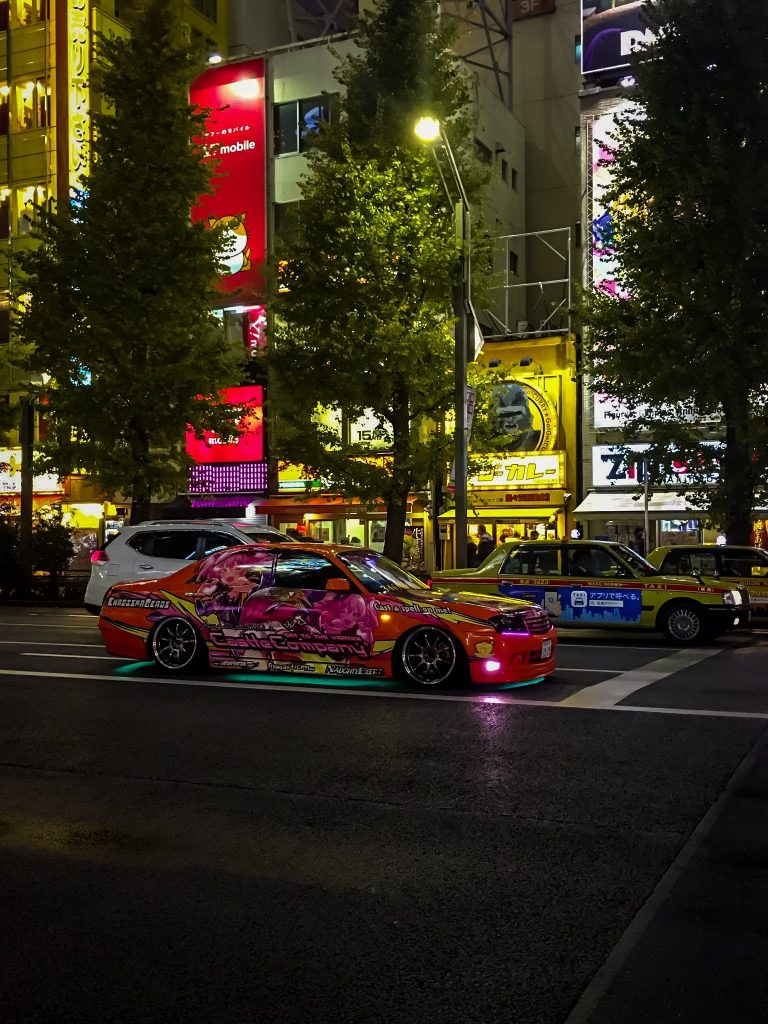 Asakusa
Asakusa is the most traditional neighborhood, a Tokyo from the past. A must see if you don't have time to explore traditional places like Kyoto, Nara, Kanazawa, and Takayama. It's most famous attraction is the Sensoji temple, a Buddhist temple dating back from the 7th century.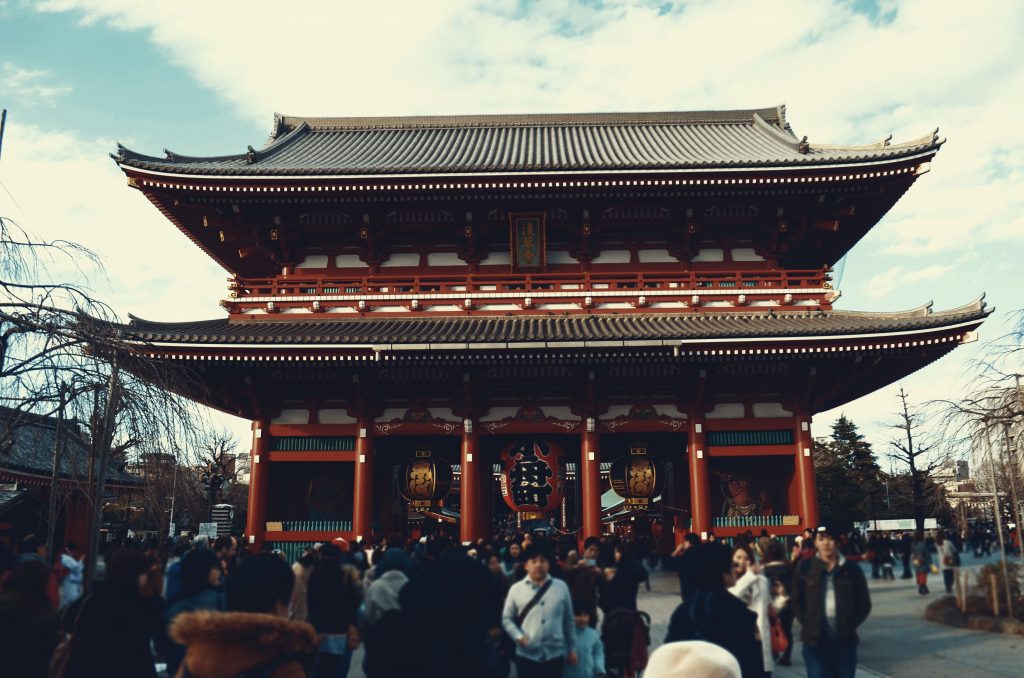 Asakusa's Nakamise shopping street is where you pass through to get to the temple. It's a great place to buy traditional Japanese gifts. There're more than 50 shops.
If you want to take a rest from the crowds go to a café at the Asakusa Culture Tourist Information Center that has a very sleek architectural design. Apart from information, you'll find observation decks to the Sensoji temple and Nakamise shopping street.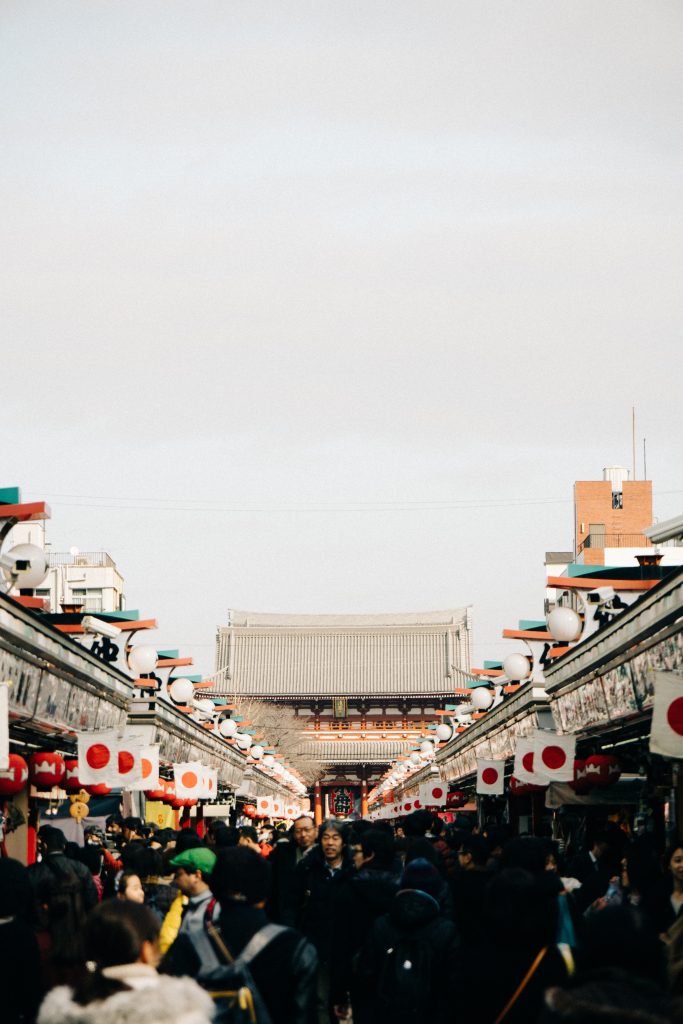 Another nice thing to try is the Water bus, that lets you get a different view of Tokyo's modern architecture and skyscrapers. It looks like a spaceship, how cool is that!
Sumida Park is another must see, especially if you're in Tokyo for the cherry blossom season. Then walk across the Sumida river to take a closer look the 634-meter-tall Tokyo Skytree. The tallest tower in Tokyo and the world. There you'll find a restaurant with Japanese-French cuisine and two observation decks that boast breathtaking views to the endless Tokyo skyline.
Shibuya
Shibuya is one of the most vibrant and lively areas of Tokyo. This area is daily flooded with crowds of visitors, rushing to numerous shops, restaurants, and nightclubs. Here businessmen are running to the meetings, Japanese women shop fashionable clothes, and white collars get drunk after work.
The streets of this district have become the source of many trends in Japanese youth fashion, culture, and entertainment.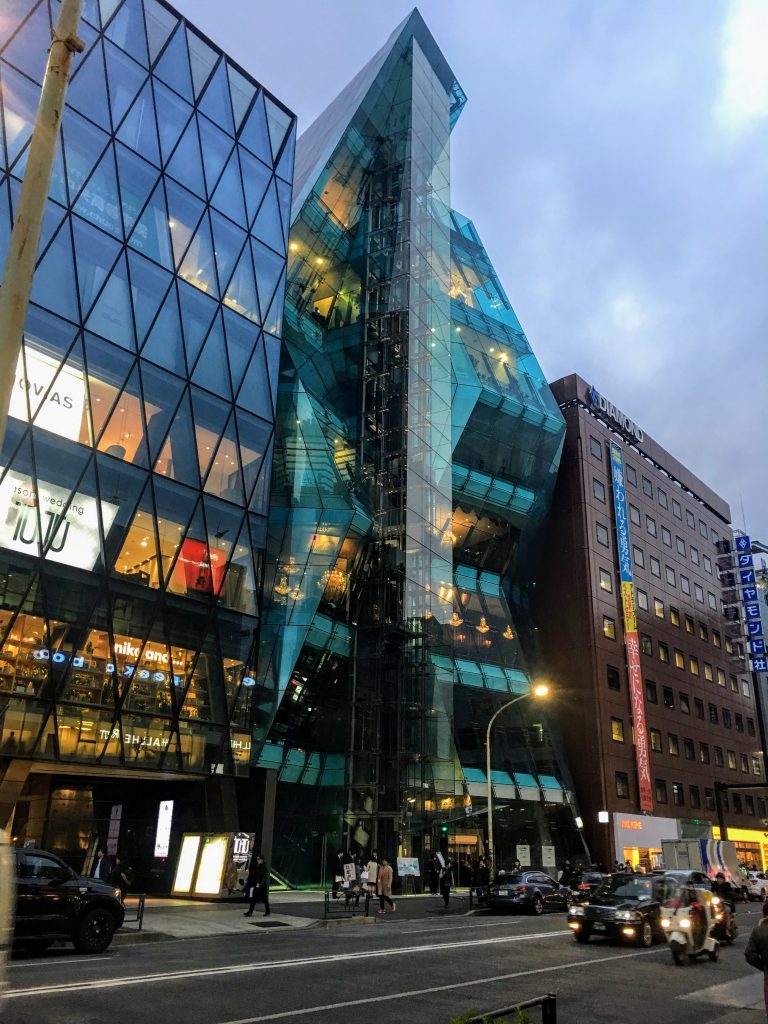 There are two major competitor corporations – Tokyu or Seibu – which own huge department stores and shopping centers in Shibuya. They offer fashionable clothes, accessories, interior items, and other goods, competing for the attention and money of the Japanese and tourists.

The Shibuya Crossing
The most famous landmark of Shibuya is a large intersection, located in front of the exit from the subway station. A crossroad full of neon advertising signs and huge video screens is filled with hundreds of pedestrians every time the traffic light turns green. The diagonal zebra gives this intersection a very peculiar look that is difficult to confuse with any other place.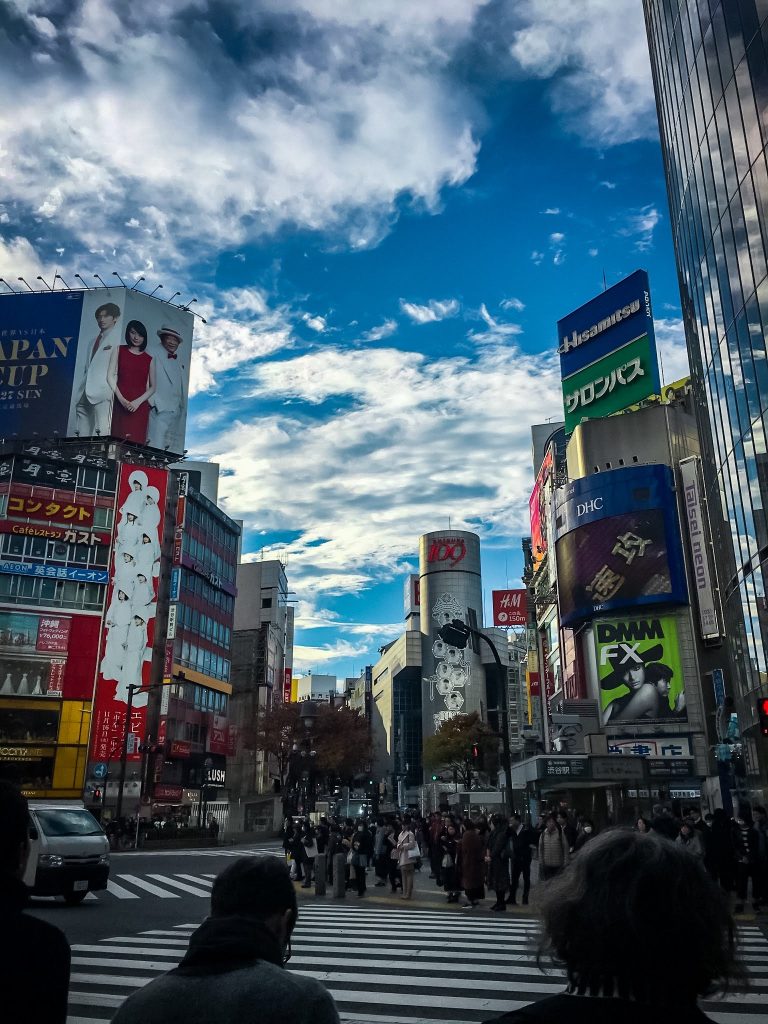 This place is called the "Hachiko Exit" because of the bronze statue of Hachiko located right at the exit. This is a popular place for meet-ups and there are a lot of tourists and musicians around it.

In the evening, Shibuya is a place for entertainment. Within a five-minute walk here you can find a pastime for every taste. Some go after work to play Pachinko. This game is a mix between slot machines and pinball, where people play with metal balls.
They load the balls into the machine and when some of them fall into the necessary holes, Pachinko turns into a slot machine and show images. If the images turn out to be all identical, a load of balls will drop down, allowing you to play again.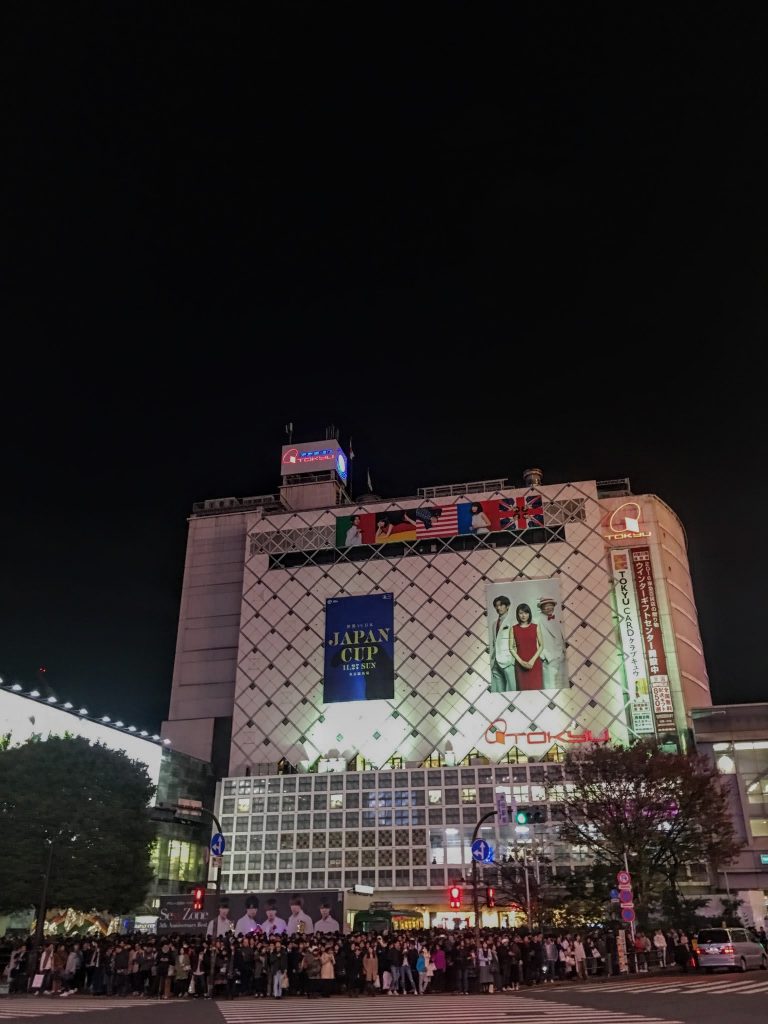 Life in Shibuya, however, is in full swing not only around shopping and business. Cultural and historic sites are located here too. For example, the Meiji Shrine, built in honor of Emperor Meiji, is the largest Shinto shrine in Tokyo.

Another popular spot in Shibuya is Bunkamura creative space which consists of a concert hall, an art gallery, national theaters Hatsudai and Noh, as well as various interesting museums, such as the ones of tobacco and electric power.
Ningyocho
Also knowns as Tokyo's Doll Town. Tokyo has so many areas rich in history and where you can feel the old charm even today. In Ningyocho, in the center of Tokyo, you can find a lot of the old Tokyo. You just need to know where to look. Ningyocho translated into English means doll town, and that is precisely what it used to be.
During the Edo Period, Ningyocho was the place where the traditional Japanese theater called Kabuki was played and where doll makers created beautiful dolls. When you stroll around the area today, I recommend you turn into the smaller side streets and find some of the older buildings that are still there.
You can visit little shops selling traditional Japanese sweets, pickles and other kinds of foods like tofu, meat, and fish. But also makers of dolls, and Shamisen (a traditional Japanese string instrument).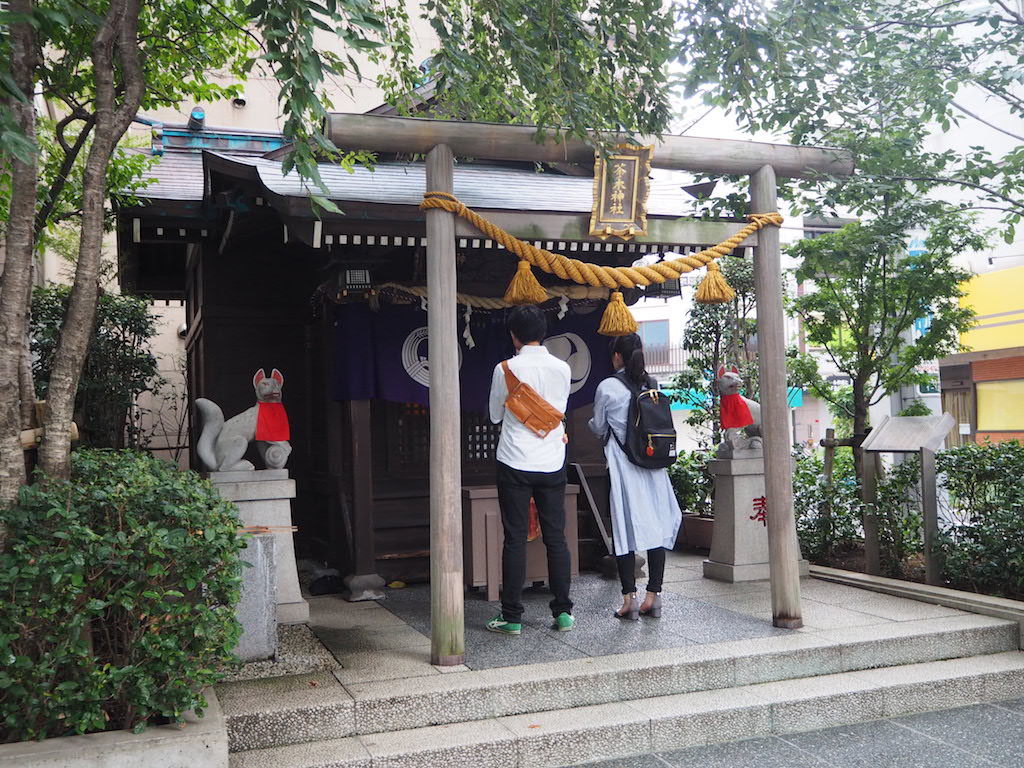 If you are into delicious Japanese food Ningyocho is a fantastic place to visit. My favorite restaurant is the Udon restaurant Taniya, in some weeks I would visit at least two or three times. Udon is delicious in winter as well as in summer because the noodles can be served hot and cold. There are also many little shrines dotted about the area, and it is a lot of fun to stumble upon them.
Jinbōchō  
If you love all things literary, be sure to visit Jinbōchō. With over 150 bookstores, Jinbōchō is known as the used book capital of Tokyo. Visitors to this relatively quiet neighborhood can explore the area's many bookshops, manga stores, and vintage magazine stalls without the crushing crowds found in central Tokyo.
When the weather is pleasant, the bookstores set up sidewalk bins full of bargain reads. You'll find people of all ages browsing everything from Japanese classics to old editions of Naruto. And if you can't read Japanese, don't fret. There are plenty of places that sell English translated copies.
Lovers of old texts should not miss Isseido Booksellers. Located near Jinbōchō Station, this beautiful two-story bookshop is filled with towering shelves of vintage books and scrolls. Don't skip the 2nd floor, where centuries-old illustrated pages are displayed in a glass case. You'll also find vintage English texts on this floor that date back 100 years or more!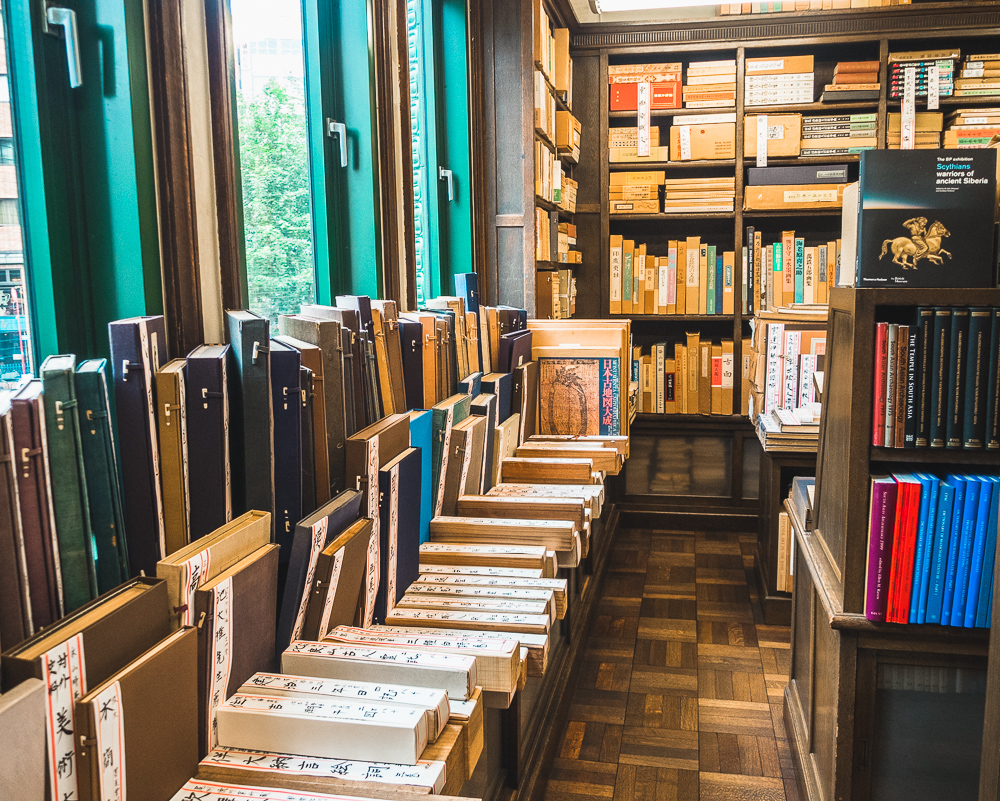 Once you've explored the amazing bookshops, head to Curry Bondy for one of the must eat foods in Japan. Definitely order their signature rich and savory beef curry, topped with a little cheese and served with a side of potatoes. To find the entrance, you'll need to go around back via the alley. Once there, you'll likely spot a small line of people outside waiting to be seated. The hostess speaks limited English, so it's best to know a few basic Japanese phrases.
Before you leave Jinbōchō, be sure to visit Village Vanguard Ochanomizu. This jam-packed maze of all things otaku is like a less-crowded version of Super Potato. Here, you'll find everything from Sailor Moon pencil cases to Totoro figurines. Each area of the shop is themed, complete with a tiny music player pumping out related tunes.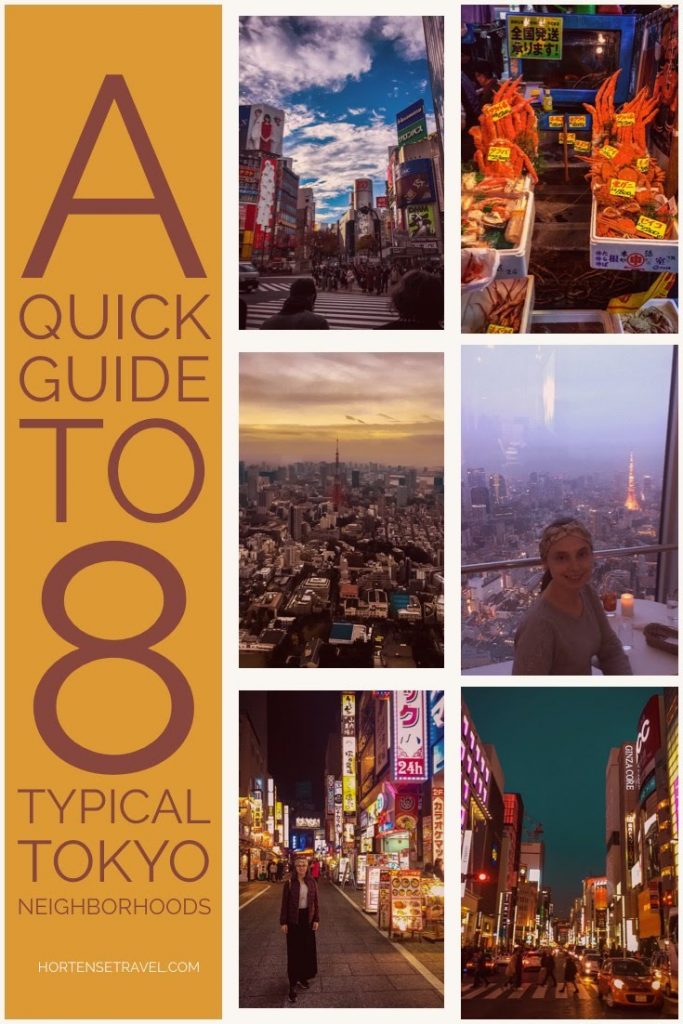 Co-Authors
Delilah from Fleur Delilah on Shinjuku
Jim & Inna from Executive Thrill Seeker on Shibuya
Chelsea from The Portable Wife on Jinbōchō  
Lena from the Social Travel Experiment on Ningyocho