Eating Bear Lisbon is one of those restaurants you go with doubt whether it's just the next trendy thing and if the food won't deliver. Well it did. Read on for more details.
Where, when and why
Eating Bear is wine and tapas style restaurant located in the heart of Lisbon, in the neighborhood of Baixa-Chiado, less than 5 minutes walk from Praça do Comércio. This makes it ideal if you're visiting around the beautiful square but don't want to get ripped-off or just don't like the food that the restaurants situated on it have to offer. Having dinner there can also be fun, especially with their wine degustation menu. More about that later on.
The atmosphere
It's a casual restaurant, meant for friends to get together and enjoy sharing some tapas and glass(es) of wine. Couples are welcome, too of course. The decor is hip and funky. The barrel on the entrance and the iron ropes on the ceiling catch your eyes and give it a great deal of originality.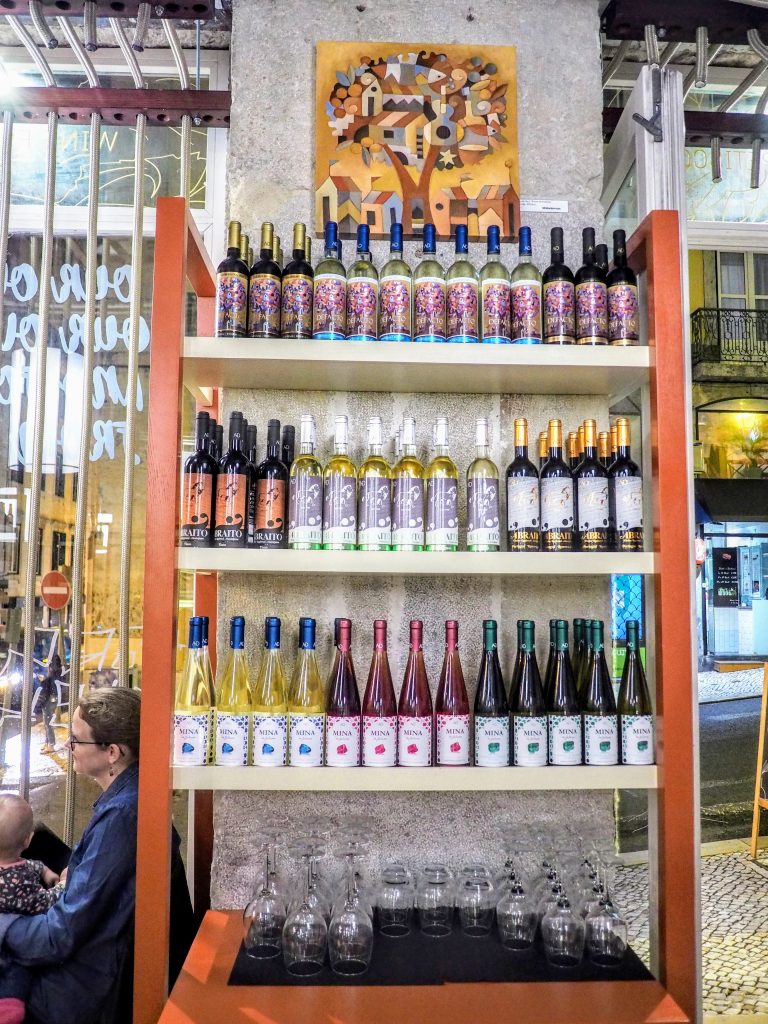 The food
What's the location and decor without food, right? The Eating Bear delivers. We were out with friends and I had the opportunity to try a lot of tapas (in Portuguese petiscos) and the veal fondue and they tasted all great.
You'll find on the menu an extensive list of dishes including vegan, raw fish, and seafood, meat fondues. These are not all the typical Portuguese petiscos, but are definitely inspired by and local ingredients are used.
The Starters
I really loved the anchovies with balsamic reduction, the hummus with wasabi and edamame. My friends were nicely surprised by the raw tuna tartar with pesto (they've never tried something like this before). While I enjoyed it too, I'd have loved the tuna to have been an idea fresher. But that's not always easy, the best tuna that comes fresh from the Atlantic ocean is too expensive and the prices of the restaurant are very reasonable.
Then came the Courgette, dry tomato & peanuts carpaccio and let's face it, most of us don't like too much vegetables, but these were so well done, that they disappeared in some minutes. While the shrimp carpaccio didn't come as expected – it wasn't raw shrimp carpaccio, but cooked, it was seasoned divinely.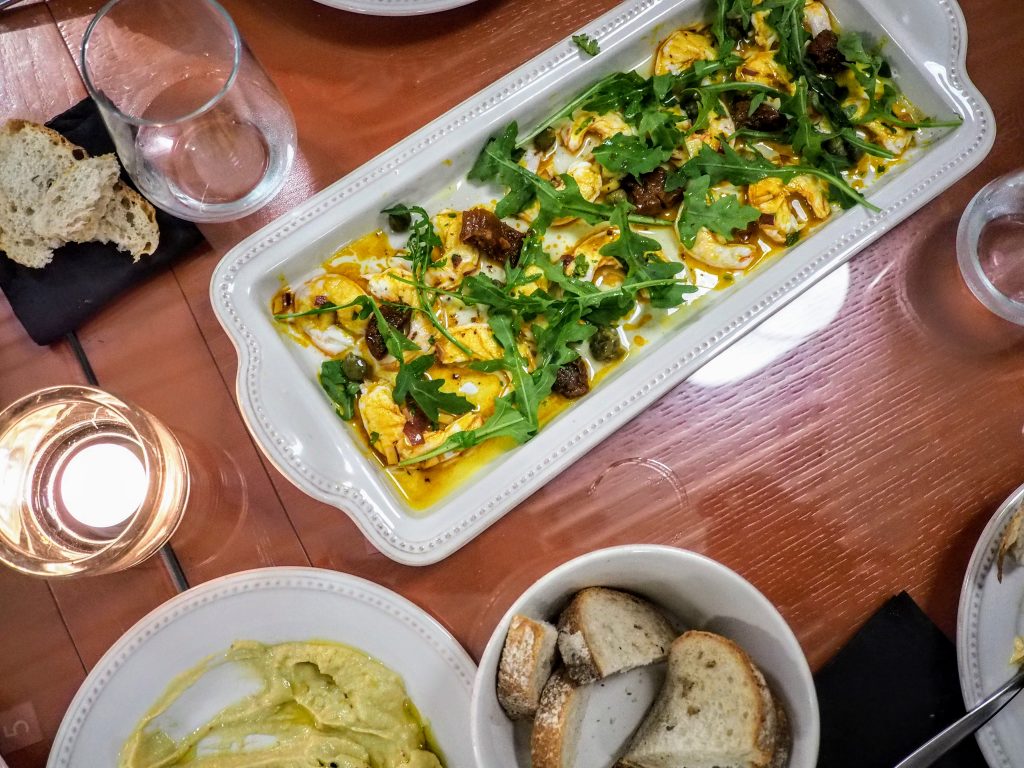 The meat fondue
You may wonder how we still had space for more food after all this, well, I'll explain that next.
For now, I just have to say that the meat cut was very lean, never chewy and tasted very fresh. Of course you need to eat veal rare or medium, otherwise, you're in trouble.
We ordered the one with shrimps, and they were very delicious, too.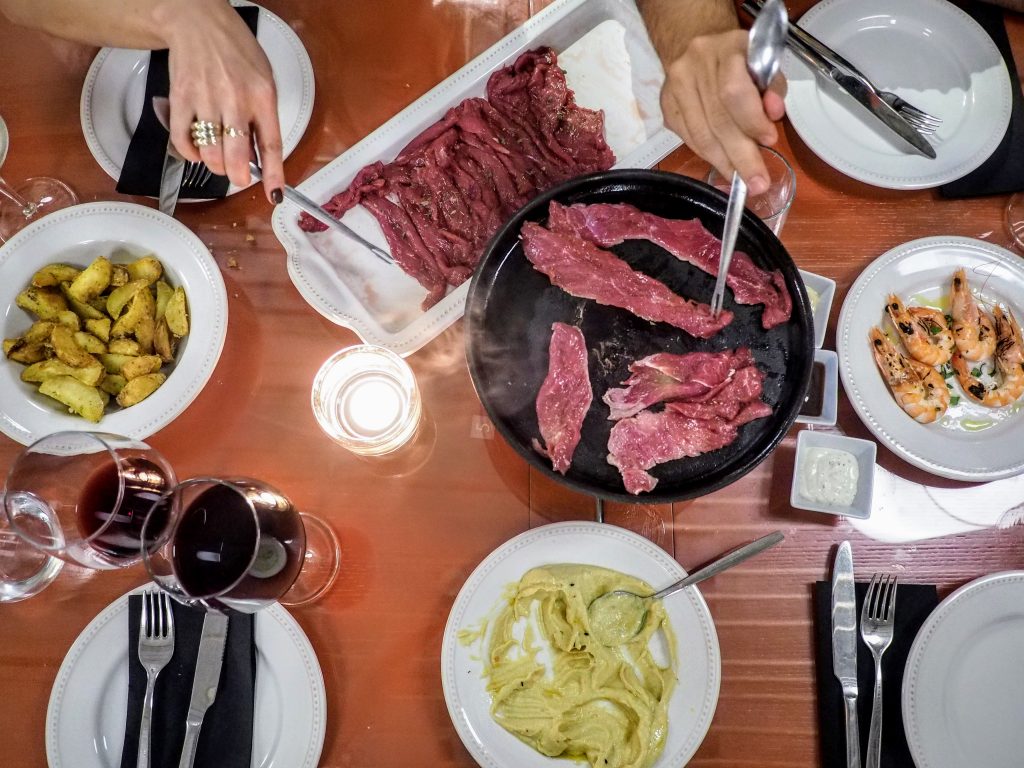 The wines
Desert is coming, but I need to give special attention to the wines. They offer a degustation of 3 glasses for 9 Euros. We ordered that, but were offered one more glass… so we needed more food to support it.
The rosé was my starter and I didn't particularly like it. But the red wines were great, especially the last one Reserve.
The dessert
We ordered the cheesecake and the chocolate cake. They offered us the cheesecake, because it was the last piece and actually an "exposition product", therefore it didn't taste so fresh, I guess normally that's not the case. But the chocolate cake was divine. My favorite chocolate cake in Lisbon is made at Landeau, but this one was nothing less but excellent and everyone loved it. 
The Service
Nothing to complain about, very attentive staff, they know and explain everything and are very kind all the time. Thank you for that.
The Verdict
Eating bear is a new restaurant and I hope with promising future because food, decor, and prices are amazing. I definitely recommend it and would come back.