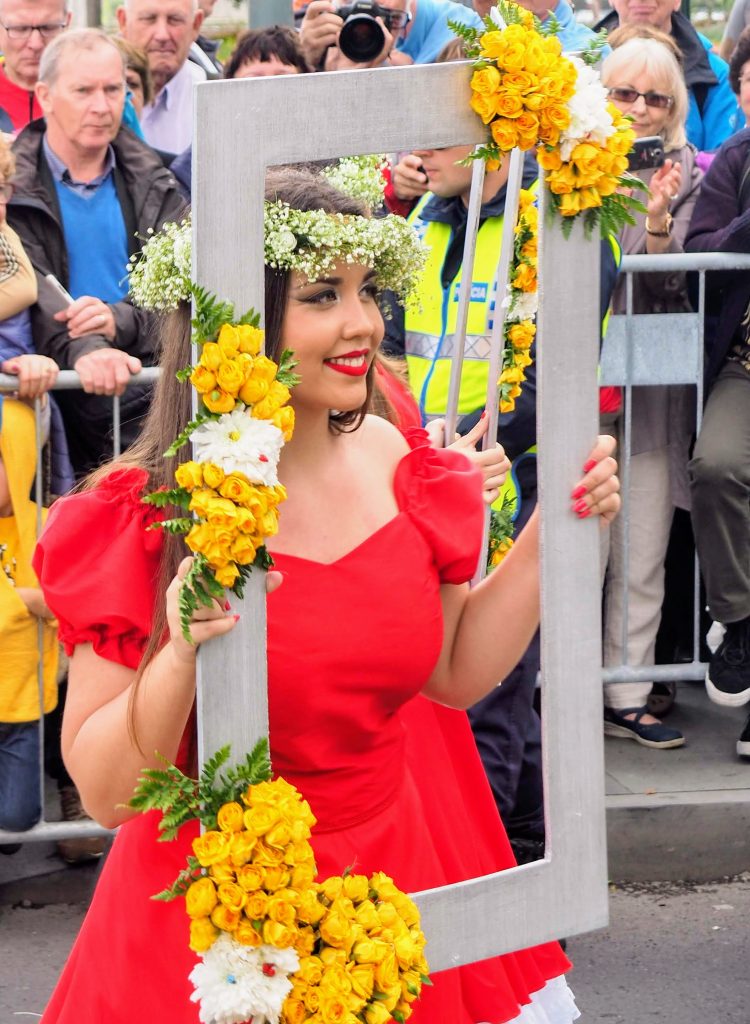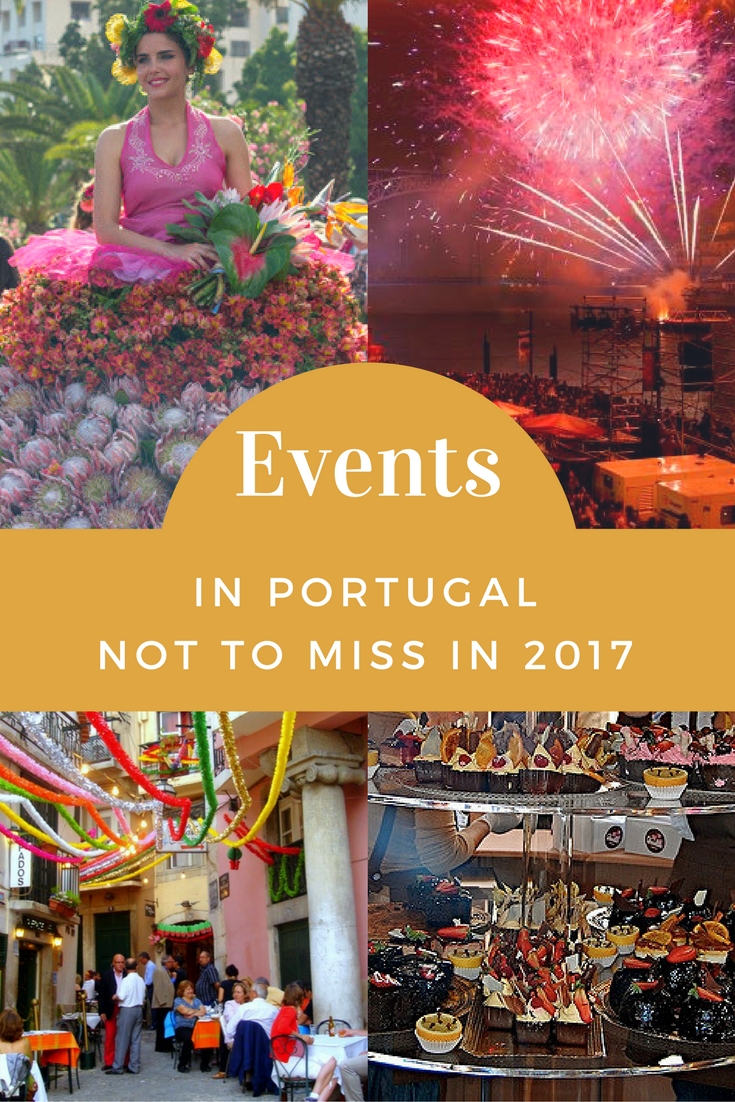 This is quite an extensive list of events throughout the year in Portugal. But it's great because you'll know what's happening all the time. You can either organize your vacation to include some of these celebrations or just visit them if you have already booked your trip.
February
Vilamoura Atlantic Tour, Vilamoura, Algarve
If you love horses, warm weather and few tourist, this is your event. Get to know the coast Algarve the way you haven't seen it yet.
Start February 14th
End April 2nd
Official website http://www.vilamouratour.com/event/vilamoura-atlantic-tour-2017/
March
Azores Airlines Rallye
Love car racing? This rally has existed for 50 years on the beautiful Azoren island of São Miguel. It kind of follows a tourist itinerary, passing at some of the highlights of the island.
Start March 30th
End April 1st
Official website http://www.azoresrallye.com/
International Chocolate Festival, Óbidos
You can't miss this event if you are a chocolate addict like me. The streets of this medieval town fill in with chocolate sculptures, bonbons, cakes and other goodness. You can participate in workshops or watch competitions to determine the best chocolatier. For the kids, there's a special "Chocolate house for children".
Start March 10th
End April 2nd
Official website http://festivalchocolate.cm-obidos.pt/
April
Peixe em Lisboa – Lisbon Fish and Flavours
This is an iconic event of the city and 2017 marks its 10th edition. You'll have the opportunity to try dishes from some of the most renown Lisbon and international chefs. There's also a market area, with the exhibition and sale of food products, wines, beverages, cooking equipment and so on.
Stat March 30th
End April 9th
Official website http://www.peixemlisboa.com/en/
Walking Festival Ameixial
This walking festival in Algarve attracts participants from all over the world. It's one of the major of its kind. The festival expands to Salir, Querença, Alportel, Monchique and has more than  40 different walks.
There are a also workshops, expositions, group dances, gourmet markets at the festival. Its main goal is to attract attention to sustainability and climate change and make us think of our impact on nature.
Start April 28th
End May 1st
Official website http://wfameixial.qrer.pt/wp/
Sines Tall Ships Festival
This regatta of tall ships, commemorating the 150th anniversary of the Confederation of Canada, represents the adventure of a lifetime and travels 7,000 nautical miles transatlantic visiting seven countries. The race starts in the United Kingdom and passes through France, Portugal (Sines), Spain, Bermuda, United States to finish in Canada.
Located at a strategic point of the Atlantic front, the city of Sines has always been linked to the sea routes and receives this regatta yearly with four days of activities that include visits to the boats, parades of the crew, concerts, fireworks and many other initiatives. Free entrance.
Start April 28th
End May 1st
Official website http://www.aporvela.pt/sinesrdv2017/?lang=en
FIESA – International Festival of Sand Sculptures, Pera, Algarve
This exposition of sand sculptures is unique on the Iberian Peninsula and occupies 15 000 m2, which also makes it the biggest in the world of its kind. 35 000 kg of sand are needed to build all the sculptures. Artists from all over the world are responsible for this beauty. In the night, there are various events such as concerts, theaters, workshops, etc.
Start April 1st
End October 31st
Official website http://www.fiesa.org/
May
Festa da Flor – Celebration of the Flower, Madeira
Spring is a queen, who has a flower crown, according to the locals. To celebrate her comeback, every year after Easter, they throw her a party – Festa da Flor. With its subtropical climate Madeira has a lot of flower varieties to offer. This mind blowing colourful festival is a must see.
Start May 4th
End May 21st
Official website http://festadaflor.visitmadeira.pt/index.php?lang=en
Algarve Nature Week
Nature seems to be everything for the Portuguese. This festival aims to make you feel a deep connection with it. Activities include hiking, bird and whale watching, boating, biking, horse riding, donkey riding, etc. . There are over 90 outdoor activities and several accommodations, some of which are in rural areas. All at friendly prices so you can enjoy (almost) all activities.
Start May 5th
End October 14th
Official website http://www.algarvenatureweek.pt/en/
June
This month has so many festivities all over Portugal. I've chosen 5 of the best for you.
Festas de Santo António, Lisboa
The streets smell of sardines, all restaurants open their esplanades to welcome the hungry. The old city is decorated with colorful garlands to celebrate the coming of the Summer. The best neighborhoods to join the feast are Mouraria, Graça, Alfama, Bairro Alto and Madragoa.
The main celebration is on the 12th of June – there's a parade on the Avenida da Liberdade. But any night in June will make you feel the amazing vibe of this unique event.
Start June 1st
End June 30th
Official website http://festasdelisboa.com/sardinhas17/?lang=e
Festas de São João, Porto
This is Porto's alternative of the above celebrations. Music, dance, tapas and fireworks mark the feasts of St. John, with pagan origin, linked to the celebration of the summer solstice. The biggest celebration is on June 23rd, but like in Lisbon, you can enjoy them during the whole month of June
Start June 1st
End June 30th
More info http://www.the-yeatman-hotel.com/en/porto/sao-joao/
Sanjoaninas, Terceira, Azores
This is one of the most grandiose feasts on the Azores Island. The Sanjoaninas date back to the 16th century but have always played a prominent role in Azorean culture. They begin with the procession of opening and parade of the queen, and continue for several days with cultural, recreational, ethnographic and sport activities. One of the highlights of the feast is bullfights. But if you're not a fan, like me, you might want to miss this one.
Start June 22nd
End July 2nd
Official website http://www.sanjoaninas.pt/
NOS Primavera Sound, Porto
This music festival features singers, musicians, bands and DJs from all over the globe. A world class event not to miss.
Start June 8th
End July 10th
Official website http://www.nosprimaverasound.com/
Sumol Summer Festival, Ericeira
Another world class music festival. This year Sean Paul confirmed his participation.
Start June 30th
End July 1st
Official website http://www.sumolsummerfest.com/
July
It offers numerous music and entertainment events. I managed to choose 6 of the most renown for you.
The Three most famous music festivals with world class singers, musicians and DJs are
RFM SOMNII, Figueira da Foz
Start July 7th
End July 9th
More info https://www.facebook.com/OMaiorSunsetdeSempre
Super Bock Super Rock, Lisbon.
Red Hot Chilly Peppers and Deftones have confirmed participation this year.
Start July 13th
End July 15th
Official Website http://www.superbocksuperrock.pt/pt/pt/#hero
MEO Marés Vivas, Vila Nova de Gaia
Start July 14th
End July 16th
Official Website http://maresvivas.meo.pt/
Festival Internacional de Jazz de Loulé – International Jazz Festival of Loué
This festival has been on the scene of Loulé since 1995 and brings world renown jazz names.
Dates to be announced yet
AgitÁgueda, Águeda
This event, held in the city center by the river, gained worldwide fame for the originality of the Umbrella Sky Project in which more than 3000 colorful umbrellas covered four of its main streets in a creation of great visual impact. In addition to this and other facilities that make urban art its distinctive feature, AgitAgueda's program includes shows, concerts and many surprising initiatives that make it a unique event
Start July 1st
End July 23rd
Official Website https://www.agitagueda.com/en/
Red Bull Cliff Diving, São Miguel, Azores
This is a spectacular event that you should attend if you're a fan of extreme sports. The jumps are made from a height around 27 meters and athletes can reach a speed of 85 kilometers per hour. Amazing.
Date July 9th
Official Website http://cliffdiving.redbull.com/en_PT/event/azores-2017
August
MEO Sudoeste, Zambujeira do Mar
One more of Portugal's best music festivals including pop and electronic style. Lil Wayne, Mark Garrix and Dua Lipa just are some of the names confirmed.
Start August 1st
End August 5th
Official Website http://sudoeste.meo.pt/en
Jazz em Agosto, Lisbon
An open air jazz festival in Lisbon that takes place at Gulbenkian foundation. Worth the visit if you're in Lisbon during the event.
Start July 26st
End August 6th
Official Website https://gulbenkian.pt/musica/en/
September
Festa do Vinho Madeira, Wine Festival Madeira
The wine grape harvest is always a good reason to visit Madeira. In the city of Funchal, the allegorical spectacles of light, sound and music are a part of the highlights of the celebrations that extend to other places of the island, too.
Start August 27th
End September 10th
More info at http://www.visitmadeira.pt/en-gb/homepage
October
Festival Nacional de Gastronomia, National Festival of Gastronomy, Santarem
For foodies, this cannot be missed. Aromatic herbs, spices, cheeses, fresh fish and traditional Portuguese sweets are some of the delicacies you will find here.
Start October 19th
End October 29th
Official Website http://www.festivalnacionaldegastronomia.pt/
November
Capítulo Perfeito Surf Competition
During October and November the best names of surf gather in Nazaré to compete in the best waves in the world.
Start October 5th
End November 15th
Official Website http://capituloperfeito.com/?lang=en
December
End of the Year in Madeira
This is said to be the most spectacular celebration of year's end in Portugal.
Date 31st of December
More info at http://www.visitmadeira.pt/en-gb/homepage
Do you need help with organizing your trip so that it includes any of these events? Then let me help you – check out my Portugal travel planning service here to know more.
Sources and notes: This list is updated regularly, but please check the official websites in case of changes. The source of these events is VitsitPortugal.com and the official websites of the events.