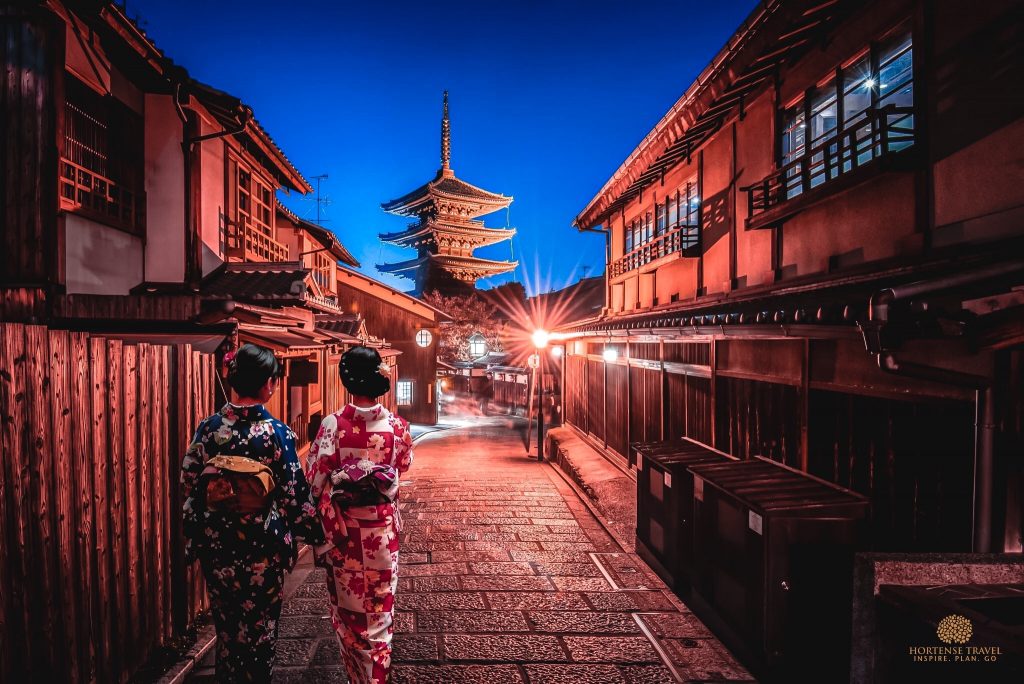 Japan is a country shrouded in mystery and tradition, of movement and technological growth, the home of anime and capsule hotels, and the setting for the weird and wonderful. The annual cherry blossom envelopes the country in an elegant blanket of soft pink beauty, meanwhile Mount Fuji stands with a striking force overlooking the country's capital, goading visitors to give their best shot at reaching its peak.
Carved in every possible way by its deep Eastern ideology, Japan is a country that deserves a place on every wanderer's bucket list. Whether it is the authentic cuisine shaped by centuries of change that calls your name, or snow sports in the most stunning of landscapes, Japan promises to win your heart.
The other beauty of this country is that it is possible to fully immerse yourself into the depths of Japanese culture in the small space of a week. In this one-week itinerary of Japan, you experience the oldest foundations that formed the country. You will bask in the potent smell of fresh fish at one of the most popular markets, then lose yourself in a state of mindfulness that can only be found in a Japanese temple. You will view Japan from a bustling city landscape that combines both the old with the new, then immediately find yourself in spaces of Zen that urge you to submerge in the tranquillity of Japanese horticulture. Japan's ability to amalgamate your senses is simply what makes it so enchanting and intoxicating.
Join us on the perfect one-week itinerary of Japan!
Day One- Tokyo And Akihabara
Whether you are arriving via Haneda or Narita, your initial glimpse into a preceding adventure is captured the moment your feet make the first contact with Japanese soil. In either circumstance, both airports are world-class. However, the chosen airport of arrival is entirely down to your own specifications, such as price, location of the hotel, or where you are headed following landing. Narita International airport is generally where international flights arrive, and while the airport is 60km outside of Tokyo, you can guarantee that the renowned Japanese train system (unless you fancy a helicopter) will get you into the city in a reliable time frame. On the other hand, Haneda International airport is 14km away from Tokyo Station, and while it generally caters to long-haul flights hosted by Japan's major airlines, it is slowly making allowances.
Your one-week Japan itinerary inevitably starts you off in Japan's capital city; Tokyo. When you finally arrive in the city and have settled your things into your chosen accommodation, take a moment; you have arrived! Your trip has been long, and your Eastern adventure is bound to be hectic. When you feel ready, let the trip commence.
You will be spending only a few precious days in this remarkable city, so it is best to embody the Japanese trait of efficiency. Just enjoying a gentle stroll through the refined, clean environment that makes up Tokyo's expanse is refreshing. Meandering through the city, and you will notice its unique talent of combining ancient aesthetics with bold, modern styling. It simply feels like a city providing its occupants with authentic modernity.
As day gently drifts into evening, take advantage of Tokyo's pristine Metro system that will effortlessly transport you across the city. This is the moment to make your way to Akihabara which is viewed at the peak of its stark fluorescent beauty at night. Akihabara is a district in Tokyo surrounding the station of the same name. The area is famed for becoming the hub for 'otaku' die-hard anime and manga fans to enjoy an array of shops and businesses devoted to their passion. Such establishments are entwined with electrical stores which the area is also famous for, like Yodobashi electronics store. At night, the energetic colours that would otherwise seem almost intrusive become the highlight of the interactive scene before you. Japanese locals aim to have the area donned center for global electronics technology and trade, bringing further exposure to Japanese innovative ideologies.
If you're wondering where to stay while in Tokyo check-out a thorough description of 8 typical Tokyo neighborhoods here.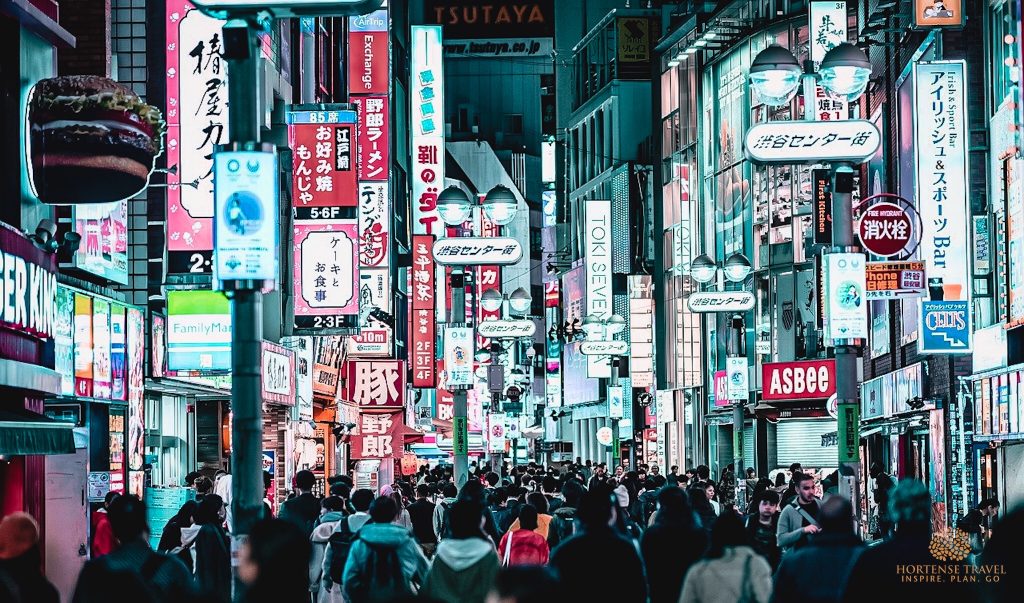 Day Two – Visiting Harajuku and Shibuya
Day two of your one-week itinerary of Japan is somewhat more energetic; first on the agenda is Shibuya, which is famed for being a hub for shopping, fashion, and entertainment. When you feel that you have enjoyed a little window shopping, it's time to face the Shibuya Crossing. Warning; expect a level of concentrated chaos that resembles something like the front of the crowd at the main stage at Glastonbury when the headliner starts to play. Shibuya Crossing is the point where five streets intersect. And this is where you will cross the road. Every two minutes when the lights change, torrents of people surge the crossing. With the backdrop of billboards, audible adverts and the signature glow of neon, the Shibuya Crossing is one you won't soon forget.
Experiencing the Shibuya Crossing is Tokyo's equivalent to Buckingham Palace, or fish and chips; have you really visited if you haven't taken part in something quintessentially British? Watch a couple of rounds, and then give it a go yourself.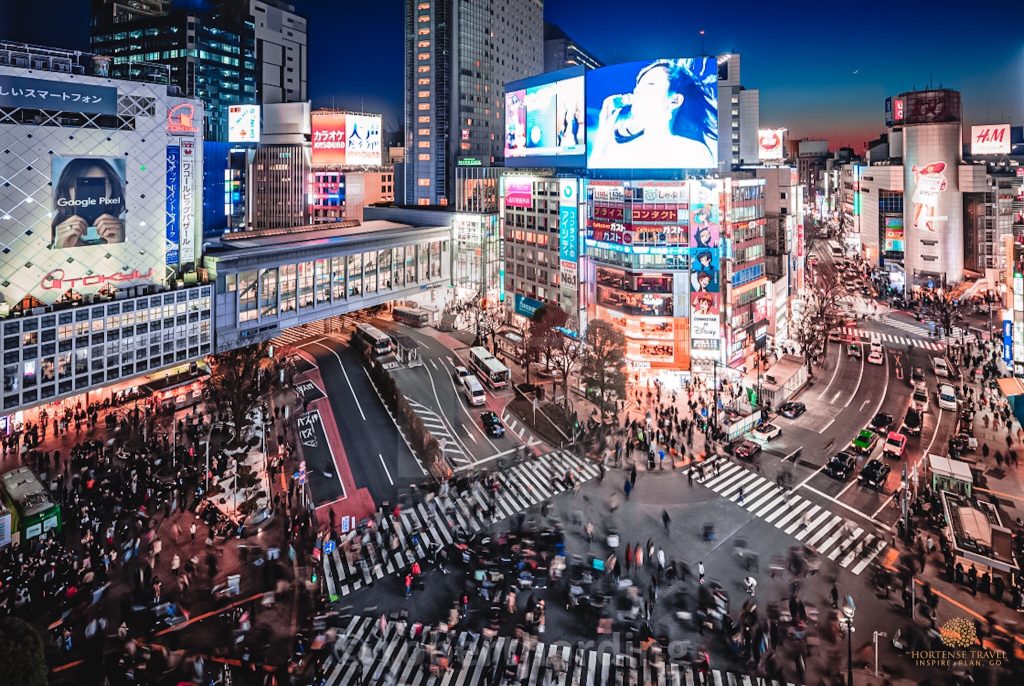 Next, you will move on to Centre Gai, or Sentagai, which is one of the most hectic streets in Shibuya. It is also the hub for Tokyo's subcultures and younger demographic; through the game arcades, food choices, music stores and pachinko machines (for the casual gamblers), there's something for every traveler to digest in their visit here.
After that, you will nip down the street to Hikarie. (En route, ensure you experience Don Quijote, or 'Donki', which Japan's huge discount store that stocks the wacky to the bizarre). At Hikarie, you will take the lift to the Sky Lobby on the 16th floor. From this perspective, you will see Shibuya in its entirety.
To get the most out of the day now it's time to head over to Harajuku taking the Inokashira Dori (if the weather is nice). The first stop in this area is Takeshita Street, which is Japan's example of Shoreditch. The trendy shops, boutiques and awesome clothes shops create a vibe that combines hipster aesthetic with Japanese culture, and it's fantastic! Loved by tourists and locals alike, Takeshita Street is where you will find the latest fads and the quirkiest establishments. Don't expect it to be quiet.
It is of no surprise that Japanese fashion culture was born in Harajuku. Interestingly WW2, which brought military families to the US Washington Heights army barracks also brought young, intrigued locals close to Western culture, shaping the future of fashion trends.
Harajuku is also the place to go for the coolest trends in Japanese cuisine, such as Totti Candy Factory where you can buy candy floss the size of a mountain (not literally) or try some crepes with a Japanese edge. Indulge yourself with some of the strangest yet delightful combinations as you crawl the streets taking in everything that there is on offer. If you have time, visit the Meiji Shrine, and take a stroll through Yoyogi Park, best visited in spring for the peak of its beauty but always a gem.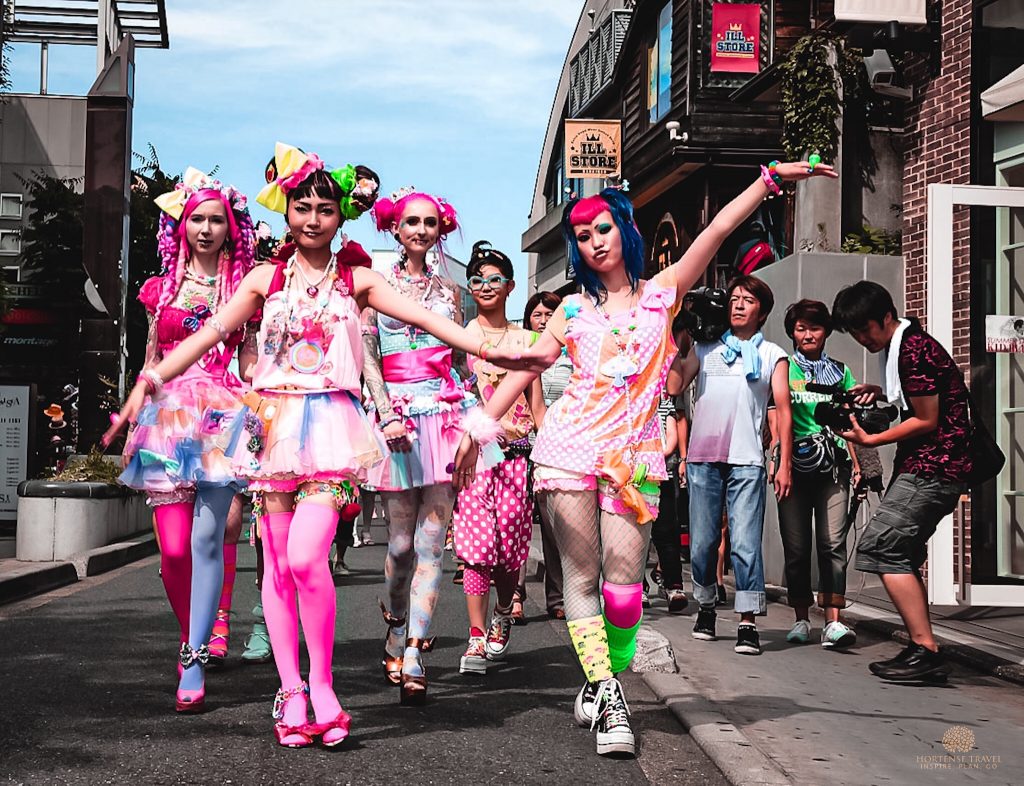 Day Three- Tsuji Fish Market And Ginza
Wake up, get yourself to Tsukiji Outer Market for a fresh sushi breakfast – this is the best place you are going to experience seafood in Tokyo. Day three of your one-week Japan itinerary starts with a slice of Japan's food culture. The area is generally focused on those who have an interest in sushi and cooking with seafood; you will see some incredible produce. However, the chaos of the bluefin tuna auctions, ramshackle stores, and narrow alleyways are all things of the past when it comes to the Tsuji Fish Market, the Outer Market remains well worth a visit. The old market is now devoted to wholesalers. To get a more refined taste of what it has become, the new fish market is located to a new Toyosu Market, about 2km away.
At the Outer Market, you will also gain a real impression of authentic Japanese locals' market experience with shops and stores selling everything from sushi knives to freshly sliced sashimi. Walk around here and grab some lunch, there are a myriad of eateries offering raw fish dishes to a variety of budgets.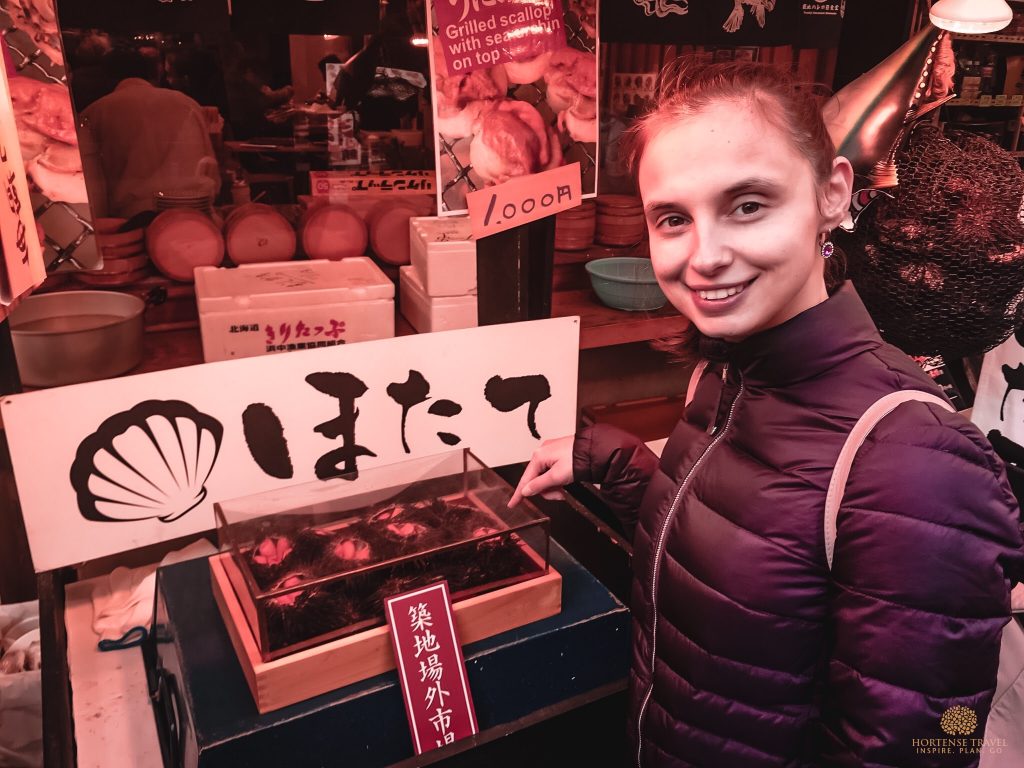 You will now dart off to the Ginza, which is the sheer opposite of the fish market by anyone's standards. Here you will find Tokyo's premium shopping and dining quarter. That doesn't give it justice. One square meter of land here is worth over 10 million yen. Hosting some of the most iconic brands of the fashion industry (and the price tags to match) the Ginza district will feast your eyes while it breaks your wallet.
That said, window shopping is free, and there is plenty to see here. From Ginzo Wako for jewelry and luxury items to the 12-story high department store Mitsukoshi. Essentially, the remainder of day two of the itinerary is devoted to shopping and soaking in a sense of affluence and vogue found nowhere else but here. If shopping isn't your bag, check out the Police Museum and Kabukiza Theatre to see kabuki, one of the most traditional forms of Japanese theatre.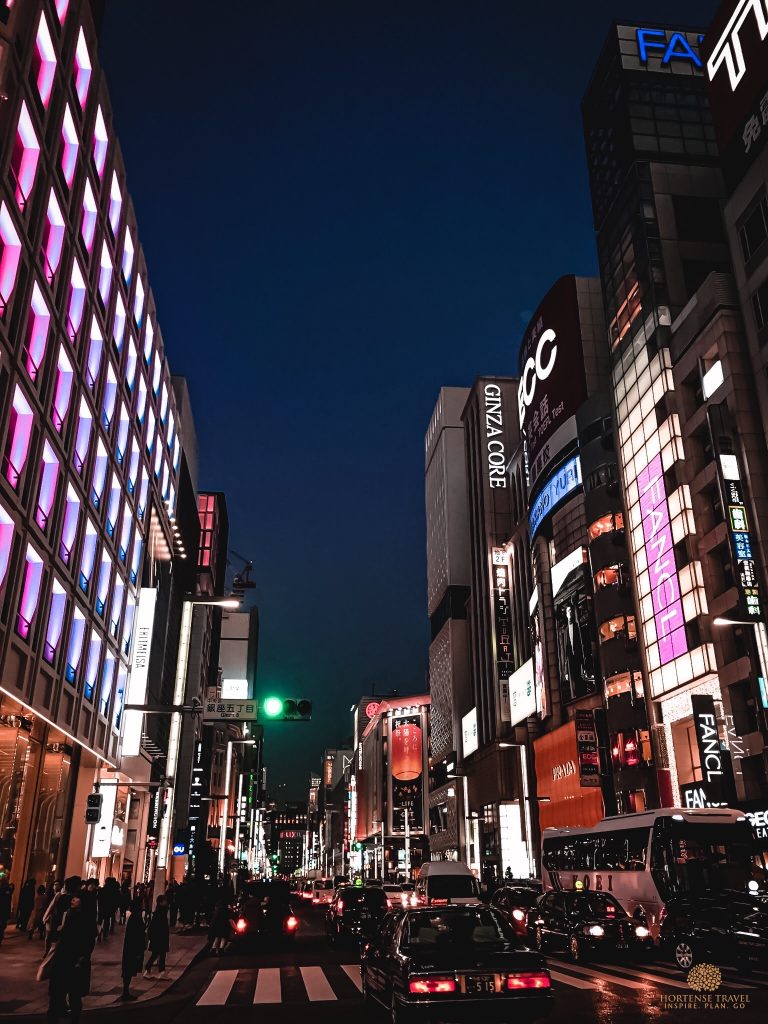 Day Four- Shinjuku Gyoen And Shinjuku By Night
Day four of the week-long Japan itinerary brings you to a slower, calmer pace as you visit Shinjuku Gyoen; Tokyo's remarkable national garden. With the backdrop of skyscrapers towering above the gorgeous cherry blossom trees, locals and tourists will all find a sweet escape from the concrete jungle that lies only metres away.
The very small admission fee allows you access to an unexpected tranquillity. Birds hum and flowers line your path as you meander through the gardens. Influenced and combining three garden aesthetics atypical of Japanese horticulture, you will enjoy landscapes and sites that will truly take your breath away. Spring it notably the best time to visit, when cherry trees blossom and provide the park with a gentle flush of pink. The autumn shades are also gorgeous, however.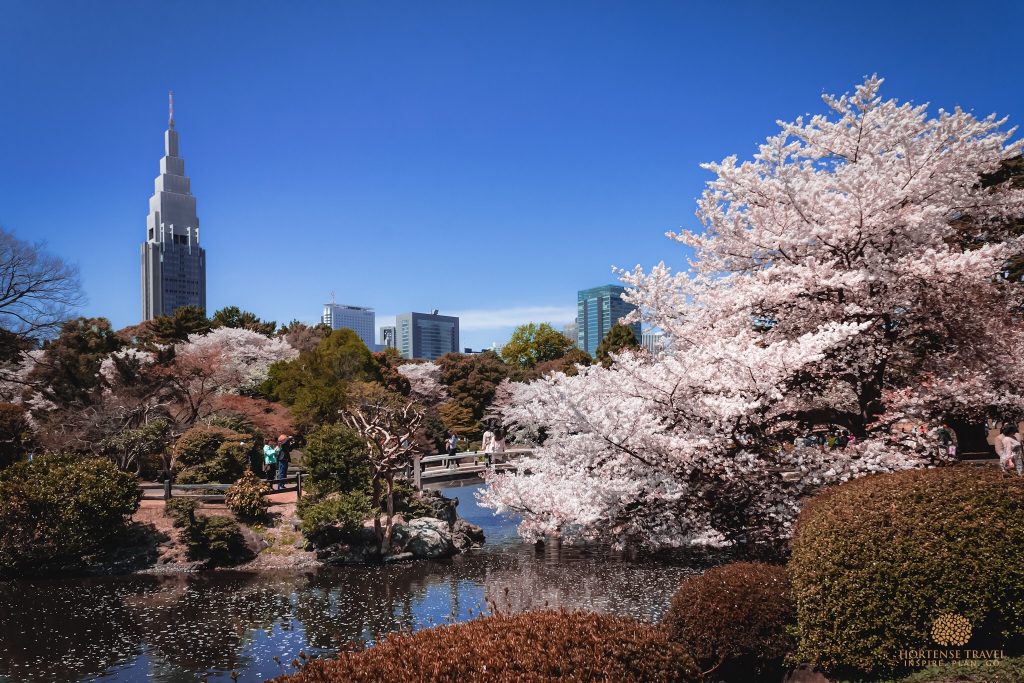 As the day turns to evening, it's time to venture over to Shinjuku. It seems natural that, following a day of serenity, you should end it with the buzzing nightlife that Tokyo is notorious for. With its own red-light district in Kabukicho, the Golden Gai (which is a selection of wooden bars and eateries that haven't changed in over five decades), Shinjuku ni-chrome for LGBTQ nightlife, Kagurazaka (one of the last existing geisha districts) and Okubu district for K-pop group performances, Shinjuku promises to deliver a night like no other. The path is guided by neon lights, naturally.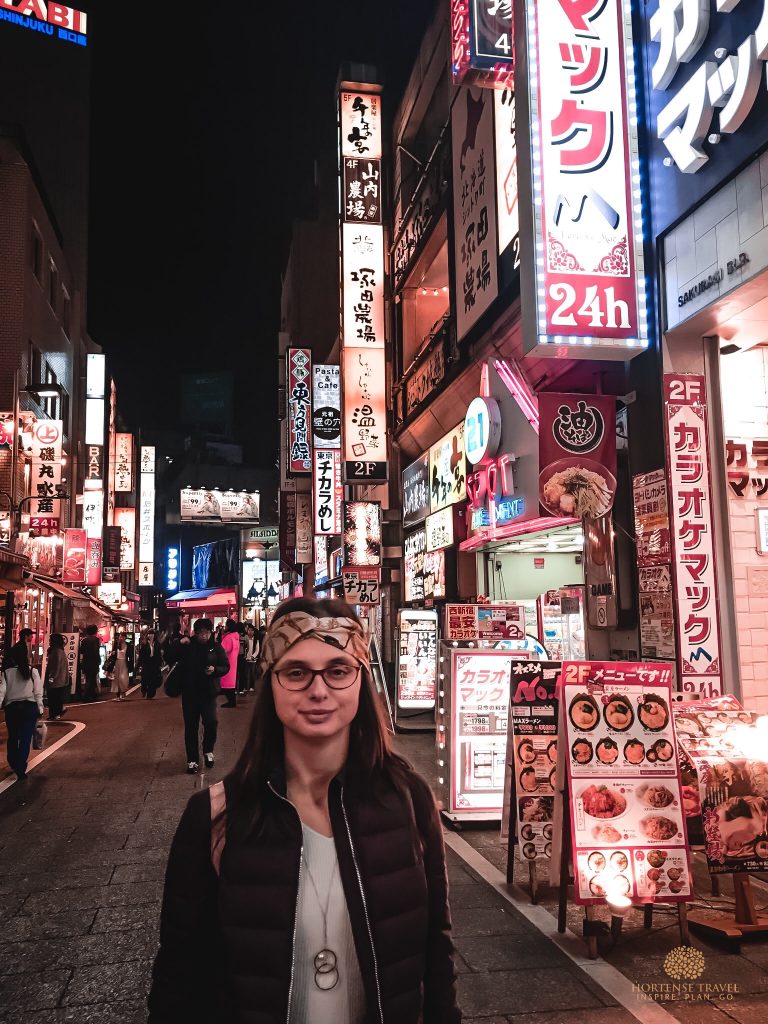 Day Five- Kyoto And The Golden Pavilion
The fifth day of the one-week plan of Japan takes you to Kyoto! It is recommended you take the Shinkansen, or more popularly known as the bullet train. Witnessing Japan from this angle is awe-striking.
While Tokyo is considered a center of modernity, Kyoto clasps on to tradition. Here, you will get a taste of old Japan, the kind of image you get when you think of the sounds coming from the most peaceful meditation tape. Think ancient temples and authentic teahouses. Kyoto is also home to geishas and robed monks, Zen gardens and the art of Japanese cooking. Kyoto transports you to Japan's spiritual roots. Experiencing Kyoto is like taking a deep breath of fresh air and allowing your body to relax. Embodying everything that Kyoto symbolizes is Kinkaku-ji (the famed Golden Pavilion). The unfathomable beauty of this architectural masterpiece can only be truly respected and appreciated in the flesh. Its intricacies and the undeniably intricate attention to details alongside the divine calmness that it draws within you makes the Golden Pavilion a must-see.
Enjoy the authentic food and drink scene that Kyoto has to offer as you amble through the city's delights. Maybe this is also your perfect moment to be introduced to meditation; watch as locals meditate on tatami-mat floors as they embrace internal peace.
If you're like to know all the places you can visit in Kyoto check-out my article on Things to do in Kyoto on your first time.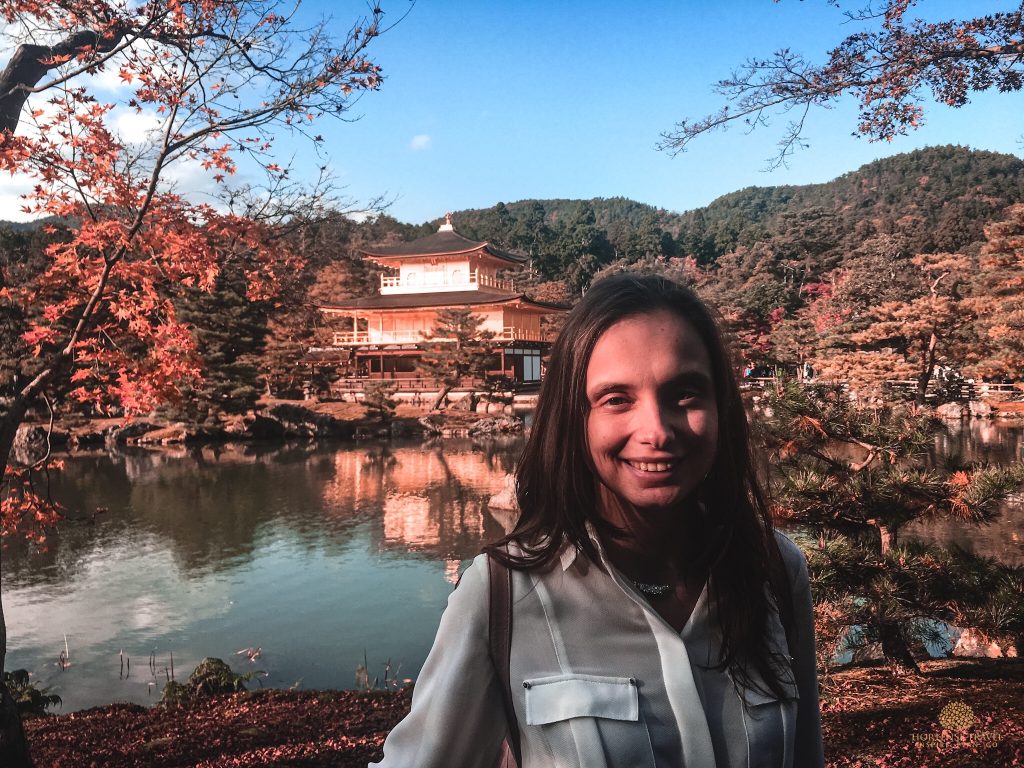 Day Six- Hire A Kimono or Yukata and Temple-Hop
As the week has progressed, your journey has become ever more spiritually connected to the Japanese culture, and day six is no exception. Firstly – today will be most authentically experienced when adorned in a kimono, so set about finding one to hire for the day. Then the adventure can resume. Placed at the foot of the Higashiyama mountains sits Nanzen-Ji temple. This is one of the most important Zen temples when it comes to Japanese Zen Buddhism.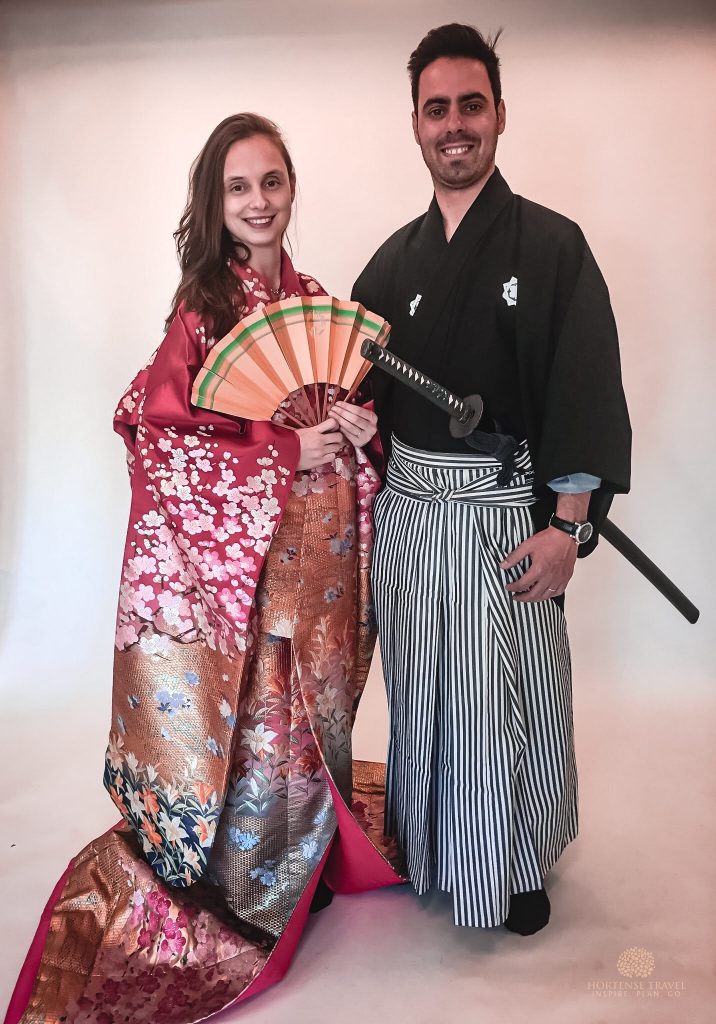 Dating back to mid-13th Century, the area that Nanzen-Ji now sits first became the retirement villa to Emperor Kameyama before eventually becoming a Zen temple. Sadly, the earlier version burned down, but over time it has been replaced to become how it appears today. You will first come across the huge Sanmon entrance gate, built in 1628, and towering above the treetops. This is the first example of the consistent surprises that the collection of temples has to offer. From gorgeous rock gardens to aqueducts, the setting of the temple is nothing short of elegant and remarkable.
One of the sub temples (tachu) that you cannot miss is Tenju-an. Built in 1336 was a token of appreciation from Kameyama to his third Chief priest of Tofuku-ji. After Nanzen-ji burned down, it took 136 years before re-development would commence. Tenju-an regained its existence, becoming one of the more delicately beautiful sub temples.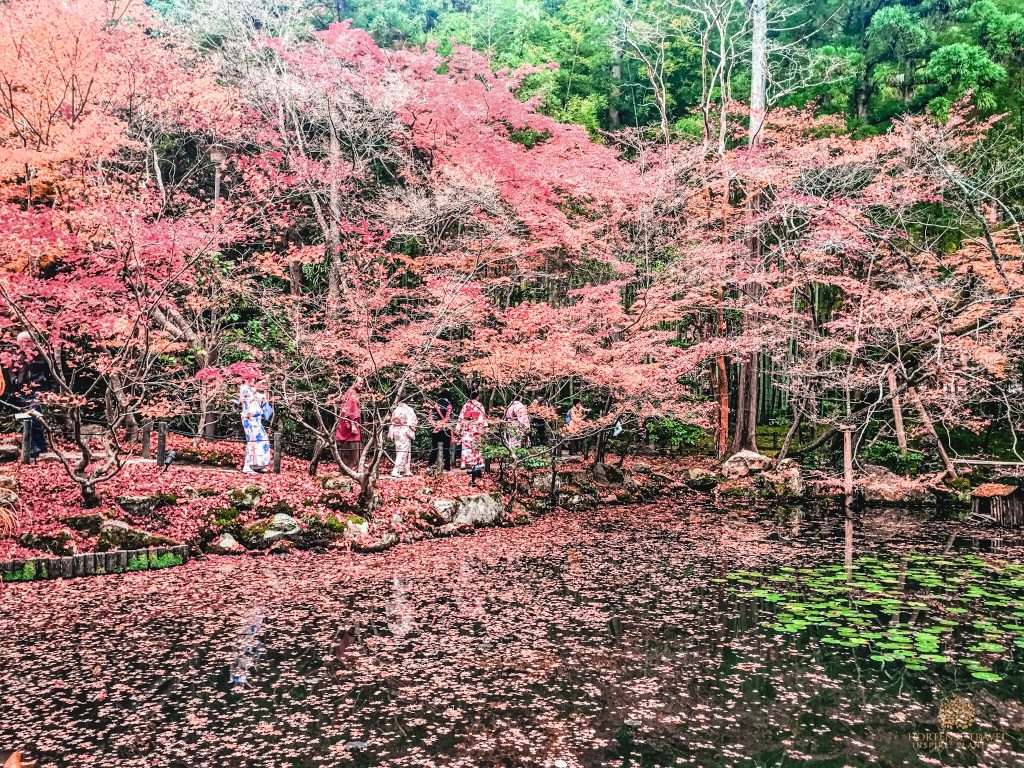 Day Seven- Fushimi Inari Taisha And Gion
The first part of your final full day on the week-long Japan itinerary will be devoted to walking the entirety of the Fushimi Inari Taisha complex. This is where you will walk amongst the endless red shrine gates (torii) that make up the arcades of vermilion. It is nothing less that an incredible and humbling site of devotion; Fushimi Inari Taisha is a shrine to the gods of rice and sake.
The shrine scatters across the wooded mountain of Inari-san. It is encouraged you take the 4km pathway that ventures through a handful of sub-shrines and is scattered with stone foxes. However, it is not entirely sweetness and light; when the afternoon sun gradually subsides, a dim grey shade envelopes the various graveyards and mini shrines to create a somewhat impending atmosphere. Still, something to experience.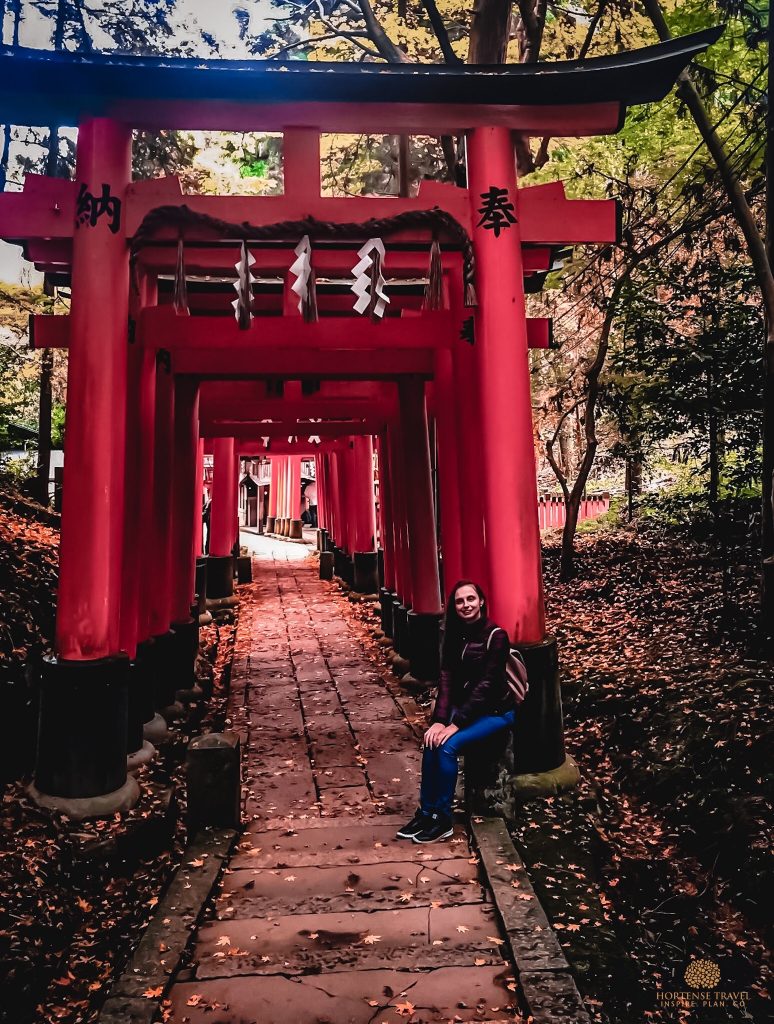 Arriving back in the thick of Kyoto, and you will spend the last of your one-week Japan itinerary in Gion, which hosts the famous geisha district. Sit back in one of the many teahouses (ochaya) along the Kamo River while you watch geiko (dialect for geisha) and maiko (their apprentices) entertain the masses. What a note to end it on!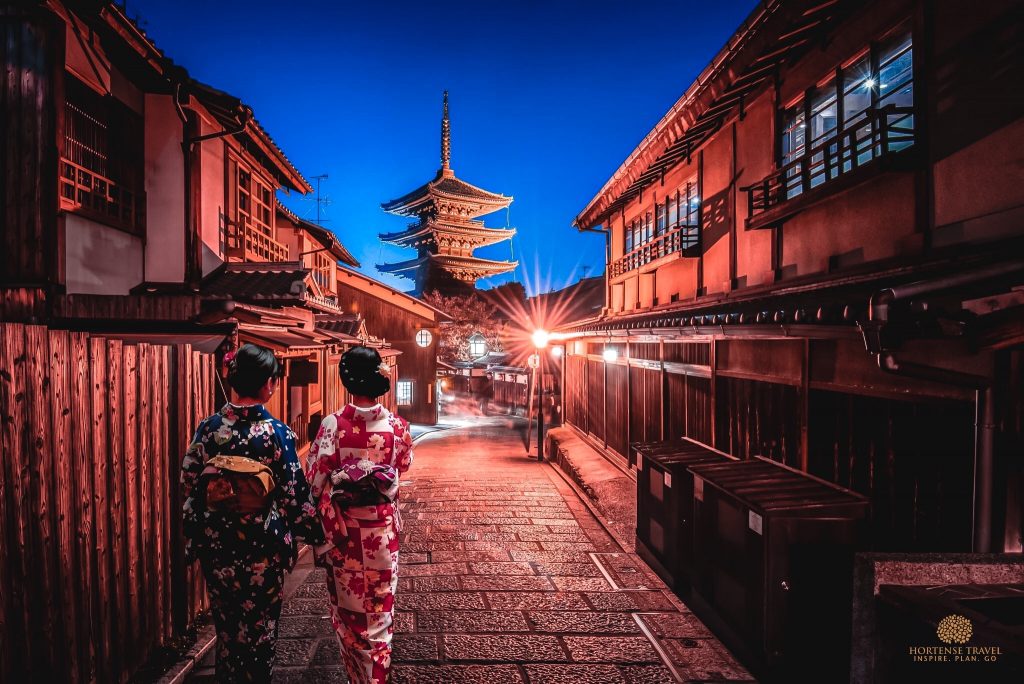 Day Eight- Departure From Kansai International Airport
You will find that the train is the easiest option for reaching the airport. The 75-minute journey will provide you with a nice moment to reflect on your incredible Eastern adventure. Feast on the knowledge that you managed to witness Japan from many entirely different perspectives; from ancient authenticity to gimmicky modernity. In any circumstance, you will have seen a glimpse at all that Japan has to offer.
If this itinerary sounds like some kind of dream that you cannot access for whatever reason, then before you jump the gun, why not get in touch with me here? You may find that your perfect adventure lies only a few clicks away.
Visiting Japan soon? Check this out: