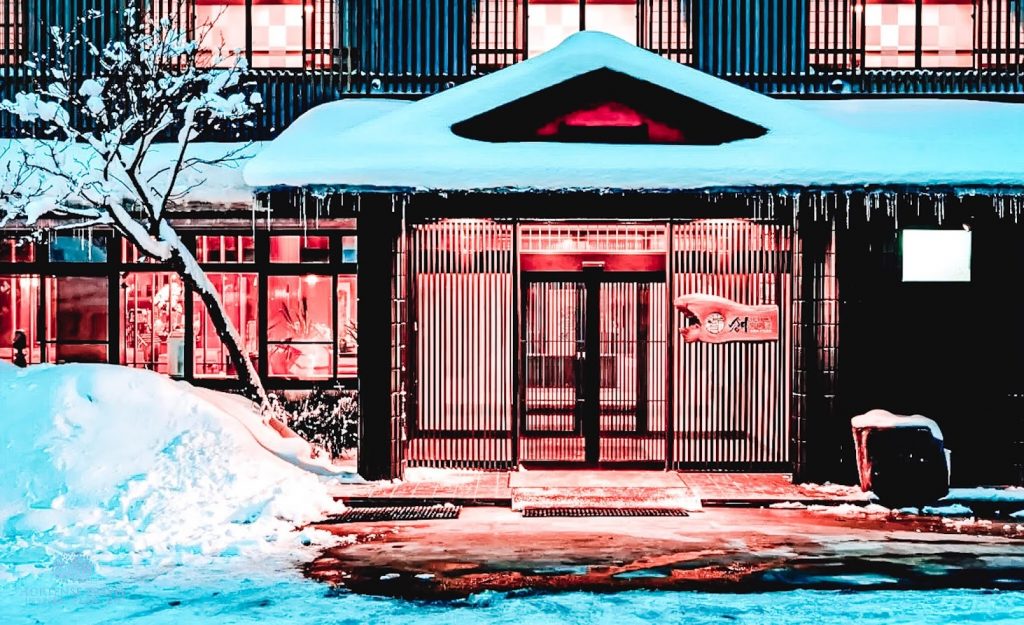 One of Japan's strongest draw is its deep heritage and preservation of culture, and not just in the extravagant castles and temples. Long history comes through in the subtle, everyday details such as hand-made signs and remnant cobblestone paths. And hovering in between are the traditional Japanese inns.
Introducing the
ryokan
You'll find that most Japanese inns, a.k.a ryokan, are often tied to its surroundings. They're featured most prominently in onsen towns and heritage districts, markedly a traditional lifestyle and hospitality experience – it's not just a place to sleep! These inns vary from cozy, family-run spaces to more westernized, hotel-like establishments at budget to lavish costs. Guests often plan for an overnight or weekend stay in rural inns as they emphasize rejuvenation and healing, often surrounded by nature or strolling gardens. Those who solely want to experience the cultural side of Japan may look for urban ryokan in Kyoto or bigger cities.
Expect Japanese inns to differ from hotels in these main aspects:
 

A minimalistic

tatami

mat room

 

An onsen or public bathhouse attachment

 

Futon

bedding

 

Indulging in Japanese-styled robes (

yukata

) and inn etiquette

 

A multi-course

kaiseki

dinner and traditional breakfast set
The bulk of accommodation costs are easily explained by the elaborate kaiseki dinner, which is Japanese haute cuisine serving bite-sized seasonal specialties and local staples. Generally, a night costs between ¥15,000 and ¥25,000 per person, depending on your area of stay.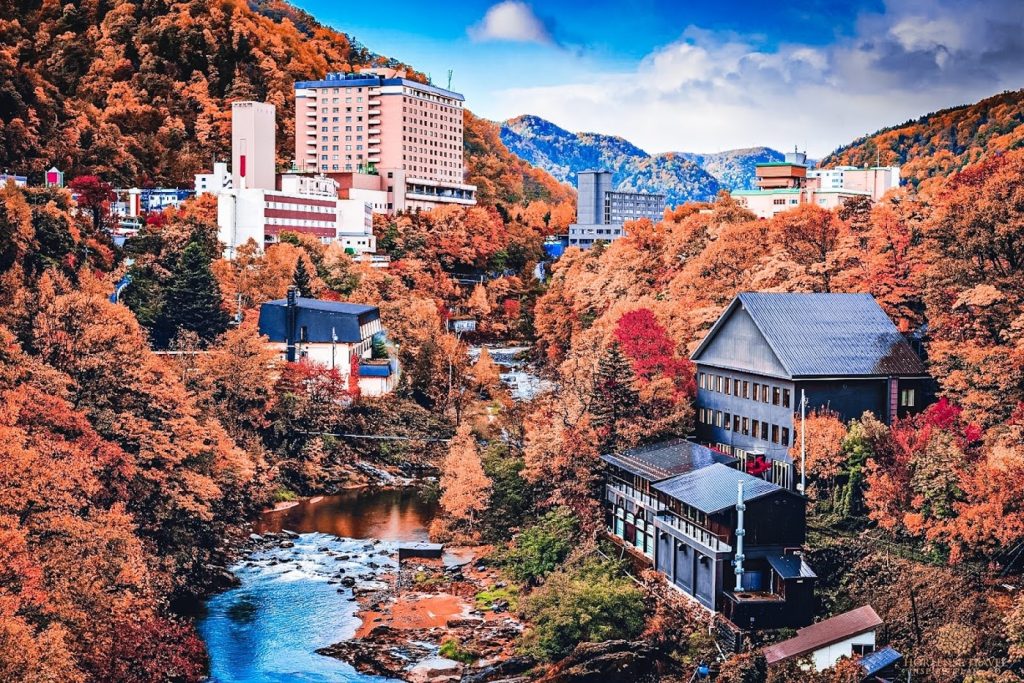 Upon Arrival
Checking into a ryokan is like checking into any hotel – you simply claim your reservations at the front desk and an attendant will show you the way. Some smaller establishments require you to take your shoes off at the entrance and wear indoor slippers instead. You may also be given special tokens for bathhouse access if there's a system in place (but this is usually only for big inns).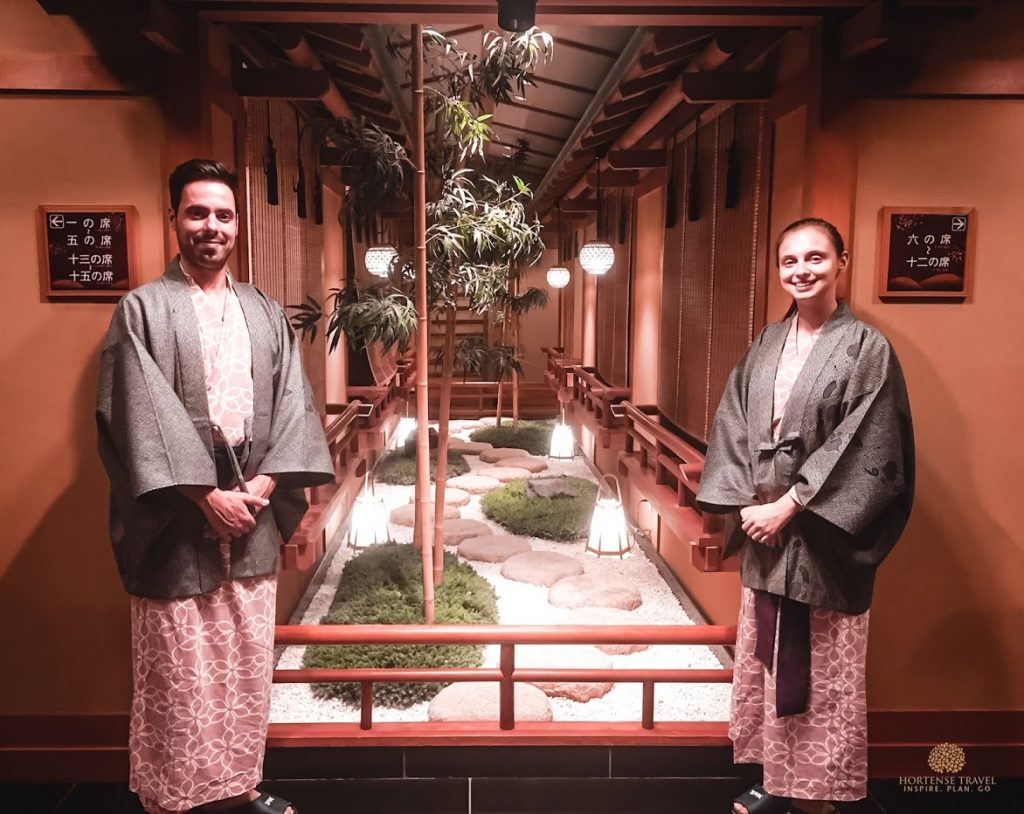 Settling In
You'll find that Japanese-style rooms are very minimalistic, comprising of tatami-woven flooring, a low central table and everything else packed to the sides of the room. Traditional inns may or may not have an en suite bathroom so ask ahead if you prioritize one; most have at least a private toilet for use.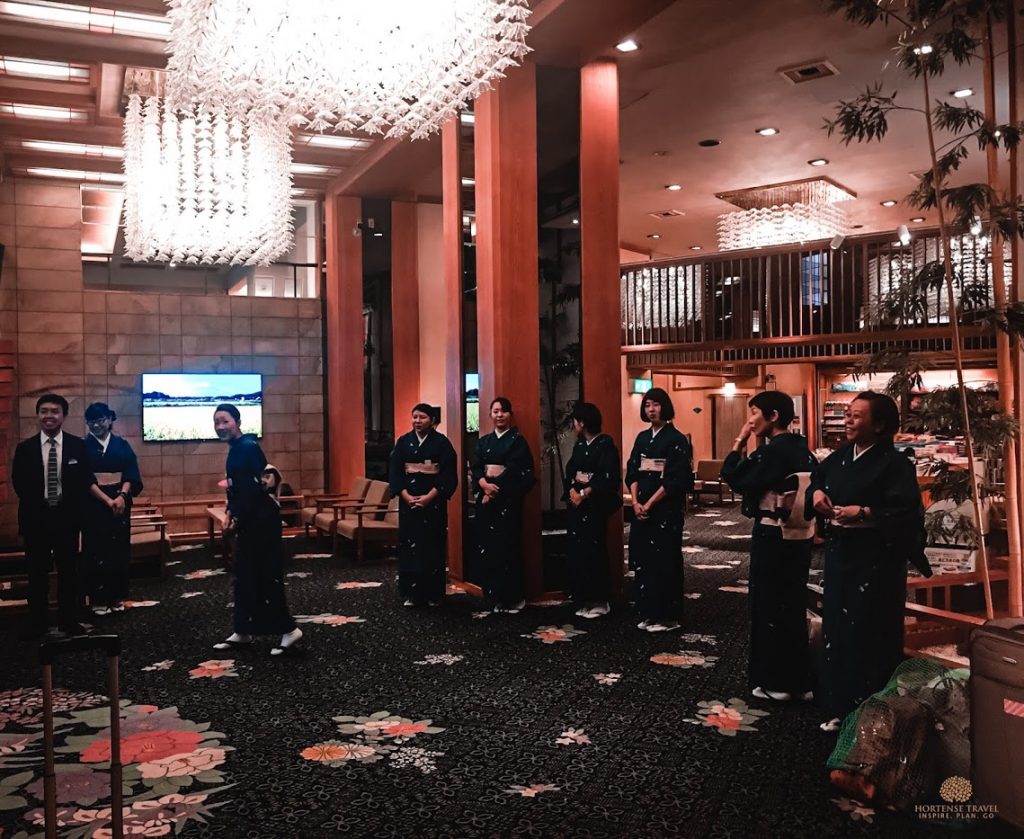 Note: Don't wear your shoes or slippers onto the tatami mats inside the room as the fibers are delicate. This includes dragging the wheels of your suitcase over it too.
Chances are that your host will welcome you by making a cup of green tea, presented with a traditional sweet. They'll also let you know about when the kaiseki dinner will be served (often in your rooms) and detailing how to prepare the futon when you're ready to sleep, although usually someone will come in and set it up for you discreetly. Don't worry about technically sleeping on the floor – the futon is extremely plush and comfortable, and the down comforter is more than warm enough. Japanese inns and hotels prize themselves in cleanliness too, so all you'll be taking in is the aroma of tatami matting with no worries of dust.
Note: A lot of these inns are traditional-styled and count as historical monuments in their own right. Be respectful of the property and observe any rules the hosts lay out. Also, keep in mind that the walls are thin, so don't make a ruckus or risk disturbing your neighbors.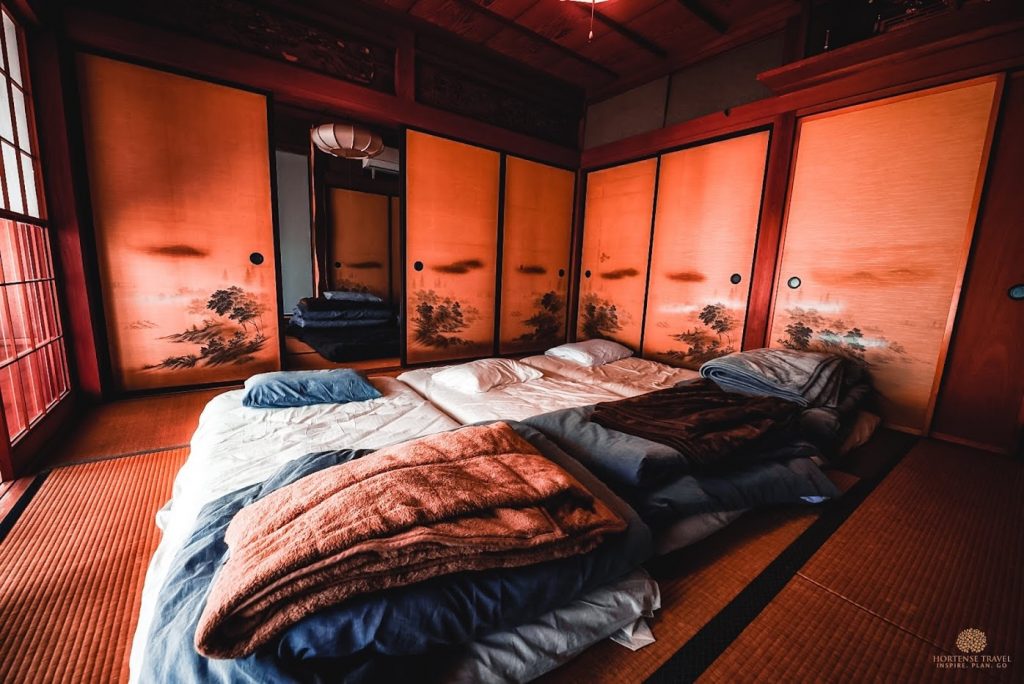 How to: Onsen Etiquette
Soaking away the cumulated stresses in a healing hot spring is a requisite for any cultural explorer. Custom dictates that you exchange your street clothes for the yukata and slippers prepared in your rooms, although you're free to wear those clothes into the bathing/onsen area. Make sure to bring with you a change of underwear, the big and small towels left out for you, and any toiletries you might need. The male and female onsen are indicated by blue and red curtains or signs respectively; some inns change them around between morning and evening sessions so check carefully!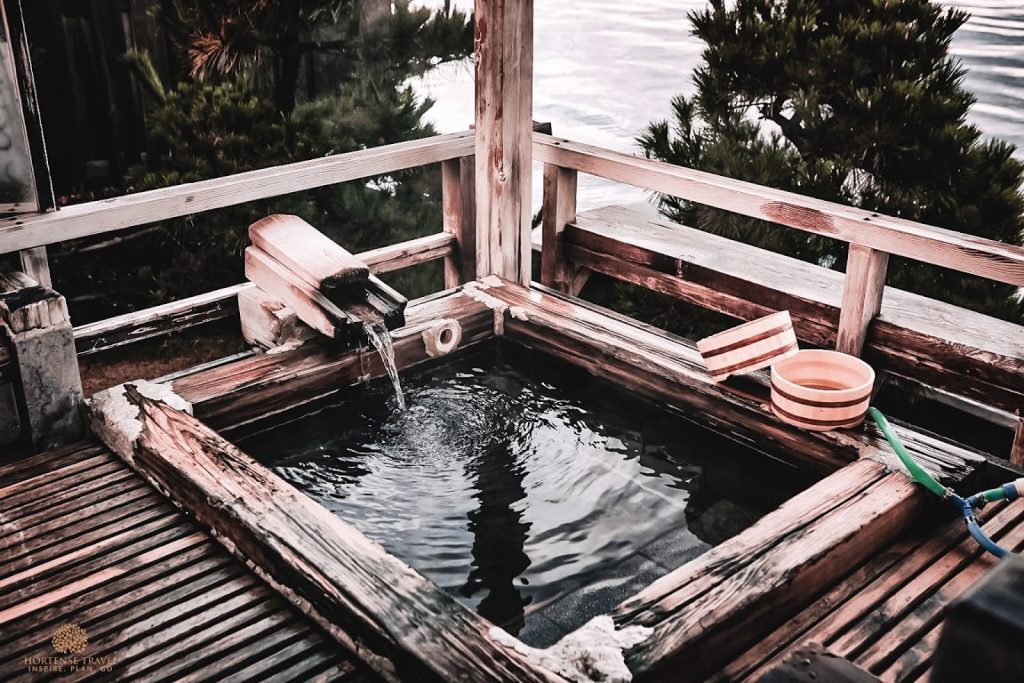 Most onsen are arranged in the following fashion: first, a small entryway to leave behind your slippers, then a changing area with small lockers and sinks, complete with sterilized combs, hairdryers, basic face care products and skin lotion. Some come with coin-operated massage chairs too! After taking off all your clothes and storing them into a locker space, enter the bathing area with your hair up and only bringing in the small shower towel. Take a quick shower at the allocated cubicles (often it's an open span of showerheads, wooden buckets, shampoo and shower gel) before entering the hot springs.
Hot springs based around valleys or mountainous ranges boast about its water source, which tends towards a sulphuric or mineral base. These are believed to have rejuvenating properties, which soothes muscle aches and promotes circulation. You might want to consider splashing out for a room with a private hot tub for convenient access or if you're body-shy, but those are a lot pricier.
Some onsen etiquette to remember:
 

Always wash before entering the actual baths.

It's only polite to clean yourself thoroughly before sharing bathwater with anyone; you can rinse off after your soak too to ensure absolute cleanliness.

 

Don't let the small towel touch water.

The small towel provided is to help you wrap your hair out of the way (these baths aren't a pool, please keep your head above water) or to scrub away with during your shower. Movies might have convinced you that it is for wrapping around your waist when you enter the baths, but they're meant to be kept

out

for hygiene's sake.

 

Cover up any tattoos you might have.

Tattoos are often symbolic of yakuza and gang relations; some bathhouses don't allow tattooed customers in. While the ban is starting to be more relaxed, make sure to cover your tattoos with bandages with respect for the local community.
  Bath more than once! Guests are encouraged to take more than one bath to experience its various baths (both indoor and outdoor ones), typically before and after dinner or before breakfast. Most are open early mornings, afternoons and evenings for a whole range of experiences.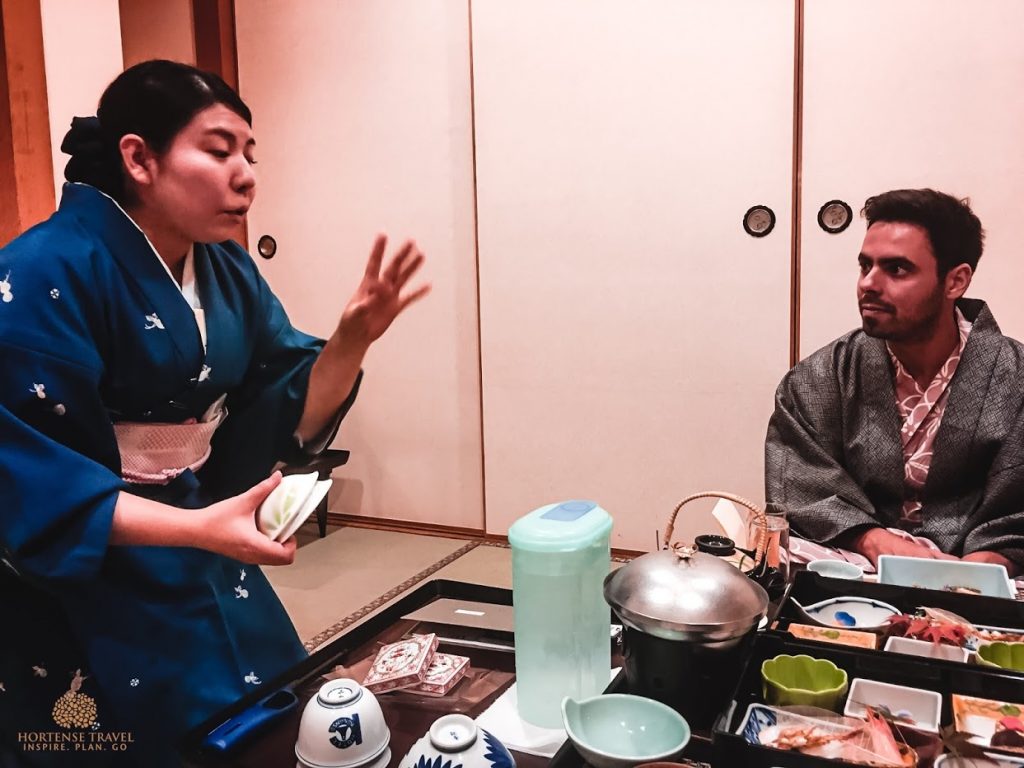 Kaiseki Cuisine
There is no Japanese specialty as decadent as the kaiseki, a course meal that will deliver you straight into the jaws of a food coma. The fresh ingredients itself may not be particularly special, but dishes are often arranged in a series of small plates and bowls and garnished with leaves and flowers for effect. These set meals offer a colorful presentation, starting with bite-sized appetizers and a second course that sets the theme. There'll be sushi or seasonal sashimi, followed by simmered vegetables, a soup and then a grilled plate. There is often a substantial dish too, such as a hot pot or slow-cooked rice. The meal ends with fruit, ice cream or Japanese sweet for dessert.
It's pretty difficult to find kaiseki meals outside of Japanese inns because of the necessarily long prep time, or it is guaranteed to be expensive. You should definitely take the opportunity and indulge in this lavish course meal if given the option to!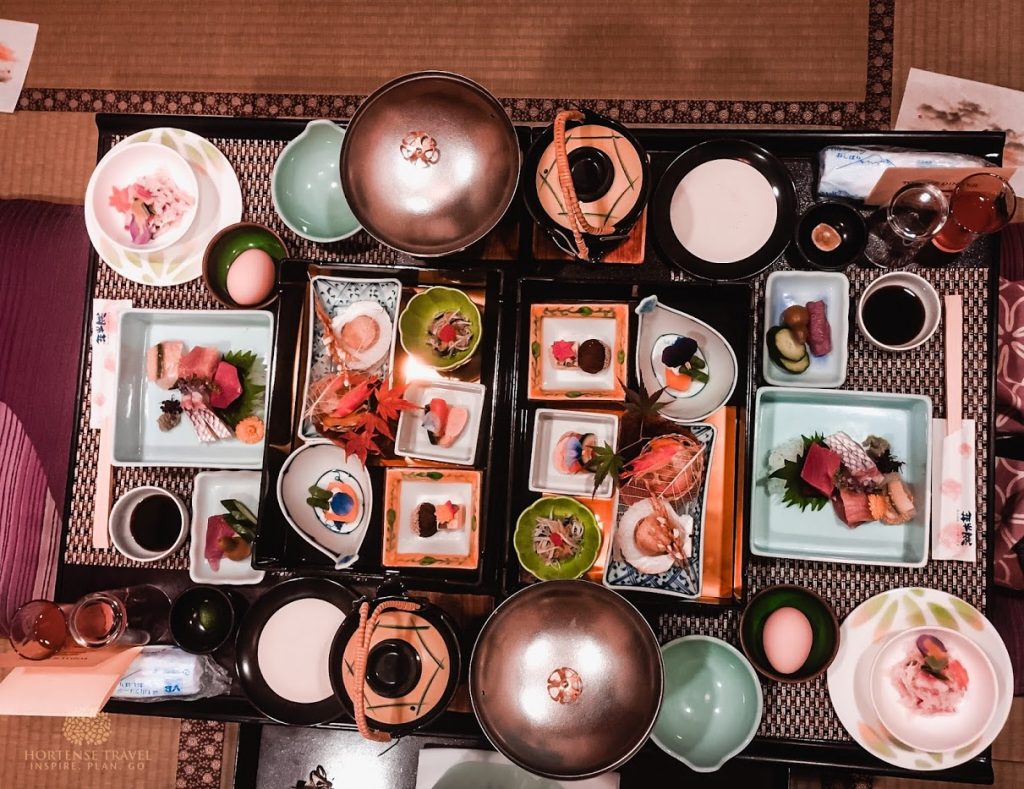 Other activities to enjoy
Take advantage of your surroundings and explore. Many people like to explore the ryokan's garden or neighborhood, especially if you're based in old-fashioned onsen resorts. Those based in quiet towns are usually opened alongside artisanal craft stores, other bathhouses and olden architectures. If you visit during fall season, definitely go outside for some vermillion foliage sightings.
Larger inns known to host groups and events offer more contemporary fun too; think restaurants, bars, karaoke rooms and maybe game rooms. There may also be an extensive strolling garden, complete with a pond.
One unique activity to do is to visit the Zao Fox Village.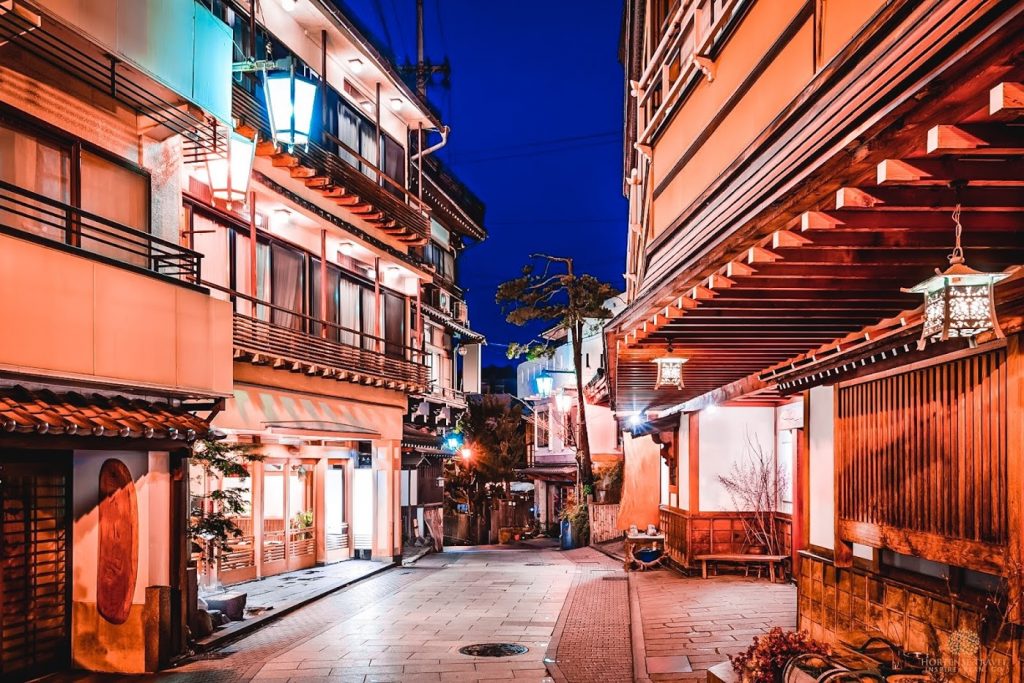 Traditional inns in various cities
Whether it is in the tranquil sanctuary of onsen towns of bustling Tokyo and cultural Kyoto, some ryokan have emerged as the perfect base for a relaxing getaway.
Away from the concentrated mass of temples and shrines of downtown Kyoto is the quieter Arashiyama, a valley of monkeys, bamboo groves and imperial villas. Further upstream Hozugawa River and away from that tourist lure is the serene Hoshinoya Kyoto; a private ryokan villa some 15-minutes boat ride from Togetsukyo Bridge. With only 25 rooms, it embodies the essence of a secluded hideaway, with views opening up towards the river. Presenting tatami-strewn rooms inlaid with woodblock-print designs and reimaged furniture, this century-old property is a cultural lesson via kaiseki meals and zen gardens.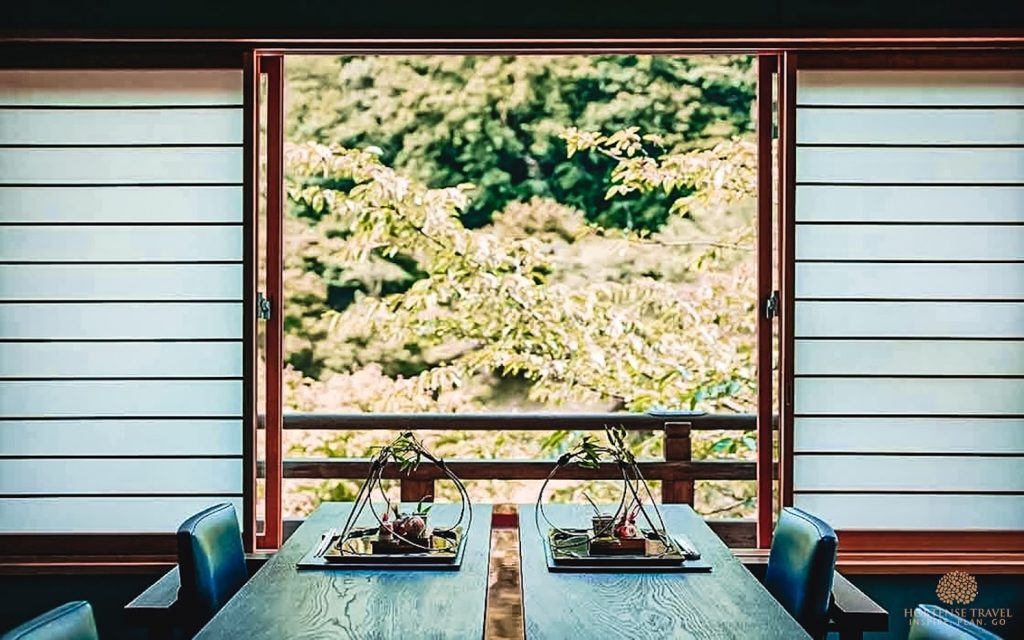 While this ryokan is a luxury stay you might be hesitant to shell out for, the cultural experience is well worth every penny. Located within the heritage Gion district, this 21-room establishment offers a rare sight beyond its surrounding streets: geisha and maiko. An extremely traditional inn, Gion Hatanaka offers more than private onsen and kaiseki dinners – you can purchase three different cultural packages including a samurai kembo show or a maiko hosted dinner. It is unusual to be able to watch a maiko perform nowadays without connections to a well-established house, especially if you're a foreigner. You'll also be in close vicinity to some of Kyoto's most well-known heritage sites, such as Kiyomizu Temple.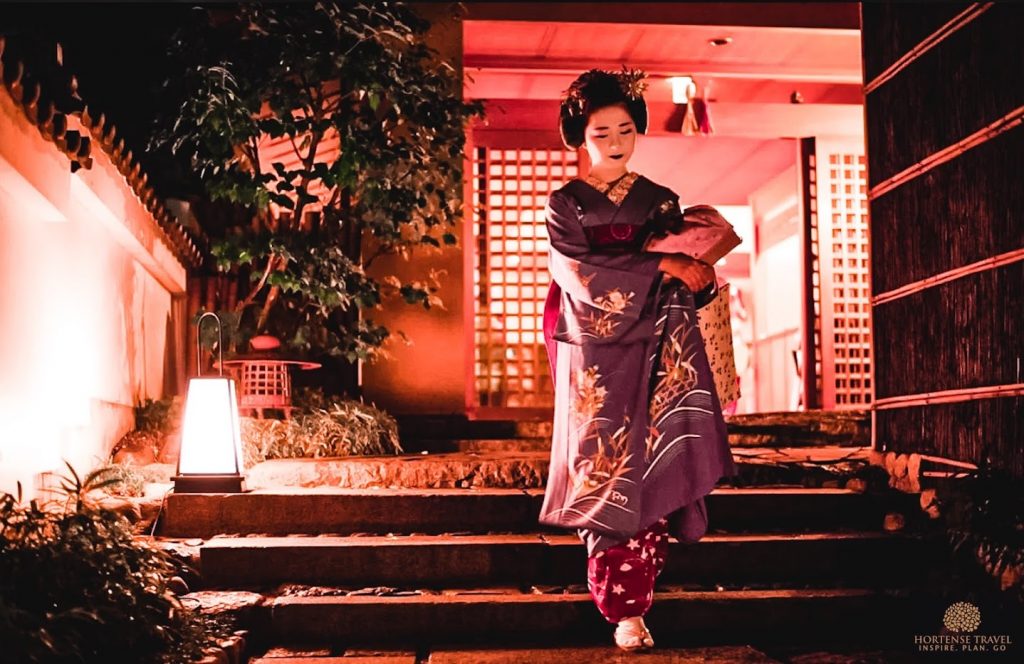 Momijiya Honkan/ Momijiya Iwori Bekkan 
Autumn has always been a month of reflection in Japan, and many poets are known to retreat to the mountains for tranquil contemplation. The two properties are nestled 30 minutes north of Kyoto and accessible via free shuttle from the closest subway and JR stations, with one located hilltop and the other at its base. A hidden enclave in the forest, you can reach Momijiya Bekkan by crossing a river-hanging footbridge, its entrance mired within thick vermillion foliage and towering trees. Both options have spacious rooms and hot springs facing the mountains, and higher-tier packages include private outdoor baths. You get to enjoy seasonal meals of wagyu beef at a river-facing terrace restaurant; they offer maiko entertainment too!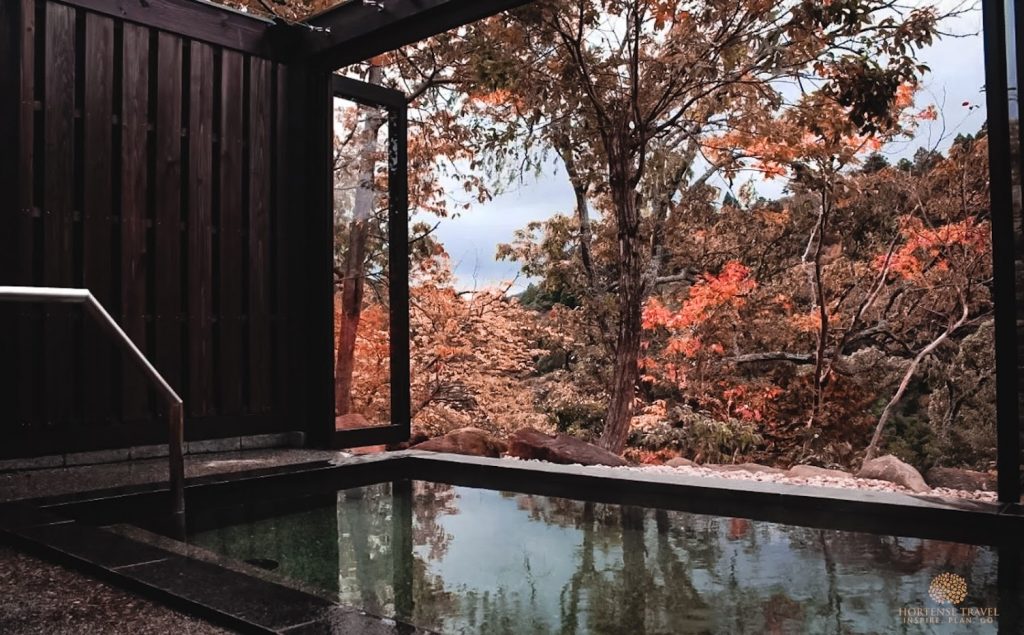 If you're all about hot springs, Kinosaki Onsen town has the perfect accommodation for you: Nishimuraya Honkan. Seven generations have perfected the ryokan's quality service with close attention to details so you can just kick back and relax. You'll be deeply immersed in its traditional styling, with four on-site onsen to keep you in a constant state of bliss. The inn also provides an all-access pass to the public onsen in town so you can appreciate the various historical buildings they're housed in. Another selling point is their kaiseki dinners, which become more lavish the longer your stay. For those who dream of eating the famed Japanese Matsuba crab, these dinners are a real treat.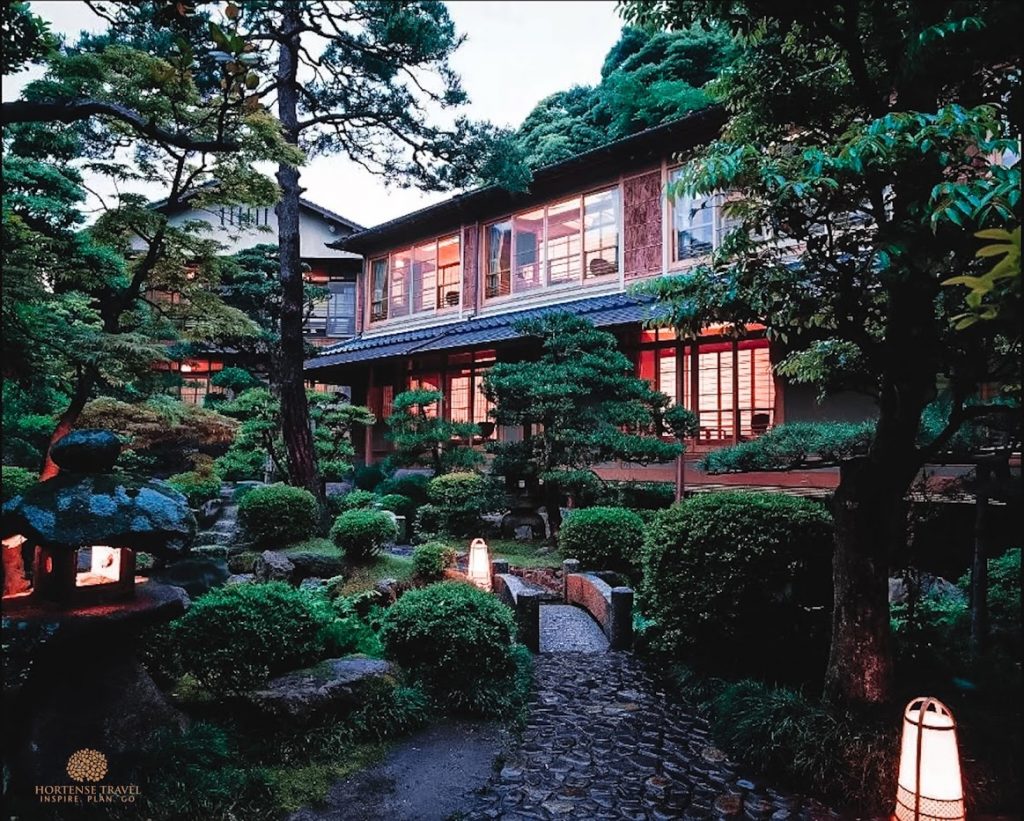 Kanagawa is another trove of heritage ryokan done in traditional color; Gora Kadan a luxury option that blends traditional elements with modern additions. Think wooden tubs, tatami matting and stone gardens with a dash of western-bedding and contemporary designs. The inn panders to Mt. Fuji views in Hakone valley, which is easily accessible via high-speed rail. It also plays into a wellness scheme that offers water therapy and other natural treatments to help relieve stress and aches. Depending on which room you book, you might even get a private zen garden for deep meditation. Interestingly, it resides on the grounds of a former imperial summer residence.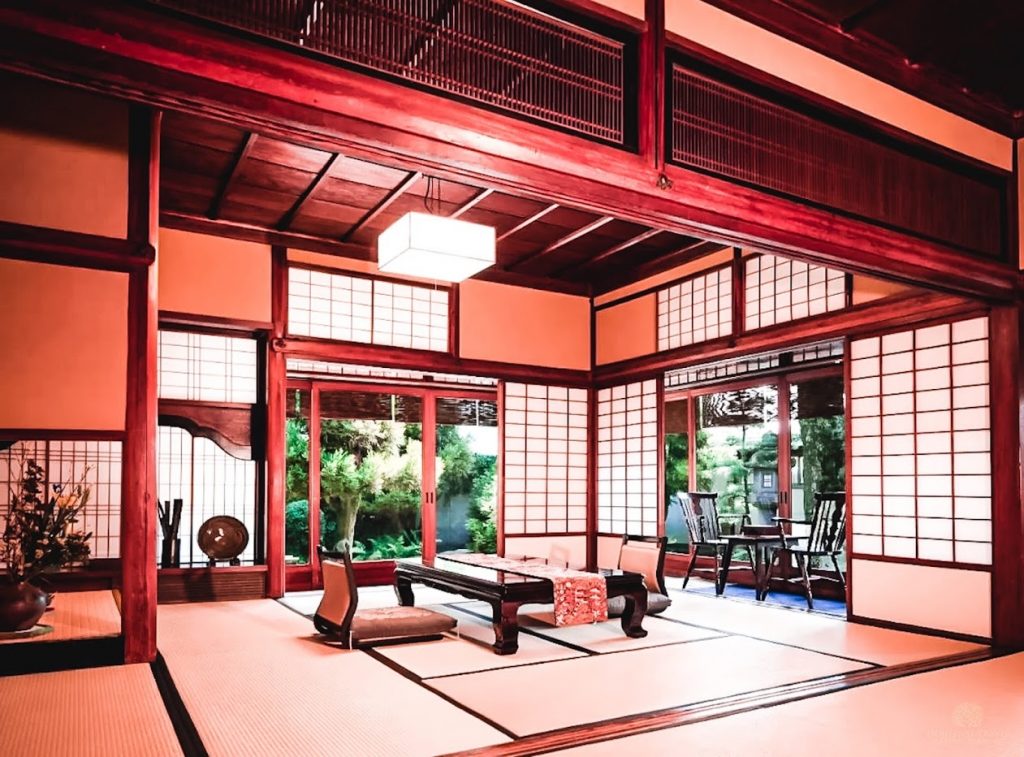 If you're going to sign up for a ryokan experience in Tokyo, you might as well go all out and expense on the luxurious Hoshinoya Tokyo. Like most ryokan within the big city, it's a hotel that offers both Japanese-style and western rooms, made up in deep but neutral colors, wooden furnishing and crepe-paper window screens. Opt for an in-room meal for a more legitimate experience or eat at the restaurant for more socializing. There's a hot tub available but unfortunately without mineral spring water.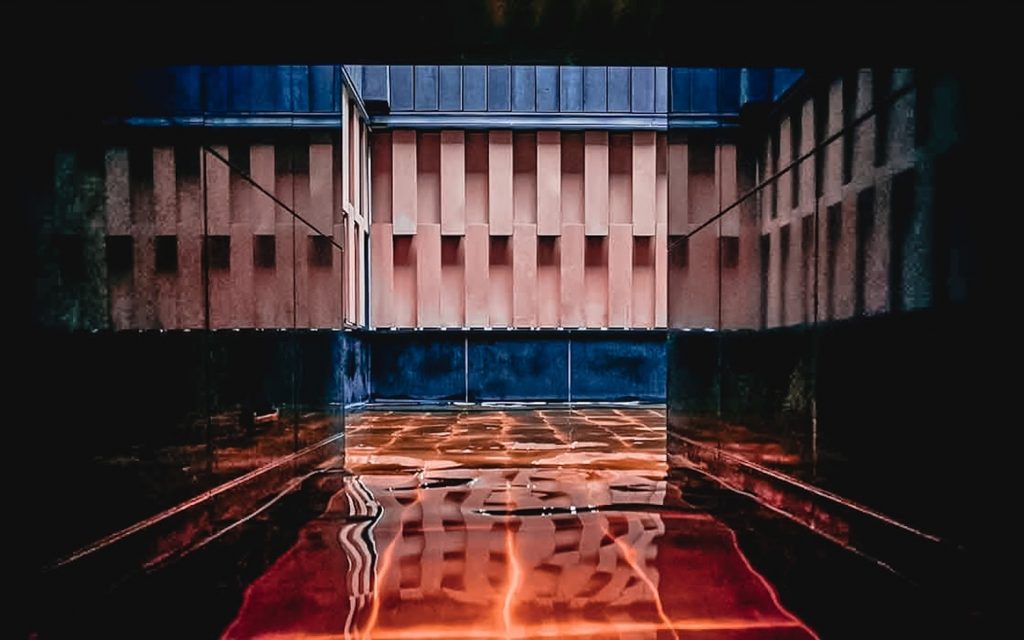 Now this is a ryokan you won't want to pass up! To serve up an intimate and all-inclusive experience, Hoshinoya Karuizawa has dug its roots in the middle of a forest. Not only are its stunning private villas set along the bank of a river (with extended patios), the surrounding mountains offer countless activities including birdwatching, hiking and horse riding. You can also opt to stay in for a morning yoga session or a shared meditation bath in a dark room, or enjoy both an indoor and outdoor onsen. At night, you can relax at the terrace restaurant-bar beside fire lamps to ward off the chill, digging into a scrumptious kaiseki dinner.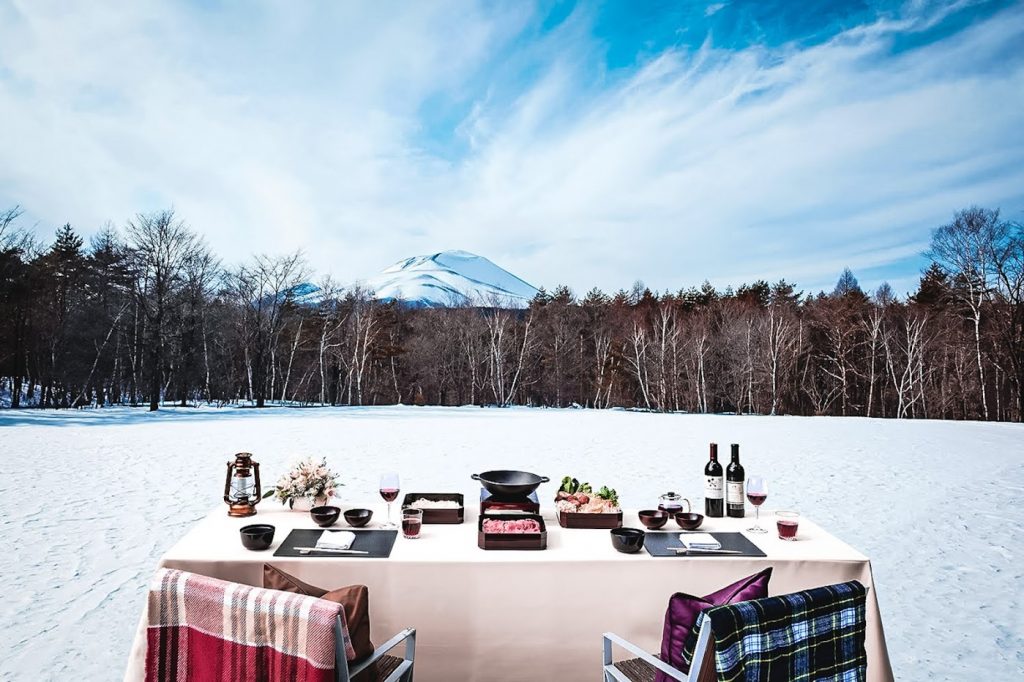 Takayama is a stunning town with visitors flocking to its preserved historical quarters, and a short travel away from the famous thatched roofs of Shirakawa-go. It's a great base for those who want to balance skiing with exploration and for that reason alone, do consider staying at Yatsusankan. With three wings that date back over 100 years, this "National Tangible Cultural Property" is 20 rooms full of woodwork and Japanese art. Besides certain rooms with a private outdoor tub, you can indulge in two indoor onsen and one outdoors in the garden, as well as a private onsen up for reservations. Best of all is generous heaping of Hida cuisine, including succulent Hida beef, sukiyaki and shabu-shabu. You can also relax at the cozy lounge room, where marble basins are set as low tables with cushion seats on the tatami flooring.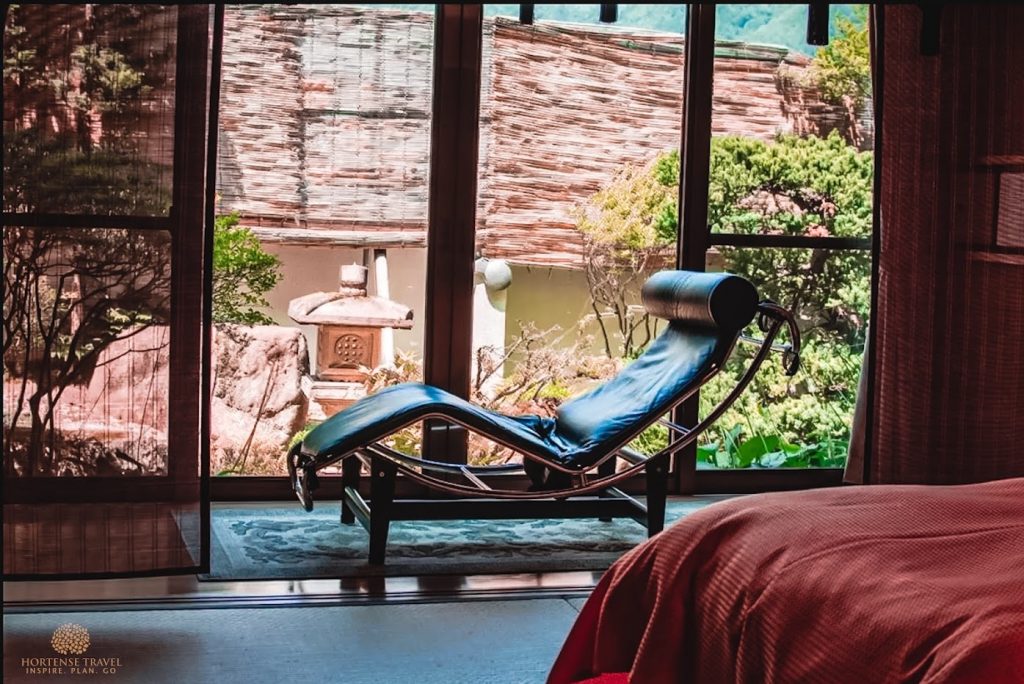 Remove yourself from everything and everyone at the remote Kayotei in Kaga prefecture. An inn suspended in time, its 10 suite rooms are remodeled to fit into a traditional tea pavilion, all of which have mountain views, antique furniture and Japanese decorations. Open rooms framed in dark wood run along narrow corridors and a forest just fingers-width away, some attached to an outdoor onsen. Its kaiseki meals have also resisted the flow of modernization, resulting in solely organic ingredients. You can further immerse yourself in this small, small town by signing up for artisanal workshops. The ryokan can arrange for paper making, soba noodle making and woodturning classes.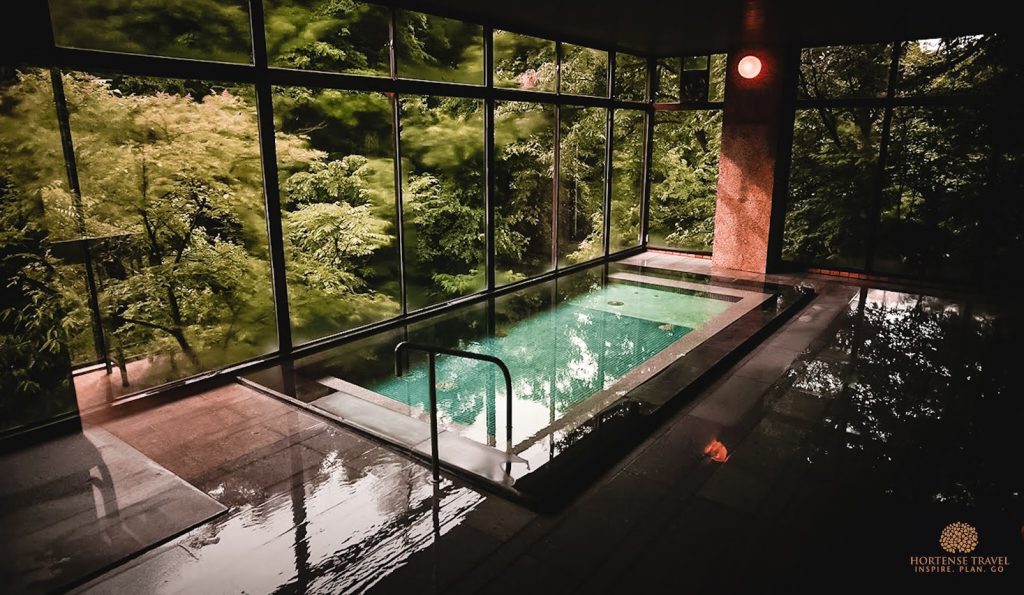 Once the residence of a sugar merchant, Ryokan Kurashiki has since transformed adjacent kura warehouses into a have-all complex. Minimalistic and modern but with a traditional touch, the inn is decorated in clean lines, wood everything and with comfort in mind. Keep an eye out for nostalgic elements such as its intricate wall tiles and cross-hatching motifs on the exterior. What makes this inn so perfect is its location. The serene canal it perches on ensures quiet after a long day out exploring, but close to the nearby mountains for hiking. It's also nestled close to sake breweries and age-old shrines for maximum cultural immersion.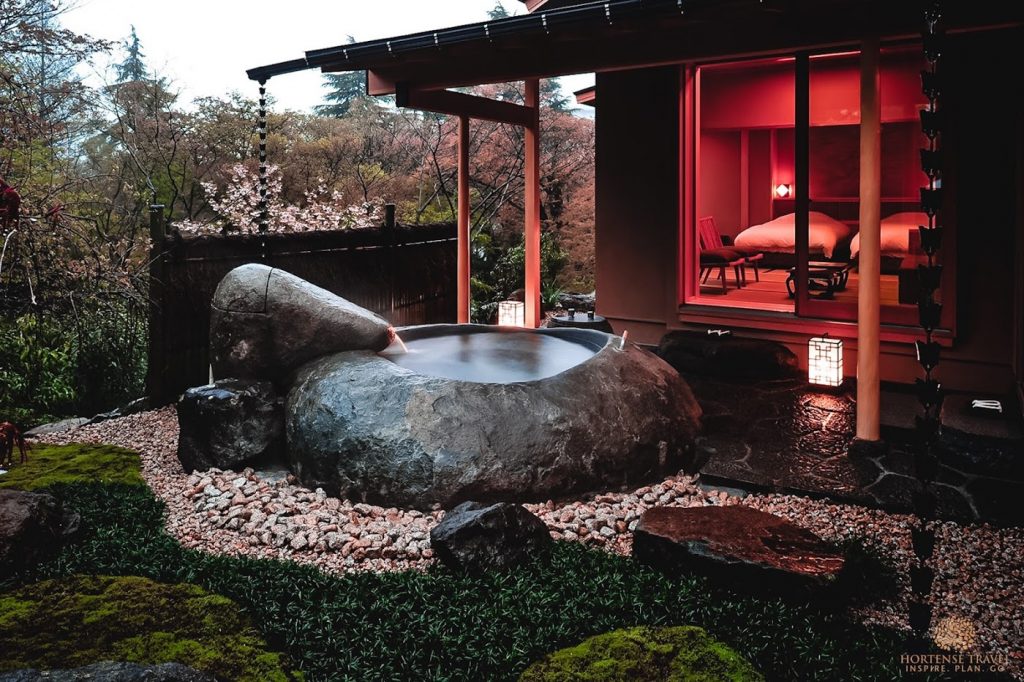 If you're traveling during peak season, remember to reserve rooms earlier as Japanese inns are hot commodities especially in onsen towns. And before you cringe at the price, remember that they are more than a place to sleep at night – ryokans are an experience. 
Visiting Japan soon? Check this out: