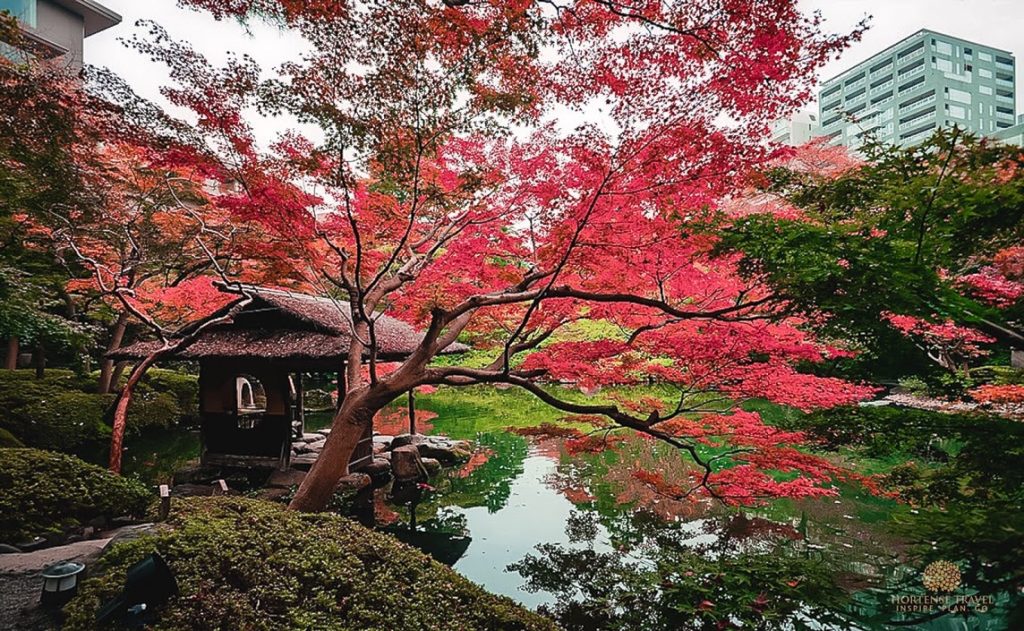 At first glance, Tokyo is the consummate metropolitan giant – a hulking skyline of skyscrapers, gleaming department stores, flashing highways, and rapid trains. Public spaces are often overrun with people, whether they are casual loiterers waiting for friends or busy office workers rushing from one district to another. But Japanese culture is very much about balance; where the city exists will be corresponding nature to smooth out the noisy urban life. 
The gardens in Tokyo emerge in a patchwork of beautiful and serene spaces, cozy nooks linked by movie-esque bridges, and an open expanse that features a pond. When you feel stressed from the constant press of crowds – because you will trust me – there's no better stress-relief than retreating into the city's stunning gardens.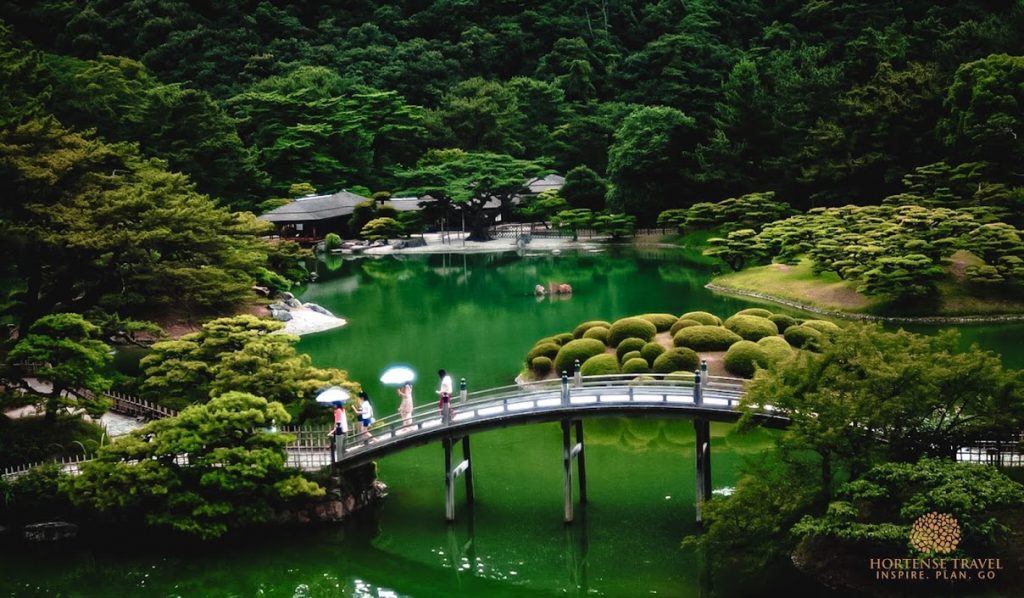 (source)
Culture in aesthetics
What gives Japanese gardens their magical quality isn't simply pretty things lumped in a single shared space. It is the philosophy and aesthetic principals laid within the arrangement of garden elements: the flowers, bridges, islands in the ponds, trees, and winding walkways. Tokyo gardens take on typical Edo-period styling by plotting a circular route around carefully designed plantations, where the pond, stonework, and scattered pagodas represent the temples and rivers that run through mountains. Other strolling gardens are designed to unfold in a series of "paintings", various viewpoints revealing unique settings and themed sections. 
The traditional gardens in Tokyo aren't just beautiful to look at! They can teach you a lot about Japanese culture if you learn to pay more attention to the details. Make sure to pick up a brochure at the ticketing office and learn about each garden's history, and the inspiration behind its design. You'd be amazed by the amount of thought put into every element.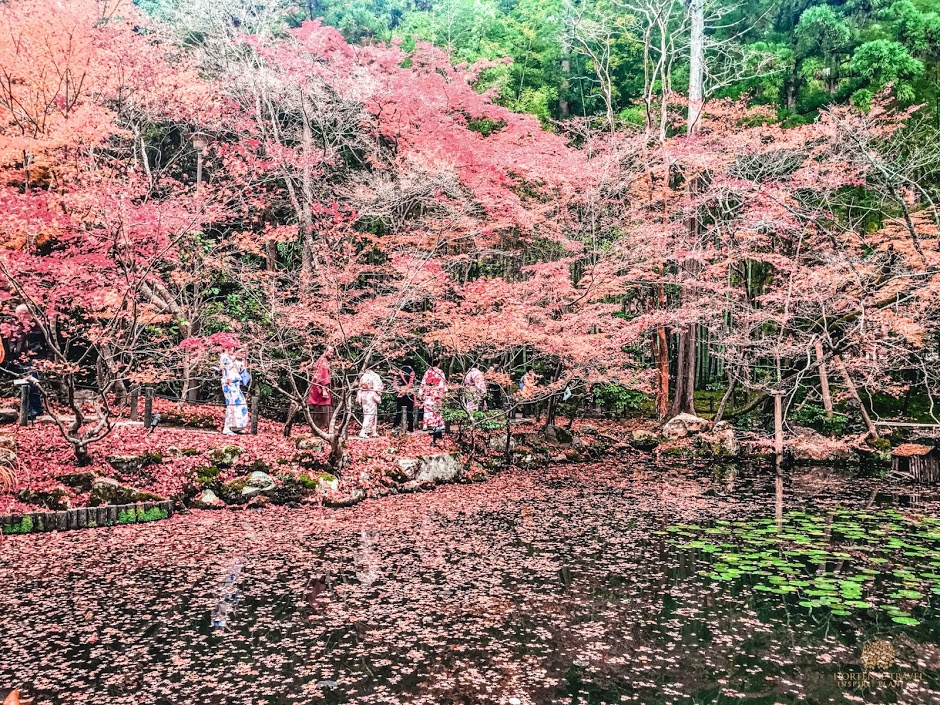 1.
Kiyosumi Teien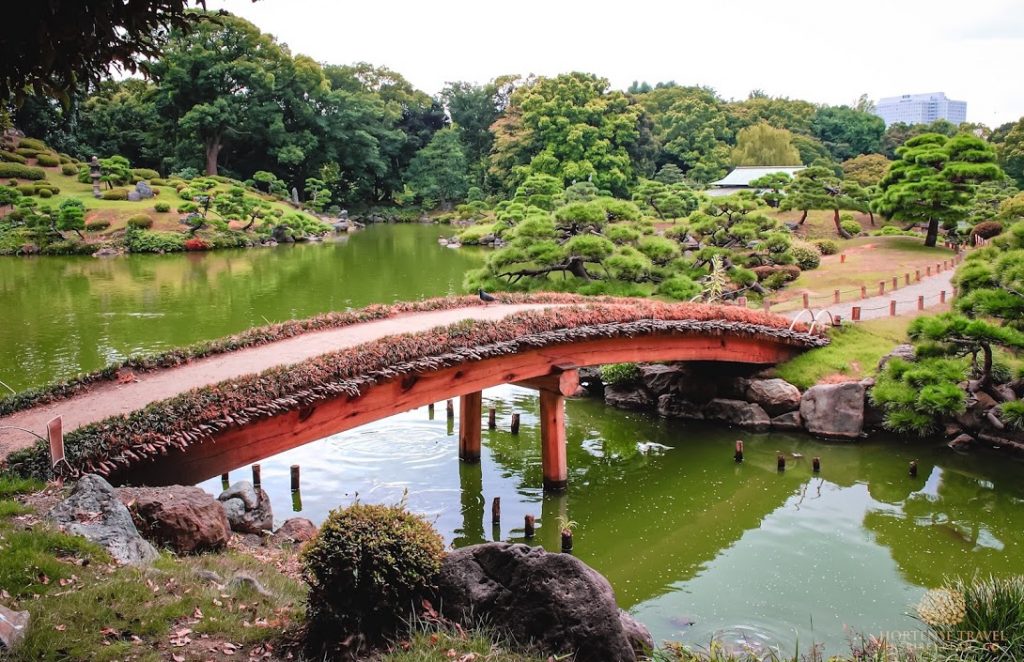 Former residence turned garden, Kiyosumi Teien shows off the legacy of an Edo-era merchant. Remnants of the century can also be found at the Taisho Memorial Hall near the entrance, making it one of the historic estates in Fukagawa. Apart from its feature teahouse, the garden is also known for its floating restaurant which serves traditional Japanese cuisine – you'll have to reserve ahead, but it is worth the unique location and ambiance.
The garden itself is a cultural treasure chest, as symbolism plays heavily into its design. You'll notice the many isowatari, or stepping stones, that let visitors cross the lake at various sections; these landscape stones represent prestige and power as they were shipped from various parts of Japan. Marvel at the carp and turtle at your feet, and the inlets of bonsais around the shores. Kiyosumi Teien also hosts a large variety of trees, so make sure you pick your way through the sharp scent of Japanese black pine.
Address: 3-3-10, Kiyosumi, Koto-ku, Tokyo.
Opening hours: 9 AM – 5 PM
2.
Imperial Palace East Garden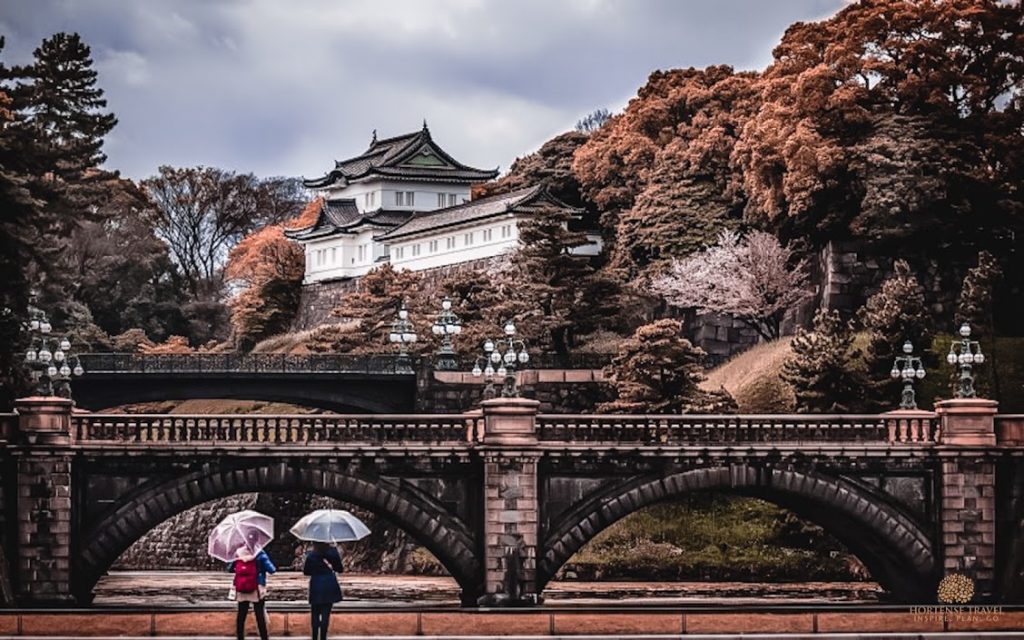 Much like a wooded forest thanks to the generous span of the Imperial Palace estate, the East Garden makes the rest of Tokyo fall away. Part of the inner palace grounds that are open to public, it lies on the former site of Edo Castle's main circle of defense. While the building structures no longer exist, you'll find that the garden is built on the remaining foundations including the moats, walls, entrance gates and guardhouses. 
Walk past the remnants to Ninomaru Garden, which is crafted in traditional Japanese style. There's a wide ranging variety of flowers and plantations, which open up to a koi-filled pond. You can also expect the usual low bridges and shrub-bordered inlets. While there are slight dips and rises, the walkways are for most part flat so you'll have a comfortable time strolling around. It's also one of the most popular cherry blossom viewing spots.
Address: 1-1 Chiyoda, Tokyo.
Opening hours: 9 AM – 4:30 PM
3.
Rikugi-en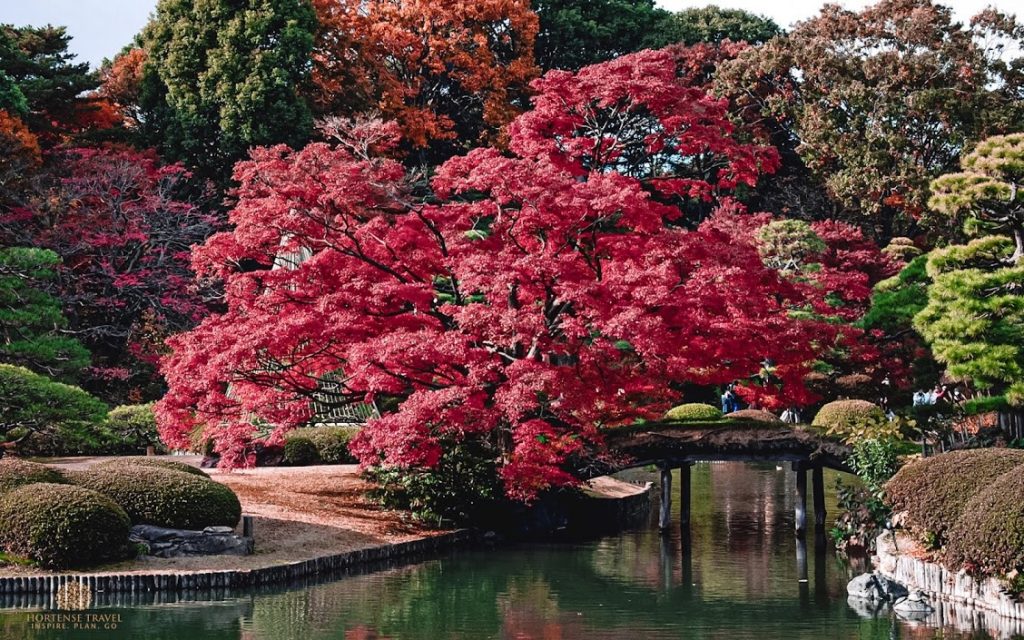 There's no garden more poetic than Rikugi-en, whose name translates into "garden of the six principles of poetry." As you might assume from hearing its name, the garden was founded by a literary scholar, Yanagisawa Yoshiyasu, in the 18th century. The garden is by no means small, but of the original 88 miniature views it was comprised of, only few remain in the image of Japanese landscapes beyond its walls. 
Rikugi-en is nestled in a quiet neighborhood and behind high brick walls, offering a peaceful and private respite. The star of the estate seems to be the massive weeping cherry by its entrance and the sprawling lake in the middle, but the tree-lined pathways along the perimeter is where the hydrangeas and azaleas dwell. You can settle in for a quiet hour at the traditional Fukiage-chaya tea house or wander into shadier areas and snap away at the flowers. 
Address: 6-16-3 Honkomagome, Bunkyo-ku, Tokyo.
Opening hours: 9 AM – 5 PM
4.
Koishikawa Korakuen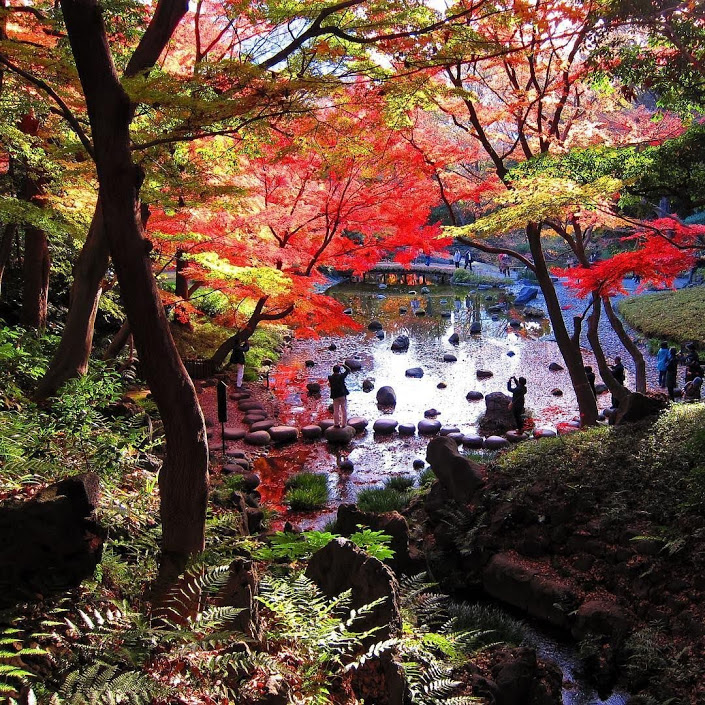 Like most strolling gardens, Koishikawa Korakuen features a large pond as centerpiece with walkways that take you around the corners. Sitting smackdab in the center of Tokyo, this garden is in close vicinity to Tokyo Dome and away from the busier districts. It is a comfortable walk from Iidabashi station, convenient location attributed to its 17th-century roots. Created in 1629 with advice from a Chinese scholar, it is one of the oldest gardens in Tokyo that blends both Japanese and Chinese elements.
What makes the garden so special is the romantic mingling of these cultural features. Koishikawa Korakuen is crafted with pebbled walkways that trail along rice paddies and patches of purple irises. A Full Moon Bridge and other floating waterways bisect the ponds. Carefully chosen trees also mean a year-long roster of changing colors; the maples glow red in the fall while pastel cherry blossoms soften the garden's aura in spring. 
Address: 1-6-6 Koraku, Bunkyo-ku, Tokyo.
Opening hours: 9 AM – 5 PM
5.
Happo-en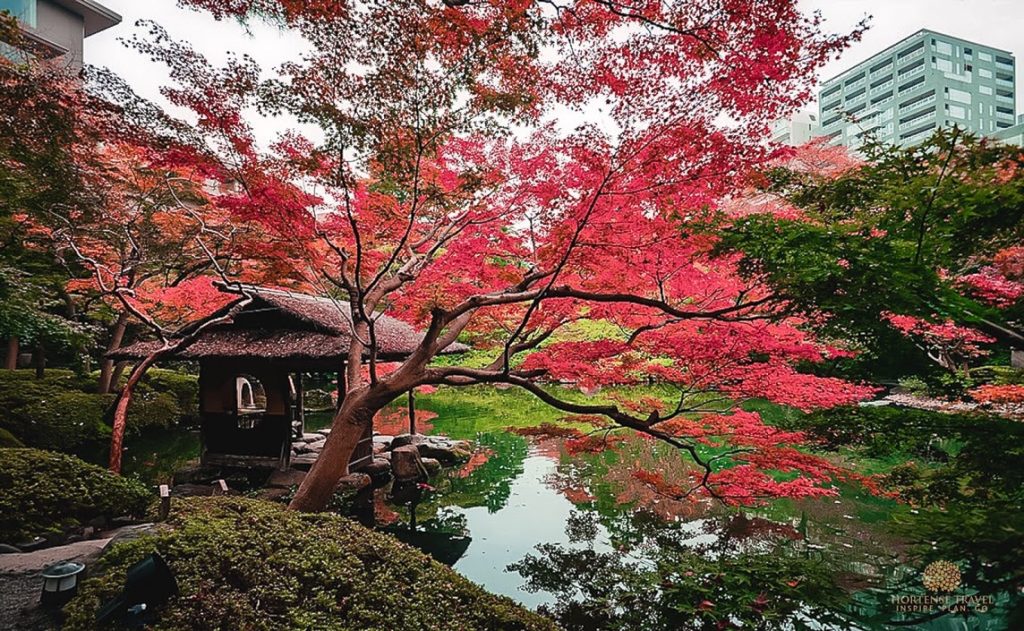 Soft does the light break through the trees! Happo-en embodies the most traditional interpretation of "beautiful" – imagine koi-filled ponds, layered foliage, moss-covered rocks and elegant stone lanterns. Think of flower-laden branches dipping into water and the rustling of the breeze. With a name that means "garden of eight views", it is no wonder the garden is top choice for wedding parties and other events. 
Boasting Edo-period features, Happo-en's stunning grounds is home to a series of centuries-old bonsai trees – the oldest at over 500 years old! It is believed to be the previous residence of a 17th century samurai, hence the traditional teahouse where you can enjoy a tea ceremony. While it isn't the biggest garden, it is one of the most tranquil places you'll find in busy Tokyo.
Address: 1-1-1 Shirokanedai, Minato-ku, Tokyo.
Opening hours: 10 AM – 10 PM
6.
Shinjuku-gyoen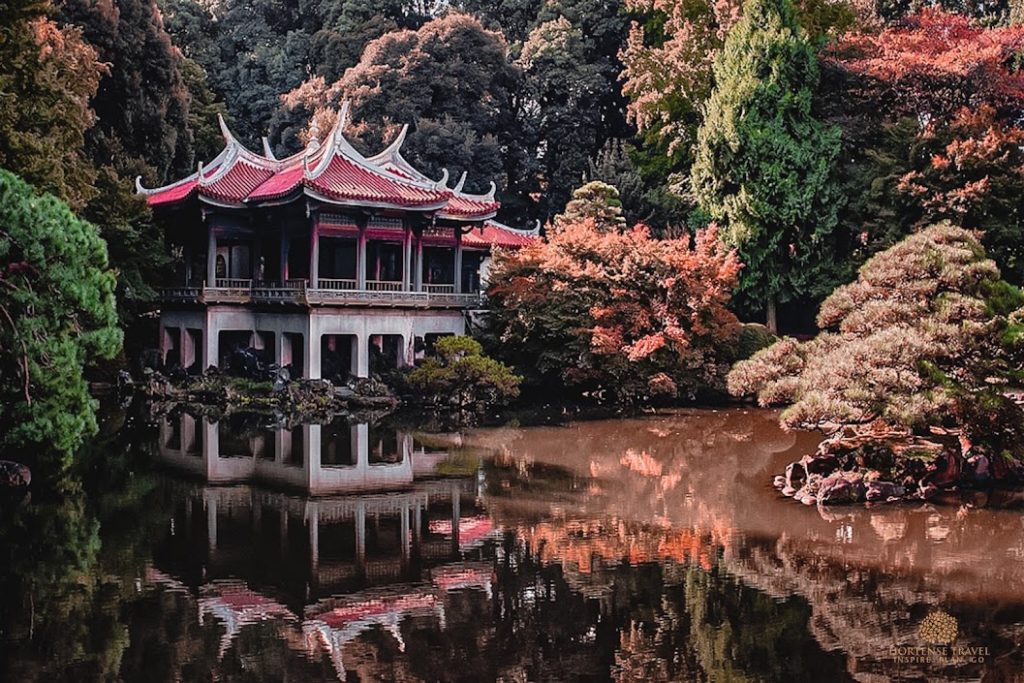 One of the largest gardens in Tokyo, Shinjuku Gyoen is often mistaken as a park due to its triad of gardens: a formal French garden, a traditional Japanese garden and a landscaped sprawl of English lawns. A botanical garden that was destroyed during war and reopened in 1949, it is a popular choice for families and group hangouts due to its central location and varied spaces.
You might want to visit earlier in the morning when the only people present are joggers and those passing through, although there's more than enough space. The Japanese traditional garden is particularly stunning, featuring a stone pagoda and vine-wreathed eaves by a pond, which was featured in Makoto Shinkai's Garden of Words animated film. The English lawns, while expansive, gains most attention in spring when lined with cherry blossoms. If you're looking for a more plant-based exploration, peruse its tropical greenhouse. Shinjuku Gyoen is definitely a photographer's haven. 
Address: 11 Naitomachi, Shinjuku-ku, Tokyo.
Opening hours: 9 AM – 6:30 PM (closed Mondays) 
7.
Hotel New Otani Garden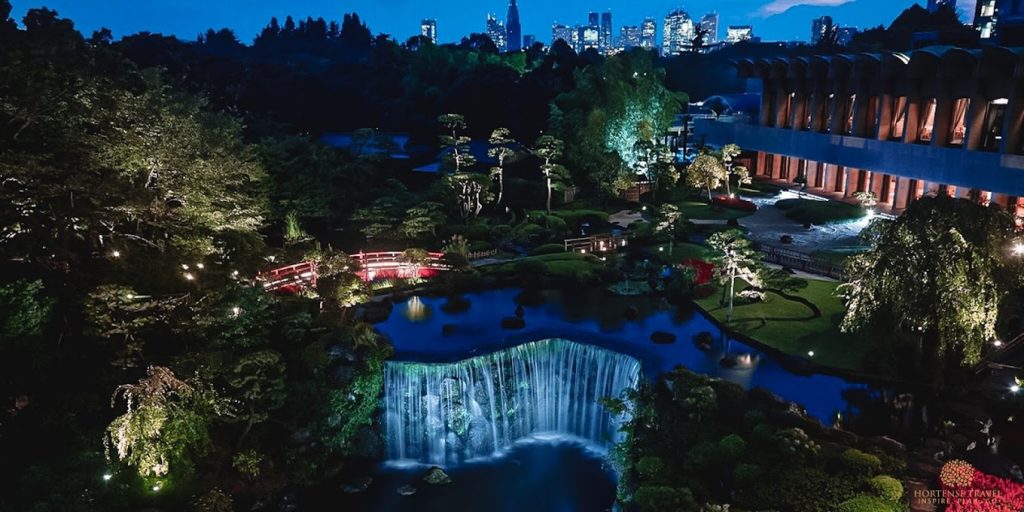 Who would have thought that a garden sanctuary would be hidden within a hotel? Hotel New Otani is known for its fine dining and solid service, but the crowning jewel is the free garden within its walls. It is no tiny backyard either – Hotel New Otani Garden rakes in 10-acres of landscaped land, complete with four exclusive restaurants.
Delve into the thickets of fauna and flower patches via winding paths and arched bridges, which are gently warmed by ancient stone lanterns. It is a charming amalgamation of artful scenery and cozy nooks, and one whose sights change with the seasons. It is particularly picturesque in fall, when the maples lean over the walkways like a vermillion arch. The pond is no placid body of water either, housing some 300 carps. But the highlight is definitely the 6-meter tall waterfall that will thunder in your ears. 
Address: 4-1 Kioichi, Chiyoda-ku, Tokyo.
Opening hours: 6 AM – 10 PM
8.
Hamarikyu Onshi-teien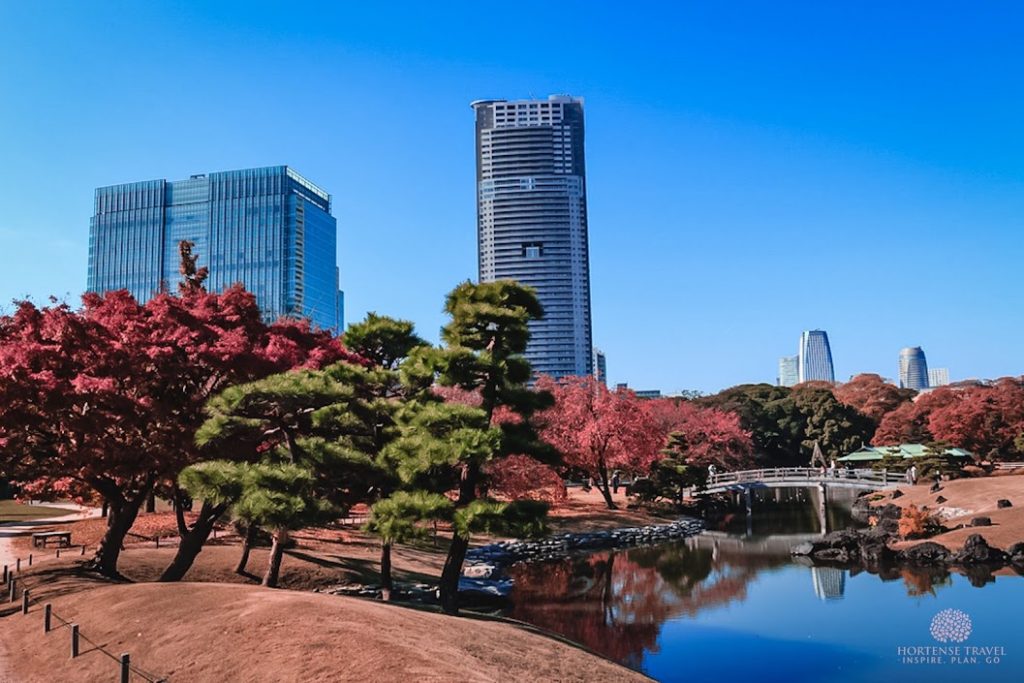 If you've never seen a garden like Hamarikyu Onshi-teien, you'd be in awe at how naturally it sits within a highly urbanized space. Framed by the towering business towers of Shiodome district, the garden is a verdant pocket that blends with surrounding glass and chrome architectures. Similarly, its pond connects to the mouth of Sumida River, making it a link between manmade and what's natural. 
The best way to explore is a gentle walk that will take you to the colossal pine tree by the north gate, an ancient presence some hundreds of years old. From there, follow the trail of flowers and trees that lead to a cozy teahouse. You can relax into the serenity with a cup of matcha and a choice of Japanese sweets, a mirror image of how people in the past used to pass time. In fact, pay close attention to the layout of plantations beyond the pond's perimeter – it is only from the teahouse's vantage point will you see the full painting the garden offers. 
Address: 1-1 Hamarikyuteien, Chuo-ku, Tokyo.
Opening hours: 9 AM – 5 PM
9.
Kyu Shiba Rikyu Garden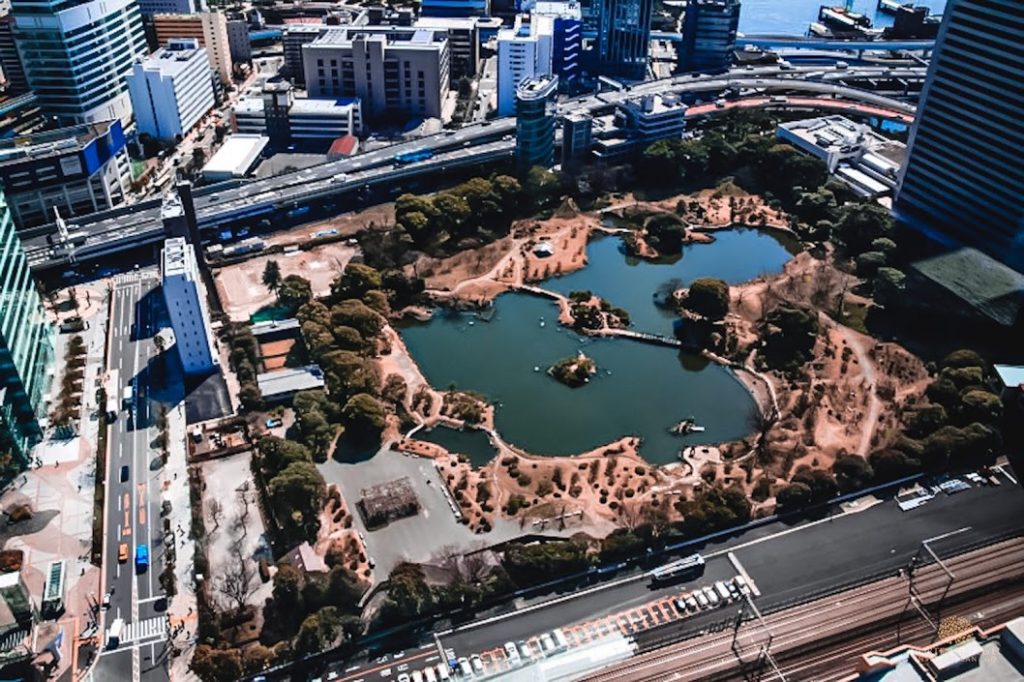 Two ponds aren't enough for Kyu Shiba Rikyu Garden; this traditional landscape garden is more water than land. Still, it remains a classic example, comprised of hills and circular walking trails. Along with Koishikawa Korakuen, it is one of the remaining Edo-period clan gardens. 
You will find that it is more trees than flower and relatively modest compared to some of the other gardens on this list. Most attention is taken up by the central pond, Sensui, which breaks into smaller islands by a network of bridges. Stonework is also a prominent theme; the garden features a stone-based Zen garden which can be viewed from Oyama hill. Thought to imitate Japanese landscapes, these Zen gardens are a study in symbolism and aesthetic philosophy. 
Address: 1-chome Kaigan, Minato-ku, Tokyo.
Opening hours: 9 AM – 5 PM
10.
Mejiro Garden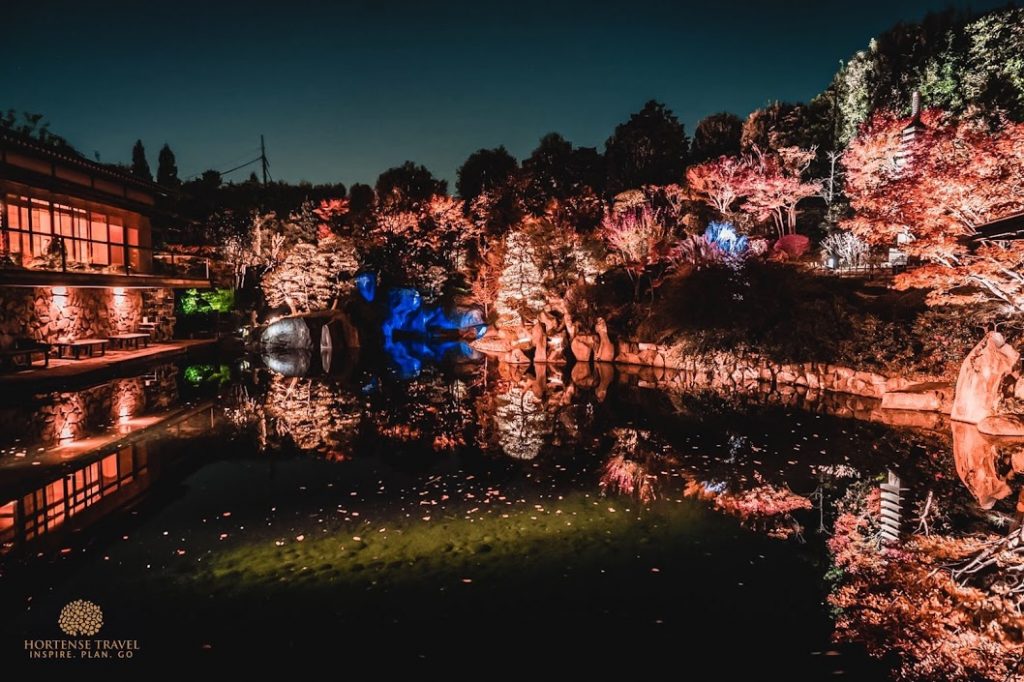 Mejiro Garden is where to go when you need a breather from the bustling crowds at Ikebukuro. Its small size doesn't take away from its beauty at all; in fact, it makes for an intimate space. And it is often overlooked even by locals so you'll most likely have the garden to yourself.
The best time to visit is during autumn. Not only will you get the expected palette of reds and golds, but also special illumination events at night! Lights are wound around certain trees and decorative structures to reflect in the pond. But you'll have to time your visit carefully as the event takes place between late November to early Dec for only a week or so. 
Address: 3-20-18 Mejiro, Toshima-ku, Tokyo.
Opening hours: 9 AM – 5 PM
11.
Nezu Museum Garden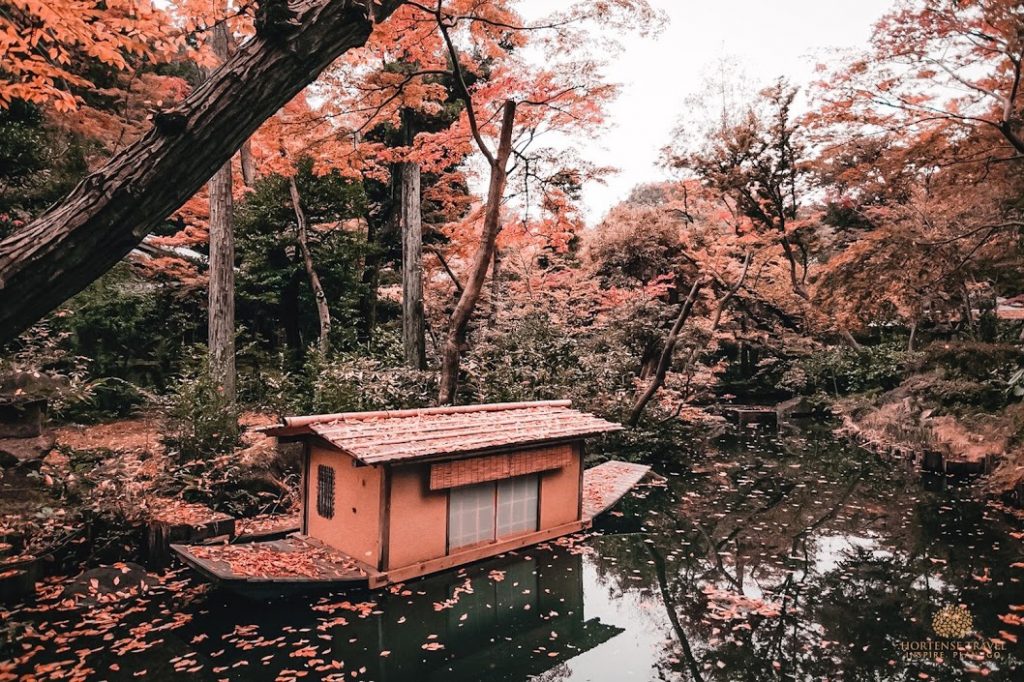 Nezu Museum Garden is perhaps the most adventure-seeking of Tokyo's gardens, offering a playful arrangement of sceneries that draw you deep into its depths. It was bombed during World War II but slowly restored over the years, now having recreated its original map of deep valleys, hills and hidden buildings. The lush greenery of the garden is a far cry to the glass-centric style of the attached Nezu Museum, thick foliage interspersed with stone lanterns, statues and a teahouse.
You can take a pick of four teahouses: Bujian, Ushibeya, Ichiju-an and Seikeitei; they all offer traditional tea and sweets. While you're exploring the stone-dotted paths, look out for the Bamboo Grove by Yakushido, the cluster of maple trees, the Higashi Kumano Waterfall and Mt. Potalaka. The glowing irises by the lake are another of Nezu Museum's eight views. 
Entry to the garden costs ¥1,100 but this includes entry to Nezu Museum too! You should take the chance to explore the entire estate as the museum's contemporary architecture and interesting art collection is a fun juxtaposition to the garden's classic vibe. 
Address: 6-5-1 Minami-Aoyama, Minato-ku, Tokyo.
Opening hours: 10 AM – 5 PM (closed Mondays)
12.
Tokyo National Museum Garden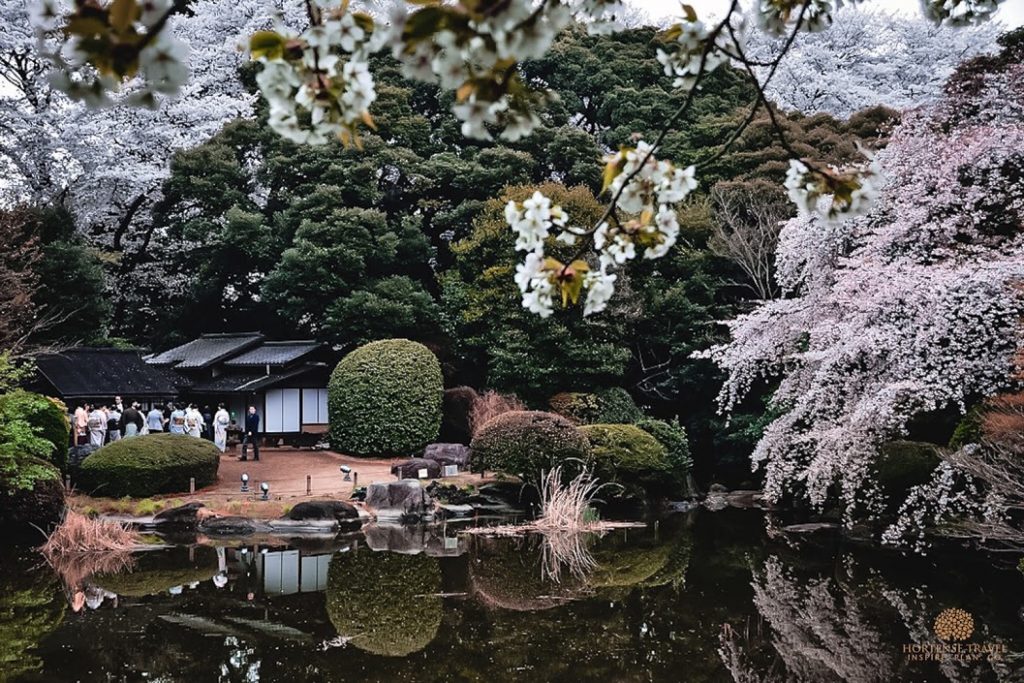 Last on our list is another museum-attached garden: the Tokyo National Museum Garden. Located on the northern edge of the museum grounds, the garden is a seasonal attraction filled with towering clusters of trees and open ponds. Most notably, it is home to five historic teahouses where you can enjoy tea ceremonies and other cultural gatherings.
Quaint teahouses aside, the garden is also an open museum of historical collections. Seek out the bronze pagoda miniature which once belonged in Horyuji Temple, or the gravestones of the clan of Arima. You'll also come across the porcelain toro lantern by a renowned potter of the 1800s, and other miscellaneous items of historical value.
Do note that it is only open during cherry blossom season and November, when the foliage is at its most stunning. 
Address: 1-16-15 Uenosakuragi, Taito-ku, Tokyo.
Opening hours: 10 AM – 4 PM
Note that most if not all of these gardens cost ¥300 to enter (some are for free), and visitors can enter for free on May 4th and October 1st. Visitors are encouraged to explore the space respectfully; chances are, other people are there for the quiet atmosphere so do keep your enthusiasm to taking pictures instead of running about. 
You should also pick up a brochure at the ticket gates to learn more about the gardens as most come with an interesting historical background.
Whether you're in Tokyo for a short stint or longer stay, you should definitely include some of these gardens in your itinerary. They might not be the exciting big-city activity like shopping in Shibuya or Shinjuku will be, but walking through a traditional garden is part of the Tokyo experience.
Visiting Japan soon? Check this out: